Best Glutamine Powders
In a Hurry? Editors choice: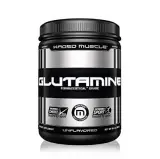 Test Winner: KAGED MUSCLE

Amino acids
. They are one of the most important protein building blocks in our bodies. And while, yes, it is true that these supplements are naturally present in our bodies and can also be obtained by certain foods, with an intense workout regime, our bodies need more. Glutamine Powder specifically is an important amino acid to replenish after
a demanding workout
because it has been shown to lessen your muscle breakdown, therefore accelerating your recovery. It is also important to our digestive tract and overall immune systems. If you have had or been on the verge of leaky gut, it is likely that your doctor recommended this supplement. Deciding which product and dosage will fit your lifestyle can make for a tiring day of research. We invite you to sit back and relax- you will find the answers to those questions and more in this guide.
Standout Picks
Criteria Used for Evaluation
Potency
Based on the serving size, you can assess the potency of any one option.
It was briefly discussed at the beginning of this guide but it is worth looking at closer; why exactly do you need to take glutamine supplements when the amino acid is naturally produced in your body? Well, in the simplest of explanations, the majority of this amino acid in your body is manufactured in your muscle cells (to keep your muscles functioning normally). This is why under stressful conditions (such as during injury or intense workouts) it is recommended to supplement glutamine as it tends to be used up very quickly by your body. Now, moving forward, when it comes to finding the right supplement on the market, first address the serving size.
For the most part, you should aim for options that provide anywhere from three to five grams (or 3000 to 5000 milligrams) of the amino acid per serving. As you noticed on this list, most models will offer closer to five. Of course, how much of this stuff do you need to supplement on a daily basis, anyway? While various factors will come into play, most of you will probably want to strive for 20 to 30 grams daily. Again, though, if your body is not using up that much of the amino acid, you may not have to take it to this extent.
Product Purity
It goes without saying that this section is about as critical as it gets.
Now that you got the potency you need out of the way, it is time to talk about something incredibly critical. Under no circumstance should you bypass this section as product purity is substantial in this case. The question then becomes, how do you tell if a certain option is pure? For starters, you need to know what type of facility was used to process and package it. In general, the facility needs to have some sort of certification. A common one is GMP (Good Manufacturing Practice) as this is a system that is used to ensure that products are consistently produced to quality standards (especially when it comes to pharmaceutical production).
In addition, looking for formulas that have been third-party tested is recommended. In short, if a supplement has third-party certification, it means it has been reviewed by an independent organization and complies with specific standards set out for performance, quality, and safety. Oh, and another thing, let's talk about banned-substance testing. You will often see options with an Informed-Choice certificate and it basically means that the specific formula has been tested for banned substances by LGC's anti-doping lab. Also, one last thing, if you prefer vegan-friendly supplements then look for formulas that have been sourced from high-quality plants.
Taste
Not only is this about the taste but it is also about the texture (both are vital).
Let's just say that glutamine powders are not produced to taste like soda pop or chocolate milk. But, at the same time, you should not be forced to gag down your mixed supplement. The reality is if you go with a powdered option, this problem is going to face you. Now, ironically, there are several options on the market that are unflavored. However, the ironic aspect comes into play when you realize that most of these same formulas do have flavor and it is typically not very good. The thing to do, really, is to look through user feedback to see what others have had to say about the flavor.
Of course, what are you supposed to mix this stuff with, anyway? Well, it can safely be taken with or without meals but when it comes to liquids, you need to avoid highly acidic and hot beverages. The reason for this is both of these types of drinks will degrade the glutamate and subsequently diminish the benefits of it. Oh, and as for the texture, you really just want to make sure that the powder itself can mix well with your liquid of choice. If not, you may be left with a gritty and clunky mess; and who really wants that?
Capacity
Variety is the spice of life and keep that in mind for this section.
So, this one is easy, right? The larger the bottle, the better, right? Well, not so fast as this deserves a much closer look. Now, to start, let's clarify that there is not one correct capacity option and really what you want is variety. There are both positives and negatives to containers that are bigger and smaller. On the one hand, it is nice to buy a smaller container if you want to test the waters, so to speak. But, if you already know a brand works for you, having the ability to order a larger container may work better for you. In general, options on the market can range anywhere from 200 to 2000 to 300 to 1000 grams (it varies quite a bit from a seller to seller).
Value
The value of an item is something that should never be overlooked. To take value into consideration, you can assess the servings per container, serving size, and cost. There may be two options that have the same grams of supplement, but one is half the price of the other. Without determining the value of the products, you may be inclined to purchase the less expensive of the two. However, chances are that the cheaper product is less potent. Therefore, the larger and more expensive product ends up being much more cost-efficient. If you were simply looking to get the best value, look for the cheapest option with high potency and plenty of servings. In other words, you can't just look at the price. It is also always helpful to check out if the manufacturer offers a guarantee of any sort. For a lot of people, finding the right supplement can be a headache and by the time you have found what works for you, your supplements cabinet is filled to the brim. There are some reputable brands out there that will receive returns if the product does not live up to your expectations.
OUR TOP PICKS FOR THE BEST GLUTAMINE POWDERS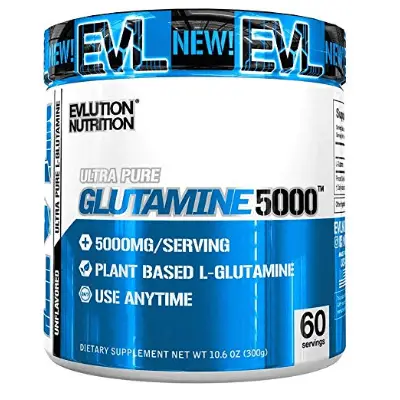 Truth be told, there really are numerous fantastic options on the market and a lot of them are very similar in quality. When it comes down to it, though, Evlution Nutrition stands above the rest.
Read more
Potency
As you will see, several options on the market offer 5000 milligrams (or five grams) of L-glutamine per serving and this is one of them.
Product Purity
First off, it is noted that this formula is sourced from high-quality and easy-to-metabolize plant sources. Secondly, this is free of gluten and has been made in a GMP-certified facility.
Taste
The good news is this dissolves quickly and efficiently in most drinks. However, though this is unflavored, the taste is still a bit noticeable.
Capacity
There are two different size options at your disposal. You have the option for 60 servings (which is the 300-gram bottle) or 100 servings (which is the 500-gram bottle).
Value
This is a great deal! Not only is this product effective but it is also one of the most affordable on our list. In addition to the scoop that is included with your purchase, the container itself is sized very well to offer you convenience.
Overall
If you are looking for an option that excels in purity, potency, and value then look no further. Evlution Nutrition deserves a ton of credit for this one.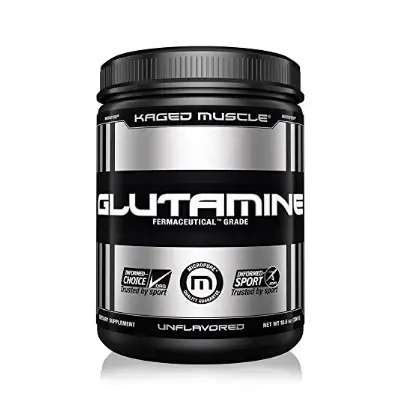 Just based on the product description, you can tell that Kaged Muscle takes a lot of pride in the supplement that they have produced. Let's just say that every ounce of it is justified.
Read more
Potency
To help quickly replenish your glutamine levels, there are five grams of the amino acid in every serving of this formula.
Product Purity
To avoid any issues if you are a vegetarian, this formula has been made using plant-based raw materials. In addition to this, it is also third-party tested and also banned substance-free for ultimate purity.
Taste
As you will notice when you try this, there is a bit of chalkiness to the flavor and texture. Speaking of texture, this stuff does not dissolve that well in liquids.
Capacity
If you just wanted to sample this stuff, you could buy the 60-serving bottle instead of the 100-serving one. Either way, the option to pick between them is nice to have.
Value
Another affordable product here. With the 300 gram option, you are paying $1.28 per ounce. With the 500 gram option, you are paying $1.14 per ounce. As a bit of a bonus, a long scooper is included with your purchase to make it easier to obtain the powder itself. As for the container, it is sealed and well-designed.
Overall
Admittedly, the taste and texture could be better here but you could say that about virtually every other glutamine powder on the market. It is just something you need to contend with as the purity and potency of this formula are top-notch.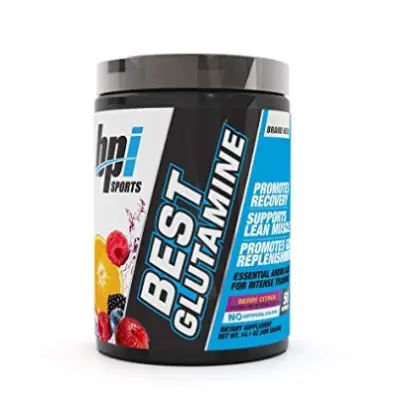 Almost every reviewer has been impressed by the quick and noticeable results that they have experienced after adding this supplement to their routine. It is available in four surprisingly delicious flavors and packs 8 grams per serving!
Read more
Potency
This supplement from BPI really packs a punch! It is made up of six different types of glutamine. In each serving, you'll receive 8g of the supplement which is very high and effective! Almost all reviewers have experienced faster healing times and noticeable results.
Product Purity
On the ingredients list, you'll find everything that you expect, plus the addition of other natural and artificial ingredients, such as sucralose, silica, and potassium hydroxide. This was a turn off for some customers.
Taste
This blend is available in four different flavors. You have the choice of 4 berry citrus, lime sherbert, peach mango, or snow cone. You simply mix one scoop with six ounces of cold water. We are pleased to report that reviewers are thoroughly impressed by the favor and actually look forward to drinking it. However, there have been a few reviewers who claim that it tastes good going down but has a bad aftertaste.
Capacity
This product is available in only one size, 14.1-ounces.
Value
The price per container depends on which flavor you choose. There is not a large price difference between the four options. On average, the product costs about $1.64 per ounce. This is one of the more affordable options on our list and it contains fifty servings per container.
Overall
There are not many negative remarks about this supplement from BPI Sports. We love the choice of flavors and the intense potency of the product. More sizing options would be nice, but now we are just nitpicking.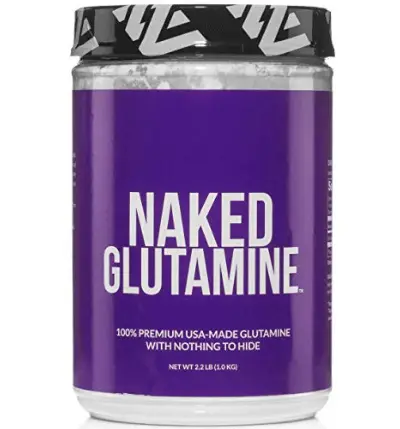 Even though the packaging could stand to be improved, it is tough to argue with the formula that has been implemented here. It is just top-notch in every sense of the word.
Read more
Potency
One scoop of this powder (which accounts for one serving) will provide you with five grams of this amino acid.
Product Purity
To take comfort in knowing this is as pure as it gets, it is a pharmaceutical-grade supplement, has been made free of sweeteners, colors, flavors, and fillers, and is third-party tested for value, safety, and purity.
Taste
It is arguable but this could be one of the better options in regard to the flavor and texture. The best part about the flavor is you can barely taste it (which is the point) and the substance absorbs well into the water.
Capacity
Due to the fact that this container comes with 1000 grams of powder (which works out to 200 servings), you can't really sample it to see if you like it.
Value
Buying in bulk is always a money-saver. This 2.2-pound package works out to only cost you .99 cents per serving. However, if you are picky about the packaging and accessories, the included clear scoop gets lost inside the container and, secondly, the lid can be more difficult to unscrew than it needs to be.
Overall
You can make the argument that this right here is the best option on the market and few people would disagree with you. If the packaging was a little better, perhaps we would feel so too.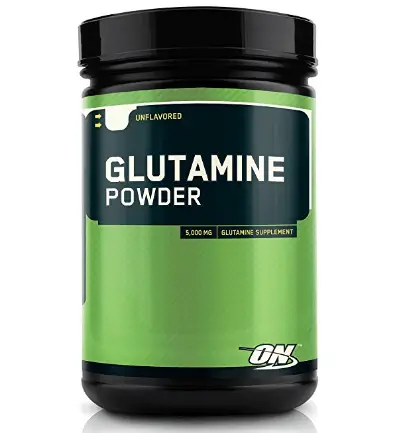 If you know anything about supplements such as these then you probably have heard of the brand Optimum Nutrition. They have earned the trust of thousands of consumers around the world due to products like this.
Read more
Potency
As with the other top-end options on the market, five grams of this amino acid are provided for you with each serving of this formula.
Product Purity
Optimum Nutrition produces and packages their powders in their own state-of-the-art manufacturing facility. This same facility has been registered under the NSF International, Good Manufacturing Practices Program, and The Public Health and Safety Company.
Taste
Even though this is marketed as being unflavored, various buyers have noted that a flavor can, in fact, still be tasted (and it is not pleasant). Also, the texture will get gritty if you do not drink it quickly enough.
Capacity
For your convenience, there are four different sizes available that you can choose from. Among them, you have 150, 300, 600, and 1000 grams.
Value
The value of this product depends on the size you order. From 300 to 600 to 1,000-grams, the price per ounce differs from $1.67 to $1.41 to $1.14 per ounce. If it is important to you, the container that holds the substance is properly sealed but it is also on the skinny side (which makes retrieving the powder a bit more annoying than it needs to be).
Overall
Well, would you look at that? Here is another brilliant option that just so happens to have an uneasy flavor. Of course, the multiple size options are a nice subtle bonus.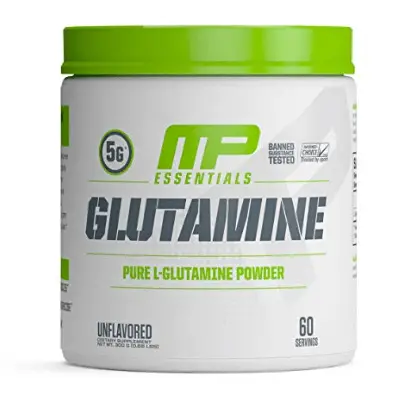 At this point, you should begin to get an understanding that there really are several options worth buying on the market. This option is just another superb one on a long list of them.
Read more
Potency
There is nothing too shocking here as this formula provides you with five grams of L-glutamine.
Product Purity
This is certified by Informed-Choice and that means that it has been banned-substance tested. This attributes to a purer product that you will be consuming.
Taste
The good news is this tends to mix quite well with water and other liquids (though a slight grittiness will still be noticed) but it also does not exactly taste good.
Capacity
Whether you want 300 or 600 grams (which works out to 60 and 120 servings, respectively), you can choose between either one.
Value
With 300g and 120 servings per container, the price per ounce of this product is just $1.11. The combination of the well-designed lid and the wider body is ideal and not too many of you will have too many complaints in regard to the packaging here.
Overall
With options like this, it becomes more difficult to choose as it shows how close and fierce the competition is for glutamine powders. Granted you can contend with poor flavor, this is highly recommended.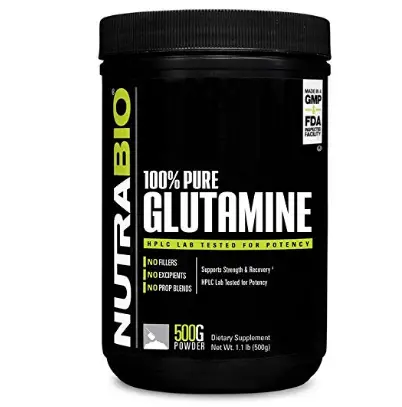 It is funny; a majority of these powders are marketed to be "unflavored". Yet, most of the time (including here), you can notice a taste and it is typically not very good.
Read more
Potency
Once again, you receive 5000 milligrams of unflavored glutamine per serving with this supplement.
Product Purity
Count on this being pure as every single batch that is ever made is HPLC tested beforehand. Oh yeah, and this also has been tested by independent third-party labs to ensure product purity even further.
Taste
As was alluded to, this is an unflavored option but it certainly gives off some sort of flavor. Most users agree that the taste is strange and almost indescribable.
Capacity
If 500 grams is not going to cut it for you, you can opt for the option that provides you with 1000 grams of this amino acid. For the record, the former has 100 servings while the latter has 200 servings.
Value
With the 500 gram package, you pay $1.14 per ounce. There is also a 1,000-gram option that would save you even more! As far as the packaging goes, it seems to be fine but one buyer reported when they opened up the container, a small insect flew out. Thankfully, this has not been a common occurrence.
Overall
Truth be told, this formula does not reinvent the wheel but if it is not broke then why fix it, right? No matter how you want to look at it, this is another really good option regardless.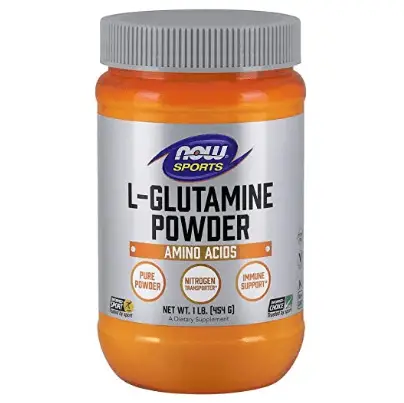 NOW Sports is yet another top-quality brand that you can place your trust in. However, one thing to note, the container that this is packaged in is not the best as it is not very user-friendly.
Read more
Potency
You guessed it; this is yet another option that provides you with five grams of this amino acid per every serving you take.
Product Purity
This has been tested for banned substances by LGC and it has an Informed-Sport seal to prove it.
Taste
Quite a few buyers have noted that this mixes very well with water. However, though no artificial flavors are added, a few users have claimed that this has a somewhat sweet taste.
Capacity
This container provides you with 91 servings and comes with one pound of powder (which works out to around 454 grams).
Value
As with most NOW products, this one is also quite affordable. This supplement ends up costing you $1.11 per ounce. When you get down to the nitty-gritty, it can become difficult to retrieve the remains of the powder as this container is tall and skinny (for whatever reason).
Overall
In theory, you could always transfer this from the included container to another airtight container. Doing so would get rid of the main issue with this option, which is saying something.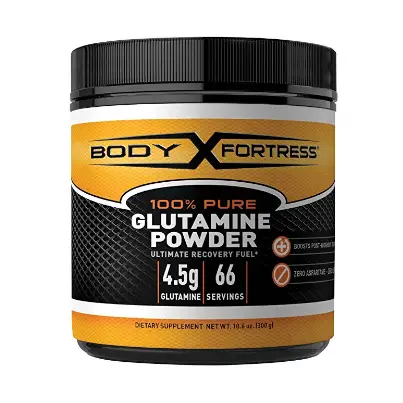 Because this option is offered in such a small container, it may not be the best for those of you who are looking to buy in bulk. Then again, the formula is both pure and potent so that is nice.
Read more
Potency
The potency is right up there with the best as 4500 milligrams of this amino acid is delivered per serving here.
Product Purity
In spite of the fact that this batch is not NSF certified or USP verified, it does conform to the USP/NF requirements. For the record, these requirements are industry-standard for both testing and purity purposes.
Taste
There have been a number of previous users who have commented negatively about the taste of this supplement. It just seems a bit odd and is not flavorless.
Capacity
This comes in a 300-gram container and, all things considered, is not bad but not ideal for those of you who want to buy in bulk (unless you plan to buy multiple containers).
Value
Talk about a deal! This is the cheapest option on our list. At 10.6 ounces total and a low price point, each ounce of this supplement costs you only .93 cents. Even though it is not an astronomical deal, it sure would have been nice if a scoop was included with your purchase. Instead, you will need to account for it yourself.
Overall
Sometimes, it is the little things that matter. While this is a fantastic formula, the lack of a scoop and the smaller size may be off-putting to you.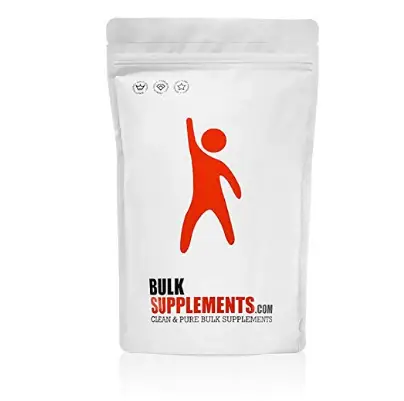 To say this option is a fan-favorite is a vast understatement. But, what you need to understand is the serving size (one gram) is significantly smaller than other options on the market.
Read more
Potency
Indeed, the potency is less than you will be used to here (if you go with five-gram-per-serving options). Per serving, you are provided with only 1000 milligrams of L-glutamine.
Product Purity
Past the fact that this is non-GMO, it has been lab-tested for purity and verification. Just know that what you are putting into your body is not contaminated.
Taste
For the most part, it seems this lacks taste at all (which can be seen as a positive). However, a number of reviewers have noted it does smell a bit.
Capacity
Talk about buying in bulk? The 25-kilogram option provides you with an astonishing 25,000 servings (though much smaller options are available).
Value
As with most products, the bigger the package you buy, the cheaper this supplement is. With so many different sizing options, the price per ounce ranges from $3.39 to .55 cents. For many consumers, the biggest issue with this supplement is packaging. It is not a container and instead is a resealable pouch. The main problem comes with the resealable strip as it is not well-designed.
Overall
Some improvements could be made here; yes, but the purity and the fact that you can buy this in a 25-kilogram option may be enough to sell some of you.

Subscribe to our Newsletter