Best Jumper Cables
In a Hurry? Editors choice: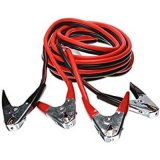 Test Winner: Bayco SL-3010

There are some products that you buy where you hope you never need to use them. This sounds ludicrous but there are so-called "
precautionary investments
" that every person needs (or should) make. It just so happens that purchasing a high-quality pair of jumper cables is one of those products. You simply never know when your car battery or mower battery is going to need a jump. It can happen in the worst of situations and having a pair of jumper cables on hand (and the help of a nice individual if your car battery needs jumped) can end up saving you. Of course, you can also lend a hand to someone else who needs a jump if they lack quality cables. They are simply something that everyone should store in their vehicle so let's dive into how to actually buy a pair.
Standout Picks
Criteria Used for Evaluation
Effectiveness
There are a few factors that will either enhance or decrease the overall performance. And, keeping them in mind is key.
When it comes to determining how well a pair of jumper cables can perform, there are two very important specifications to consider. Firstly, you need to take into account the wire gauge. But, what exactly does the gauge specify? It is simple, really. All the wire gauge refers to is the actual thickness of the wires. But, the higher the number, the thinner they are. Do not let this confuse you as a one-gauge pair will be thickest. In addition to the fact that a thicker pair will enhance the durability, this will also decrease the charging time. For most consumers, four or six-gauge cables will probably do. But, if you need them for commercial use or any other similar reason, go with the thickest. Also, pretty much stay away from 10-gauge models as they are not very efficient.
Outside of the wire gauge, you can also assess the amperage. Now, it is important to keep this in mind as the pair of cables you buy needs to be able to handle the amperage that your battery possesses. Most top-end models will be able to handle 800 amps and granted you stay in the ballpark of 400 to 800 amps, you should be fine.
Materials
Outside of the main material choice, there are also some other minor considerations that you need to make.
It is time to address the elephant in the room. This is referring to copper clad aluminum. If you are familiar with this technology or have asked your knowledgeable friends about it, you may have heard that copper clad aluminum is utterly inferior to pure copper. While this is true, do not come away with the assumption that copper clad aluminum should be avoided at all costs. Here is the reality of the situation; copper is not a cheap metal. Due to the fact that the metal is naturally highly conductive and has low-resistance, it is widely used as a conductor. But, for pure copper, you are going to pay the price. No one will argue that this is superior to copper clad aluminum (which is merely created by bonding a layer of pure copper onto an aluminum core) but most consumers will not feel the need to get a pair with pure copper (due to the price and usage).
Also, do not forget a couple of other things. Firstly, ensure that the design of the alligator clips is up-to-par as you need them to establish a tight grip for an enhanced connection. Also, keep an eye out for insulation. With heavy insulation integrated, this can reduce the heat that passes through and some insulation (such as T-Prene coating) can even enhance the flexibility in colder climates.
Size
The length is very important but do not overlook something criticial.
Even though this section seems simple at its core, it may not be as simplistic as you initially believe. Now, before we dive into the logic behind why the length can be a bit more complex than you think, do know that the most important thing is buying a length that is suitable for your needs. The question is, how long is that going to be? For certain, the minimum length you should go for is 12 feet. You really do not want to go much shorter than that (which is why most designers will at least make their model 12 feet). However, what you should do is buy cables that will be long enough for your needs but not necessarily the longest ones you can find.
To elaborate, it may not be beneficial to buy a 25-foot pair if you only need 15 feet of the actual cable. The reason for this is in longer cables, the energy has to travel farther and a loss of power can result. Now, if you have a one-gauge model then this will not be much of an issue but it certainly could come into play with higher gauges.
OUR TOP PICKS FOR THE BEST JUMPER CABLES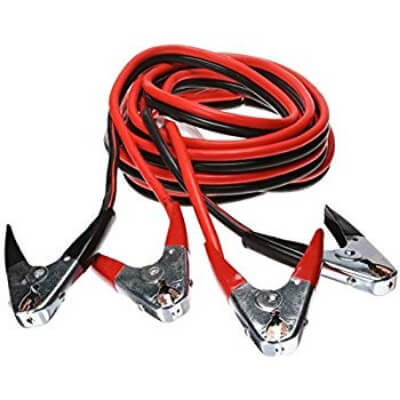 This is another expensive model that sports a one-gauge build with also 100 percent copper (however steel is still used). It also packs the power in the amount of 800 amps.
Read more
Effectiveness
Let's just say that this design is no joke. Whether you want to point to the power (800 amps) or the thickness (one-gauge), both offer exceptional performance.
Materials
This is not copper over aluminum but there is some steel present in the clamps. Where the clamps actually secure is where the copper stops, actually, which is a bit frustrating.
Length
With a 25-foot length, there is plenty of leeways when you actually use these. While it makes storing them more of a hassle, the extra length may be needed.
Portability
As a bonus with your purchase, you also receive a storage case and a sleeve. This makes it easier to store this in either the back-end of your truck or your trunk.
Warranty
Per the product description, this is backed by a limited one-year warranty.
Overall
Yes, you can argue that this design is flawed. The construction is pure copper but, technically, the steel is used as the electrical conductor. Still, this is a heavy-duty design.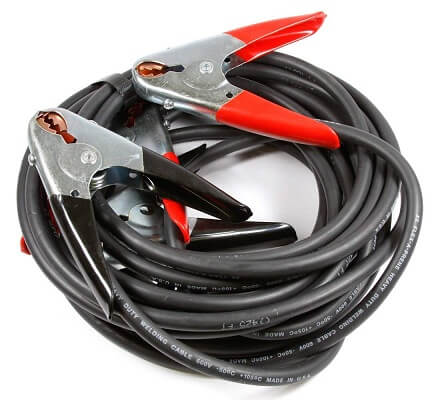 If you are not familiar with this technology, this price tag may shock you. The main reason for the inflated price of this model is due to the all-copper construction (and copper is not a cheap metal).
Read more
Effectiveness
On each end, the clamps are 500 amps. And, while the gauge is not the thickest it can go, these are still two-gauge for optimal thickness and performance.
Materials
As opposed to others on this list, this right here is made of premium copper welding. This model is not copper clad and instead is 100 percent, pure copper.
Length
To lower the price, you can lower the length. There are multiple options available (12, 16, 20 and 25 feet) and you can choose accordingly.
Portability
It is not indicated that a carrying bag is included so count on one not being included.
Warranty
This product is backed by a warranty but you must claim it within 90 days of your purchase. And, this warranty does not cover neglect of the product or overall misuse.
Overall
If you need a heavy-duty model and will not settle for anything less, you need pure copper and that is what you get here. That is really what it all comes down to here.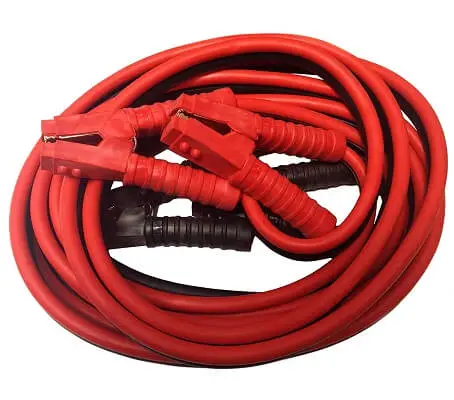 There is a lot to love about this design including the 25-foot length, one-gauge build, and 800-amp power rating. But, do be aware that these are copper plated aluminum.
Read more
Effectiveness
Probably the main reason why this model is dubbed as professional is due to the 800 amps of power and the one-gauge construction.
Materials
As can be expected by glancing at the price point, these jumper cables are made of copper clad aluminum and not 100 percent copper. But, thanks to the temperature-resistant shielding, these are safe in extreme temperatures.
Length
Thanks to the 25-foot length, you should not have too much trouble connecting two batteries together when one needs some juicing.
Portability
For your convenience, a travel bag is included and it can be used to help store these in your vehicle.
Warranty
Within 30 days of your purchase, if you are dissatisfied with this model in any way you can return it. It is claimed a refund will then be issued to either your debit or credit card within three to five business days.
Overall
Heck, even if you are completely disgusted by this design you can return it within 30 days and get a full refund. That small reassurance could be enough to convince you to give this option a shot.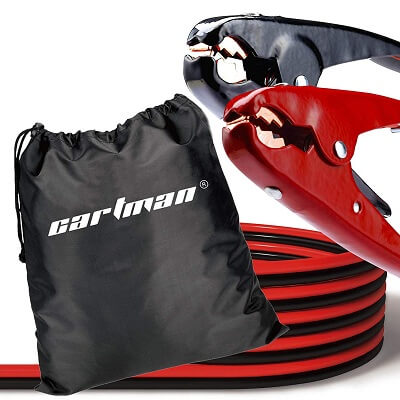 For the average consumer, this pair of jumper cables is going to be incredibly sufficient. While it may not be sufficient for heavy-duty use, it will suffice for just about everyone.
Read more
Effectiveness
This is capable of dishing out 600 amps of power and thanks to the two-gauge construction, it is thick enough to deliver optimal power transfer.
Materials
Cartman designed their model to remain flexible in colder conditions and this is because it is insulated with T-Prene coating. Also, this is copper coated aluminum.
Length
While slightly less in length than most top-end models, this still remains sufficient with its 20-foot length.
Portability
Given some of the other models, it is not much of a surprise that the included carrying bag is not that good. Of course, this one is probably worse than others due to its thin nature and small size.
Warranty
Cartman does their users a solace and backs their model with a five-year warranty. Some sellers will not even include a warranty so this is a huge bonus.
Overall
Let's just say that if you find a different storage bag, you should be thrilled with your purchase. Unless, of course, you are expecting pure copper.



Even if you live under a rock, chances are you have still heard of Energizer. It just so happens they make high-quality jumper cables and oh boy, have consumers ever enjoyed them.
Read more
Effectiveness
For the record, there are other seller options available. But, this specific design is equipped with 800 amps of power and also a gauge of one for optimal performance.
Materials
Now, this is made of copper clad aluminum but the cables do remain flexible in colder weather. Also, the heavy-duty grips stay secure for an ideal connection.
Length
There are a few length options to select from (though this has a direct effect on the gauge that you can select) with the longest being 30 feet (which is a sensational length).
Portability
Be aware that even though there is a travel bag that comes with your purchase, it is not sized well. Due to this, it can take you several attempts to get the cables back inside (as there is literally no breathing room).
Warranty
It is interesting to note that a warranty is not specified on the official product page on Energizer's website. Though, they do include a warranty with one of their other models.
Overall
Without much doubt, this is the best copper clad aluminum model on the market. It is designed by Energizer so that is not much of a surprise, though.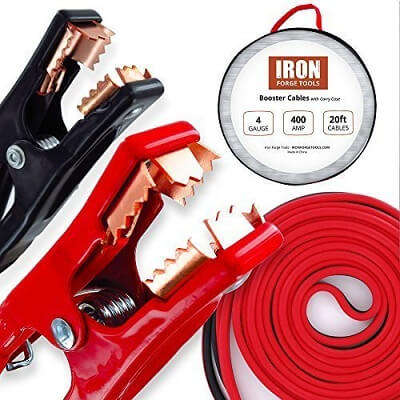 A lot of consumers have put their trust in Iron Forge Tools and based on the feedback, it appears that most of them wound up satisfied with the jumper cables provided by them.
Read more
Effectiveness
It goes without saying at this point but at 400 amps and a four-gauge construction, this is not going to compete with top-end models in regard to performance.
Materials
Iron Forge Tools designed their jumper cables with alligator clips that sport tight grips. The teeth are copper-coated aluminum, though, as you would expect.
Length
This specific design measures 20 feet in length and for most instances, this is going to be a sufficient-enough length.
Portability
Another seller who really fails to include a well-sized carrying bag is Iron Forge Tools. It is nice that they supply you with one but there is little to no breathing room (so you will need to plan how to get the cables inside).
Warranty
Here is what is really nice about buying from Iron Forge Tools. They stand by all their products and they back this with their lifetime replacement warranty.
Overall
When you put your trust in great companies, they usually deliver. And, though this model is far from the best, it does just that. Plus, the lifetime replacement warranty provides you with an excellent peace of mind.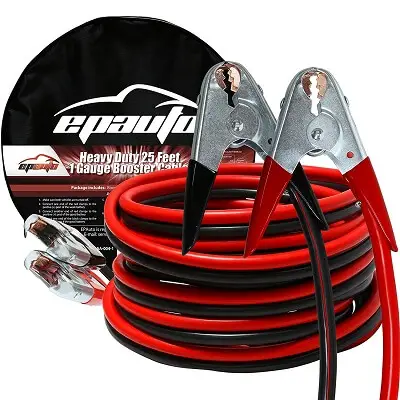 Even though pure copper was not used in the construction of this model, it still remains one of the best options for most consumers out there due to its gauge and power.
Read more
Effectiveness
Due to the combination of the thick one-gauge core and the 800 amps of power, these are able to perform extremely well.
Materials
For the record, this is not pure copper and is aluminum. Now, they get a little stiff in the cold but nowhere near as stiff as cheap models.
Length
EPAuto designed their model to be 25 feet and will make it much more feasible to connect these cables from one battery to the next.
Portability
Despite the fact that a carrying bag is included, it can be tricky to get the actual cables inside. But, at least one is included.
Warranty
On EPAuto's website, it is claimed clearly that they make no warranties. It is also stated that they disclaim and negate all other warranties.
Overall
For a copper clad aluminum model, this is pretty darn impressive. Given the fact that pure copper will jack the price up significantly, this is a tradeoff most consumers will accept.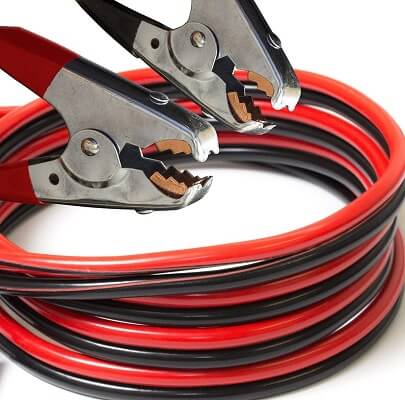 Put two and two together and you will quickly understand why these cables are cheaper in price than most. While they are nowhere near commercial-grade quality (despite the claim), they are still a great option for most buyers.
Read more
Effectiveness
The thickest gauge available here is four (with an amperage of 500). While this is not awful by any means, the cables will not be thick enough to perform to some users' standards.
Materials
The lower price is indicative of the copper coated aluminum construction. But, what is nice is that T-Prene coating is present and this helps to enhance the flexibility in colder climates.
Length
If you want the four-gauge option, you have two size options. You can either go with 12 or 25 feet. Given the price difference is not too substantial, you may want to opt for the 25-foot option.
Portability
To prevent these from becoming too tangled, they come with an included travel bag free of charge.
Warranty
Though the process sounds longer than it needs to be, you can fill out a warranty form on OxGord's official webpage. Do so if you feel the product is defective.
Overall
Really, this is very similar to the other options on this list. Of course, this is a very affordable option and is really suitable for casual uses only.

9

. Performance Tool W1667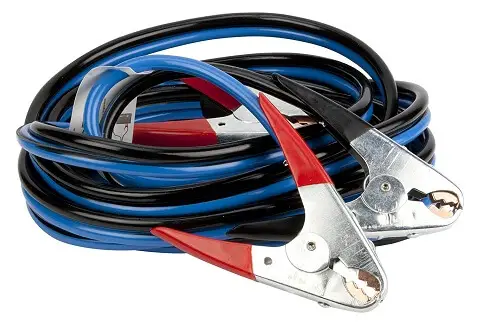 For the price point, it is hard to argue with the quality here. Now, with that said, there are a few hiccups that prevent this model from competing with the best of the best.
Read more
Effectiveness
Performance Tool provides you with several different design options and you can pick the one that suits your needs the most. While you can't individually choose the gauge and the power, there are a few different combined options available.
Materials
In addition to the fact that this is made of tangle-free rubber and copper clad aluminum, it also features red and black PVC coating for easy identification.
Length
Again, there are different size options available but you can't choose an individual length and also an individual gauge and power rating. This one, in specific, measures 20 feet.
Portability
With the design options available, you can be directly responsible for making this model more portable (but the tradeoff is the performance).
Warranty
On their webpage, it is claimed that Performance Tool does not back their product with a warranty of any kind.
Overall
Though this design is not without its flaws, it has accumulated several positive reviews so it must be doing something right. If you can accept its limitations, you can enjoy its quality.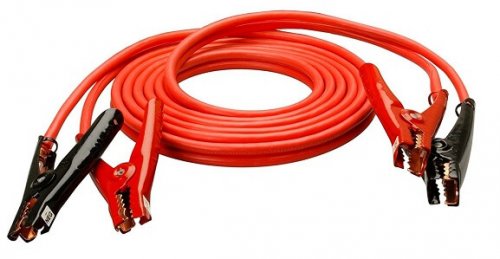 What makes this next design stand out is its ergonomic design and its safety features. However, in terms of its actual build, it is limited in several areas.
Read more
Effectiveness
This is the first real model on this list where the specifications are a bit limited. As it sits, this model sports 300 amps of power and also a four-gauge thickness.
Materials
To enhance the flexibility in colder conditions, this sports a T-Prene coating. However, the real issue here can be with the clamps as the connections with the cable itself are not that great.
Length
The seller provides you with a strong variety of lengths. It is up to you but you can choose 12, 16, 20 or 25 feet (with the price changing based on the length).
Portability
It is not specified if a carrying bag is included so count on one not being present. Now, one benefit to the thinner construction is this can be a bit easier to store.
Warranty
On the company's official webpage, there is no warranty that is specified. Much like with the carrying bag, it is better to assume that this is not backed by a warranty.
Overall
Admittedly, there is nothing overly impressive about this design. It is probably not going to wow very many people but you know what, it will get the job done.

Subscribe to our Newsletter