Best Kayak Anchors
In a Hurry? Editors choice: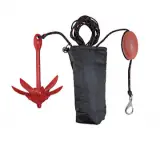 Test Winner: Extreme Max Anchor Kit

Though kayaks are designed to move fluidly in the water, it does not mean that from time to time, they do not need to be halted and stopped. Whether you intend
to do some fishing
or merely want to take a rest in the current area, you are in, and kayak anchors can be your saving grace.
But, what makes them somewhat hard to shop for is you typically can't get away with blindly buying one. Certain outside factors, such as the depth and aggressiveness of the waters you traverse on, will play an essential role in the buying process.
Today, it is our duty to provide you with the information and knowledge you will need to accurately and effectively shop for kayak anchors. After all, everyone out there is going to require something a little bit different.
Standout Picks
Criteria Used for Evaluation
Our Top Picks for the Best Kayak Anchors
1

. Extreme Max Anchor Kit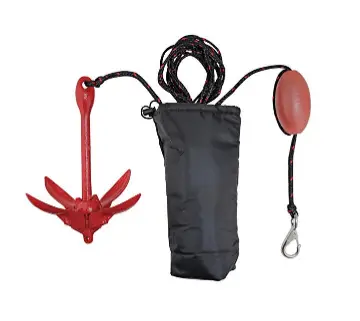 Several of you out there will probably be interested in buying a kayak anchor kit, such as this one, as most will provide you most of the accessories you need. And, you guessed it, this one does too.
Read more
Holding Power
With the options for either 3.5 or 5.5 pounds, you can buy the size that suits your situation the best. Either way, this grapnel anchor is designed with four flukes and works excellent in weedy and rocky bottoms.
Materials
For the 3.5-pound model, you can either buy it with galvanized or stainless steel. The 5.5-pound version, however, is only available with galvanized steel.
Accessories
While the 25-foot polyethylene anchor line could have been longer, it is durable and also comes with a marker buoy. This buoy is made from marine-grade foam.
Portability
In addition to the durable nylon storage bag, the flukes can be locked securely in both open and folded positions. When not in use, it makes it easier to tuck away.
Versatility
As noted, this is a grapnel-style model. As such, it is ideal for bottoms that are covered with coral, weeds, or even rocks.
Overall
For an affordable price, you can get one of the best kayak anchor kits on the market today. However, you may want to account for more line as 25 feet may not be enough.

2

. Airhead Grapnel Anchor System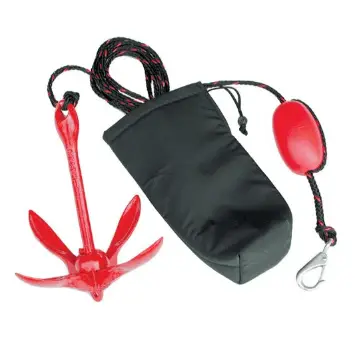 This kayak anchor system is about as good as it gets for kayaks. And, what is really nice is if you need an anchor with a bit of extra weight, this is sold in both 3 1/3 and 5 1/2-pound models.
Read more
Holding Power
As noted, this model is sold in two different sizes. With both of them, what you get is a four-fluke folding anchor that can work ideally in gravel, rock, mud, and sand bottoms.
Materials
In addition to the fact that this is made with durable steel, it has also been coated with a protective finish to help prevent the metal from rusting.
Accessories
Depending on the weight that you go with, you will either receive 25 or 50 feet of marine-grade rope. However, either way, the rope itself is a bit on the bulky side.
Portability
Past the fact that this is going to fit under most boat seats easily, it also comes with a durable nylon storage case. This case is padded, and this provides extra protection for the anchor.
Versatility
Even though this kayak anchor system is designed for kayaks, it can also be used for several other boats. This includes canoes, watercraft, floating tubes, and even sailboats.
Overall
As a complete set, this is one of the better kayak anchors out there. Outside of the fact that the included marine-grade rope is a bit bulky, this set is fantastic.

3

. Advanced Elements Anchor System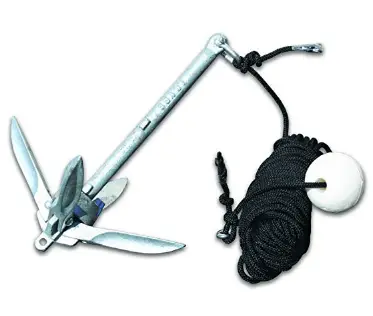 From sand to rock to kayaks to canoes, this model is quite versatile and useful. It also comes with 60 full feet of line and a mesh storage bag that can be quite useful.
Read more
Holding Power
Though this is not the most massive model out there (it clocks in at three pounds), it works great due to its four-fluke design. With it, and its weight, this anchor will grip to several different types of water bottoms.
Materials
As with many other kayak anchors out there, this model has been engineered with galvanized metal. Of course, there is a threaded pin that holds the rope to the anchor and this pin can loosen if you are not careful.
Accessories
All sorts of accessories are included with your purchase here. This includes 60 feet of line that you can use, a line float, a carabiner and also an attached buoy on the rope itself.
Portability
For both the anchor itself and the line that comes with your purchase, an included mesh travel bag can be utilized. This is designed to hold both of these items.
Versatility
In addition to the fact that this will hold well to different types of water bottoms, it can also be used if you want to go out on your canoe.
Overall
Whether you prefer kayaking or going out on the water in your canoe, this anchor system can work well for you. It is incredibly versatile, and this may be its greatest asset.

4

. Extreme Max Grapnel Anchor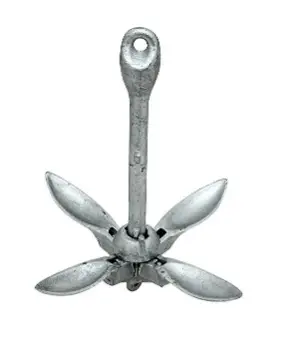 Now, the major aspect to take away from this model is the fact that it only comes with an anchor. While you will need to account for the other accessories yourself, this grapnel anchor is still one of the best in the business.
Read more
Holding Power
Thanks to the sheer amount of different weights that you can choose from, you can tailor the performance of this model to your needs. From 1.5 to 13 pounds, there are various options available.
Materials
While not every weight is available in stainless steel, some of them are. Now, if you go with stainless steel over galvanized steel, then you will pay the price.
Accessories
As noted, it appears as if this is merely only the anchor. It can't be used by itself, so you will need to invest in some additional accessories to get rolling.
Portability
When you do not need to use this, it can be folded compactly. This is useful when you need to save much-needed storage space on your kayak.
Versatility
It is yet another model that is more than suitable for different types of boats and rafts such as canoes and inflatable boats.
Overall
As an anchor, this is just tremendous. But, for some of you, it will not be as compelling as other options only because it lacks accessories of any kind.

5

. Seattle Sports Anchor Kit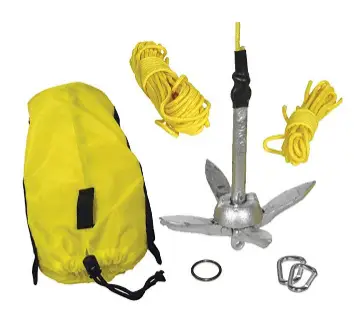 This is another grappling anchor and, as such, it is going to be ideal for several different types of bottoms. But, for sandy and muddy bottoms, specifically, this works like a charm.
Read more
Holding Power
In addition to being fantastic for muddy and sandy bottoms, this is also generally too light for ocean kayaking. For the record, the heaviest option weighs 3.25 pounds.
Materials
Regarding materials, this is built along the same line as many other models out there.
Accessories
Your purchase comes with not only 50 feet of the line but also a couple of carabiners and a ring that allows the anchor to be quickly deployed.
Portability
All the included accessories and items you receive will fit into the drawstring storage bag that also comes with your purchase.
Versatility
Overall, this is a rather versatile model. Then again, it is better suited for shallower waters and lighter boats.
Overall
Granted, you do not want to kayak in the ocean or anything like that; this kit should work incredibly well for several of you. All the accessories are well-made, and that is always a good thing.

6

. OceanMotion Anchor Kit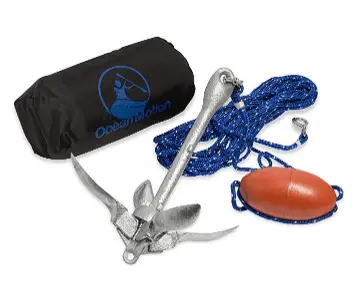 Everything is included to get you up and running here. As a total package, the value that is offered from this option is just fantastic. That alone should be enough to sell most of you.
Read more
Holding Power
At 3.5 pounds, yes, there are heavier models available on the market. For some of you, 3.5 pounds is just not going to be enough holding power, and that is fair.
Materials
If nothing else, take comfort in knowing that most of the elements of this kit are well-designed. The rope is made from UV-resistant nylon and the anchor sports a galvanized iron core. Oh yeah, and stainless steel hardware is also utilized.
Accessories
In addition to the fact that you receive 40 feet of rope with this kit, you also get a reflective tracer. This can come in handy if you need to anchor in low-light conditions.
Portability
While the anchor itself is a bit bulky, it will fit nicely into the included padded nylon cinch-top bag.
Versatility
As with so many others on this list, this kit is not limited to just kayaks. Even if you have a paddleboard, canoe, Jon boat or jet ski, this kit can still come in handy for you.
Overall
At the end of the day, this is not the flashiest choice of the bunch, but it gets the job done very well. Then again, for heavier kayaks such as tandems, some may need heavier.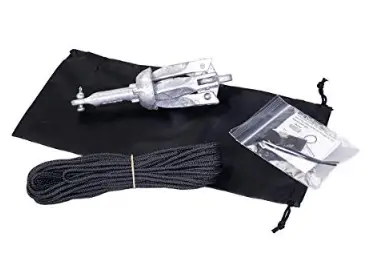 Some of the included accessories could have been better but hey, the anchor itself gets the job done very well. It is made from galvanized steel and is available in a few different weights.
Read more
Holding Power
If the 1.5-pound version is too light for you, then you can opt for the 3.3-pound version instead. Either way, both are equipped with four, six-inch tines that can be deployed when needed.
Materials
It is not too much of a surprise that this was made with galvanized steel. After all, as you are beginning to notice, several other kayak anchors are made with this material.
Accessories
Admittedly, the 30 feet of nylon rope, while a nice addition, is not quite sufficient enough. Past this, both Add a Rope and Rock Rig capabilities are included with this kit.
Portability
While it is nice that a storage bag comes with your purchase, the mesh inside can cause issues. The sharp ends of the anchor can end up getting caught up in the mesh material.
Versatility
Speaking for the lighter of the two options (the 1.5-pound anchor), it is most effective in slower moving waters. In currents, more weight is going to be needed to stabilize your kayak.
Overall
Though the kit itself is lacking just a little bit, the anchor itself is more than respectable. And, for the price, this is going to be an excellent pick up for most of you.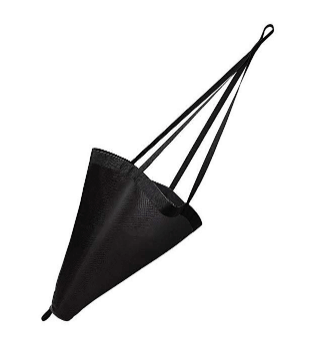 Now, you want to talk about unique and different? Some of you would not even classify this as an anchor but, while it will not stop your kayak, it will slow it down.
Read more
Holding Power
As you can guess, this does not anchor into the ground. Instead, the fabric acts as resistance to slow you down. But, this will not allow you to come to a complete stop.
Materials
Thanks to the reinforced webbing strap and the sturdy ripstop fabric, this is going to hold up exceptionally well over time.
Accessories
Additional accessories are not needed for a design like this. So, no, nothing extra comes with your purchase.
Portability
At 24 inches in length and with the ability to be folded down compactly, this is about as portable as it gets.
Versatility
This is best used to help stabilize your kayak during moderate winds. It will work better, though, for lighter and more nimble kayaks.
Overall
For sure, this is not going to be for everyone. It is also not going to work as a permanent anchoring solution. But, to offer a bit of variety, it is not a bad addition to your kayak.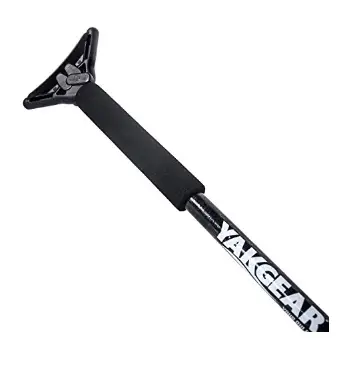 Alright, so this is something different entirely. The YakStick is simply a kayak anchor pole that is made of rigid fiberglass. It may not be up your alley but it works really well in shallow waters.
Read more
Holding Power
As this is merely just a six-foot stick, it will only work in shallower waters. In such waters, however, it will grip and anchor very well to keep your kayak stable.
Materials
Because this is made of rigid fiberglass, you can expect it to last you for several years to come. Now, at the same time, various users have had issues with the tip cane coming off.
Accessories
While this does not come with rope, there is a rope attachment that has been molded into the handle. Speaking of the handle, it sports a foam grip for your convenience.
Portability
The good news is this only weighs 22 ounces. But, the bad news is it does measure six feet in length. While good in the water, you will have to deal with this length when storing this pole.
Versatility
In a way, this is more limited than other kayak anchors out there. Because you can't expand the length of the pole, it will only work in shallow enough waters for the pole to be above water.
Overall
The YakStick is an excellent choice for those of you who are looking for something a little different. While not great for lakes or oceans, it will work splendid down rivers and such.

10

. Danielson Galv Folding Anchor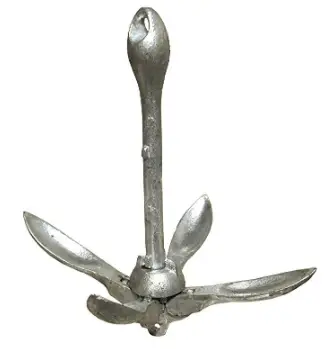 If you simply need an anchor but do not need any other accessories then this may be a great choice for you. It is a classic four-fluke design and can be locked in closed and open positions.
Read more
Holding Power
Many of you will probably opt for the three-pound version over the 1.5-pound one. This adds enhanced holding power and, with the four-fluke design, should grip quite well to different types of bottoms.
Materials
To better prevent rusting, this has been galvanized. This is a typical process that a majority of anchors will go through.
Accessories
This is not a kit and is merely just a folding anchor. As with other options like this, you will need to account for rope and other essential accessories yourself.
Portability
When not in use, this can conveniently be folded for storage. Granted that space in your kayak is often limited, this space-saving feature merely is tremendous.
Versatility
The four-fluke design, coupled with the weight makes this an anchor that can be used in a wide variety of situations and areas.
Overall
It is 100 percent understandable if some of you will settle for nothing less than a kayak anchor kit. But, again, if you already own what you need outside of the anchor itself, consider this option.

Subscribe to our Newsletter