Best Kneeling Chairs
In a Hurry? Editors choice: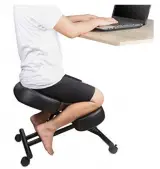 Test Winner: Dragonn

In today's society, people spend more time working on their computers. It's not just the people working in offices, working from home has become quite normal. The problem is that when a person sits for so many hours, there are bound to be adverse effects. Some of the effects of sitting for long hours include; lower back pain, straining, and muscle tension. As such, people have turned to ergonomic
furniture
to ensure that they can work productively without worrying about such effects.
One of the popular solutions are kneeling chairs. The best kneeling chairs enable better weight distribution all over your legs and knees. The chair's design naturally makes your knees lower, as your pelvis moves forward. That is how the chairs are able to correct your posture and help align your spine. Getting a kneeling chair is one of those decisions that you won't regret.
Standout Picks
Criteria Used for Evaluation
Support
A kneeling chair that can support you is a safe chair
The number one question that should be on your mind is whether your preferred kneeling chair can hold you. When it comes to work-out equipment, and things designed to hold us, the amount of support offered can't be overlooked. Knowing the weight limit the kneeling chair can carry will let you know if you can use it or not. Your safety depends on how well you adhere to the rules. There are risks to not observing the set weight limit.
If you weigh more than the kneeling chair can carry, the chances are that it may not be able to hold you. Since the overall construction of the chair won't be strong enough, there is a risk of the chair breaking apart, and you may end up hurt. Risking injury and possible medical expenses is not worth ignoring the stated weight limit. You stand to lose a lot if you randomly buy a kneeling chair without checking the specified user requirements.
Adjustability
If you can adjust it, you can customize it
It's highly unlikely that the first kneeling chair you buy is going to have everything set to your liking. Adjustability is important because it is what will enable you to customize your kneeling chair. The first thing you should look at is the height adjustments of the chair. The best kneeling chairs offer a range of height adjustment options. You should check if you will be able to set it to a sitting height that is comfortable for you. If the seat of the kneeling chair has a tilt, you will be better positioned in terms of ergonomics.
There are kneeling chairs that offer adjustment options for the depth of the seat. Paying attention to the knee rest area is also important. Other areas that can be adjusted include; the swivel of the chair and the chair's angle. Making adjustments that suit you is the key to personalizing your kneeling chair experience.
Flexibility
Flexible kneeling chairs will not limit you
Flexibility is a vital feature of what makes the best kneeling chair. You need to know whether the kneeling chair will make it easy for you to carry out your activities as usual. One of the main things you should identify is whether the kneeling chair has any wheels. Wheels make it easy to move quickly over to the next desk and back. The best part about them is that they make the kneeling chair easy to transport to other rooms. Swivel capability also makes the chair more flexible to use.
It's not enough for the kneeling chair to have wheels; the wheels only count if they can roll properly. Otherwise, what's the use of having them if you won't be able to move the chair as you wish. Kneeling chairs can have either metal, plastic or rubber coated wheels. Rubber wheels work perfectly, metal wheels last longer but plastic wheels are more affordable. Choose wisely to avoid any inconveniences.
Comfort
Comfort and productivity go hand in hand
The whole point of buying a kneeling chair is to work on your posture, provide support, and offer pain relief. It, therefore, defeats the purpose, if you buy one that will leave you feeling uncomfortable. Such a chair will not benefit you in any way. Every little detail in a kneeling chair's design matters. A small feature could be the key to the relief that you have been longing for. When buying a kneeling chair, it is essential to look at the seat's padding and the overall cushioning. It will come in handy, especially if you plan to use the kneeling chair for several hours. Excellent cushioning will help boost the duration in which you can work.
Some chairs have breathable fabric, to enhance comfort. When materials such as mesh are used, they cool the seat. The discomfort that may occur when it's really hot or when the user sits for too long is done away with. Other features that contribute to a comfortable experience include; the angle in which the seat is inclined, and ease of adjustability. If you find it difficult to adjust your kneeling chair, you will have a hard time achieving the level of comfort you need.
Fit
A good fit is a healthy fit
As we have already established, there is a variety of kneeling chairs in the market. With such variety, it is easy for someone to end up with a kneeling chair that they can't fit into. There are kneeling chairs that work best with short people, while others for tall people. If you are taller than the average person, a bad kneeling chair fit could do more damage. For example, such damage would include experiencing some pain and soreness on your knees. Shorter people would still be uncomfortable if the lowest adjustment height of the chair were still a bit high for them.
It is essential that you take your time before buying any wheelchair. Check if the design of the chair works well with your height. You should know if the adjustment settings will work for you as well. Having the proper information on the kneeling chair you have set your eyes on will reduce the risk of getting a poor fit.
Best Kneeling Chairs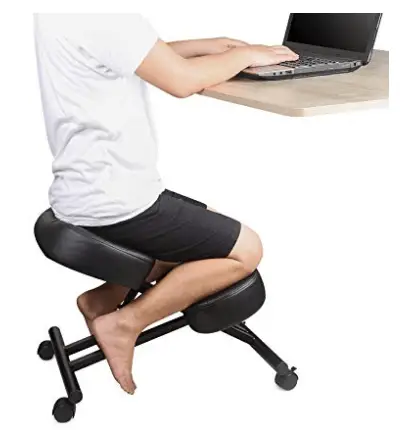 Kneeling chairs come in different designs. If you want one that most resembles your office chair's design, the Dragonn kneeling chair is a good option. The chair has a modernized construction and a very sleek design. The chair can fit in everywhere, from your office to your home, and even the classroom.
Read more
Support:
The Dragonn kneeling chair can support anyone weighing 250lbs and below. You can share the chair with anyone whose weight ranges in the same category.
Adjustability:
When it comes to height adjustment, the kneeling chair is adjustable from 21 to approximately 27 inches. You can freely adjust it until you get to a height you are comfortable with.
Flexibility:
The kneeling chair makes it easy to work on your desk without straining. You can work as you usually would, thanks to the functionality of its design. For mobility, the chair has four wheels. You won't be limited to just sitting; you will also be able to move around as you would have done in your regular office chair.
Comfort:
For maximized comfort, the chair's cushion is set at a 90degree angle. Because of this angle placement, your posture is naturally enhanced, and you are effortlessly comfortable. As such, your weight is also evenly distributed throughout your lower body. The cushioning is also double that of other brands.
Fit:
The kneeling chair is a good fit for people who are 5'3" to 6'0" in height. It is quite comfortable, even though tall people's feet may have slight contact with the ground.
Overall:
You will find the chair worth your money. With cushioning of about three inches, you won't tire easily when seated. The fact that it also has a mesh design ensures that you will feel cool throughout the day.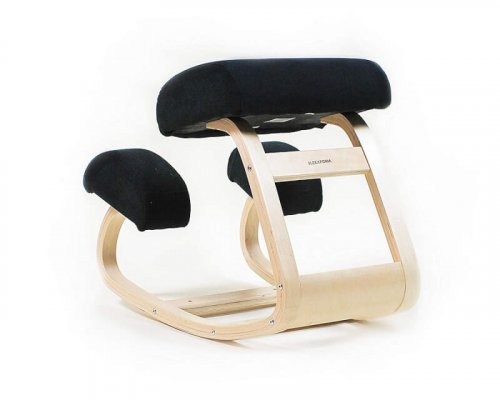 Sleekform offers some of the best multipurpose kneeling chairs. Not only can you use the chair for work purposes, but you can also use it for leisure. If you like to meditate, you will be surprised at how well the chair blends into your routine. Gamers can also use the kneeling chair to add to their productivity.
Read more
Support:
The chair has a weight capacity of two hundred and fifty pounds. It will support you efficiently as long as you are within the weight limit.
Adjustability:
You can adjust the kneeling chair's height from 21-28". To find the control for the height adjustment, you need to look under the kneeling chair. It is a simple process, but it has to be done while you are off your seat.
Flexibility:
The kneeling chair also comes with wheels, which roll in a very smooth manner. You will be able to move as much as you want. Re-positioning yourself will also be a quick task. All it will take is to pull against your desk, and you're good.
Comfort:
You will notice that the cushions are far much thicker than that of other brands. This chair's cushion is ergonomic and is about 4 inches in size. A four-inch cushion will offer plenty of relief to your knees and buttocks. The cushions are environmentally friendly since they are of purely recycled foam.
Fit:
The kneeling chair is not a proper fit for short individuals. Taller people would benefit more from purchasing this chair.
Overall:
This kneeling chair is what you need if you plan to sit for a number of hours. You will also find it easy to clean up thanks to the vinyl covering the cushion.

3

. Flash Furniture Mobile Wooden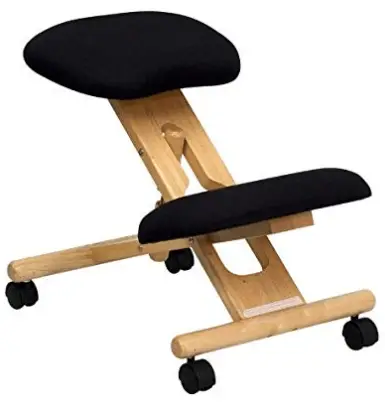 The best kneeling chairs come in different designs. This model from Flash Furniture has a frame made of wood. It stands out because of its natural finish. You will love how it pairs with the upholstery. You have the option of buying it in either black or grey.
Read more
Support:
You will only be able to use the kneeling chair if you weigh below 200lbs.
Adjustability:
If you want to adjust the height, you need to get to the center brace and turn the bolt in the middle. The chair cushions are designed to draw closer when the seat gets higher. Their adjustability ensures that you remain cozy regardless of the seat height you choose. The kneeling chair has three positions which you can adjust the height to. This is a much easier way to find the seat height you need.
Flexibility:
The casters used in the kneeling chair are dual-wheeled. Rolling won't be stressful in case you need to move or change the seat's location.
Comfort:
Flash furniture takes a unique approach when it comes to the kneeling chair padding. The chair's knee rests have CA117 foam, which is fire retardant. The knee rest consists of two inches of the foam. Your knees will not be as sore when you use this chair during your first days.
Fit:
You don't have to be short to benefit from this kneeling chair. The adjustments that are built in the chair make it comfortable for tall people as well.
Overall:
The padding on the chair offers just enough support. Even though the instructions aren't that easy to follow, you won't have a hard time to assemble it.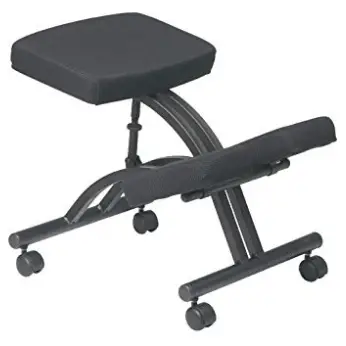 As the name suggests, this office star kneeling chair is best suited for people who have desk jobs. You wouldn't believe the relief the seat will offer you when compared to an executive chair. If you have been experiencing plenty of lower back pain, then Office star has the perfect replacement chair.
Read more
Support:
The kneeling chair is for people weighing less than 200lbs. You should be keen when you assemble it if you weigh more than 170lbs. Doing so ensures that you get maximum support.
Adjustability:
You will be able to adjust the chair's height. However, you will only have 2 inches worth of adjustment room.
Flexibility:
The knee rest adjusts depending on the height adjustments. The same applies to the seat angle. Both align to better accommodate the adjustments you make. You can also make a few alterations to the chair if you want, to make it your ideal kneeling chair. The wheels are not for rolling. The angle of the casters makes it challenging to swivel as well.
Comfort:
Even though the kneeling chair lacks back support, it's very cozy. You will love the high density cushioning and its overall ergonomic build. The chair also has generous padding.
Fit:
The chair is not fit for people who are above average height. They may end up hurting their knees unintentionally.
Overall:
All things considered, the Office star kneeling chair works great for its price. It's nice to have a chair you can also do stretches on while aligning your spine.

5

. Boss Office Products B248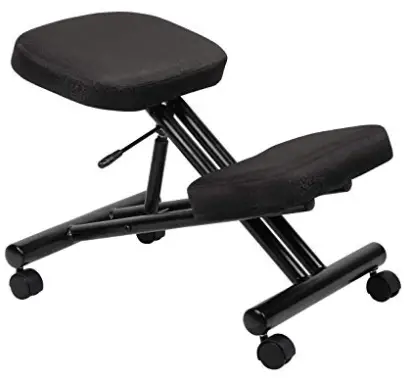 You don't have to deal with low-quality options just because your budget is limited. The Boss Office kneeling chair is one of the best performing alternatives that you can get at a fair price. Everyone deserves to enjoy the benefits that kneeling chairs offer and this particular one makes that possible.
Read more
Support:
You can use the kneeling chair as long as you don't weigh above 200lbs. The chair doesn't seem to be ideal for larger sized individuals since it has a small frame.
Adjustability:
The side of the kneeling chair has a lever, which helps to adjust the seat. You can use it to angle the top cushion to whichever height works for you. The side lever controls the pneumatic gas lift process for adjustment purposes. You will find that whenever you adjust the chair seat, the kneepad also adjusts itself. The design ensures that you will end up in a sitting position that is ergonomic.
Flexibility:
Thanks to its scissor type of design, the kneeling chair has some very flexible angles. The chair might not have a swivel feature, but you won't find it complicated to maneuver. The chair wheels work exceptionally well and make micro-movements possible.
Comfort:
You will find hip forward movements quite easy. The chair's design will ensure that you no longer strain your lumbar muscles. The relief that comes with owning a good kneeling chair is priceless.
Fit:
The company made the kneeling chair able to accommodate different knee sizes. You can adjust the height of the knee area as you see fit. People who are about 6ft tall can use it as well.
Overall:
The Boss Office kneeling chair is sturdy enough to compete with some of the high-end alternatives in the market. Aside from its construction, people genuinely love the chair's finish. It blends in with different spaces and décor.

6

. Varier Variable Balans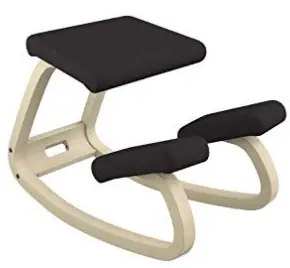 Nothing shouts authentic than this Varier kneeling chair. If you love collecting antique pieces, this kneeling chair will definitely grab your interest. It comes in an original 1979 design, created by Peter Opsvik. You have no reason to doubt its performance since the design has been tried and tested for over 30 years.
Read more
Support:
The kneeling chair has a 240lbs weight limit. It can support heavier people compared to most chairs.
Adjustability:
Unlike other kneeling chairs this particular one doesn't have any adjustability features. What is most surprising about this chair is the fact that it's just as comfortable.
Flexibility:
Some might argue that this kneeling chair doesn't look flexible. On the contrary, you will be able to move your body around with so much ease. The simple design allows you to rock back and forth to adjust yourself as you please.
Comfort:
One of the reasons why this chair is a favorite is because of the comfort it offers. Most people find it comfortable to use from the get-go. If that's not the case for you, you can still use the provided adjustments to make it ideal for you.
Fit:
You are more likely to enjoy this chair if you are tall. People who are 5'4 and below have a hard time using it. However, if you are 6ft and above and have had it rough looking for kneeling chairs, you are in the right place.
Overall:
The chair is easy to assemble, meaning it will not frustrate you. You can also get one for your kids, to use for homework and studying. It's never too early to dwell on proper and healthy sitting habits.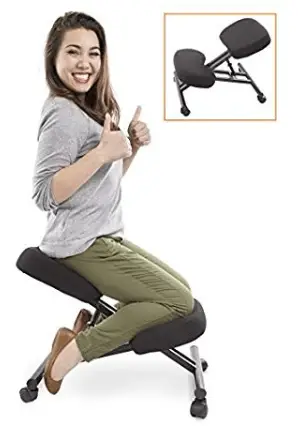 Durability is a quality we can't overlook regardless of what we are buying. ProErgo kneeling chairs are made so that you don't need to waste money on replacements. You could call this a heavy duty kneeling chair option. Save money by spending on reliable quality.
Read more
Support:
If you weigh just about 250lbs, this heavy-duty chair is right for you. The base of the chair is made using metal which is strong enough to support you.
Adjustability:
You will get three options when it comes to the height adjustment settings. You can adjust the seat from the lower area to the connecting region and last but not least, the support tube. The tallest height you can adjust to is 14", while the shortest s about 13".
Flexibility:
You will be able to move around since the chair has wheels. The movements are more stable compared to other wood-based alternatives. These wheels can sustain regular use.
Comfort:
You will get a thick cushion, which is about three inches thick in size. The cushion size is meant to prolong the amount of time you would typically spend seated. The cushion comes in a mesh design that will help you keep cool all through.
Fit:
The lowest height positioning of the chair can accommodate users who are about 5". The chair is versatile and is useful to taller individuals as well.
Overall:
Sharing this type of kneeling chair is easy because of its build. You can even buy it for someone as a gift, without stressing if the chair will accommodate them or not.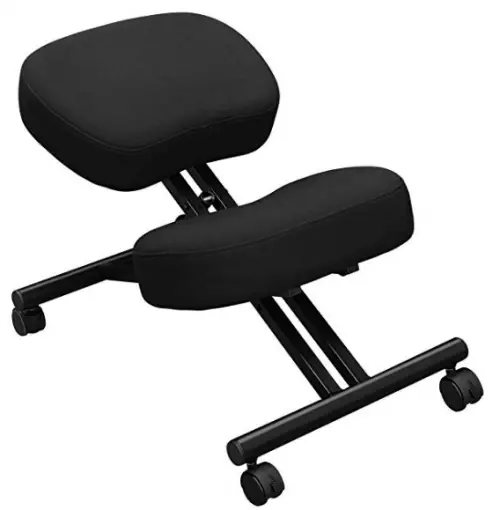 Sharkk kneeling chairs are quite popular, with their warranty being one of the reasons why. Their chairs come with a lifetime manufacturer's warranty. The company prioritizes its consumers and encourages people to contact them in case the kneeling chairs have any issues.
Read more
Support:
The chair can support anyone who is slightly above 200lbs. It's not a good fit for anyone weighing more than 240-300lbs.
Adjustability:
The kneepad area is supported by a rod, which enables you to make adjustments. You will have up to three angles to choose from for better knee support. The chair adjustments are made using a knob that has to be controlled manually.
Flexibility:
The wheels are okay. Two of the casters have breaks, while the remaining two are just ordinary wheels.
Comfort:
Soft cushions are the best. The company promises the ultimate coziness since they use the softest polyester on their seats. The padding is also removable, making it easy to clean when need be.
Fit:
The chair would best fit the average sized person. Tall people would not find it comfortable.
Overall:
Knowing that you won't have to go through any hassle to get your needs met is quite reassuring. The company offers to repair the kneeling chairs and even replace them if necessary. You will not be charged a single penny for such services.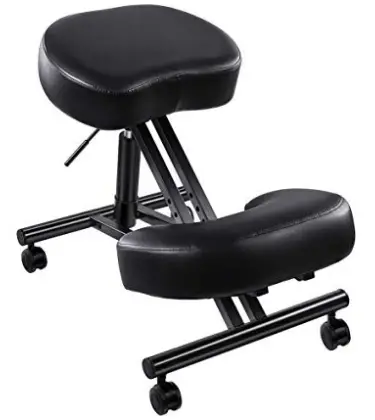 Kneeling chairs that suit different body types are not easy to find. SUPERJARE offers a kneeling chair, which tries to do just that. The kneeling chair is of premium quality and can be used by almost everyone, from teenagers to men, and women alike.
Read more
Support:
The chair is not able to support people weighing 250-300lbs and above.
Adjustability:
You will have full control when adjusting the sitting and the kneeling pads. The kneeling chair has mounting holes and a height adjustment capability for this purpose. The height of the chair ranges from 22.2inches- 26.5inches.
Flexibility:
The chair's sturdy construction and steady wheels make movement easy.
Comfort:
SUPERJARE found the perfect balance for this kneeling chair cushioning. The company was careful not to make it too rigid or too soft. Additionally, the cushions are four inches thick. The company outdid itself to ensure that you are as cozy as possible.
Fit:
Thanks to the adjustment and overall build of the kneeling chair, it can accommodate a variety of people.
Overall:
The quality of the materials that make up the kneeling chair is commendable. You can be sure that it will serve you well for quite some time.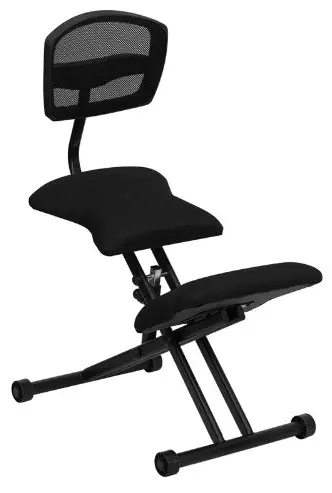 Not many kneeling chairs come with back support. The Offex Ergonomic Kneeling Chair is one of the few options that do. You will get the luxury of having a much-improved office chair, which offers a ton of health benefits. It's an excellent option for anyone who wants a kneeling chair they can lean their back to.
Read more
Support:
You can use this chair if your weight ranges about 200lbs. As far as back support is concerned, the angle is just right and will keep you working for longer durations.
Adjustability:
Adjusting the seat's height is possible. The height range is between 19.5inches to 27inches.
Flexibility:
Don't let the fact that the kneeling chair doesn't have wheels deter you. The interesting thing about this chair is that it has little knobs which make up for lacking wheels. The knobs are able to turn and make it possible to roll the kneeling chair. They are located at the bar ends and make re-positioning possible. However, you must be off the seat to roll it.
Comfort:
The kneeling chair is reasonably comfortable with two-inch padding. It also has mesh fabric to enhance the user's experience.
Fit:
This is yet another kneeling chair alternative, which caters to average height individuals. It might not work well for you if you are too short or too tall.
Overall:
This is a kneeling chair with an innovative design. The seat and the back measurements are reasonable. Most people won't find it to be too compact for them.

Subscribe to our Newsletter