Best Pole Saw Reviews and Buying Guide 2021
last updated:
Jan 07, 2021
Finding the best pole saw isn't an easy task and maintaining a large house along with a garden is a big headache. Especially, when you have a large garden with many trees, it is really hard to groom them frequently and maintain them without any hassle. You will have to put great effort in order to prune fruit trees, limb trees, and cut logs for firewood manually. This is where the pole saw excels and helps you in an unanticipated manner.
Best Pole Saw: Buying Guide
What exactly is a pole saw?
A pole saw is basically just a small chainsaw which is mounted to the end of a pole. This pole saw can be used for many purposes as mentioned above. But choosing one can be quite difficult because of the choices that you have over the varying prices.
Easy grooming for the trees
In terms of pruning and cutting, there are models varying which can reach up to 15 feet high branches. This combined with the sturdy frame, it will help you trim and prune the trees with ease. Also, there are a few models which have extra long bars up to 10 inches which are capable of cutting branched of up to 7 inches thick.
Effortless and quick
The garden work gets so easy and you can work efficiently without wasting time or your effort. Many of the models have shafts which come in multiple pieces so that you can assemble them and get a hike in your reach. And when you got to do pruning for the easy reach branches, you can just disassemble and work consistently.
Portability
Coming to the portability, most of these are made from lighter materials like aluminum or fiberglass. That being said, they can easily be carried around without having to put much effort. Going out on a hike or camping, you can carry and camp in a perfect place.
Multifunctional
Some of the below-mentioned models also have multiple features with two cutting tools so that you can prune, trim with one tool and chop the cut-off branches with the other tool. And the motors used in these pole saws are made in such a way that, other gardening attachments like a hedge trimmer, blower, and edger can be attached and used effortlessly.
When it comes to functionality, pole saws are available in three different power output functionalities. There are electric, fuel-powered, and battery-powered.
Electric (corded)
The electric pole saws work in a great manner if you have a power source around wherever you are working. And the better thing, you won't have to deal with the guilt that you might feel when you are polluting the air around, just kidding. You can simply just plug into the power source, start pruning and trimming your garden like a pro. Sadly, you will have to be near a power outlet or get ready to use a long extension wire box.
Fuel-powered
The fuel-powered pole saws are one of a kind and are ultra-portable. You can easily carry it around in your car wherever you are traveling and start the pruning or whatever work. The ideal usage of the fuel-powered pole saws can be in tight positions where it is hard to reach the branches. You can reach the tight positions with ease and prune the branches without having to worry about the cord. All you will be bothered by is the fumes that it emits and you will have to keep checking the fuel level. All in all, if you are looking for a powerful pole saw to perform heavy works, then the fuel-powered pole saw will work the best for you.
Battery-powered
Similar to the fuel-powered pole saws, battery-powered pole saws also work like a charm in terms of portability. They come with their own advantages and disadvantages. About the power, they come with a powerful battery such as Lithium-ion or Ni-cad combined with a powerful motor which can easily cut through thick yet tougher tree limbs and small logs. The battery comes with a huge capacity and with their own charger which is friendly enough. A tip-off is that consider buying a lithium-ion battery equipped pole saw for a long lasting battery backup. Another downside is that, if you are planning to work for long periods, you will need an extra battery based on the battery capacity of your pole saw.
From what we have spoken above, we hope you got a clear image of the type of the pole saw you might require for your sole purpose of grooming your garden. Down below, we are going to discuss how we liked a few pole saws that excel in their own aspects. Much below after them, we are gonna talk about the safety aspects that you should follow whenever you are using a pole saw.
We'll start off with the battery-powered pole saws and later get into the other sections. We have squared down a few of these below from our usage that we truly found to be the best.
Best Pole Saw – Top rated picks 2019
GreenWorks 20192 6.5 Amp
The GreenWorks 20192 electric pole saw comes with an 8-foot aluminum shaft which has three sections so that you can adjust to get the highest reach. The three-section shaft can be modified according to the height of the job that you are going to perform. All in all, you can have a comfortable experience without having to strain your back or your hand.

It comes with a powerful 6.5 amp motor along with an 8-inch Oregon chain and bar. The pole saw is easy to assemble and start considering you have a power outlet near to the place of job. Or else, you might want to consider buying an extension cord. With the power it offers, this could be a perfect choice to actually prune and cut slim branches easily.
Apart from the above-mentioned features, if we talk about the pricing, it is quite affordable for an electric cord pole saw. The best thing about this GreenWorks 20192 pole saw is that you get a 4-year factory warranty. Also, you get a handy bag in which you can carry this around.
Pros:
4-year warranty

Good Power

Ease of usability

Quiet

Sturdy
Cons:
The plug is not strong enough

Oil might leak if no proper attention is given

The pole's center of mass is unbalanced when it is extended
WORX WG309
The WORX WG309 pole saw's design is unique and one of a kind is what we could say about its design. It has an 8-foot telescopic pole which can extend to its max extent to deliver the job even when at great heights. Apart from the 8-foot pole, the rotatable handle gives you immense control and handling while grooming your trees. It is easy to trim, prune dense bushes and reach the tight positions easily. About the overall, the design is ideal for small to medium level of pruning and cutting chores.

The 8-amp motor can be aggressive and yet be calm to constantly deliver enough power for the job. It comes with a 10-inch bar which can easily cut the tree branches of up to 7 inches thickness so quick that you'll have to experience it yourself. The build quality of this machine is great and the design looks so appealing for the eyes.
As in the features which are provided additionally which we have spoken about before, the WORX WG309 can be disassembled quickly and can be used as a chainsaw for cutting through the logs easily. The other features include an auto-tensioning chain system which can actually extend the life of the cutting chain. It also comes with an automatic bar, chain oil to keep the chain running smoothly, and also an oil indicator for you to keep checking the oil levels.
Pros:
Compact and appealing design

Rotatable handle

Automatic chain oil

Best for medium cutting and pruning jobs
Cons:
The electric cord is not that sturdy

It can be heavy when it is extended

Not so portable-friendly

Now, we are going to discuss a few best battery-powered pole saws
Black & Decker LPP120 20V
Black & Decker can be deemed as the masters in this field without any misconception. They have been making products in this sector for over 100 years now with reliable and high power materials. If at all you are using their garden tools, you can be pretty sure about the quality and deliverance without any hesitation.

And with this Black & Decker LPP120, they have yet again proved that they are known to make high power products. The LPP120 is a battery-powered pole saw which comes with a huge 20-volt battery which has an exceptional cutting power. And with the 8-inch cutting bar that is provided, you can easily be able to cut branches which have a diameter up to 6-7 inches.
The LPP120 is so light weighing only 6.3 pounds; in fact, it is one of the lightest poles saw that you can buy. As it is battery-powered, it is quiet and just has minimal vibrations which can be helpful while working in tight places. This pole saw can extend up to a maximum of 10 feet which is great for reaching heights which you generally can't with an electric cord pole saw. Moreover, you can simply just disassemble the center part of the pole to use it for close up pruning of delicate trees.
The other attractive features of this pole saw include the battery life which is long enough to work for a longer time, all thanks to the lithium-ion battery. But still, if you are looking to work for much longer periods, we recommend you to buy an extra battery to swap whenever you are out of juice quickly. This also comes with a battery charger along with a bottle of oil.
Pros:
Great battery life

Exceptionally high power

Lightweight

Ultra-portable

Can reach up to 14 feet
Cons:
No automatic oiling for bar and chain

The battery takes quite some time to charge
Poulan Pro 967044201 40V
Even this manufacturer's name might be familiar to you. They too are known to make high-quality gardening tools which are powerful enough to carry out heavy chores. The Poulan-Pro pole saw comes with an 8-inch cutting bar which is capable of cutting branches of trees up to 7-inches without any discomfort.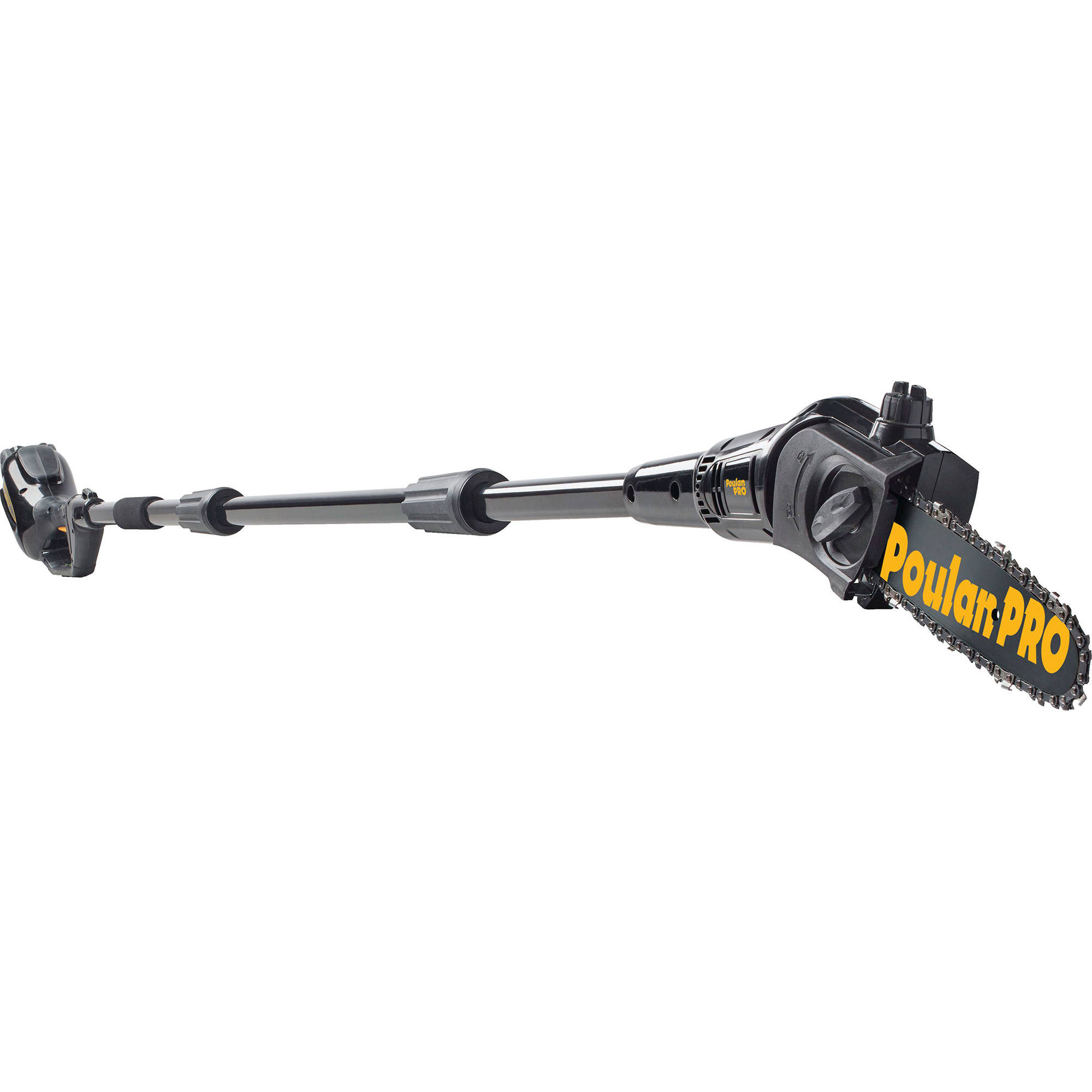 The 40-volt lithium-ion battery combined with a strong motor can give you all the beans needed to cut, prune, and trim the trees in your garden beautifully. The pole can be assembled and started easily with no hassle at all. With a maximum reach of 8 meters, it makes it easy for you to reach the highest of the branches. But when compared to the LPP120, it comes nowhere close to it in terms of maximum reach.
The design is so simple that you won't really have to read any manual or any sort as such to make this start and work. The company claims to have made this pole saw keeping in a mainframe that a gardener will have no knowledge about the basic buttons of a pole saw. It is so easy to start with just a button and then, there is this over-mold grip handle that provides you with great comfort while handling.
Along with the above-mentioned features, it also comes with a front adjust chain tensioning system so that the chain does not come loose when you are in the middle of cutting. Also, the automatic oiler helps the saw to keep running smoothly over time but you have to keep an eye on the oil level indicator so as to know when it needs to be refilled
Pros:
Powerful enough

Lightweight

Ultra-portable

Automatic Oiler

Quiet
Cons:
Can't handle heavy work

The battery is not up to the mark
OREGON PS250-A6
The Oregon PS250-A6 pole saw can be mentioned as a pole saw which is for extreme and professional purposes. And by saying that, we mean that, if you have a bunch of trees lying around which are tall and are needed to be trimmed, this might be a perfect choice for you. It helps you stay emission-free and still get the heavy chores work done easily.

It comes with a fiberglass shaft which can be extended from 7.3 to 10.4 inches without any hassle. This will roughly give you a reach of up to 15 feet which is exceptionally great if you are working on some tall trees. The 8-inch cutting bar with the mid-mount motor design can be told as well-balanced because of the comfort that it provides even when extended to max reach. Also, trimming and pruning the branches in tight yet high spots can be deemed easy.
The 40-volt max lithium-ion battery combined with a strong motor will be able to provide you with 500 cuts on a single charge, all thanks to the high-speed chain. Its power can only be described when we say that it is capable of cutting thicker limbs of oak tree branches which are 6-8 inches thick. It comes in a simple package along with the battery and a charger.
Pros:
Strong cutting power

Maximum reach of 15 feet

Automatic Oiler

Ease of use
Cons:
Quite expensive

Not so great when doing a heavy-duty cutting

Might seem heavy when using the saw at its maximum length

Jumping off into the fuel or gas-powered pole saws, we do have some of the best options you can consider buying for their performance.
Remington RM2599 Maverick 25cc
The Remington Maverick can be squared as the best pole saw in this whole list. But why? You'll know. It has been designed in such a way that it can handle multiple gardening chores. It has all the best features like fuel efficiency, high power, and other such features one might want in their pole saw.

This pole saw can do the cutting jobs from small to medium chores without any discomfort around your homestead. It is capable of pruning and cutting the tree branches which are up to 6-inches thick. The 8-inch cutting head can be easily dismantled so that you can use it as an edger, hedge trimmer, and leaf blower.
The Maverick is truly light in terms of weight and has a 7-foot durable steel pole which can be extended up to 12 feet to reach the high branches of trees in your homestead. Even when at the max reach, it can be well balanced, all thanks to the well-controlled center of mass.
Putting the great cutting performance aside, the Maverick's 25cc 2-cycle gas engine is easy to start without any for you to put while starting it up. Thanks to the QuickStart technology which helps you to start the motor in no time without making you pull the cord for multiple times. Moreover, it has an exceptionally great fuel-efficient motor which helps you go on running for a long time. And the automatic oiler guarantees that the chain of the pole saw stays lubricated.
Pros:
Value for money

Fuel efficient

Extra attachments for other additional tools

Automatic Oiler

Lightweight
Cons:
Not ideal for heavy-duty work

Balance is not well when used with the maximum range
Husqvarna 128LDX 28cc
Husqvarna is another such manufacturer which makes a home, garden power tool, and machinery. It is known all over the globe for their products. Their pole saw, the 128LDX comes with a 9-foot detachable pole and 10-inch cutting head. With these numbers, it is capable of cutting branches of up to 8 inches thick.

This fuel-powered pole saw can be extremely helpful if you have a large garden in your home with really tall trees which needs a lot of grooming. This one comes handy if you are looking to work in your garden regularly. The 128LDX has a 28cc 2-stroke engine which is capable of cutting through dead branches with putting the least effort, you can imagine the power.
It has an extended reach of up to 13 feet so that you can even neatly cut the tallest of the trees in your homestead. It weighs under 11 pounds and is ideal for medium to heavy-duty cutting chores. Moreover, it is capable of cutting through hardwood which is quite helpful in needy times. And thanks to the all-in-one design, you can easily interchange the chainsaw with other gardening accessories like an edger, trimmer, or hedge trimmer quickly.
As mentioned above, the lightweight design of the shaft is helpful and comfortable to hold, and easy to get used to. The engine or the motor in the 128LDX is positioned on the rear of the pole which results in great handling and balance even when it is extended to maximum reach. And with the help of the pole saw's air purge system along with the auto return stop switch, this pole saw is pretty easy to start.
About the pricing, even though it falls under the pricier side, it is quite powerful and delivers top-notch quality cutting performance. It also comes with extra gardening tools attachments to choose from.
Pros:
Powerful performance

Also cuts hardwood

Easy to start

Ideal for large properties
Cons:
Feels heavy when used for longer periods

The engine takes a while to burn in
Now, we do hope that you found the right pole for your preferences. If you ask us to choose one for ourselves, we might pick a fuel-powered pole saw considering the efficiency and the top-notch power delivery. Out of the both fuel-powered that we mentioned, we would pick Remington Maverick for its portability and multifunctionality without compromising on other aspects.
So, before choosing one, reconsider your preferences over and over so that you won't regret after choosing one. All the above-mentioned pole saws are the best ones we found out from our detailed usage in their own sections.Hoping that you have narrowed down to a pole saw of your preference, read the safety measures below to make sure that you stay safe while using the pole saw.
First things first, kindly read the user manuals and other FAQ books that are provided along with your pole saw. Even though you think that it working in the best manner, it probably isn't until you read the manual and get to know your machine perfectly.

Always be careful and pay attention when cutting thick wood. Pole saws are powerful machines which can cut thick branches easily. So make sure you stay in a safe zone while performing the job and don't risk it if you feel it is troublesome. Because it could be really dangerous if the branch is located right above your head so high.

Even though most of the pole saws come with extensions up to 15 feet or more, we recommend you not to use the pole saw to that extent for longer periods because it might be tiresome to work with such load for long periods. So, take rests in between and don't stay in the sun for longer periods.

Always make sure you also buy safety gear like goggles, gloves, and a helmet especially if you are cutting limbs off the trees.

Never work near a power line or cut the branches that you think might cause trouble with the power lines. It is better if you contact a professional arborist to perform such acts.

Make sure you keep a check on the oil levels and other such quantities of your pole saw. It might wear out quick if you don't give proper attention to it.
Now that we have discussed the safety measures you should take while using a pole saw, it is all up to you now to make a decision and buy the best pole saw of your choice. If you do want to add other pole saw that you think is the best and if you do follow any other safety measures, let us know in the comments section below.
Subscribe to our Newsletter