Best Portable Jump Starters
last updated:
Feb 07, 2020
It's a sound that any motorist dreads. That tell-tale clicking sound of a dead battery. Plus, it usually only happens when you're either tired, late for an appointment, or there is absolutely no one around with a set of good jumper cables. That's why having a good portable jump starter is such a great idea. There are a lot of different types to choose from on the market today, and finding the right one for you can be a bit of a challenge. Don't worry though; we've done the work for you and found the best portable jump starters on the market today.
This is the best product on our list that is currently in stock: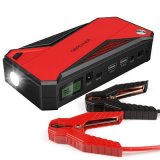 DBPower 600A
Why is it better?
Compact size
Multiple extra features
Standard safety features included
In a
Hurry? Editors choice: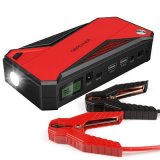 Test Winner: DBPower 600A

16
Researched Sources
1.3k
Reviews Considered
13
Hours Researching
16
Products Evaluated
Size
Effectiveness
Portability
Durability
By Default
Top Ten Portable Jumper Starters
Criteria Used for Evaluation


Size
When it comes to finding the best portable jump starter, most people will consider the overall size. This is certainly a great place to begin and for a number of different reasons. First, the overall size will often give an indication of how much a portable charger can handle, how easy it is to transport, and of course, how durable it should be. However, remember that looks can be deceiving. As we indicated in this guide, bigger isn't always necessarily better. Today's technology has given us the ability to pack a powerful amount of features in less space than previously considered.


Effectiveness
When you think about it, one of the most important characteristics to consider when buying the best portable jump starters is their charging capacity. For all intents and purposes, the charging capacity can be defined as the portable jump starters ability to bring a chargeback to your car. In most cases jump starters have enough "juice" to bring your battery back to life, and just enough to allow you to get to somewhere you can safely replace the battery or address the car problem you may be experiencing. They often have capacities ranging from 600 to 1500 amps, with peak charges ranging from 800 to 24000 milliamp hours, or MaH.


Portability
One of the nicest features of a quality portable jump starter is the ability to transport them from place to place. While some are a bit bulkier than others, all of the items listed here can easily be kept inside the trunk of a car, on a shelf in your mechanic's area, or in some cases even a small backpack or purse. The ability to be able to recharge your car's battery at any time requires that the jump starter be portable enough to take with you practically everywhere. Thankfully, with a few minor exceptions, the examples presented here allow you to do just that.


Durability
Of course, if the best portable jump starters are going to meet your needs, they need to be able to last through some harsh conditions. In a very real sense, these portable jump starters are batteries in a box, and these batteries are subject to the same wear and tear that affects your car batteries as well. That's why having protective covers, sturdy containers, connections that are well made, and quality construction and materials is so important. In a very real sense, these portable jump starters have to be tougher, and more durable than the cars that they might service.
Expert Interviews & Opinions
Most Important Criteria
(According to our experts opinion)
Experts Opinion
Editors Opinion
Users Opinion
By Default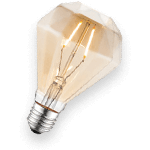 Match your jump starter with your engine
Simply put, the larger your engine, or the engine you're trying to start, the more capacity your car battery will have. This means that to successfully jump the battery you'll need a portable jump starter with the charging capacity and peak capacity that is large enough to handle the job. For the most part, a normal sedan or 4-cylinder car can be started with as little as 150 amps. Larger trucks and SUVs, however, often require between 450 and 600 amps to get the engine purring. Thankfully, most of the portable jump starters presented here can provide amps between 400 and 1500, which will give more than enough power to get the job done.
Other Factors to Consider


Accessories
In a very real sense, the portable jump starter you buy will only be as good, as useful as the items that come with it. You can have the best charging capacity, the most portable charger on the market today, but if you don't have good and standardized accessories, it won't be very useful. Things such as cables, surge protection, protective storage cases, and even instruction manuals can all help make the best portable jump starters that much better. This list not only provides for a wide range of quality jump starters, but each of them also features quite a few accessories that are not only a welcomed addition but a needed one as well.


Terrain
In addition to the factors considered above, another thing to think about when buying a portable jump starter is the climate in which you will be traveling. If the area is prone to long winters with lots of snow and precipitation like sleet or hail, you'll definitely want to get a jump starter that is tough enough to withstand the conditions and still provide the charge you need. In addition, you'll want to consider getting a device that has a larger or longer lasting charging capacity, since jump starts can be more frequent in colder weather. If you live in a warmer environment, you still should choose your portable jump starter carefully. Since many vehicles can overheat in hotter weather, engine, and battery troubles are not uncommon. It's important to make sure that your portable jump starter can handle being exposed to excessive heat and still function properly. It also should have a few safety features that will allow for safe handling even in the hottest conditions.


Safety Hazards
It's important to remember that a portable jump starter is a battery, and often a powerful one at that. There are safety concerns that need to be addressed, especially if you don't want to cause any significant damage to your vehicle or even harm to yourself or loved ones. Thankfully to this end, many portable jump starters on the market today have a number of standardized safety features. If you're interested in purchasing a jump starter for your use, it's important to not only consider these standard safety features, but also any additional features that you may need in your particular situation. Will you be working around water, such as a lake or a beachfront property? Then a jump starter that features a waterproof casing is something to consider. Is your charger going to become part of the family sedan? Then you might want to consider one that has child-proofing or child tamper-resistant features in addition to the normal safety precautions.
Frequently Asked Questions
q:

How can I make sure I'm using my portable jump starter safely?

a:

The simple answer to this question is to make sure you read and understand the instructions that come with your portable jump starter prior to using it for the first time. In most cases the use of the device is straightforward and intuitive, so you shouldn't have anything to worry about.

In addition to following the directions provided by the manufacturer, it's also important to pay attention to the environment surrounding you. There are certain times that it can be unsafe, or at least less safe for you to use a portable jump starter. For example, if the battery in your car is inaccessible, and you are thinking about jumping from a fuse box or remote terminal, you might want to consider other options. Also, if your battery is dead in a thunderstorm, it's probably better to seek shelter rather than stand out in the storm with things that could potentially turn you into a lightning rod.

Overall, though, using a portable jump starter safely isn't hard at all. Simply make sure you connect the cables in the proper order to the proper location (connect the positive cable to the positive battery terminal and then the negative one to the negative terminal. They're often color-coded for easy recognition).
q:

Is there an easy way to tell if my portable jump starter is working correctly?

a:

Essentially if your portable jump starter is working correctly, and the problem with your vehicle is the battery itself, you'll be able to turn over the car and start the engine in a few moments after making the connection. In addition, quite a few portable jump starters feature LED readouts or lights to indicate that they have a charge and are working properly.
q:

Does the year of my car affect what jump starter I can use?

a:

Another factor to consider when buying the right portable jump starter for you is the overall age and condition of your vehicle. With modern technology, the battery and the car's electrical system are often more integrated than ever before. Having the correct safety features built into the portable charger is often essential to prevent serious damage from mishaps. If the car is an older or classic model, it's especially important to make sure that the charging capacity of the portable jump starter doesn't overwhelm the battery or the engine itself.
q:

Do I really need to have a jump starter in my car?

a:

For many people, having a car means having a level of independence and self-reliance. Having a well made portable jump starter along for the ride only helps to solidify that feeling by giving you the peace of mind by knowing that if you ever need a charge for your battery it will be there.
Subscribe to our Newsletter