Best Workout Sandbags
In a
Hurry? Editors choice: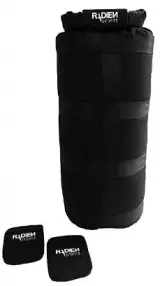 Test Winner: Radien Sports

It's common for people to want to be stronger, more agile and more flexible. Functional strength training is one of the ways that individuals have been able to achieve such accomplishments. With such training, most people have gotten better at handling demands associated with real-life activities. As a result, they have become less prone to injury and equipped for day-to-day occurrences. The best workout sandbags are also portable, allowing you to work out anywhere you please, at your own convenience.

More people have started incorporating workout sandbags in their routines, and the benefits are astounding. You will improve your body's metabolic conditioning, increase lean muscle mass, build upper and lower body strength activate stabilizer muscles, and so much more.

Standout Picks
Criteria Used for Evaluation
Weight
Only purchase what you can handle.
Sandbags have different weight capacities. Each brand sells its own individually chosen capacities. One may offer their smallest sandbag at a 6lb capacity while another brand may provide theirs at a 25lb capacity. The same applies to large sandbags; brands don't standardize their sizes. It is important to have this knowledge because you might have a brand you prefer, however, they may lack the sandbag you need.
For instance, you may want to purchase a 25lb sandbag and find that they only have 100lb options available. Do not insist on buying from such a brand just because they have good ratings. Move on and find a reasonable brand that will meet your needs. Also, the worst thing you could do would be to purchase a specific weight just because someone you know is using the same.
We can't all handle lifting the same weights, that is why you will set yourself up for injury if you forcefully take on more than you can handle. If it is your first time using a sandbag, you can just start small and gradually work your way up. There is no harm in starting with lightweight alternatives. On the contrary, you will have a better idea of what your limit is and still gain from the workouts using such sandbags.
Durability
A long lasting option is ideal.
Sandbags are subjected to so much, during workouts and training sessions. That's why it is logical to get one that can effectively withstand force. If you get a low-quality option, the chances are that it's going to get torn or ripped apart after a short while. Quality is everything when it comes to these workout tools. Before you make a purchase take time and do your research on the type of materials used. By doing so, you will get to know whether they are substandard or not. Some bags have undergone military grade construction, with quality stitching, using tear proof materials. Other even have damp proof fabric, durable straps, in addition to tough zippers. All in all, you should always keep in mind that only a durable sandbag can let you make the most out of your training.
Versatility
It is worth buying if you can train more.
When you choose a versatile sandbag, you give yourself more variety in terms of strength training options. Taking on various training exercises will not be an issue. Such kinds of sandbags often have several filler bags, to make their weight adjustable. They also come with handles to give you multiple grip options during your functional strength training. You will be able to approach your routines from different angles and adjust for flexibility as needed. You stand to gain more by purchasing such sandbags, regardless of your skill level.
Features
Learn what makes it valuable.
Some sandbag features are essential to ensure that your functional strength training goes accordingly. Not all sandbags come with filler bags, but they play an important part in the process. With filler bags, you adjust your bag's weight as mentioned earlier. Switching up from one work out to another will also be easy since all you have to do is add or remove them. Make sure your bag also has a handle or two, especially if you are a beginner. Most importantly, ensure the sandbag has a leak-proof design so that you don't have to deal with sand particles every now and then. Other important features include warranty and handle protection.
Top 10 Best Workout Sandbags
Subscribe to our Newsletter