Best Bike Water Bottle Holders
In a
Hurry? Editors choice: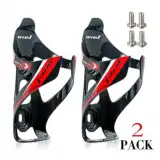 Test Winner: Wiel Carbon Fiber Bottle Holder

Is there anything more crucial than
proper hydration
when you are biking? Since your body literally
depends on water to survive
, it is something you need to account for on longer hauls. And, what better way to do so than to invest in bike water bottle holders?
While simple in their design, bike water bottle holders (or better known as water bottle cages) will differ from one another in several different ways. Knowing what to look for (such as the materials, compatibility, and stability) in each model is going to help you select the ideal model you need.
And, that is where we come into play. We have taken a lot of the guesswork out for you. With the assistance of this guide, you will gather the knowledge you need to pick the best bike water bottle holders that you know will work well for you.
Standout Picks
Criteria Used for Evaluation
Our Top Picks for the Best Bike Water Bottle Holders
1

. Wiel Carbon Fiber Bottle Holder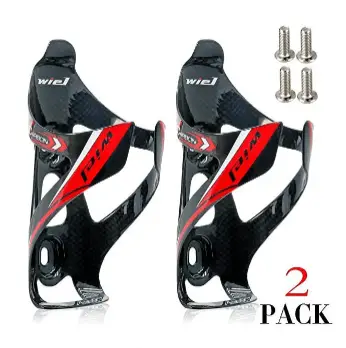 While most bike water bottle holders are actually engineered from heat-treated aluminum, this water bottle cage is actually engineered from carbon fiber. Oh yeah, and you also get two of these with your purchase.
Read more
Stability
Even if you plan to ride over rough terrain, this bottle holder will still hold securely. Without question, it has been designed to keep your water bottle safely (while still allowing for easy removal).
Materials
As noted, this has been engineered from carbon fiber. When it comes to bicycle components, it is pretty much universally agreed that carbon fiber is the best.
Weight
And, one of the reasons why carbon fiber is so lovely is due to its strength-to-weight ratio. As strong as this bottle cage is, it still manages only to weigh 29 grams.
Compatibility
While the included screws are certainly not the best (you may want to use some of your own), the installation is not going to be too tricky. Also, this measures 2.87 to 2.91 inches in diameter and is optimized for standard-sized bottles.
Colors
If you are not a fan of the black and red color option, then you can go with the silver alternative. Either way, honestly, both options are designed well visually.
Overall
Sure, this option is a bit more expensive than others. However, that is the price you pay for carbon fiber. While some of you may not deem it necessary to upgrade from aluminum alloy to carbon fiber, it is beside the point.

2

. Dimples Excel Water Bottle Cage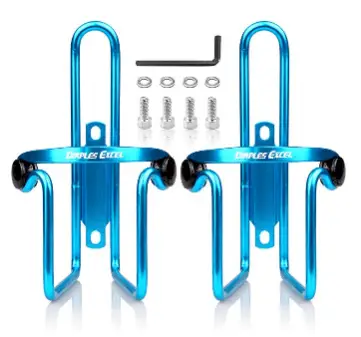 Now, this bottle cage is a lot like many of the others on this list. Of course, it manages to somewhat master the concept of an aluminum alloy bottle holder.
Read more
Stability
Due to the co-molded grip surface, this manages to stay secure and stable while you are riding.
Materials
For optimal strength, this is one of the many bike water bottle holders that is made of 6061-T6 heat-treated aluminum alloy tubing. This is much better than inferior grades of aluminum.
Weight
As you do get a pack of two with your purchase, each cage weighs 69 grams. This is a bit heavy when compared to the rest of the competition but can still be considered extremely lightweight.
Compatibility
Some buyers reported that they never received the screws needed to install this holder on their bike frame. Past that, this is designed to fit standard water bottles.
Colors
It is noted that this is actually available in one of four different colors. Options have been made for black, silver, red and blue.
Overall
This pack of two provides arguably the best value on this entire list. Simply put, these are some of the best aluminum alloy water bottle cages that you can get your hands on.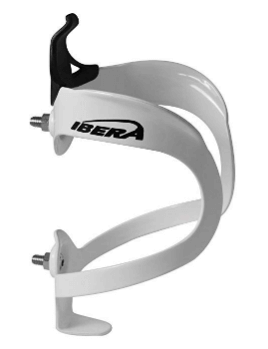 Mark this down as arguably the most popular entry on this list. Due to its lightweight nature, mostly durable core, and ovalized design, it is no surprise to see why.
Read more
Stability
Two design implementations allow this to provide superior stability. Firstly, the design is ovalized, and this helps to fit water bottles naturally. Secondly, it is also equipped with sturdy side ribs to prevent bottles from moving around.
Materials
In addition to the fact that the top and bottom lips have been reinforced, this entire cage has been crafted with 6061-T5 heat-treated aluminum. But, do be aware that this cage can scratch your water bottles.
Weight
At only 43 grams in total weight, you will probably not even notice that this cage has been installed onto your bike frame, quite frankly.
Compatibility
If you want to carry throwaway water bottles with you, then this bottle holder is not going to do the trick. Instead, it is optimized for both standard and over-sized insulated containers.
Colors
There are a few color options that you can select from. In a glossy finish, you have options for either white or carbon pattern. However, in a matte finish, the possibilities are for silver or black.
Overall
About the only reason, this is not even better is because it has been known to scratch water bottles in the past. If you are anal about this sort of thing, then you may not be too fond of this option.

4

. Ibera Extra Lightweight Cage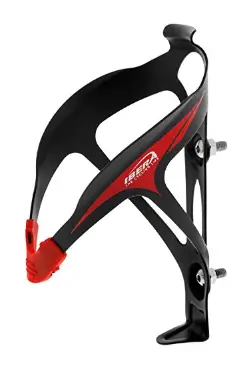 Remember the previous Ibera model on this list? Well, this is very similar. But, Ibera managed to shed even more weight off of their design with this well-designed cage.
Read more
Stability
As with the other Ibera bike bottle holder, this sports an ovalized design and sturdy side ribs. However, for off-road rides, this is not the most stable cage out there.
Materials
Over time, the finish of this model may end up coming at the heavy contact points. But, it still is a durable sucker and is made with heat-treated aluminum alloy metal.
Weight
There is no fibbing to be found in the title of this entry. Indeed, it is extra lightweight in its design and only clocks in at 29 total grams.
Compatibility
This is yet another water bottle cage that is optimized to hold standard water bottles. Also, your bike frame will need to have threaded holes (as with any cages) to work.
Colors
Each color option, for the record, does have a hint of red which is a nice touch. As for the selection, you have the option of picking silver, white, carbon pattern, or black.
Overall
In spite of the fact that this is really not going to cut it for off-road adventures, it is a compelling option that is both durable and light in nature.

5

. Pro Bike Tool Bottle Holder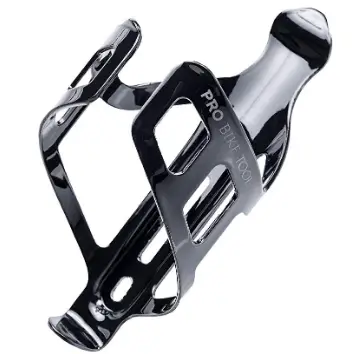 When you compare the good reviews to the bad ones, there really is no contest here. It is all but universally recognized that this model is well-designed.
Read more
Stability
Thanks to the secure retention system of this design, you will not need to worry about your bottle flying off or jumping up and down while you are riding.
Materials
The heat-treated, CNC machined aluminum alloy makeup of this bottle holder is perfect. It also sports a powder-coated finish for enhanced durability. Of course, it does have an issue of scratching insulated water bottles.
Weight
At only 48 grams (or 1.69 ounces), this is a feather-light design. Seriously, chances are, you will forget that the water bottle holder is even installed on your bike.
Compatibility
In addition to the fact that the oval mounting holes allow you to fine-tune the position of this just a little bit, the design itself is adjustable. So, this can help it account for different-sized bottles.
Colors
Not that many bike water bottle holders are offered in pure white so it is nice that this is an option. Then again, you can also go with a black finish if you prefer.
Overall
With a bottle holder market that is filled with carbon copies of each other, this is a nice break from the norm. It still manages to be a similar design, though, and that is comforting.

6

. Bell Clinch Bottle Holder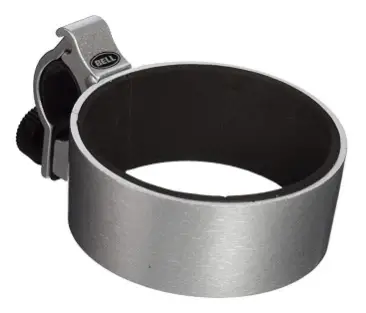 As opposed to cages, this is more of an actual bottle holder. It is a lot different than other designs as it utilizes a quick and easy mount system and a tapered hold for your water bottle.
Read more
Stability
Even over rough roads, this bike water bottle holder seems to remain stable. There is also a shim that has been integrated to prevent scratches on your handlebars.
Materials
Overall, this is well-made and most consumers agree. The main ring is made of metal while the rubber interior is used to hold your bottle tightly.
Weight
Indeed, this is just another lightweight option that you can choose. That really is the theme with most bike water bottle holders that are available on the market.
Compatibility
The mounting system is both good and bad. It is super easy to install and requires no tools to do so. But, a swivel would have been a nice addition as you are limited to where you can mount it on your bike.
Colors
This comes in a silver finish and it is quite stylish. It is safe to assume that not very many of you will be complaining about this.
Overall
The concept of this design is brilliant. Admittedly, the execution could have used some more work. It is still really good, however, and holds a rightful spot on this list.

7

. The Friendly Swede Bottle Holder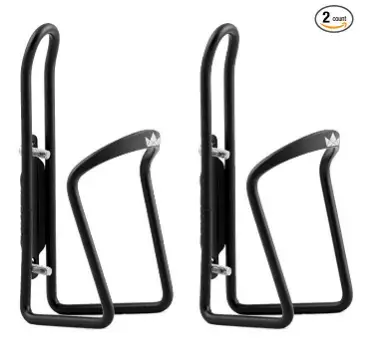 Truth be told, this is not going to stand out from too many other bike water bottle holders. That is not necessarily a bad thing, per se, as it really is a highly competent design.
Read more
Stability
Even though this will keep a firm grip on your water bottle, one reviewer did complain about the position in which it places your water bottle.
Materials
There have been a few buyers who have made mention of the fact that this can break at the weld point. Then again, this is made with 6061-T6 aluminum alloy that has been heat-treated.
Weight
At 60 grams each (as you do get two cages with your purchase), let's just say that you will not need to worry about the weight in the slightest.
Compatibility
Your bike frame will need to have threaded holes to be compatible. Meanwhile, this is another model that is optimized to fit standard water bottles.
Colors
This is offered in a black finish. Unless you have a pure white bike and do not want the bottle cage to stick out like a sore thumb, you should be okay with this.
Overall
Yep, this is another great value pick here. However, the issues that prior users have had with longevity can be seen as a concern. But, you do get an extra bottle cage so keep that in mind.

8

. Planet Bike Aluminum Cage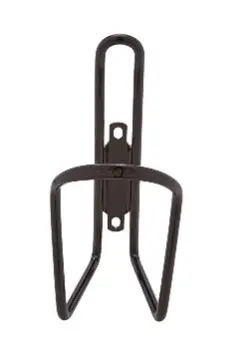 Simple yet effective is the best way to describe this next water bottle cage. Of course, you could say that about plenty of bike water bottle holders on the market.
Read more
Stability
The consensus amongst user feedback is that this model is going to hold your water bottle securely with relative ease.
Materials
If you put too much stress on this, it may break. The reason being is this bottle holder has been prone to doing such.
Weight
Though 63 grams places this at the more massive end of the spectrum for bike water bottle holders, 63 grams is still just over two total ounces.
Compatibility
Making this a breeze to install is the fact that this can be mounted with our without water bottle bosses.
Colors
If you want variety, then you certainly will adore the color selection of this water bottle cage. The diverse color selection is a lovely touch.
Overall
Though subtle, how you can personalize this model (with all the available colors) will be appreciated by several of you. Of course, you also need to be somewhat cautious with it.

9

. UShake Water Bottle Cages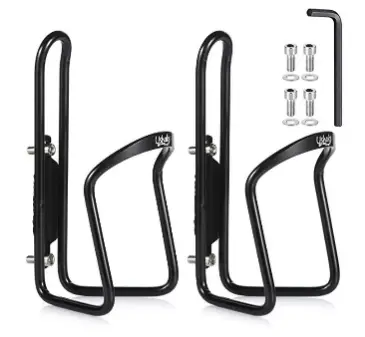 In regard to popularity, this option is right up there with any. As you can tell from the product title, also, you do receive two individual water bottle cages with your purchase.
Read more
Stability
To ensure that you never need to worry about your water bottle escaping while you are biking, this is equipped with arms that securely wrap around your bottle.
Materials
Even though this is made with 6061-T6 heat-treated aluminum alloy material, it has been known to break. Various reviewers have made others aware of this occurrence.
Weight
Weighing in at 61 grams (each of them as this is not the total combined weight of both), there are lighter options out there. But, it is not as if this is heavy in any way.
Compatibility
For the record, the maximum bottle diameter this can work with is three inches. Also, some users have had issues with the included screws not fitting on their bike frames.
Colors
Each bottle holder you get comes in a black finish. At the end of the day, you really can't go wrong with black as it virtually goes with anything.
Overall
Many, many people have raved about the design of this (or these) water bottle holder. While not flawless, you can see why so many users recommend it.

10

. Via Velo Water Bottle & Cage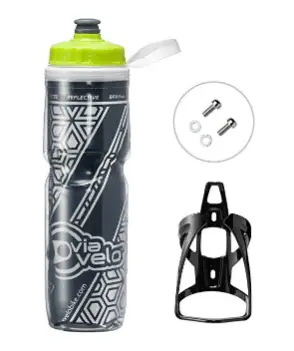 Now, this is the only option on this list that actually comes with an insulated water bottle. However, the cage itself is actually made of ABS plastic. So, do understand that.
Read more
Stability
Even on bumpier surfaces, this should still be able to secure your bottle reasonably well. Its no-slip design is optimized to help with this issue.
Materials
Indeed, this holder is made of plastic. But, it is not cheap plastic as it is of the sturdy ABS type. At the same time, it is plastic which some of you may not like.
Weight
Just do yourself a favor and do not worry about the weight of this model. It is made with lightweight plastic, after all.
Compatibility
It is noted that this can be attached to any bike. Then again, some previous buyers have reported that they did not receive the hardware necessary for installation.
Colors
The bike bottle holder itself is black plastic. Again, as has been stated before, it is tough to wrong with black.
Overall
The bonus insulated bottle that comes with your purchase (which is lovely) makes this extremely compelling. And, the holder itself is pretty competent at what it needs to do.

Subscribe to our Newsletter