Fiblink 3 Piece Spinning Rod Review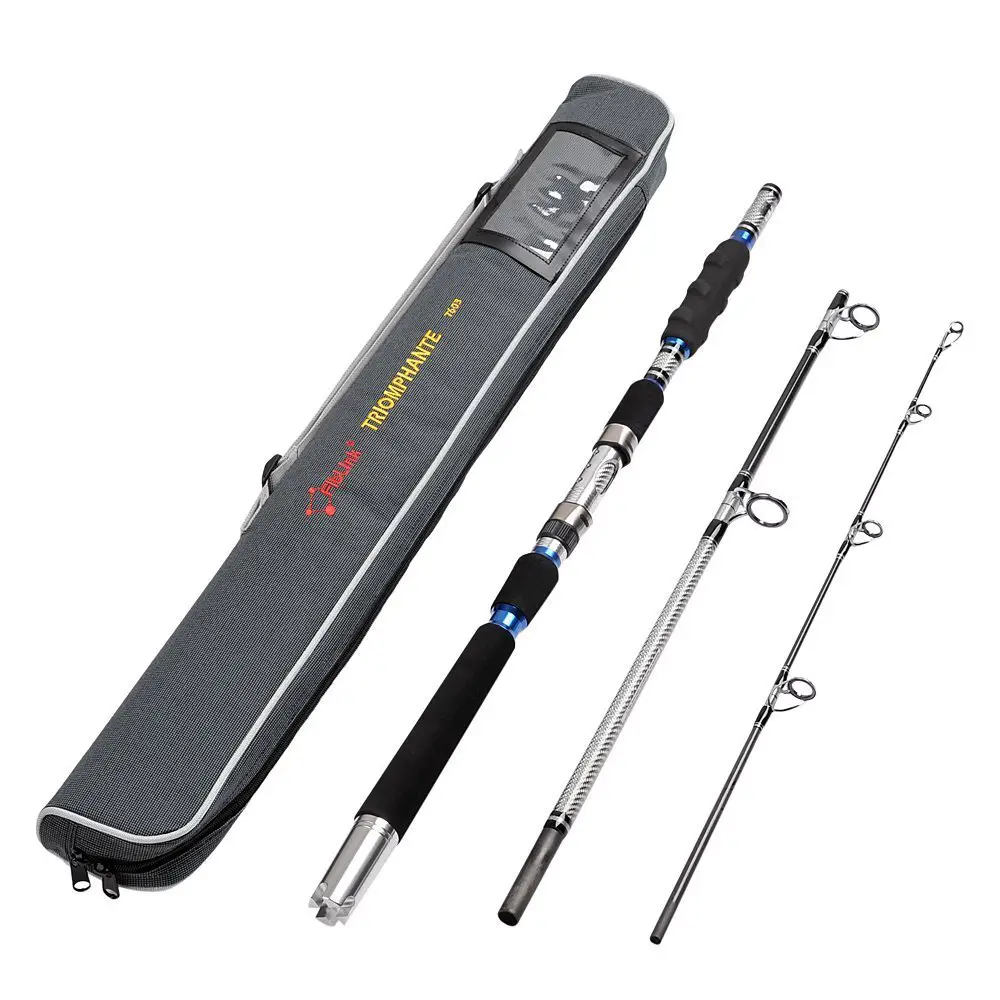 What makes fishing so exhilarating is that you never know what yo you may catch. You might be out looking for porgies and hook a huge bluefish instead. Being prepared for anything requires versatile tackle like the Fiblink 3 Piece Spinning Rod.
Some fisherman love to take an entire tackle store's worth of gear with them. I prefer having tools that can multi-task. When it comes to fishing, I believe in packing light. The minimalist in me loves this rod. I don't want to be caught with too small a rod if the big fish are in. I also don't want to be targeting small fish with a heavy rod, either.
It might be the light tackle, but being rated for 30-50 pound test and up to 8.8-ounce lures mean that you don't have to worry about how big a fish you end up hooking into. Instead of taking 2 rods, one for small fish and a heavier one for the bigger game, you only need to bring the FB link 3 Piece Spinning Rod.
What you get with the Fiblink 3 Piece Spinning Rod

The Fiblink is made with sturdy, yet flexible graphite. That flexibility means excellent action. A soft tipped rod like the Fiblink gives you control of the lure for a realistic presentation. That presentation is crucial in tricking your target fish.
Coming in sizes of 6', 6.6' and 7', there's a rod for the pier fisherman as well as the boater. The smaller size is ideal for casting off a boat or kayak. The 7' is great from shore when a longer cast is necessary.
The blank itself is beautiful. It doesn't just look nice. The construction is solid and has a nice weight to it. It clearly has the backbone to handle casting an 8.8-ounce lure or bait.
Every detail is accounted for. The guides are made of corrosion resistant stainless steel with ceramic inserts. Not only are they built to withstand the salt, but provide a smooth cast.
The reel seat is also corrosion resistant, being made with aluminum alloy. And for comfortable fishing, the grips are made out of a high-density foam. That's important when you are out fishing all day to avoid fatigue in your hands.
Having a handy carrying bag is also a great perk. Just take it apart, put the pieces in the carrying bag, throw it in the backseat or a suitcase and you're on your way. No need to worry about how to get it to your destination.

What customers are saying

Many of the customers reported it doing very well with bigger fish off a boat. The rod stood up to some tough fighting fish.
However, it was reported by a few customers that the rod tip snapped when fighting big fish. This was an issue that Fiblink says had been resolved. Newer rods should not have that issue, and the warranty means that any rod that does break within a year will have the section replaced.
The customer service from Fiblink is top notch. If you have any issues with the rod, just contact them, and they will help fix the problem quickly.
It should be noted that the drag should not be set to tightly when fighting a big fish with this rod. Or any soft tipped rod, for that matter. That puts quite a heavy strain on the rod and increases the chance of failure in the blank.
Is the Fiblink worth it?
The versatility and durability make this fishing rod worth it.
It's ideal for a fishing vacation. It takes up little space in a suitcase making it easy to bring along. If you can only bring one rod but aren't sure if you will be fishing from shore for small species or from a boat for larger game, the Fiblink 3 Piece Spinning Rod is the obvious choice.
When the conditions are rough, you need a workhorse of a fishing rod. The Fiblink delivers since it is made with durable, yet soft graphite and corrosion resistant materials. Effortless casting from the ceramic lined guides makes it a pleasure to fish in any weather.
Comfort, durability and good looks all come together in one package with the Fiblink 3 piece spinning rod. And at the economical price, you will be surprised by how well it performs.