Jetboil Stash Cooking System
With the whole kit weighing just over 200g, the Jetboil Stash turns out to be the label's most lightweight and compact cooking system yet. With a new focus on minimal weight and compactness, this unique cooking system is perfect for anyone looking to save weight in an all-on-one tower-style gas stove.
Feature friendly and running on a standard isobutane fuel canister, the Stash comes with everything you need to, including a stove, 0.8L aluminum pot, a plastic lid/strainer and Jetboil's fuel stabilizer.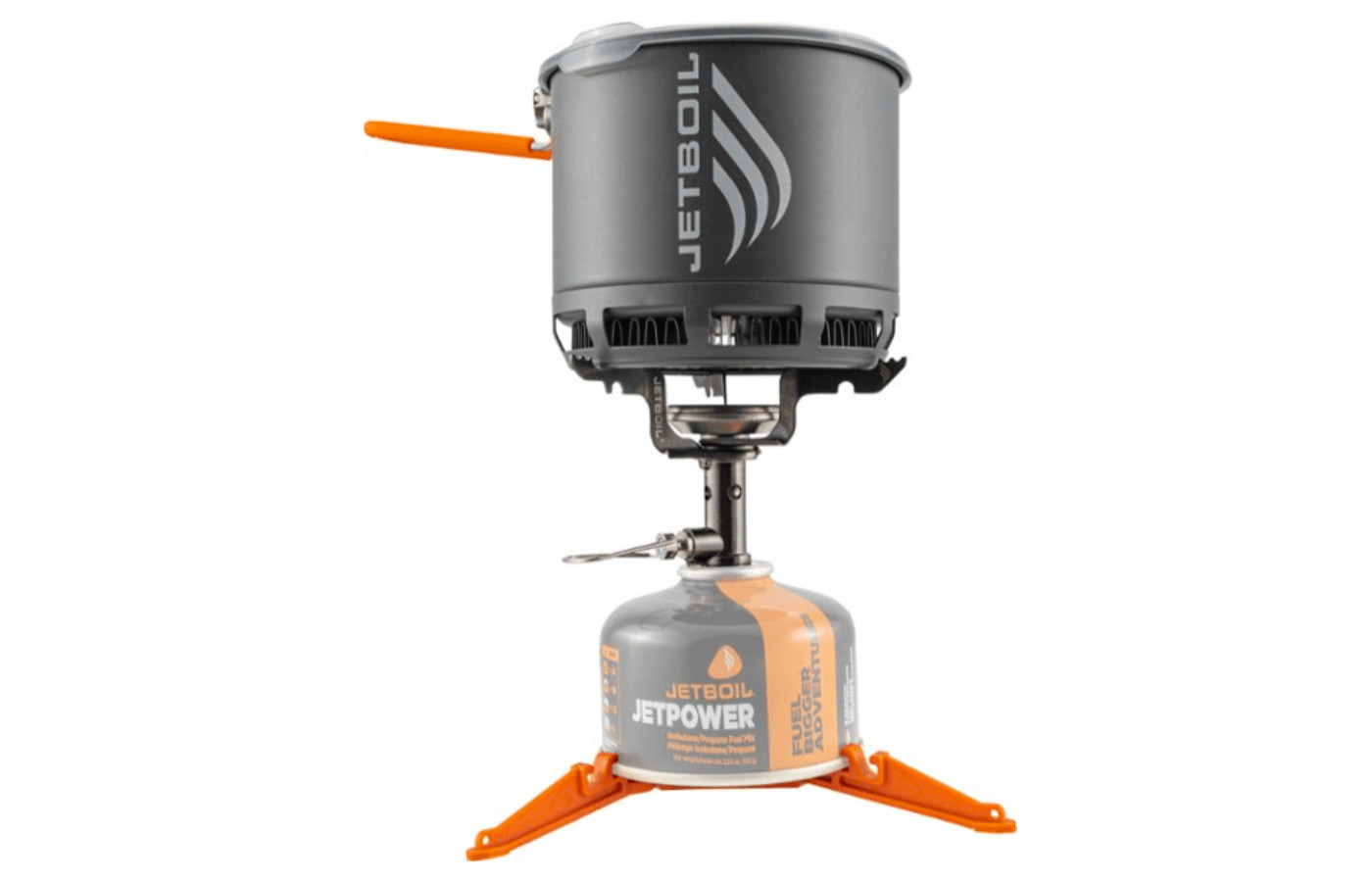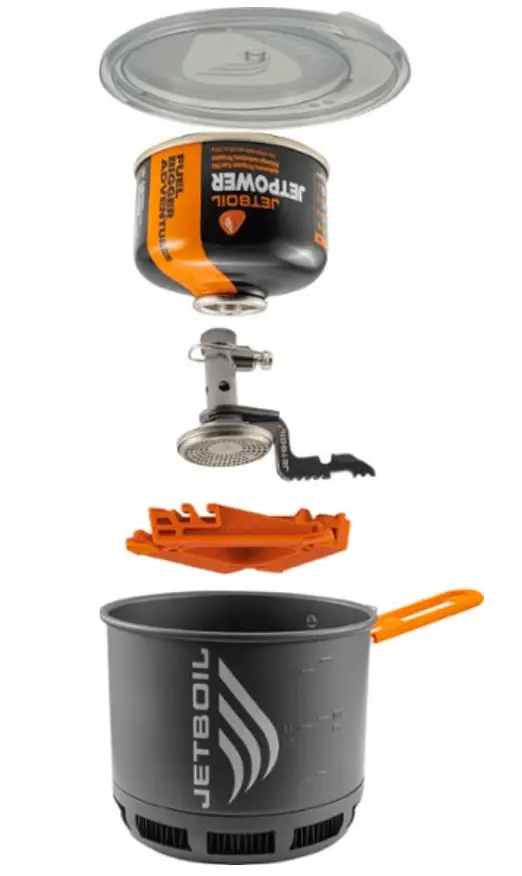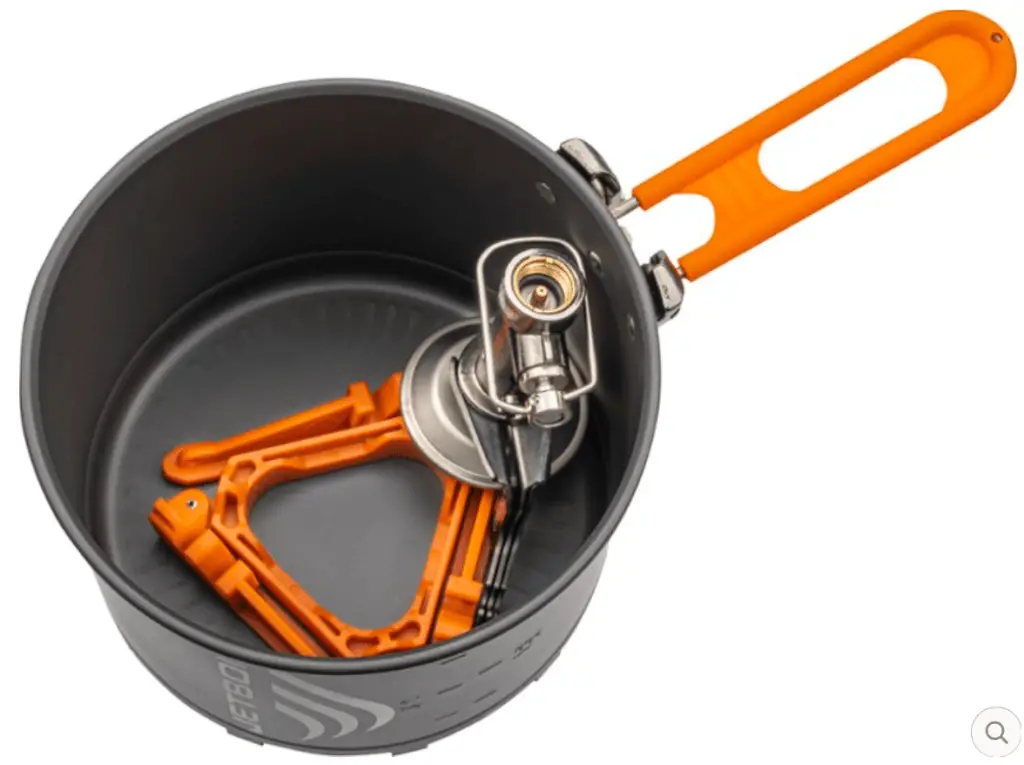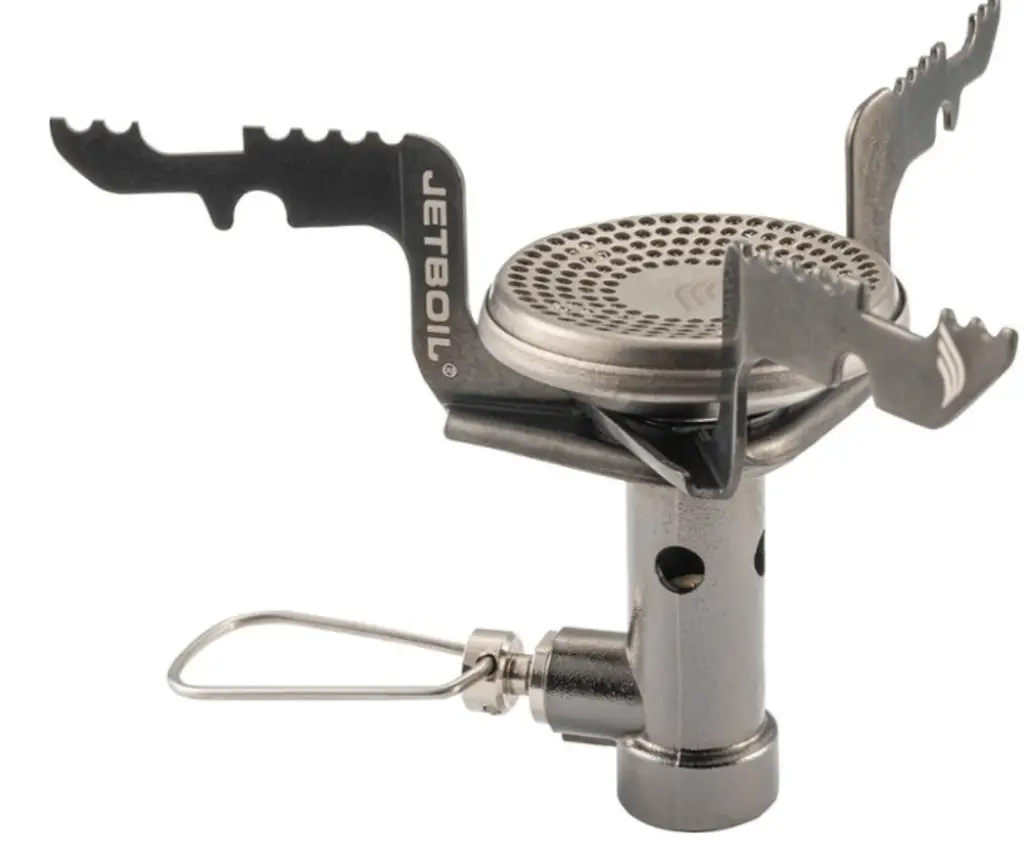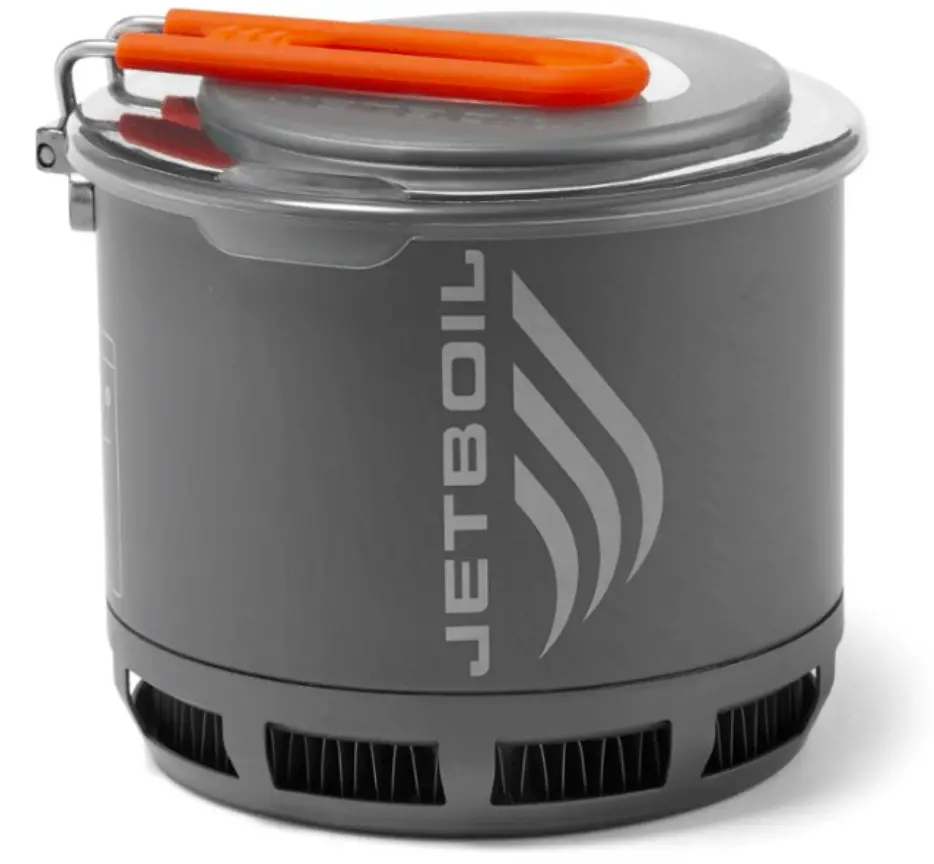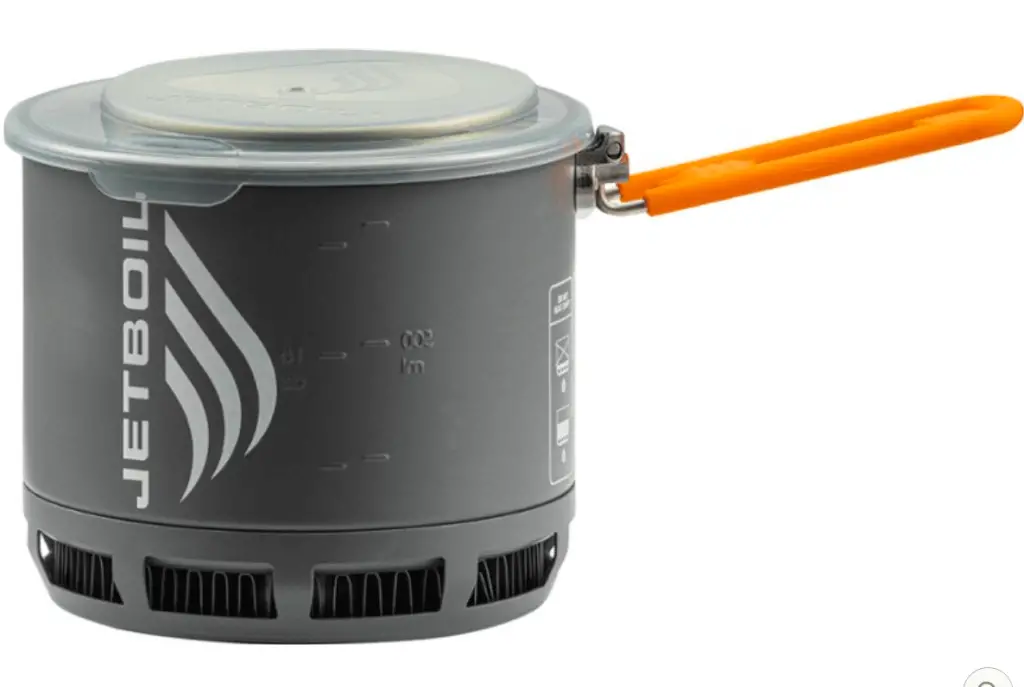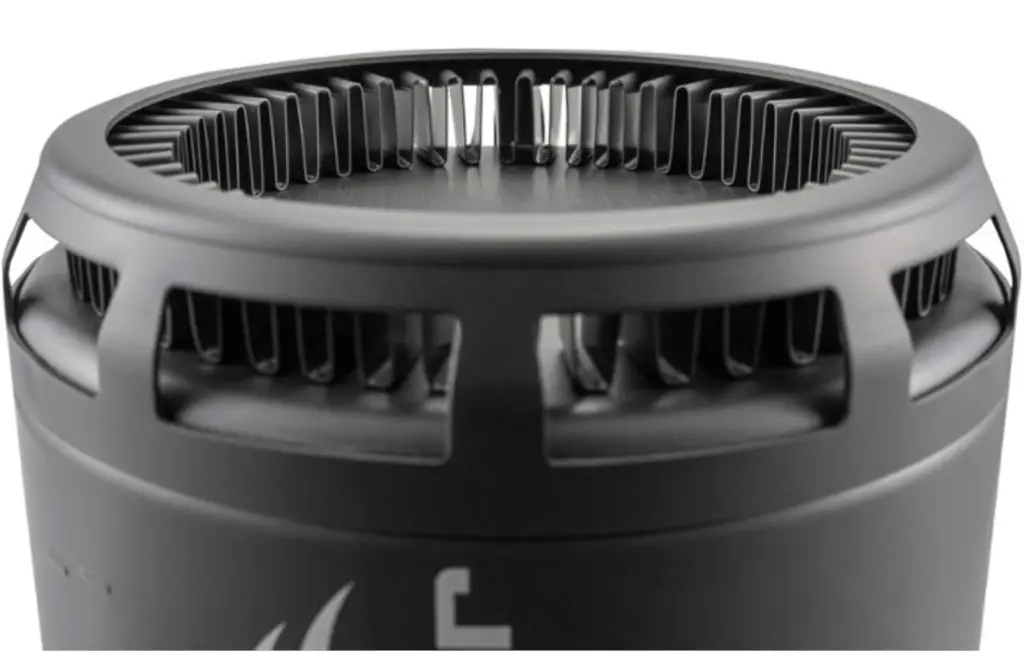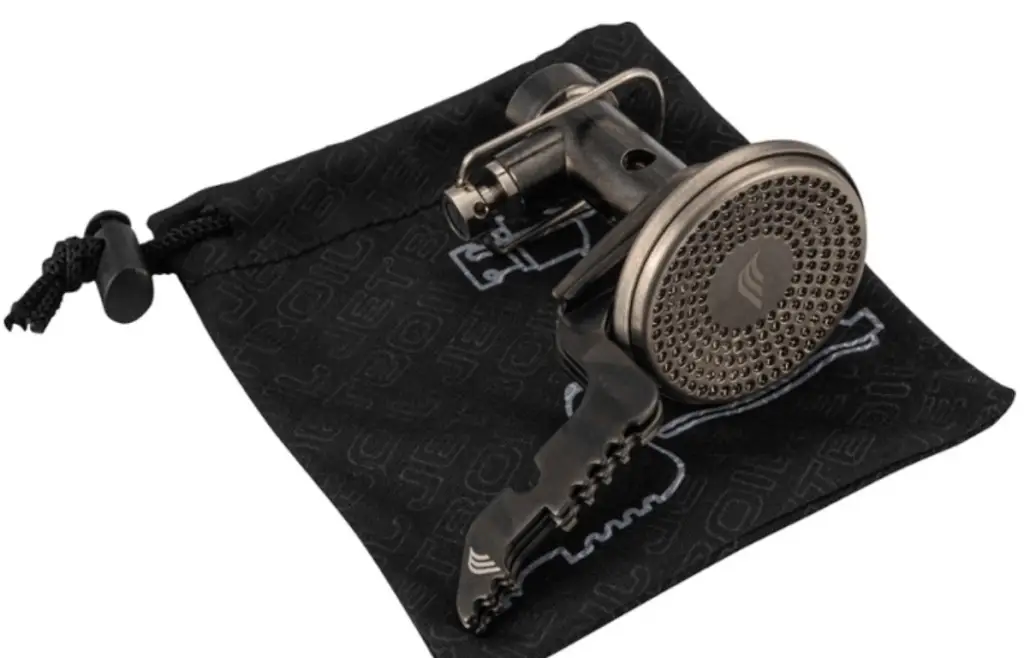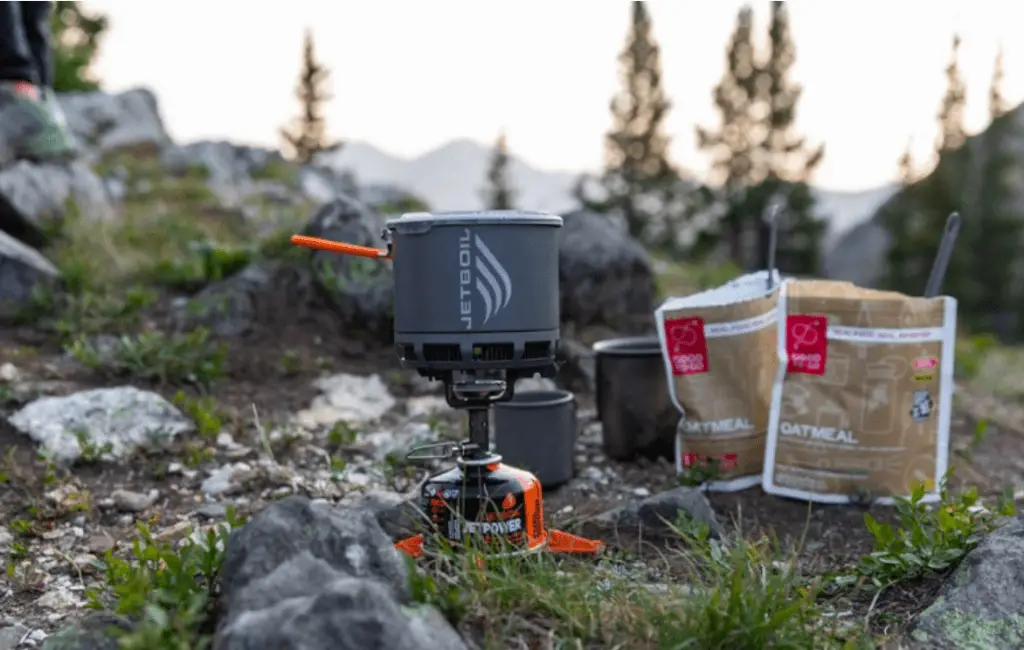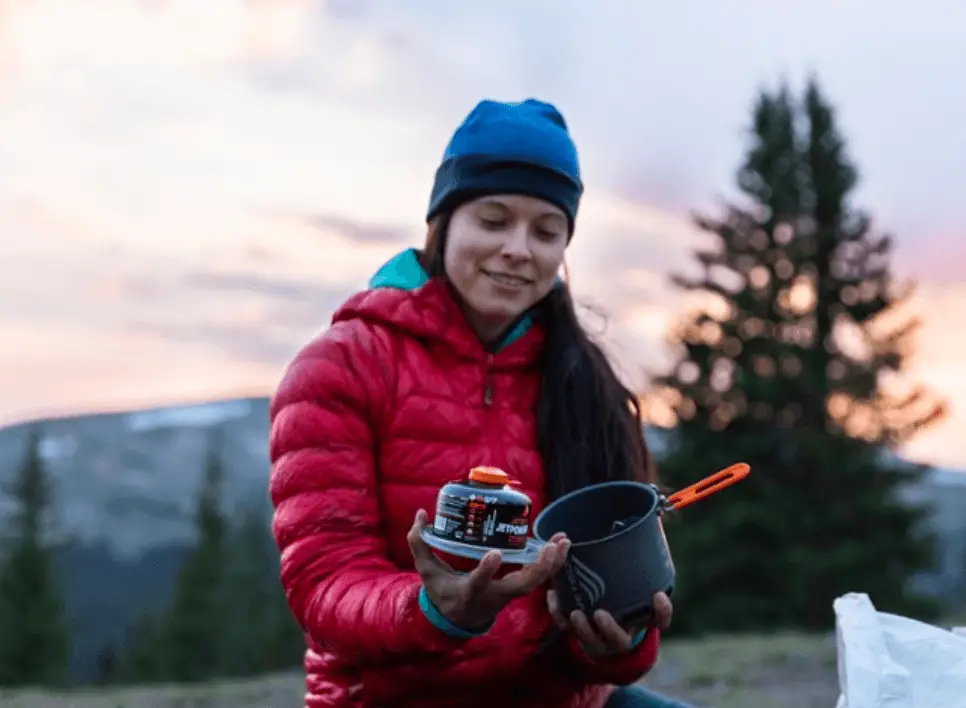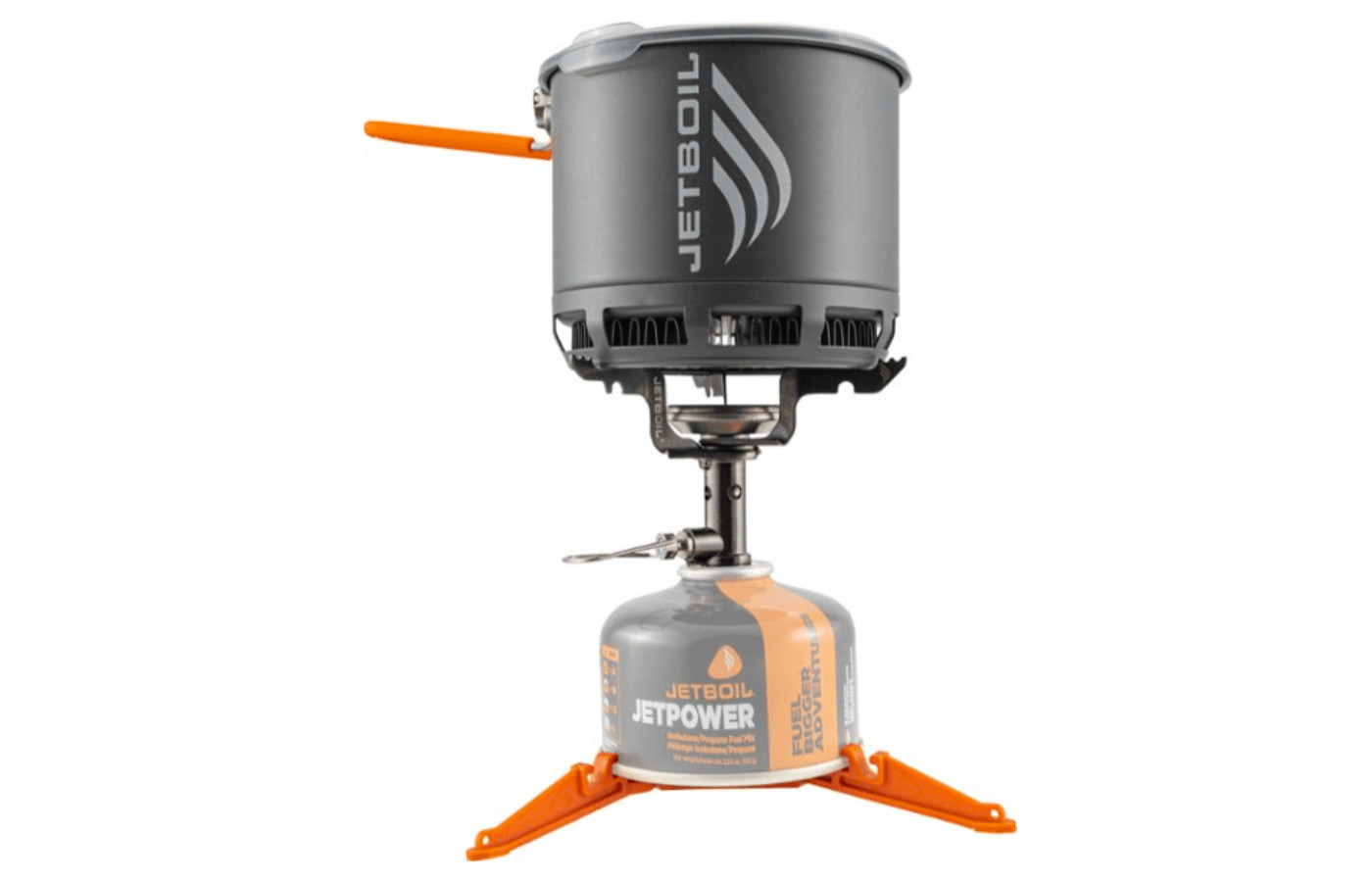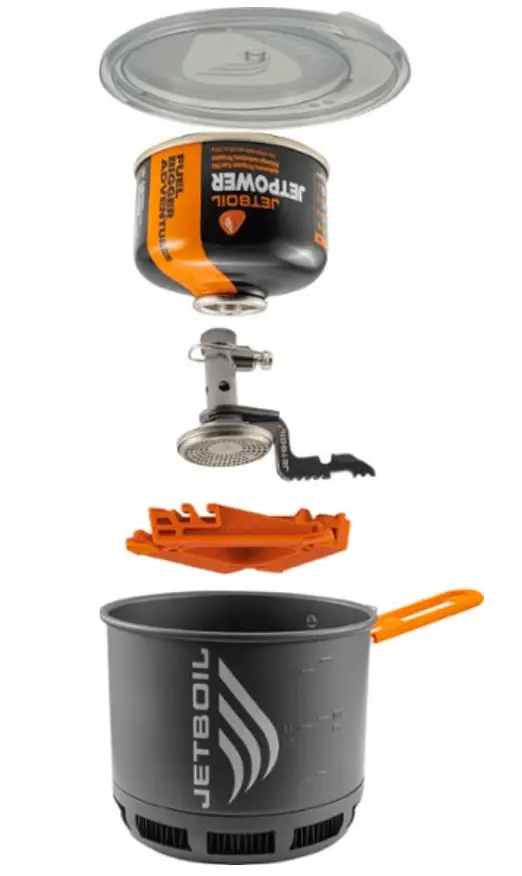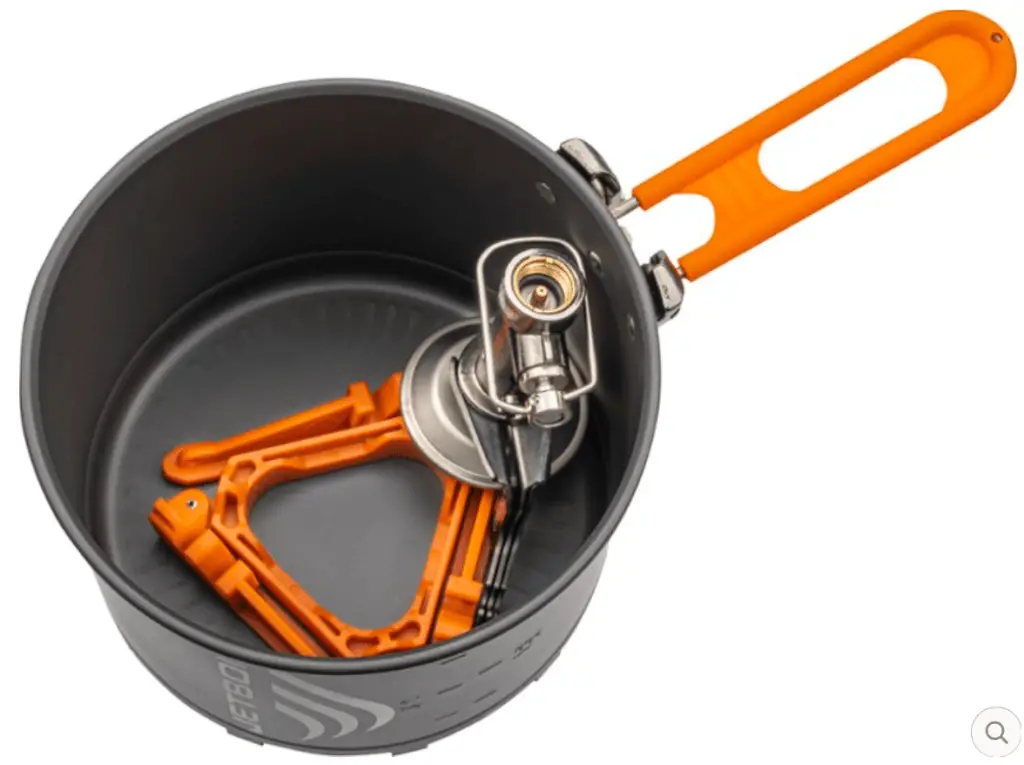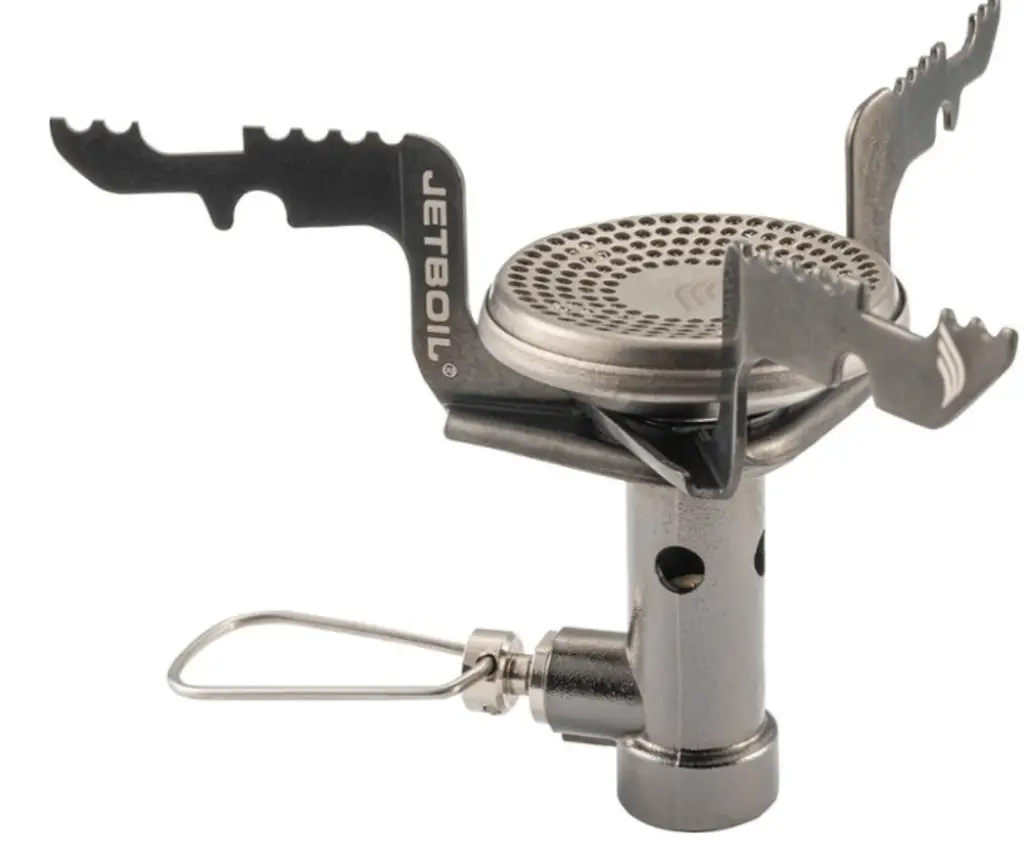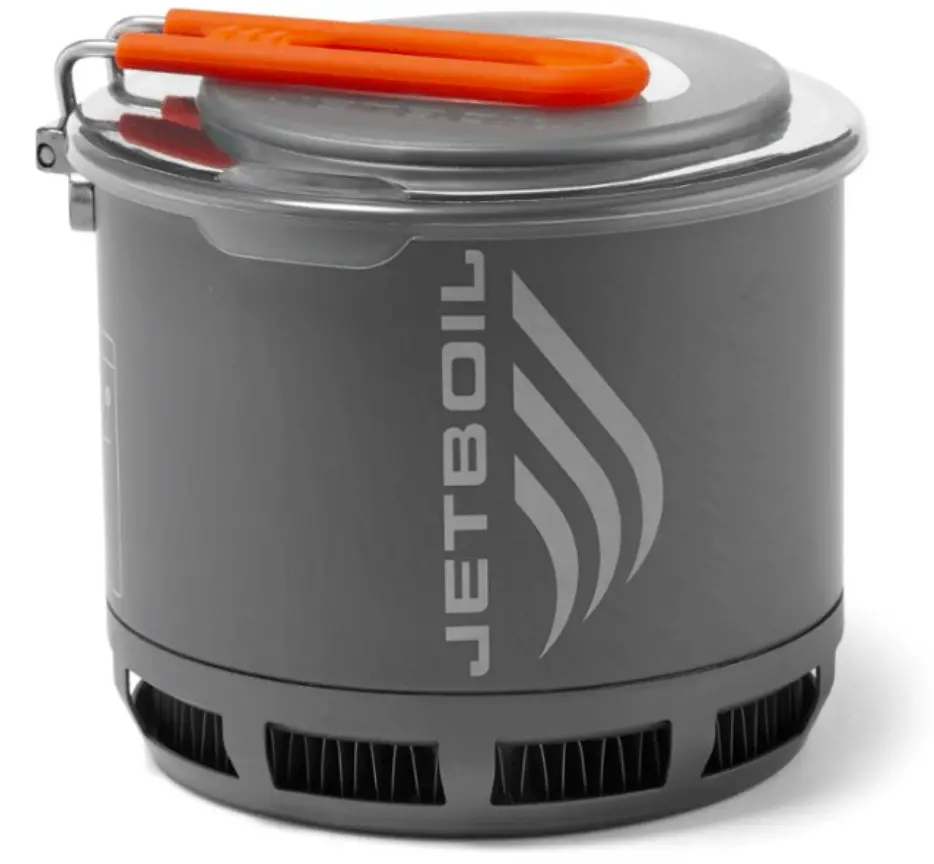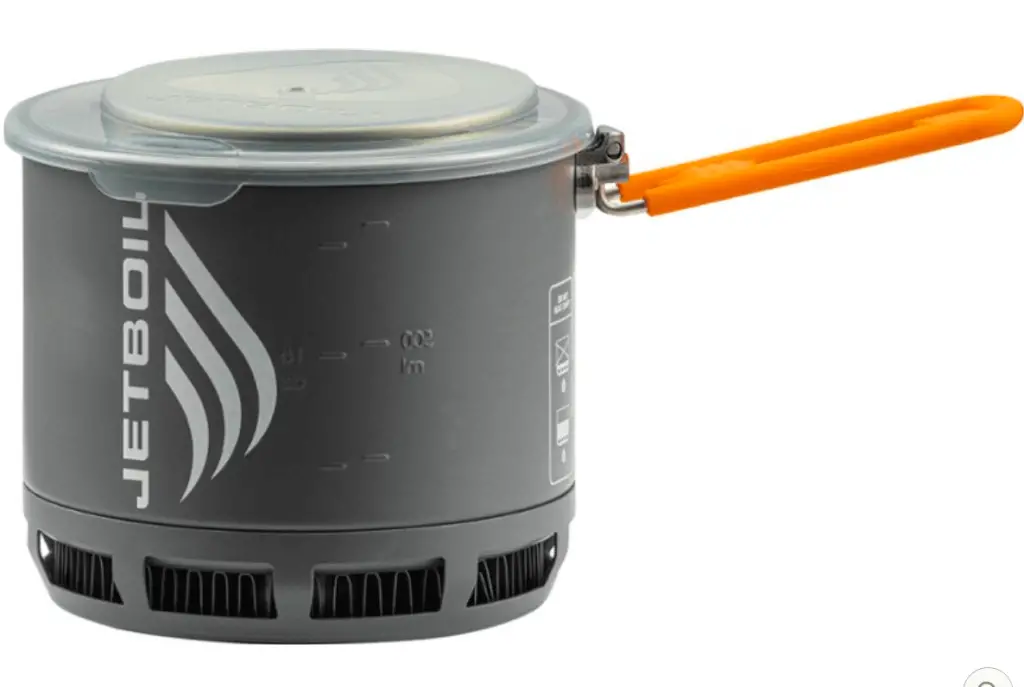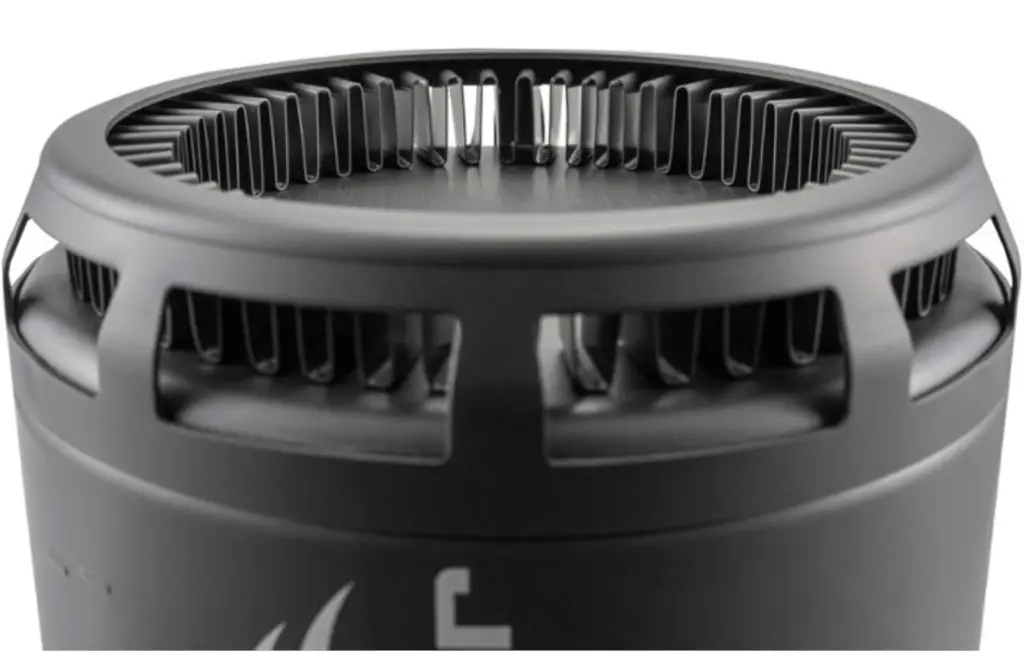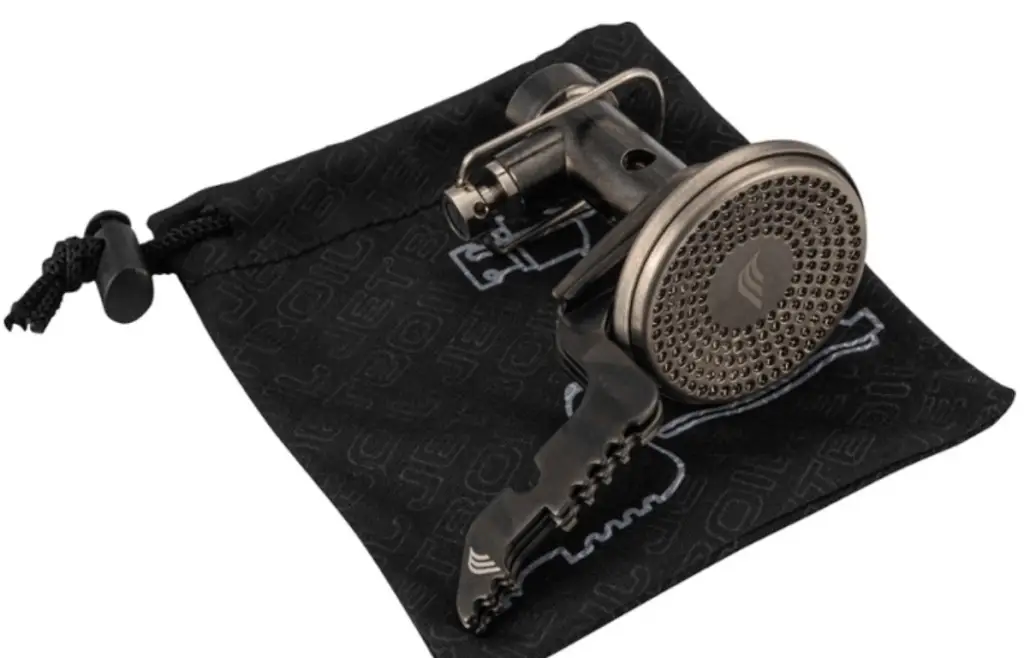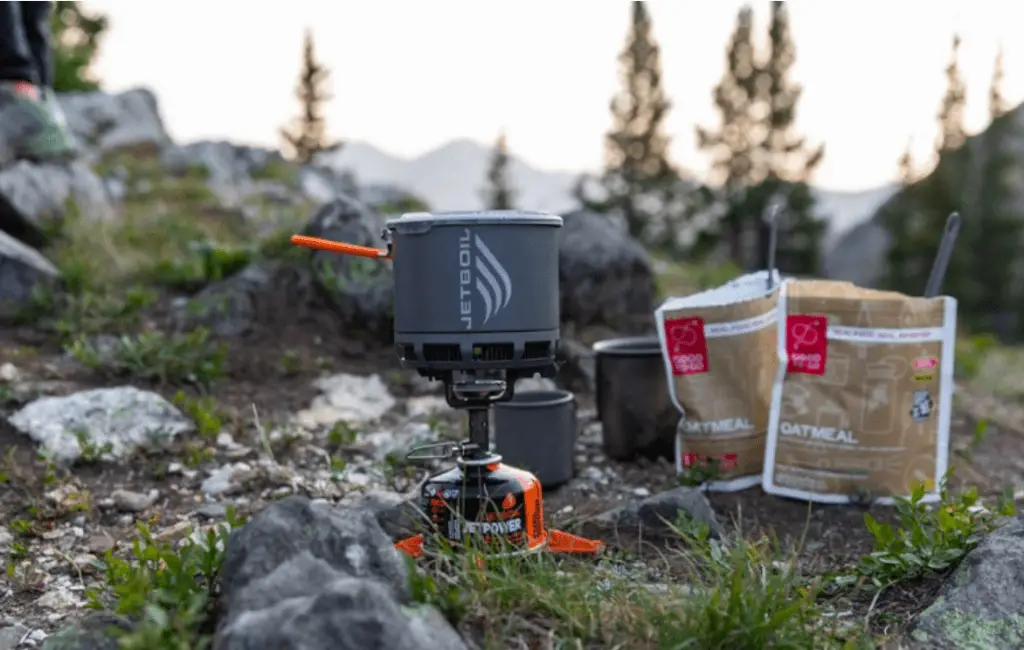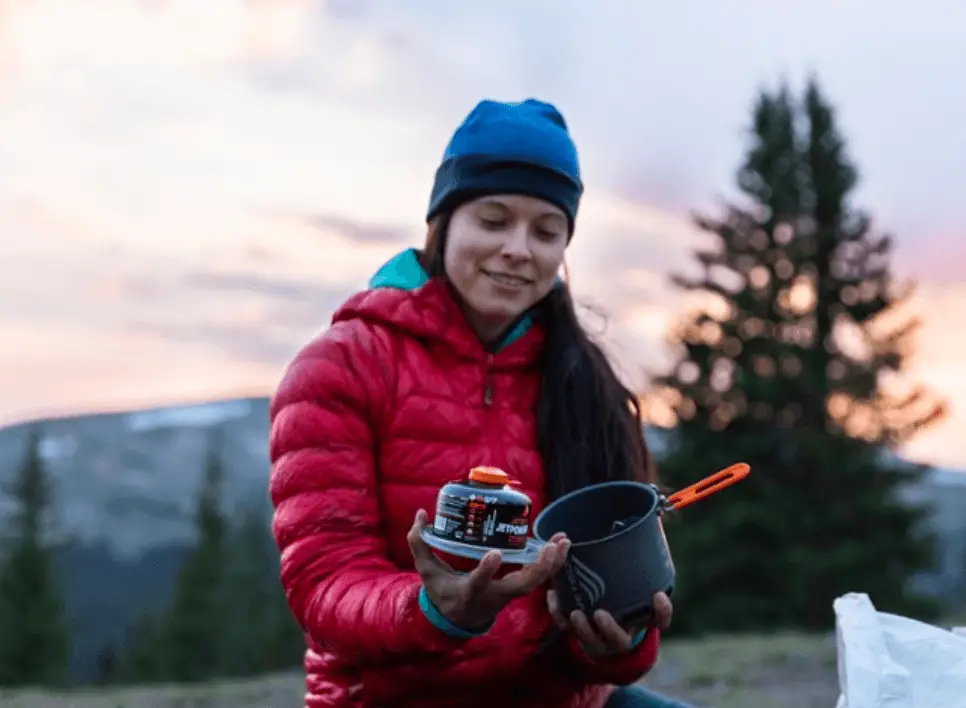 Our Conclusion
Despite its lightweight and compact design, the new Jetboil Stash provides a decent fast boil time and top-notch performance. What's more, its convenient and compact feel comes from its neat, nesting design.

This design holds the burner, plastic base support and a 100g gas canister that fits inside the cooking pot, making it one of the smallest and packable systems on the market today. Among the lightest of their portable stoves, the Jetboil Stash comes in at about 40% lighter than other Jetboils, yet with the same capacity.

One of my favorite facts about the Stash is its construction, sharing the more convenient and recently popular tower-style systems and conventional folding screw-in canister-top stove.

It's also less top-heavy with a lower, more squat shape that makes it less likely to topple over, perfect for boiling or cooking on uneven ground. Let's see what else it can do.
Pros & Cons
Little noise when travelling
Can only cook limited meals
Not completely wind resistant
Key Features
Key Features
Design
You'll get the best use out of this
camping stove
if you keep it to boiling water for hot drinks and boil only meals due to the titanium burner head. With the small indents matching the FluxRing, the pot is also sturdy.
Serrated teeth also make it easy to use different pots or frying pans, and although a FluxRing pot isn't needed, this stove is optimized for use with the FluxRing pot.
With the Jetboil Stash, you'll also get three-foot support that pivots around the head burner to support a sturdy, wiggle-free setup. I'm also a fan of the ergonomic, rubber-coated, cool touch folding handle, which locks into place and makes it easier to pack the stove away. Because it's sturdy and comfortable to hold, you can also double up the pot as a bowl for most occasions.
One of the best things about the Stash is its compactness and efficient internal organization. Nothing rattles around inside the pot because the fuel canister snaps securely into the lid without touching the stove burner, which also has a cloth protective sleeve.
Although there isn't a specific sieve on the Stash, there is a pop-on plastic lid with a hole for draining some foods.
The Jetboil Stash efficiently cooks and boils your food without too much waiting time, with an average boil time of five minutes.
However, with the reduced weight possibly comes reduced features. For example, there is no Koozie handle for handling food and drinks when hot, so you must wait until your contents have cooled a little.
Portability
The packability of the Stash makes it super easy to stow away in a
backpack
, frame bag or handlebar bag for easy travel.
For example, the rubber-coated handle also folds up onto the lick and locks into place for more accessible transportation. Jetboil also provides a reminder of how to pack the kit away.
Combining a fabric storage bag with only minimal room to move around means very little noise when traveling. In addition, carrying the stove around is easier, with an overall weight of just over 200g for the burner, pot, and lid.
Weather Efficiency
While the Jetboil Stash system doesn't have any specific weather resistance features, it does come with a FluxRing. The FluxRing increases the pot's surface area, spreading heat more evenly and decreasing boiling time. The screw-in Titanium burner also has an output of 4,500 BTU/h (1.52 kW).
Although there is no inbuilt ignition, this isn't an issue as these can be unreliable, and most campers will usually carry spare lighters.
However, there isn't tremendous wind resistance when weight has been classed as the main priority.
Although the excellent fuel efficiency does make this system lighter overall, the weight savings mean the loss of a windscreen. Unfortunately, because of this, this cooking stove is less wind resistant than other stoves, but I'm still a fan.
Materials and Technology
Jetboil makes use of a few clever materials and technologies in the Stash cooking system. Firstly, there is a 0.8L pot made of anodized aluminium and a heat exchanger on the base.
In addition, using the 'FluxRing Technology' allows for the inclusion of a series of ribs to increase the surface area, which helps spread the heat for greater efficiency.
These three technologies together allow for 0.5 liters of water to be cooked in just 2.5 minutes. The insulated rubber handle that folds over the top also makes for easy packing and use of the pot.
There's also a sturdy plastic fuel stabilizer tripod that clips onto your fuel canister, keeping the stove steady while cooking.
Durability
Despite an extremely light feel, the Stash burner stack appears solid and sturdy and anything but flimsy. Comprised of several light yet robust materials, the Stash feels reliable and durable.
Comparison to Similar Stoves
The Stash isn't the cheapest and may not be in everyone's budget. If you need something cheaper, you can try out other all-in-one cooking systems like the
BruKit by Alpkit
. Although substantially more affordable, it also doubles in weight compared to the Stash.
But if you are happy to spend more money for further efficiency and features, some great options include the more expensive
MSR Windburber
,
MSR Reactor
and
Jetboil's MiniMo.
However, few personal stoves, whether cheaper or more expensive, can stand up to the balance of stability, weight, and efficiency that the Stash provides.
Verdict
Undoubtedly the Jetboil Stash stove is a complete game-changer. Even at half the weight of previous Jetboil stoves, the Stash provides a fantastic amount of performance and features to keep you well-fed and watered even in bad weather.

It beats most other stoves in terms of boil time, lightweight carry, fuel efficiency, simmer control and ease of use. Many backpackers who don't already use a personal stove due to weight concerns should reconsider with the Jetboil Stash in mind.

Subscribe to our Newsletter