Shimano Stimula 2 Piece Spinning Rod Review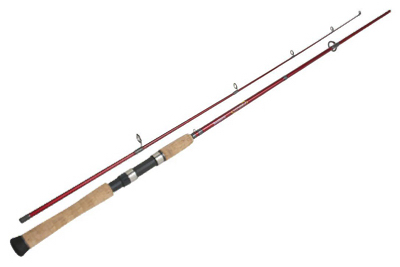 There's a point in every angler's life when he just doesn't want to spend anymore money on tackle.
When you're over your budget for fishing gear but find yourself needing a great rod, you should check out the Shimano Stimula 2 piece spinning rod.
I was in such a predicament.
I decided to go do some bottom fishing for scup, aka porgies and I only have some medium heavy rods with little action. I lost a lot of hook-ups since I couldn't feel those light bites.
I needed a medium weight spinning rod with some good action to have better success. I went for the Shimano Stimula since it was under $30 for the 6' rod. I didn't expect much, to be honest. 4 years later I am still using that rod for salt fishing. It's been an awesome rod for mackerel, pollack, scup, sea bass and squid.
The only time it let me down was when I went out for tautog. There was just a little too much bend in the rod. That gave the fish that extra half second to let go, so, I couldn't get the hook set in time.
If you need a spinning rod that is sturdy enough for the salt but light enough for fresh water, then the Shimano Stimula is just the ticket. With different sizes and ratings from a 5'-6" ultra light action up to the 7' medium, there is a rod to suit many different types of fishing.
But, is it the right rod for you?
Read on and we will discuss what you'll get for the money with this spinning rod.
Our Review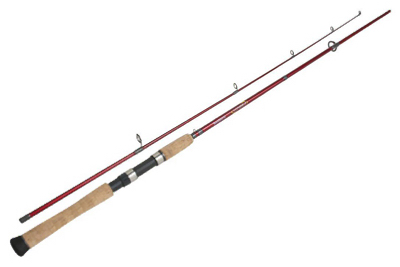 Shimano is a famous manufacturer of bicycles. They've taken that reputation for precision parts and for years have been making excellent fishing rods and reels.
The blank of the Shimano Stimula has a modern design. It's made up of a low profile aluminum which keeps the rod looking brand new for years. I have had mine for 4 years and it still looks brand new aside from a few scratches.
The hook holder is a nice little detail that makes a big difference. When you need to get moving to another spot and don't want to break the rod down for safety, all you do is bend the rod a bit to get the hook into the holder. It secures the hook and keeps it from flailing around while you walk or paddle to your next spot.
The two piece rod conveniently breaks down into pieces to about 3.5 feet. Perfect for throwing it into the back seat of a car when you are low on space. You need room for that huge tackle box, right?
The price is one of the rods greatest assets.
If you are on a budget, you can get multiple rods for different fishing scenarios. The 5'-6" ultra light rod is great for freshwater fishing for panfish. The action is fast and sensitive, so even a small fish won't steal your bait undetected.
For kayak fishing for the slightly bigger game, you can get yourself a 6' medium action setup. That's what I use from my kayak with great results. For bottom fishing, it can't be beaten. The medium rating means you have a bit of backbone. That lends some confidence that it's strong enough for the job if you end up with some larger species. I've even caught some decent sized striped bass with this setup.
That previous tautog excursion already mentioned had me wishing that I had a 6'-6" medium heavy rod for a little bit of a stiffer action.
For lake fishing for salmon, or pier fishing for bluefish, there is the 7-foot medium rod. The composite graphite construction gives you insurance that you can fight a decent sized fish and not worry about the rod snapping.
The medium rating has a big bend to it when you hook up with a fish. That little bit of lightness is great for fighting salmon, for instance, when you want to wear the fish out before trying to get it on deck.
These rods are not only built to perform, they are built for fun. It is a blast using light tackle to fight a fish. Seeing that bend on the rod even when you have a 3-pound sea bass on the hook makes it feel like you are offshore fishing for tuna!
You won't have your stomach in knots if you hand the rod over to your kid, either. When you spend a lot of money on a setup, you don't want anybody else touching it. Not so with the Shimano Stimula.
It's a great little workhorse of a rod. It can take a beating from an inexperienced angler. Or, it can stand up to some all day fishing trips with a veteran fisherman.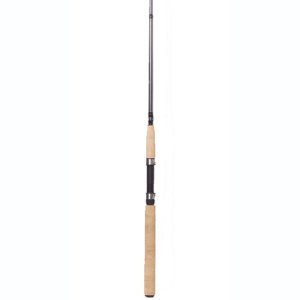 Decision time
If you aren't looking for a legacy rod that will be in your collection for decades to come, then definitely.
If you aren't looking to go big game fishing offshore, then definitely.
If you are on a budget but still expect high performance from your setup, then that's a resounding yes!
These rods really can't be beaten. They really do stand up to some abuse and keep on ticking.
For a spinning rod that makes fishing fun, then you really need to check out the Shimano Stimula.
I am still surprised by what I got out of my purchase and have no trouble recommending this rod to anybody. What I didn't know then was that there was no reason for me to feel surprised. Shimano makes an excellent product regardless of the price.