Best Swimming Ear Plugs
last updated:
Feb 07, 2020
When the word "earplugs" gets mentioned, most people will either think of one of two things. They will typically either associate them with protection against loud noises or with protection against water, e.g. swimming ear plugs. As you can no doubt tell from the name of this guide, we want to focus on the latter. Now, with that said, you can still buy earplugs for swimming that will work sufficiently at blocking out ambient noise.
But, they also need to provide watertight seals or (if nothing else) limit the amount of water that enters inside your ears (as most of them will not stop all water from penetrating).
And, though they are not too complex to buy, there are some vital factors that you will need to assess along the way. Firstly, though, let's take a look at some of the best models currently available on the market.
In a Hurry? The test winner after 10.75 hrs of research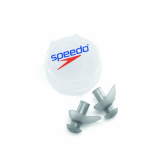 SPEEDO ERGO
Why is it better?
They are made of silicone
Comes with a reusable case
The special shapes improve performance
In a
Hurry? Editors choice: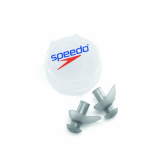 Test Winner: SPEEDO ERGO

35
Researched Sources
24k
Reviews Considered
10.75
Hours Researching
15
Products Evaluated
Materials
Comfort
Effectiveness
Value
Accessories
By Default
Top 10 Best Swimming Ear Plugs
Criteria Used for Evaluation


Materials
First and foremost, you need to assess the materials. Most will be made out of silicone, though.
If you took the time to look through every one of the products on this list then you probably noticed a theme. That "theme" is that most earplugs for swimming are made of silicone (at least the good ones).
Now, that does not mean that each and every suitable option will be made of this material, though. After all, you may also see options with unique materials and others made of foam. Uh oh, we said foam, didn't we? Let's just get this out of the way; foam earplugs are not ideal for blocking water. However, the foam does do a terrific job of blocking ambient sounds. So, if you merely wanted minimal protection from the water but also wanted the benefits of noise reduction, you could actually go with foam models.
Yet, for most people, silicone is going to be the way to go. This material resembles rubber quite a bit and you may mistake it for rubber. It is a bit different and it works very well for this type of product. Some models may even be made with medical-grade silicone and all this means is the silicone has been tested to be used for medical applications.


Comfort
Even though these may not ever be ultra comfortable to wear, they should at least be tolerable.
So, this one is easy, right? To determine the comfort level of earplugs you merely assess what material they are made from. Well, that has something to do with it but is only scratching the surface. After all, when it comes to silicone, it can either be quite hard or really soft.
So, do not assume that two silicone earplugs will feel the same (because they probably will not). After all, harder models are a bit more durable but also tend to be a little more uncomfortable. Meanwhile, your ears may appreciate softer silicone for its enhanced comfort. But, as was mentioned, this is not even half of it.
You also need to assess the fit and the style of each individual model.
You see, plugs can be designed in a plethora of ways. They can be moldable (which are applied to your outer ear canal for a custom fit), flanged (which can be a less expensive choice) and also ergonomic (which could be the best as they are specifically tailored to each of your ears). Of course, some models will be one-size-fits-all while others will come in multiple sizes. And, this is important as the plugs you buy need to fit snugly in your ears.


Effectiveness
If you have come here today looking for protection against the water, you probably want models that can do so, right?
This section actually comes down to a lot of the information that was already documented. But, this same information needs to be twisted, in a way, to get the point across here. The reality of the situation is this; you need to buy earplugs for swimming based on the amount of water protection you desire from them. Not all of you will particularly care if the option you go with literally keeps all water from entering inside your ear canals. Meanwhile, some of you will almost mandate it (though it is nearly impossible for any set of earplugs to offer 100 percent waterproofness).
Either way, you need to assess both the materials and the style of each design. Both of these were discussed earlier and, to reiterate, silicone is leaps and bounds better than foam when it comes to water protection. But, the different methods of construction can also affect the performance of any one model. For example, moldable models do a superb job of creating waterproof seals while flanged options may not do quite as good of a job (though they do use multiple flanges to block the water).


Value
The value is very important and, yes, this is much more than just the price.
It is easy, just go with the option that is the cheapest, right? Well, you probably know you are not getting away from this section with it being that easy. When you assess the value of any product, there is much more to it than just the price tag of it. Even though that can play a role, there are two other critical aspects that you need to take into consideration. The first is the quality of the product and the second is the quantity (in addition to the price). Consider this the so-called algorithm behind the value of a product.
Now, to tie this into buying earplugs for swimming, there will be many options on the market that offer you only one pair. Meanwhile, other sellers will provide a bundle of earplugs with your purchase. But, the latter is not necessarily superior. Think about it this way; would you rather buy one pair that is going to last you six months or three pair that will each last a few weeks? The math is pretty simple here, folks. And, after that, you can then add in the price to the fold. Of course, this type of product is not expensive, anyway.


Accessories
There are just a few accessories that you may want to keep your eye out for.
No, earplugs are not typically packed with extra accessories to look out for. With that being said, there are two that you may want to prioritize (though neither one of them is mandatory by any stretch of the imagination). The first of which is a storage case. Most sellers will package their plugs in a storage case. However, it is typically not anything major and you could probably account for it yourself if you desired. Either way, this can be useful in offering protection in a few different ways. Firstly, in a storage container, the plugs will be less susceptible to accidental damage. Secondly, they are less prone to getting lost (though you could still misplace the case).
The other accessory is a cable. And, this is even less mandatory than the previous accessory and can be seen strictly as personal preference. After all, with an attached cable (with the cable itself behind your neck), you will not lose the plugs if they fall out of your ears. Unless you are in a pool where you could easily find them if they fall out, this may be important to you. Then again, on the flip side, the cable itself could end up restricting your movement and becoming more of a nuisance than anything. Again, it really all comes down to your preferences.
Expert Interviews & Opinions
Most Important Criteria
(According to our experts opinion)
Experts Opinion
Editors Opinion
Users Opinion
By Default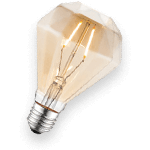 Materials
When it comes down to it, this is the first aspect most of you will pay attention to. You could make an argument that there are not too many features that distinguish earplugs from one another. But, the utilized materials are certainly one of them. And, nine times out of ten, you will see models made out of silicone. This is probably the most popular material for this type of product.
Comfort
For the most part, it is not going to be too comfortable to stick anything into your ears. Pretty much everyone can agree on that. At the same time, that does not insinuate that the plugs you go with should provide unbearable discomfort (as that is not ideal, either). Instead, look for those that you will (at the very least) be able to tolerate. Oh, and make sure they fit you correctly.
Effectiveness
A lot of you have come here today looking for earplugs for swimming that will offer superb water protection, right? If so, then this is going to be the most important section for you to assess. And, ironically, a lot of what was talked about previously plays a role here. After all, a lot of what makes a particular model effective is how it is designed and what materials it is designed with.
Frequently Asked Questions
q:

What are other ways to prevent swimmer's ear?

a:

Swimmer's ear is one of the issues that can persist if your ears have been exposed to too much water intake. Outside of wearing plugs, though, what are some other ways to prevent it?

For starters, you could always go with specialized ear drops. If you are concerned you have serious issues with your eardrums, though, you may want to avoid this solution. Of course, ensuring you maintain your ear wax and take good care of your skin inside your ear canals are also good practices.
q:

Is it safe to wear them while swimming?

a:

Given the fact that these are designed to provide you protection from water penetrating inside your ears, they are certainly safe to wear. However, you also need to understand something that is vitally important.

You can only reach depths of water so great before even the best models on the market cease to perform. It is kind of like waterproof devices. There is always a limit to their waterproofness and once the water pressure reaches a certain level, waterproof devices can still be damaged by water.
q:

If you get swimmer's ear, how can you dry it?

a:

Alright, so what happens in the unfortunate situation where you do suffer from swimmer's ear? Well, your first line of defense, so to speak, should be to attempt to dry your ear. And, there are a few manners in which you can do so.

Firstly, try sticking a cloth or a soft towel into your ear to get as much water out as you can. Along the same line, you can also tip your head to allow the water to drain out. Or, if you have a blow dryer, you could always set it to the lowest heat setting to attempt to dry out some of the water.
q:

Can you reuse silicone plugs?

a:

Not all models on the market will be reusable so you need to be aware of that. But, what about those made out of silicone, are they reusable? It does depend on the model at hand but, for the most part, they should be reusable. Depending on their durability and quality, some silicone models will also last longer than others.
q:

Can these cause hearing loss if worn too long?

a:

This is a question that gets asked quite frequently but in regard to earplugs for swimming, this is not going to be too much of an issue. Where this question really originated is with sleeping plugs. In this case, you will be wearing your plugs for several hours at a time.

And, former studies have shown that earwax can build up if you leave them in your ears for too long. Thus, this could actually lead itself to a hearing loss. Again, though, with those models designed for swimming, this is virtually a non-issue.
q:

What about cleaning them?

a:

Depending on how frequently you clean your own ears, the earplugs you wear may be more prone to dirt and wax buildup. As gross as it is, you will need to clean them when this problem persists (granted they are designed to be used more than once). To do so, simply fill a large enough bowl with dish soap and lukewarm water.

From there, allow your plugs to soak in the solution for a couple of minutes. Then, with a cleaning brush, attempt to remove as much wax and dirt as you can from them. Again, the more you clean your own ears, the less of an issue this will be.