Best Swimming Ear Plugs
In a Hurry? Editors choice: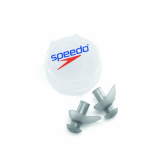 Test Winner: SPEEDO ERGO

When the word "earplugs" gets mentioned, most people will either think of one of two things. They will typically either associate them with protection against loud noises or with protection against water, e.g. swimming ear plugs. As you can no doubt tell from the name of this guide, we want to focus on the latter. Now, with that said, you can still buy earplugs for swimming that will work sufficiently at blocking out
ambient noise
.
But, they also need to provide watertight seals or (if nothing else) limit the amount of water that enters inside your ears (as most of them will not stop all water from penetrating).
And, though they are not too complex to buy, there are some vital factors that you will need to assess along the way. Firstly, though, let's take a look at some of the best models currently available on the market.
Standout Picks
Criteria Used for Evaluation
Materials
First and foremost, you need to assess the materials. Most will be made out of silicone, though.
If you took the time to look through every one of the products on this list then you probably noticed a theme. That "theme" is that most earplugs for swimming are made of silicone (at least the good ones).
Now, that does not mean that each and every suitable option will be made of this material, though. After all, you may also see options with unique materials and others made of foam. Uh oh, we said foam, didn't we? Let's just get this out of the way; foam earplugs are not ideal for blocking water. However, the foam does do a terrific job of blocking ambient sounds. So, if you merely wanted minimal protection from the water but also wanted the benefits of noise reduction, you could actually go with foam models.
Yet, for most people, silicone is going to be the way to go. This material resembles rubber quite a bit and you may mistake it for rubber. It is a bit different and it works very well for this type of product. Some models may even be made with medical-grade silicone and all this means is the silicone has been tested to be used for medical applications.
Comfort
Even though these may not ever be ultra comfortable to wear, they should at least be tolerable.
So, this one is easy, right? To determine the comfort level of earplugs you merely assess what material they are made from. Well, that has something to do with it but is only scratching the surface. After all, when it comes to silicone, it can either be quite hard or really soft.
So, do not assume that two silicone earplugs will feel the same (because they probably will not). After all, harder models are a bit more durable but also tend to be a little more uncomfortable. Meanwhile, your ears may appreciate softer silicone for its enhanced comfort. But, as was mentioned, this is not even half of it.
You also need to assess the fit and the style of each individual model.
You see, plugs can be designed in a plethora of ways. They can be moldable (which are applied to your outer ear canal for a custom fit), flanged (which can be a less expensive choice) and also ergonomic (which could be the best as they are specifically tailored to each of your ears). Of course, some models will be one-size-fits-all while others will come in multiple sizes. And, this is important as the plugs you buy need to fit snugly in your ears.
Effectiveness
If you have come here today looking for protection against the water, you probably want models that can do so, right?
This section actually comes down to a lot of the information that was already documented. But, this same information needs to be twisted, in a way, to get the point across here. The reality of the situation is this; you need to buy earplugs for swimming based on the amount of water protection you desire from them. Not all of you will particularly care if the option you go with literally keeps all water from entering inside your ear canals. Meanwhile, some of you will almost mandate it (though it is nearly impossible for any set of earplugs to offer 100 percent waterproofness).
Either way, you need to assess both the materials and the style of each design. Both of these were discussed earlier and, to reiterate, silicone is leaps and bounds better than foam when it comes to water protection. But, the different methods of construction can also affect the performance of any one model. For example, moldable models do a superb job of creating waterproof seals while flanged options may not do quite as good of a job (though they do use multiple flanges to block the water).
Value
The value is very important and, yes, this is much more than just the price.
It is easy, just go with the option that is the cheapest, right? Well, you probably know you are not getting away from this section with it being that easy. When you assess the value of any product, there is much more to it than just the price tag of it. Even though that can play a role, there are two other critical aspects that you need to take into consideration. The first is the quality of the product and the second is the quantity (in addition to the price). Consider this the so-called algorithm behind the value of a product.
Now, to tie this into buying earplugs for swimming, there will be many options on the market that offer you only one pair. Meanwhile, other sellers will provide a bundle of earplugs with your purchase. But, the latter is not necessarily superior. Think about it this way; would you rather buy one pair that is going to last you six months or three pair that will each last a few weeks? The math is pretty simple here, folks. And, after that, you can then add in the price to the fold. Of course, this type of product is not expensive, anyway.
Accessories
There are just a few accessories that you may want to keep your eye out for.
No, earplugs are not typically packed with extra accessories to look out for. With that being said, there are two that you may want to prioritize (though neither one of them is mandatory by any stretch of the imagination). The first of which is a storage case. Most sellers will package their plugs in a storage case. However, it is typically not anything major and you could probably account for it yourself if you desired. Either way, this can be useful in offering protection in a few different ways. Firstly, in a storage container, the plugs will be less susceptible to accidental damage. Secondly, they are less prone to getting lost (though you could still misplace the case).
The other accessory is a cable. And, this is even less mandatory than the previous accessory and can be seen strictly as personal preference. After all, with an attached cable (with the cable itself behind your neck), you will not lose the plugs if they fall out of your ears. Unless you are in a pool where you could easily find them if they fall out, this may be important to you. Then again, on the flip side, the cable itself could end up restricting your movement and becoming more of a nuisance than anything. Again, it really all comes down to your preferences.
Top 10 Best Swimming Ear Plugs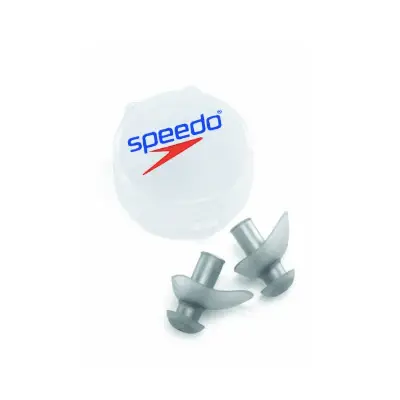 If you anything about swimming gear then you should be familiar with the brand name of Speedo. It just so happens that one of the best models available is from this same very brand.
Read more
Materials
As with most of the models on this list, these here are made out of silicone. This is pretty much a standard for this type of technology so it is not much of a surprise.
Comfort
Due to the fact that the material is not as soft as others, these can be a bit uncomfortable to wear for longer sessions. With that said, they do sport ergonomic designs.
Effectiveness
The specialized design of each of these plugs goes a long way to enhance their performance. Ironically, they provide such a great seal that they can be hard to get out of your ears.
Value
If you are looking to buy a ton of plugs at once, this is probably not the option for you as you only get the two pieces (one for each ear). Still, the value is good due to the quality and price.
Accessories
Even though you can't attach a cord to these, included with your purchase is a case that can be reused time and time again.
Overall
Seriously, would you expect anything less from Speedo? About the only thing that would have made these even better is if they were a little bit more comfortable.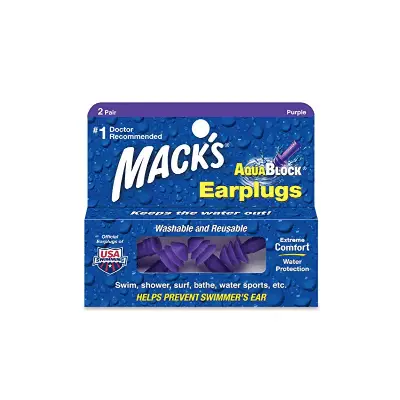 Feast your eyes on one of the most popular options currently available on the market. As you will soon see, there is a reason literally hundreds of former buyers have raved about these suckers.
Read more
Materials
As opposed to models that are made out of cheap plastic, these feature pre-molded silicone constructions. Thanks to this, they will last longer than others.
Comfort
These sport Mack's triple flange design which enhances the comfort of them (while also improving the fit). With that said, they like to come out of your ears so you will need to push them back in from time to time.
Effectiveness
Not only do these provide solid sealing to prevent a lot of water from entering inside your ears but they also block out a lot of noise (so that is a plus).
Value
With your purchase, you actually get two pairs of these. Taking into consideration the quality of each of them and the overall price, the value here is great.
Accessories
For the record, a carrying case is included with your purchase but a cord to connect the pieces is not (as they are not designed to do so).
Overall
Can you see why this option is so revered? The value is off the charts, they work extremely well and they are optimized for comfort.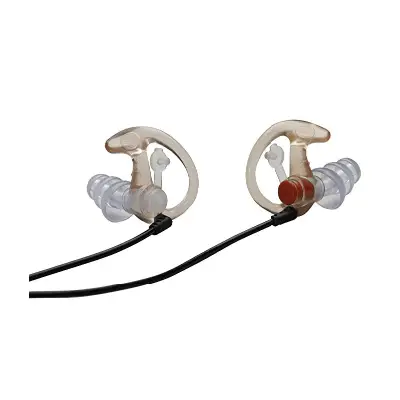 This is a great example of an option that is actually optimized for noise reduction but one that will work for your swimming needs, also. You do only get the one pair with your purchase, though.
Read more
Materials
For only one pair at this price, these better be made well. It is safe to say with their durable hypoallergenic polymer constructions that, indeed, they are.
Comfort
The adjustable and soft stems (that are triple-flanged) do enhance the overall comfort. However, in spite of this, some users have noted that these can become uncomfortable after a few hours.
Effectiveness
Yes, the EP4 Sonic Defenders are ideal for blocking out noise as they come with a 24-decibel noise reduction rating. But, they can also work great for swimming purposes, as well.
Value
Some of you may not want to pay this kind of price for one pair of earplugs. Yet, due to the quality alone, the value is still not as bad as you may think it is.
Accessories
As you can see from the photos, a cable does connect both these plugs together. But, it can be detached if you would rather not use it.
Overall
You could make an argument that this is the best design on this list and very few people would disagree with you. The EP4 Sonic Defenders are really that impressive.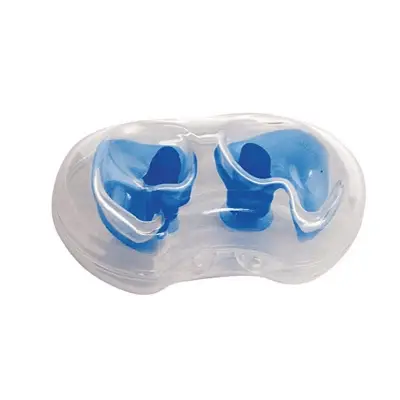 TYR is another top-name brand when it comes to swimming gear. But, their earplugs are a little different than other options as they are molded. So, they may fit differently than you may expect them to.
Read more
Materials
These are made up of silicone and overall, the craftsmanship is about what you would expect because of it.
Comfort
One size is designed to fit all and these are comfortable to wear overall. Yet, at the same time, they do take some time to get accustomed to.
Effectiveness
Due to the hollow stems, these are actually engineered to minimize the amount of hearing disruption that persists. They are also tricky to get on right, for the record.
Value
You do only get one pair of earplugs with your purchase but the value is still good regardless. Plus, you could always just buy more than one of these.
Accessories
To ensure you do not misplace these and to also ensure that they remain protected when you travel with, a storage case is included with your purchase.
Overall
There have been previous buyers to question the performance of this option and that can't be ignored. Still, there are many more positive reviews than not, so that is a plus.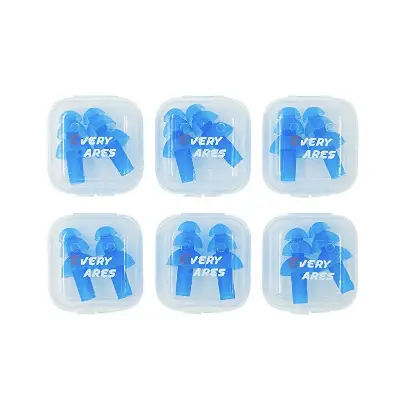 Each individual pair you are provided with here (there are six in total) each comes with their own separate storage case which is pretty convenient. Plus, each one is made with medical-grade silicone.
Read more
Materials
As with so many other options on the market, these are made with medical-grade silicone. You just really can't go wrong with that type of material.
Comfort
What is nice is each plug has been designed with an ergonomic fit. Yet, this does not change the fact that each one of them is not as forgiving (harder and less flexible) as other designs.
Effectiveness
Though there have been some naysayers out there who have questioned the waterproofness of these plugs, they are optimized with tree shapes to minimize as much leaking as possible.
Value
For the price (which is pretty low), you actually get six individual pairs of plugs (each with their own storage case). To say this is a great value is a bit of an understatement.
Accessories
As just mentioned, each individual pair comes with its own storage case, which is incredibly convenient. But, no leashes are equipped, for the record.
Overall
While far from perfect, you get a most effective product with an incredible value here. For most of you, that will be enough to break open your wallets.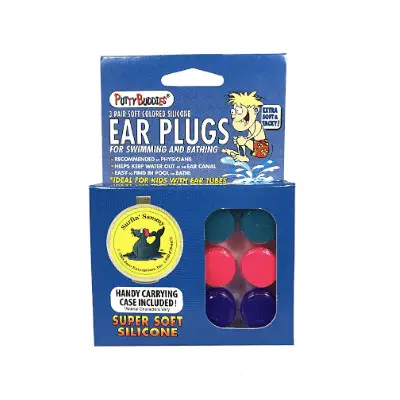 Do not let their appearance fool you; these plugs are great for both kids and adults alike. They are also designed of unique tacky texture which allows them to remain more stable than other options.
Read more
Materials
Soft silicone is the material of choice here but this option is also not exactly top-notch or premium. But, the earplugs are far from cheaply-made so do keep that in mind.
Comfort
The tacky texture of the Putty Buddies takes some getting used to. When you do get accustomed to it, you will become to appreciate its tackiness and overall comfort.
Effectiveness
It is claimed that these are recommended by doctors worldwide (though it is hard to judge the accuracy of these claims). Still, the Putty Buddies do what they are supposed to do.
Value
Sanitation issues can persist after you use these which can affect their performance. What is nice, though, is that three pairs are included with your purchase.
Accessories
As with most sellers on the market, Putty Buddies provides you with a carrying case to transport these in. That way, the chances of you losing them are minimized.
Overall
When so many people have positive remarks about a particular product or thing, it becomes difficult to ignore it. Well, that pretty much sums up this option perfectly.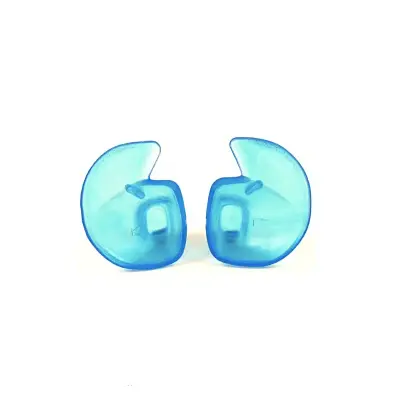 As opposed to other plugs on the market, these are actually offered in different sizes. Make sure you get the right size; also, as this will dictate the quality of the seal you are provided with.
Read more
Materials
Now, these are a bit different as they are made from Kraton. For the record, this material is actually the trade name for a group of elastomers (that are very high in their performance).
Comfort
The key to achieving optimal comfort with these is to buy the right size. As obvious as that sounds, it is crucial because there are multiple sizes that you can choose from.
Effectiveness
One of the reasons this option is on this list is because it has been recognized by patients and professionals around the world for its adequate level of water protection.
Value
The quality is great here but some buyers have felt that these earplugs were not worth the rather steep price (considering you only get the one pair and nothing else).
Accessories
It is specifically noted in the description that a leash will not be provided with your purchase.
Overall
Even though this option does not deliver the best value out there, it is hard to deny that these plugs are not at least somewhat compelling. After all, they are comfortable and effective at what they do.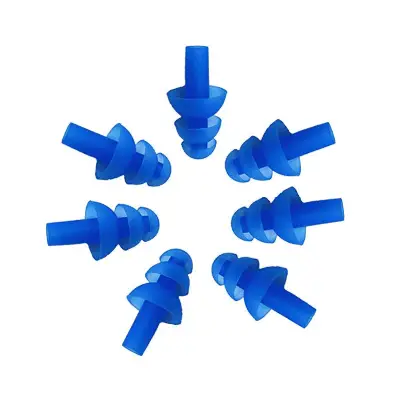 Cheap and effective would be the best way to describe this option here. They are not astounding in their performance but they do get the job done.
Read more
Materials
It is advertised that these are made of super soft silicone and that is not exaggerated in the slightest. Ironically, however, they may be a bit too soft.
Comfort
Though soft in nature, it seems you have to push these suckers far into your ear canals (which can cause some discomfort). Oh, and for the sizing, these are offered in one size.
Effectiveness
Once you get these positioned correctly, they do a solid job of blocking out water. Yet, at the same time, a few users have documented that these have a tendency of falling out of your ears.
Value
All things considered, not too many of you will complain about the value. For the cheap price, you receive five separate pairs of earplugs.
Accessories
In spite of the fact that cords are not equipped, included with your purchase is actually a fridge magnet (which is a nice little bonus item).
Overall
Some of you may end up adoring these earplugs for their ultra-soft makeups. Though this can complicate things in a way, it is one of the primary reasons several users have enjoyed them.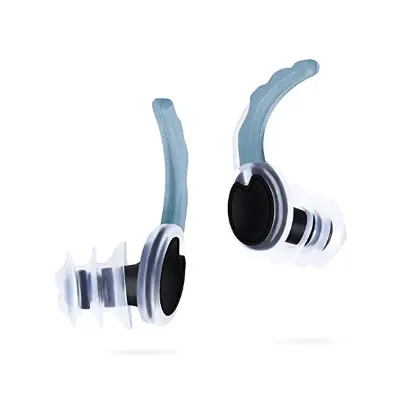 There are some options out there that are ultra-popular and then there are those like this one; those that are fairly rare and unknown. While you take a chance, these are well-designed.
Read more
Materials
Being manufactured from soft and safe silicone, you can take comfort in knowing that these were not made with cheap materials.
Comfort
Provided to you are small, medium and large sizes. Quite frankly, this could be seen as a blessing and a curse. Either way, each pair is outfitted with fixation wings for enhanced stability and comfort.
Effectiveness
Now, these were designed for all types of water-based activities. However, they also purposely block out little to no noise. But, if you also want the benefits of noise reduction, this will disappoint you.
Value
This is an excellent bang for your buck as you receive multiple pairs (two of each size) of these plugs at a relatively low price. However, the lack of user feedback does make this a riskier purchase.
Accessories
From the photos, it appears that a storage case comes with your purchase. Yet, the seller should have clarified a bit better.
Overall
Sometimes, you just have to take a chance. Who knows, this could be the best purchase you ever make. While this may be a bit over the top, it is exciting in a way.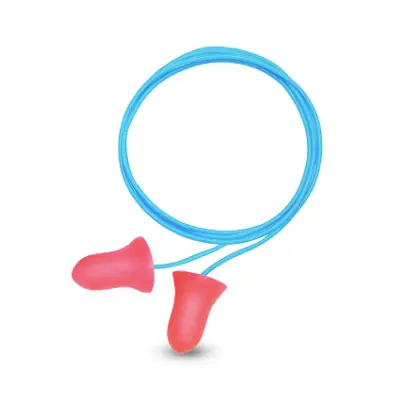 What if we told you that this option was offered with 100 pairs of earplugs? Would you believe it? Well, start believing as we are not bluffing.
Read more
Materials
These are actually made out of closed-cell foam, making them different right from the get-go. A lot of you will prefer silicone, admittedly, and that is understandable.
Comfort
Even though these can be a little tricky to get inserted correctly, their polyurethane foam constructions make for comfortable wear overall.
Effectiveness
In addition to somewhat working in underwater situations, these are also designed to block noise. As a combination option, this is solid.
Value
Does the value get any better than this? As mentioned, you receive 100 earplugs with your purchase. No, that was not a typo and you did read that sentence correctly.
Accessories
Each of the plugs is corded, for the record. As for the packaging, each individual pair comes in a plastic bag and all of these come packaged in a box.
Overall
Whether you want foam or silicone models will make or break this option, quite frankly. The value is through the roof but if you do not want foam, there is really no reason to go with this option.

Subscribe to our Newsletter