Tortuga Setout Packable Daypack
Without a shadow of a doubt, Tortuga knows how to make the best <a href="https://gearweare.net/review/best-travel-backpacks/" target="_blank">carry-on travel backpacks</a>, with each new pack and version getting better and better.
So, if you're after the perfect day pack or carry on to fit all of your essentials, the Tortuga Setout could be your next genius purchase.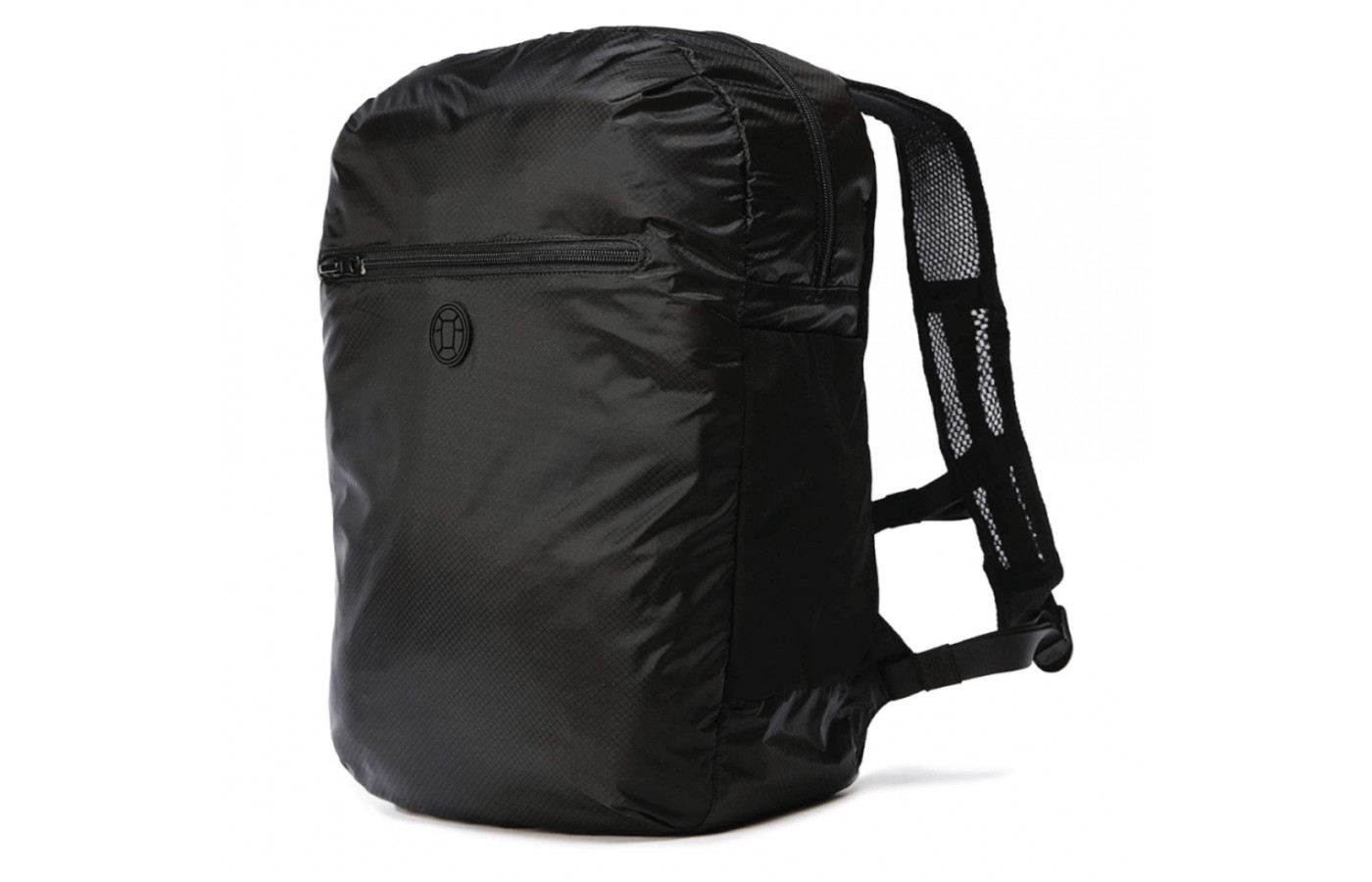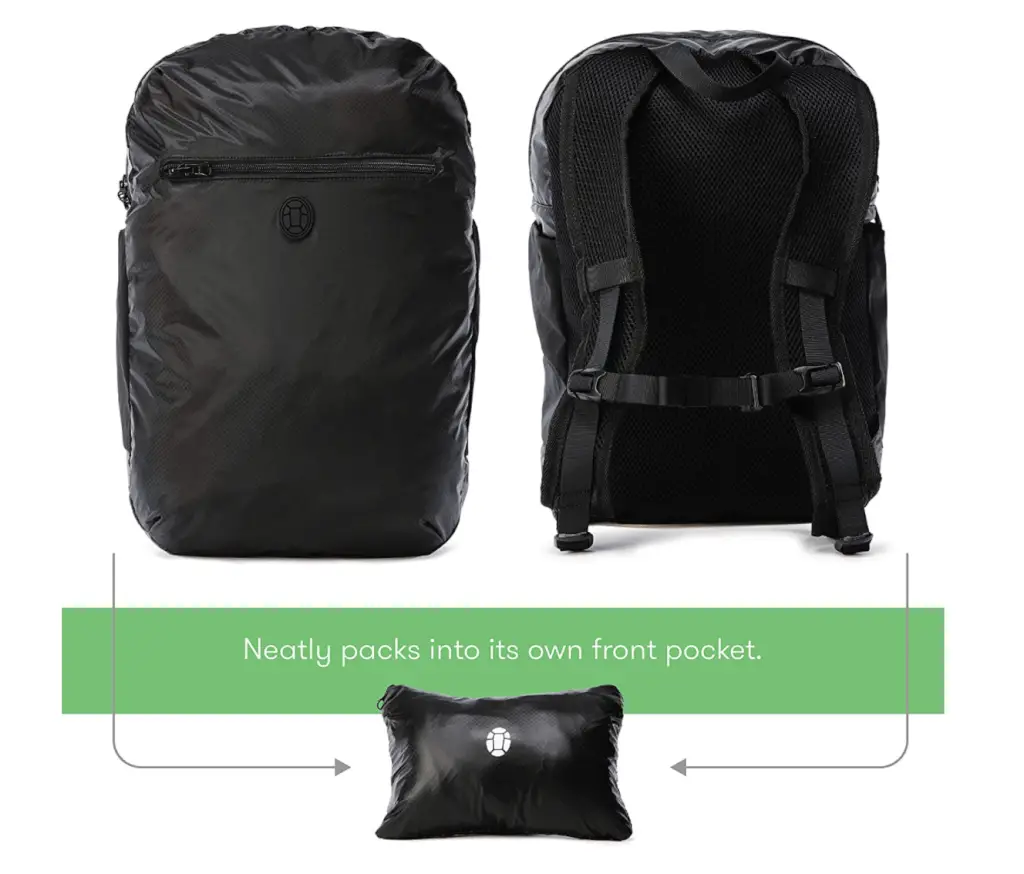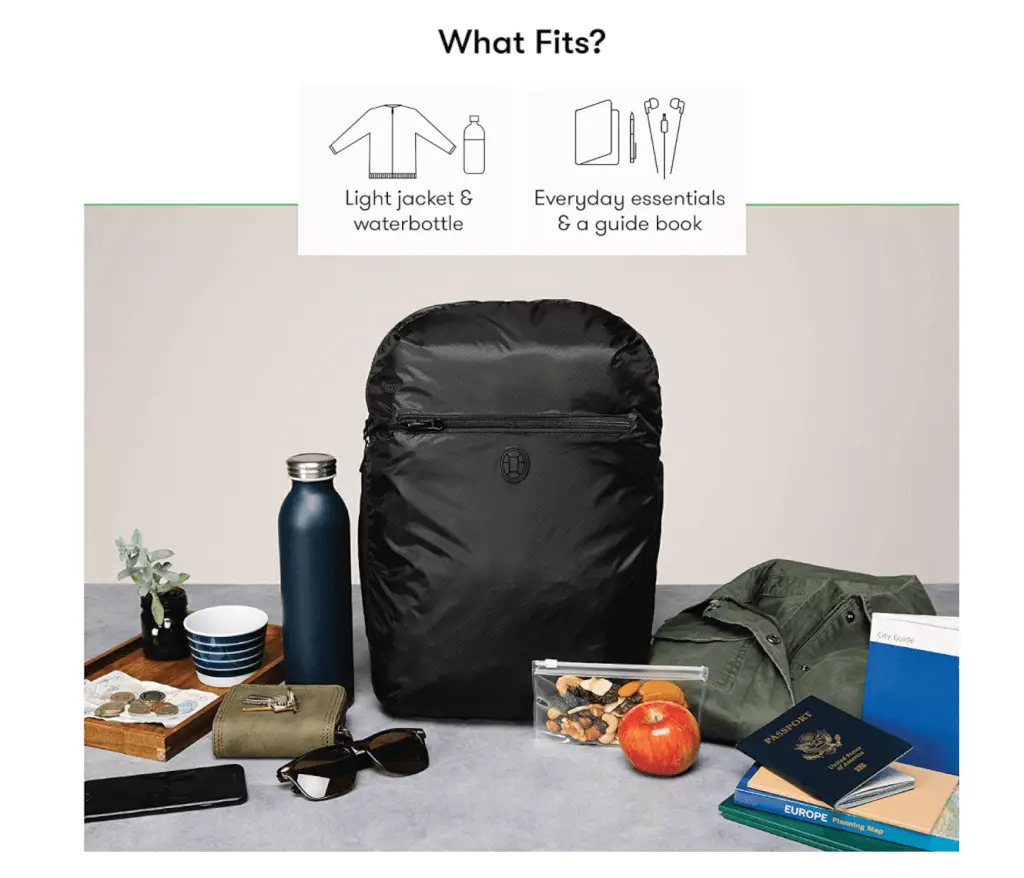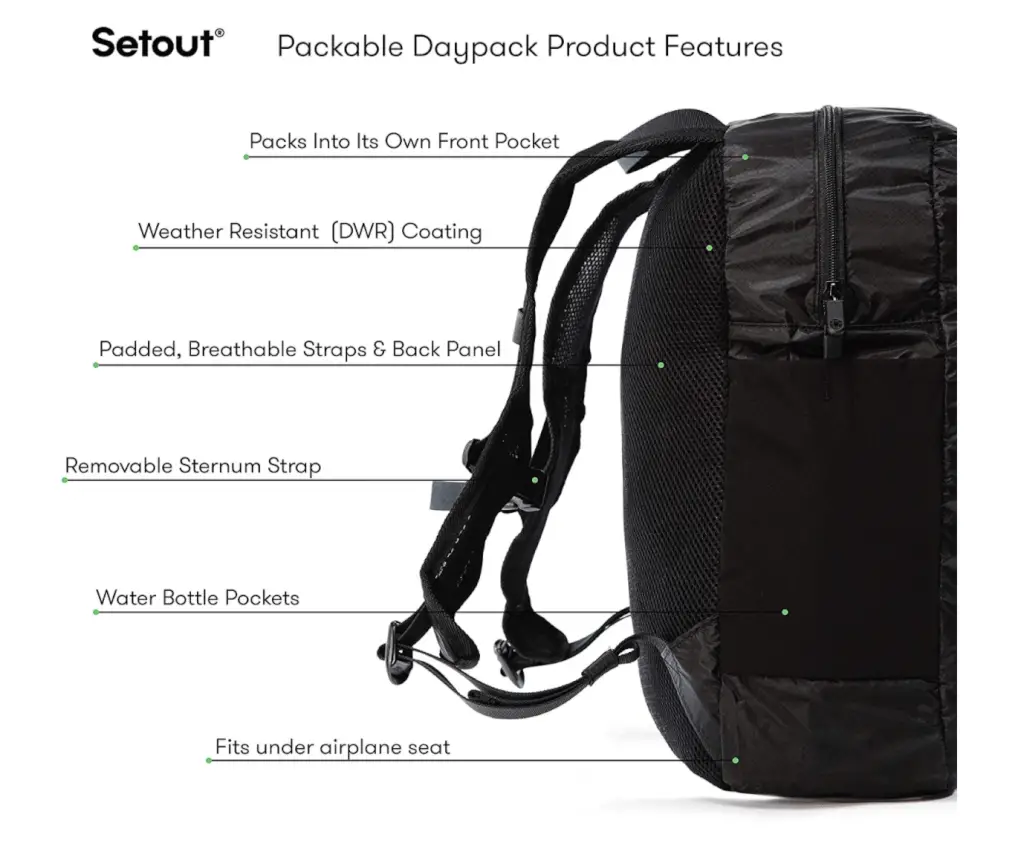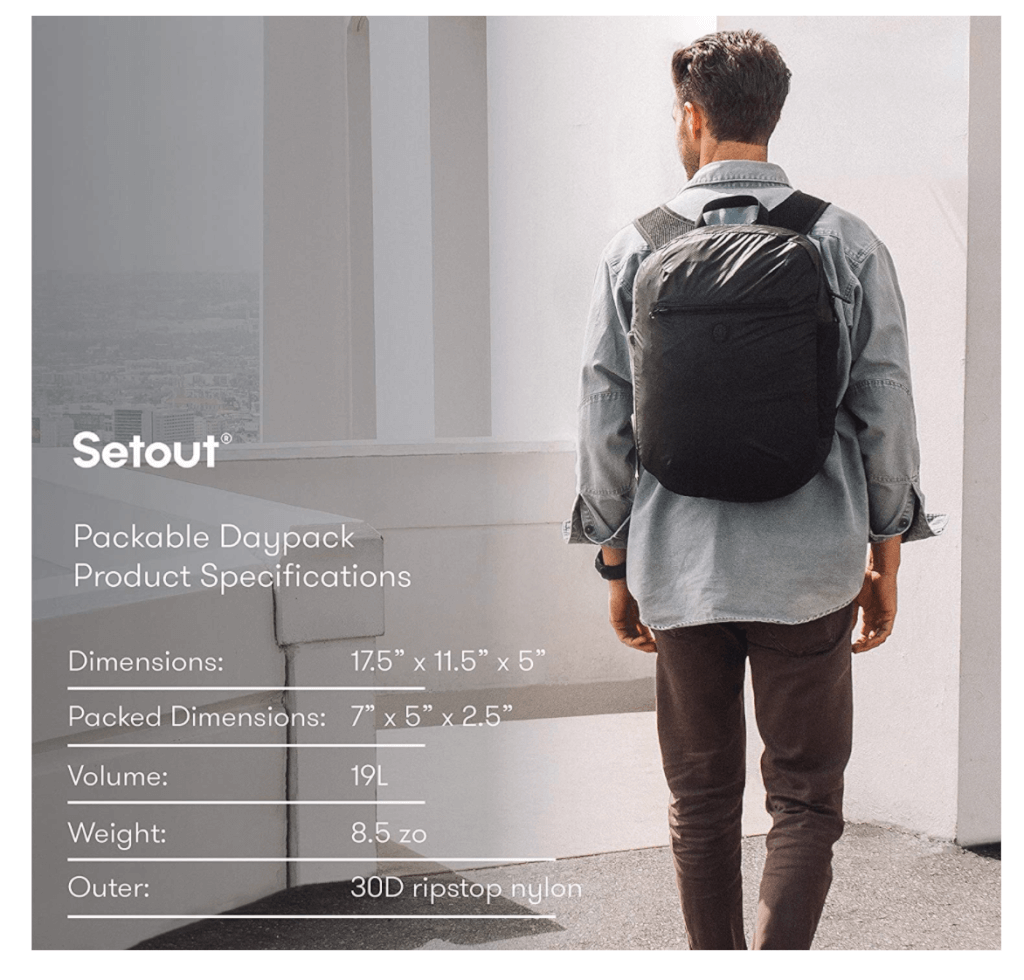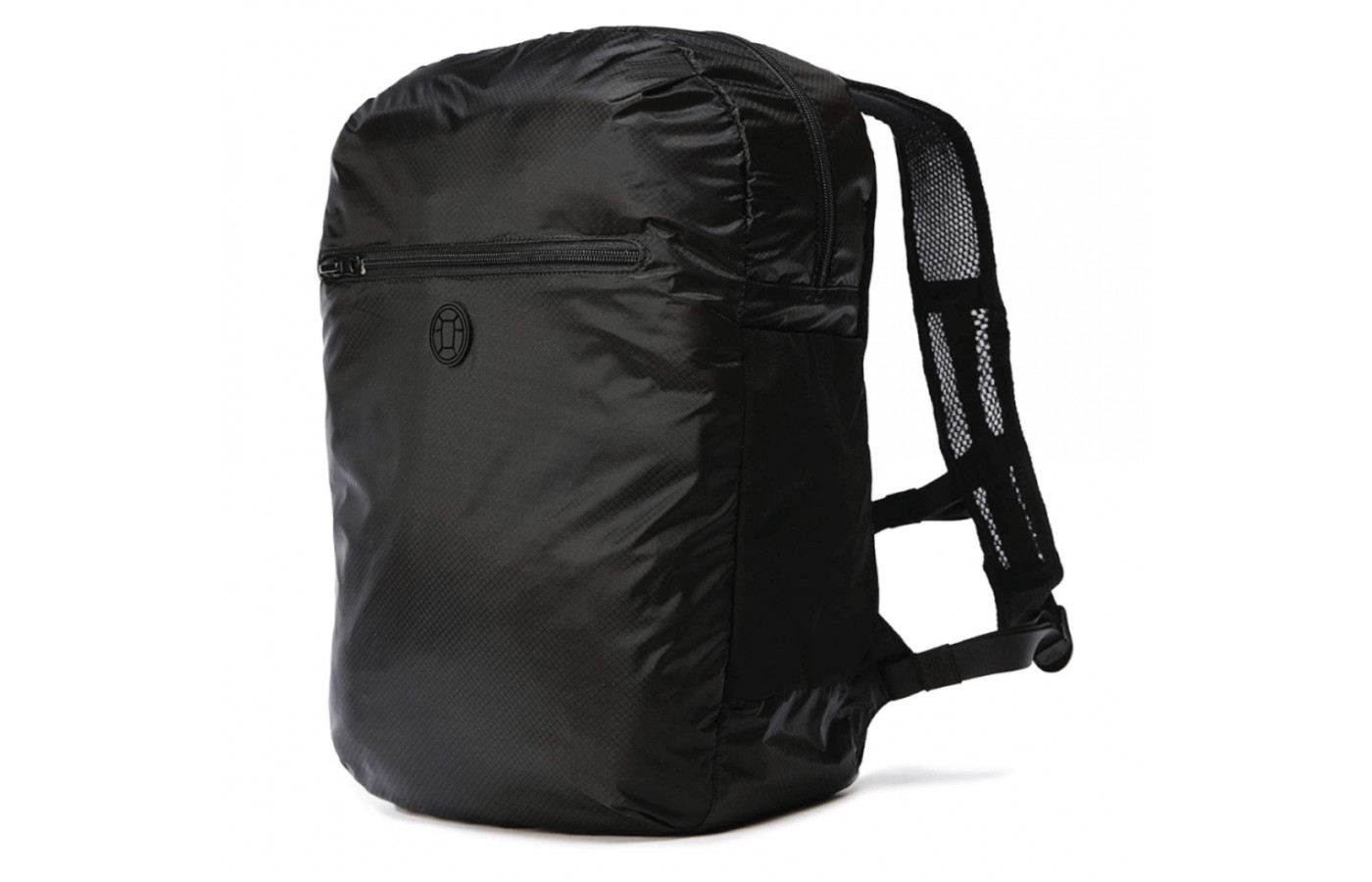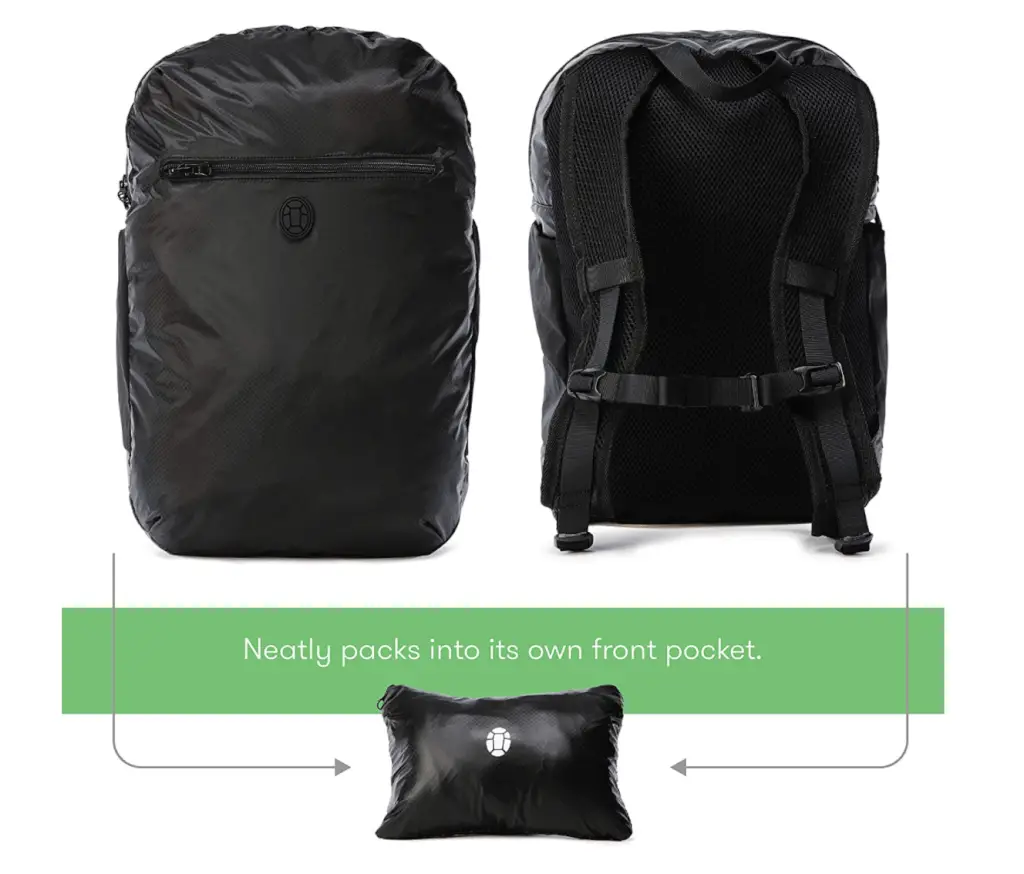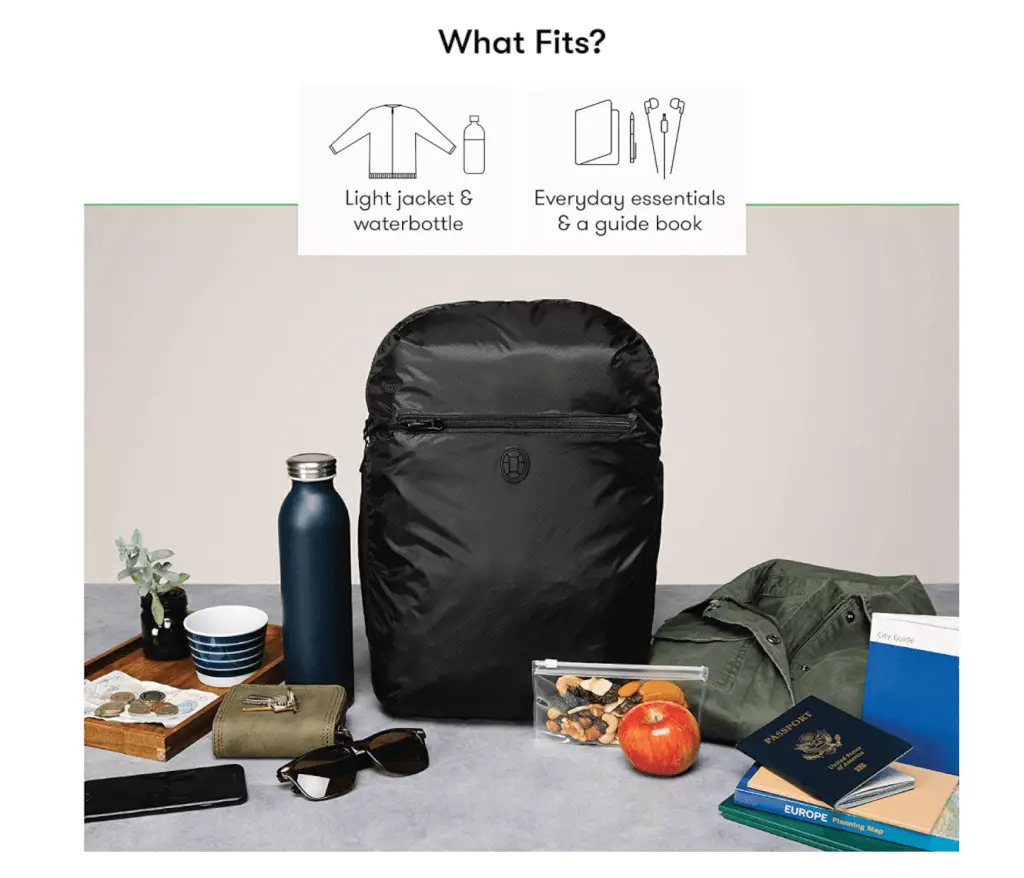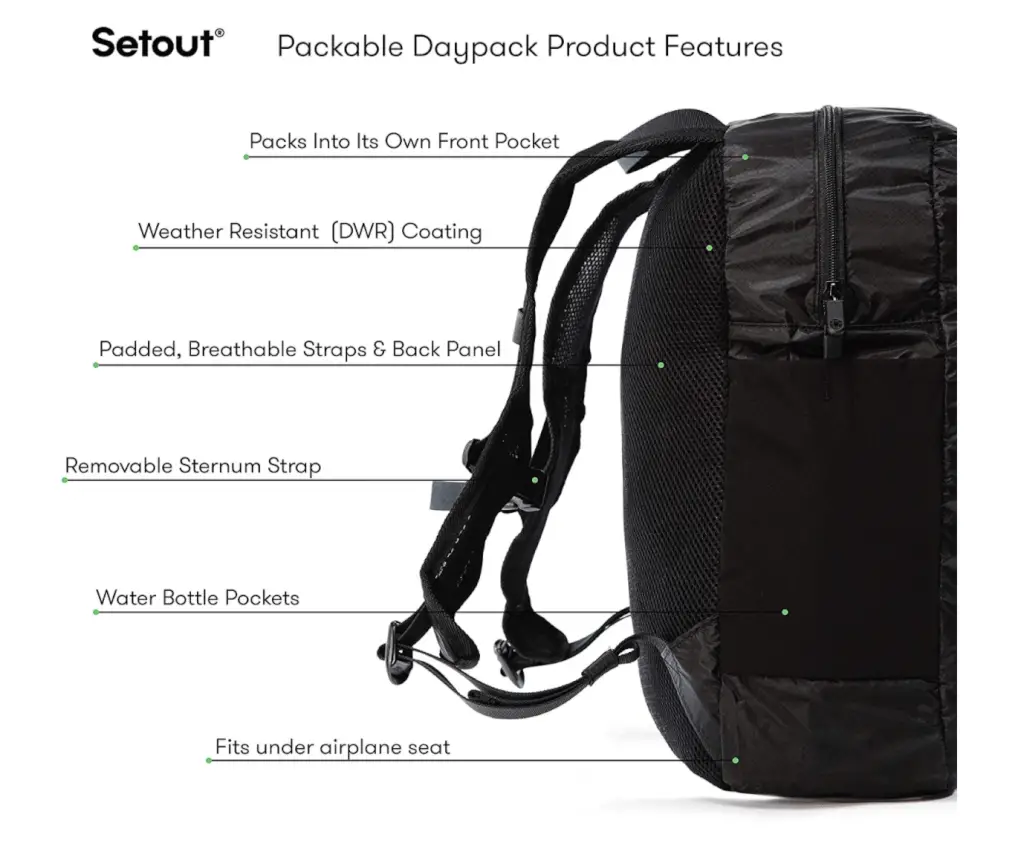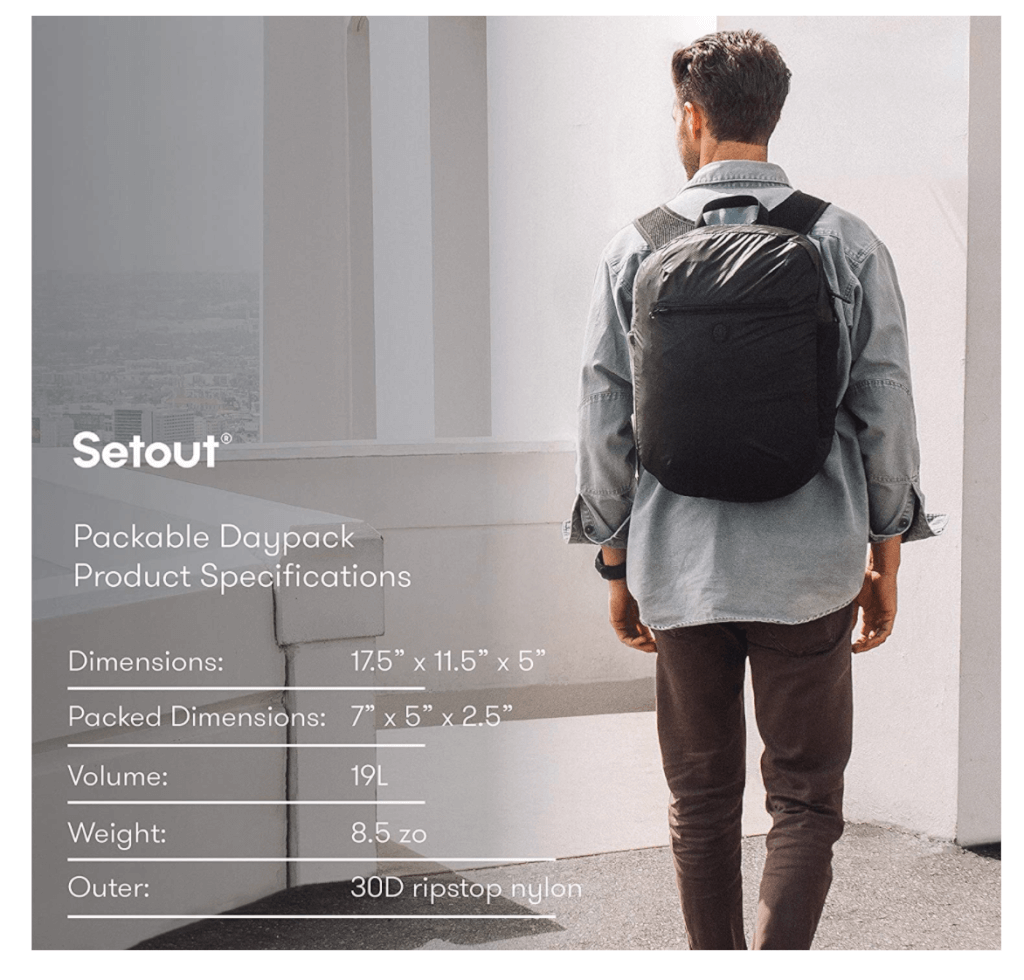 Our Conclusion
Lightweight, packable, stuffable and compressible, the Setout Packable Daypack pairs perfectly with the Tortuga Setout luggage. It acts surprisingly like a backpack and is plenty durable, despite its lightweight design.

When you need something smaller than your luggage and lighter than a backpack for sightseeing, the Setout Packable Daypack is perfect. It fits all your essentials; food, water, sunglasses, travel books, laptop, camera, etc.; it packs it all.

It packs like a carry-on backpack but feels much lighter, leaves the reviewers raving about this package. Let's find out why.
Pros & Cons
Durable like a proper backpack
Handy front pocket for quick-grab items
More organisational pockets would be handy
Large water bottles can fall out of the side pockets
Sternum straps could be adequately anchored to mesh shoulder straps
Key Features
Key Features
Design
For a pack that compresses and folds up for easy storage when not in use, it's a surprise to find it packs and works as a
backpack
. So pop this tiny pack in your luggage for when you're ready to leave your baggage behind in replacement for something light to pack all of your vital kits.
Weighing less than a can of soda and with collapsible front pockets, the Setout Packable Daypack makes having your picnic and storing this pack super easy.
There is little bad to say about this pack. All-round, it's easy to use as a fully functional backpack. Its clever design means this pack will support everything you need for a day trip, including your laptop in a dedicated laptop sleeve. In addition, I found the Duraflex clips to be tough and reminiscent of a genuine backpack.
Due to this pack's lightweight, collapsible nature, there aren't tons of features or compartments. However, the pockets and main compartments it does have are secured with large and sturdy YKK Standard Coil #5 zippers, making it robust and easy to use. These zippers are easy to grasps and are more efficient than other, cheaper zippers.
Full
day's hikes
and sightseeing require plenty of water, and it's a pleasant surprise to see two water bottle pockets on the sides of the pack. This saves room in your pack and makes it easier to reach for your water.
Although the bags are made from a stretchable fabric that flattens out for storage and elastic coated tops for grip, the bottles can tend to fall out, so this is something to watch out for. However, I like the quick grab handle on the top of the pack, which can also double as a hanger.
Comfort
Keeping the weight minimal is the best way to get the lightweight use of this pack, and Tortuga certainly knows that. So, if you want to keep the weight as minimal as possible, keep the packing light, and you'll get all the comfort you need for hot summer sightseeing days out or hikes.
Compressible daypacks usually fall due to their lack of any harness system. For comfort, day packs need a comfortable and sturdy harness system to avoid a loaded pack digging into your shoulders, which can ruin any day out.
Tortuga has resolved this issue with the suitable amount of padding appearing on the shoulder straps and back of the pack. The mesh isn't quite thick enough, but it does give you more comfort when you're hauling a heavy pack.
I also particularly like the addition of a sternum strap, which most day packs are missing. These new straps helpfully stop the bag from slipping off your shoulders and causing more discomfort.
Materials & Durability
Despite the lightweight design, the Setout Daypack doesn't sacrifice durability or comfort, whereas many similar packs lose durability when they also lose weight. Boasting the use of glossy black 30D nylon ripstop, this Tortuga daypack is both stylish and durable.
Other tough and sturdy aspects of the Setout Daypack include the Duraflex clips large and robust YKK Standard Coil #5 zippers. Unlike daypacks that choose cheaper materials, they won't be falling apart anytime soon. The no-frills handle is also secure and sturdy enough to take the full 20L when fully loaded.
Looking at the materials used and the number of great reviews, I'm confident that the Setout Packable Daypack is a durable and sturdy option compared to most compressible daypacks on the market. Faced with the quality of the materials, excellent design, and construction, I've no doubt this pack will last you for years.
But if you do have any concerns, you'll be happy to know that Tortuga provides epic warranty guarantees against defects in materials and craftsmanship. In addition, if your product fails due to a defect (not expected wear and tear), then Tortuga will repair it, replace it, or refund the item.
Comparison to Similar Daypacks
As one of my favorite and cheapest collapsible
daypacks
on the market, retailing at about $40, I struggle to see why you'd need any other options. Although finding a daypack to suit your individual needs can be difficult, brands are now making more packs every year that are lightweight, durable, waterproof, and comfortable.
Even though the Setout Daypack comes in at the top with most users, the
Venture Pal 40L
is an excellent second option. It provides 5 liters extra, is lightweight and comes in a range of styles and colors. However, this packs' features and pockets can be lacking due to their compressible, lightweight nature.
Finally, if you need something with more organization, why not try out the
Gonex packable daypack
. It boasts many organizational features, comes in many color options and is surprisingly light and comfortable for such a durable but light pack.
Verdict
Without a doubt, the Setout Packable Daypack is one of the best packable daypacks on the market and will no doubt take you where you need to go.

It's surprisingly more comfortable than most packable daypacks. Despite its durable design and materials, it's still light enough for comfort and packs away easily. You can see how it is meant to match the 45L backpack, as it easily fits into the other.

Being spacious, stylish, and durable yet light, the Setout Daypack provides enough support and comfort for anyone looking to travel for days and weekends out.