Visiting Alaska in the Summer
Visiting Alaska in the Summer
gearweare.net
Alaska holds a lot of records among the states that make up the U.S. It is this county's youngest, largest, and northernmost territory. These distinctions are far from the only things that make Alaska special, though. With a population that is the fourth smallest of all the states, despite Alaska's massive size, the wilderness within this state is one of the most epic in the world. Visitors to Alaska in the summer will, therefore, find seemingly endless beauty populated by wildlife in numbers that dwarf the number of animals found within the lower 48. Unless you are interested in doing something in Alaska that is winter centric (like viewing the Northern Lights, ice climbing, or going to the Iditarod) the best time to visit Alaska is from late May through mid-September, when the temperatures will be warmer and the days will be longer.

Because Alaska is situated so far North there are aspects of this area that may seem strange elsewhere. The climate is quite mild, topping out between 60 and 80 °F during the hottest summer months, and going down to the 40s and 50s at night. These cool temperatures offer a great escape from the heat that most of the U.S. is experiencing during this time of year, however, this also means that visitors need to be prepared with layers and sturdy, waterproof shoes that will keep them warm in a variety of temperatures.
Another strange thing about Alaska, that visitors need to be prepared for, is the elongated and shortened days and nights that come depending on the season. This is also another reason to visit Alaska in the summer because days almost entirely made up of sunlight occur during these months. On June 21st, the longest day of the year, there are 19 daylight hours in Anchorage, Alaska's largest city, while the inland city of Fairbanks has a whopping 22 hours of daylight. Those who continue to venture farther north until they reach the Arctic Circle (part of which can be found in Alaska) will find 24 hours of sunlight during the summer, as the sun moves up and down across the sky but never dips below the horizon.
Even if you don't go in June and July when the days are the longest, you can expect the sunset to be after 10 pm and for the sun to be back in the sky long before you get out of bed. During these shoulder months, you will also find cheaper deals on hotels, tours, and flights, since the slightly cooler temperatures during May and September discourage many warmth loving tourists. Along with the slightly shorter (but still long!) days expect the daytime highs to be about 5 to 10 °F cooler than they are during the rest of the summer season.
Once you have chosen the exact time of the year that you will be heading to Alaska you need to decide on where you are going and how you will get there. As stated earlier, Alaska is a huge place, encompassing well over 600,000 square miles. For this reason, trying to see the entire state during one trip is simply not reasonable, especially since getting to some areas of Alaska can be quite difficult. For example, the state capital of Juneau cannot be reached by car but must either be flown to or gotten to by boat.

Juneau falls within the Southeast region of Alaska, which is the smallest of the five that make up this state. The South Central region is where Anchorage is and is the easiest to visit by car. This region will also offer visitors the greatest access to amenities, since Anchorage is the largest city in the state, as well as relatively easy access to some of the states most stunning national parks including Kenai Fjords National Park, Wrangell-St. Elias National Park, Denali National Park, and Katmai National Park. Above the South Central region is the Interior region, which is the only part of Alaska that doesn't include any coast, and the Far North region, which is almost entirely above the Arctic Circle. Finally, there is the Southwest region, which contains many islands including Unalaska, Unimak, and Kodiak.
Decide which area you want to go to before deciding how you will get to Alaska since some methods of travel simply won't be viable when heading to certain parts of the state. Those who choose to drive to Alaska in the summer should head to the South Central or Interior regions of the state and need to make sure that they have plenty of time since this is a very long road trip. Those who drive to Alaska also need to be ready to deal with long stretches without cell service or access to amenities. Bring a map or even better a Milepost Book so that you can continue to navigate even when the GPS is down, and be prepared by figuring out where you will be stopping each night before leaving. In some areas, finding a hotel may be difficult, so camping along this route is probably your best bet. The incredible scenery and extreme solitude of this drive are well worth a few days not being able to post to Instagram though.

Another option for those who aren't short on time is to take the Alaska Marine Highway, which is a multiple day ferry ride from Bellingham, Washington, along the inside passage to various locations within Southeast, South Central, and Southwest Alaska. This is one of the best (and only) ways to get to places like Juneau, Cold Bay, and Dutch Harbor, however, it's a long trip so it only really works for those planning on spending at least a week and a half exploring this epic state. Those who don't have that amount of time will want to reach Alaska via an airplane instead. There are many international airports throughout Alaska, including one in Juneau, one in Anchorage, one in Fairbanks, and one near Cold Bay. Again, remember, Alaska is huge, so try to fly into the airport that is closest to the area where you will be spending the majority of your trip.
Most Read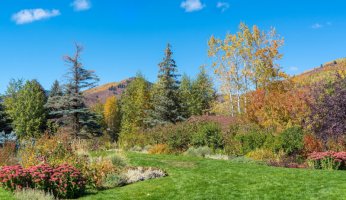 Subscribe to our Newsletter