Best Bar End Mirrors for Bicycles
In a
Hurry? Editors choice: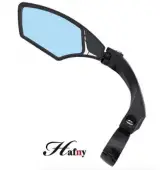 Test Winner: Hafny New Bike Mirror

Alright, so does it seem ludicrous to be looking up a guide on how to buy the best bar-end mirrors for bicycles? While they may not be mandatory, they can make
your ride much safer
and may be worth your interest.
It also depends on where you enjoy biking and the traffic that is present. If there is heavy traffic (say other bikers, walkers or even vehicles), being able
to see when it approaches
you can end up being beneficial for a plethora of different reasons.
The moral of the story is bar end mirrors for bicycles can be a worthwhile purchase for you. But, the investment will be less meaningful if you do not take the time to understand how to buy the right one (or ones) for your needs. Do not worry as that is why we are here to help.
Standout Picks
Criteria Used for Evaluation
Visibility
This type of device is designed to allow you to see behind you so the models you buy should be able to do so, right?
The entire point of mounting mirrors on your bike, in the first place, is to enhance your visibility on the road or on the trails. So, it would then make sense that their visibility would be their most important asset. As such, it also means that this is the most important section for you to pay attention to.
Also read about types of oakley sunglasses
First and foremost, you need to be aware that not all models will work on both the left and right side of your handlebar. While some sellers will sell both left and right models, others will only provide you with one. Once you figure out which side you prefer, you then should look at the size.
While you certainly do not want to buy bar end mirrors for bicycles that are bulky, they need to be large enough for you to adequately see behind you. And, for the record, you want to look at the surface dimensions of the mirror itself to gauge this.
However, what about the shape of the mirror? Indeed, this comes into play and most models will be equipped with convex mirrors. Due to the wider field of views that are provided by such mirrors, they are popular when it comes to automobiles and bikes.
And, lastly, some models will sport anti-reflective coatings. While this is not a mandatory feature, such coatings can help to cut down light reflections and overall glaring.
Durability
It will be in your best interest to buy bicycle mirrors that will actually last a while.
It seems pretty obvious to say, but we are going to tell it anyway. Make it a priority to buy bar end mirrors for bicycles that are built well. Boy, that is not utterly obvious. All joking aside, let's talk about some of the areas you can focus on here.
For starters, you should assess the design of the mainframe. Most models will not be made with steel frames or anything like that but should be made with high-quality materials. Some frames will be made with high-impact nylon fiber or even high-quality composite material.
In addition to this, the lens itself should be somewhat durable. While glass is the more popular of the two materials, stainless steel lenses do exist and can provide enhanced durability. Reasonably enough, though, some of you will prefer the traditional makeup of glass lenses.
Of course, always remember that it is never a bad idea to glance through user feedback. See what other buyers have had to say about a particular option and gauge the durability in that manner.
Ease of Use
Most models will be pretty easy to install but that does not mean that they all will.
The good news is there will not be too many bar end mirrors for bicycles that are too tricky to install. Of course, this is granted the model is compatible with your bike handlebar and built with hardware that matches up.
Even the most "complex" of models will still only require a basic Allen wrench to install. And, even if such a wrench is not provided to you, you probably have one lying around your toolbox somewhere. Either way, such models are still only going to require fundamental handyman skills.
Then again, there are some options out there that will require no tools for installation. These bicycle rearview mirror models will typically need to be inserted into your bike's handlebar and twisted until it secures tightly.
However, you will also come across bar end mirrors for bicycles that require a bit more patience. Some models will be adjustable in different manners. While this is nice, you may then be necessary to loosen and tighten different hardware.
Not all models out there will implement this type of design. And, even if they do, the actual tightening and loosening of the hardware are not going to be challenging.
Compatibility
Without question, you need to make sure that your handlebars are compatible.
If you take nothing else away from this guide, then at least understand this. Not all bar end mirrors for bicycles are going to work for all bike handlebars. Though it would be nice if each model were universal, that is not the case. So, it becomes vital for you to pay attention to the details.
First and foremost, do you have flat or drop handlebars? This matters because some bar-end mirrors will only work for one of the two types of handlebars. Sure, there are designs out there that will be compatible with both, but you can't take the chance of just assuming that the option you pick will be.
Secondly, you need to ensure that the size of your handlebar will be compatible. Most manufacturers will provide you with a range at which their bar end mirrors will work. For the record, this range is going to be the interior diameter of compatible handlebars. Unless, of course, the mirror clamps onto your handlebar as then it will be the outside diameter.
There is usually some room for error, though, if your handlebar is too large. You can always use your imagination to fasten the mirror securely. Then again, if your handlebar is too small, then you are pretty much screwed.
Features
The main feature to look out for here is if the bicycle mirror model you buy is adjustable.
There are not a ton of features that you will need to look for when buying bar end mirrors for bicycles. With that said, there is one significant one, so let's talk about that for a hot second. No matter which model you go with, it will be in your interest to look for flexible options.
The good news is most bicycle mirror models on the market will not be fixed to one position. Specific options will allow you to adjust the angle to suit your preferences better slightly. However, the best options will allow you to change them a full 360 degrees.
While it seems unnecessary to allow for 360-degree adjustability, it vastly increases the safety index of the mirror. Having the ability to adjust the mirror to any direction you want will let you see whatever you want. It is a functionality that most of you will covet.
Our Top Picks for the Best Bar End Mirrors for Bicycles
Subscribe to our Newsletter