Best De-Icers
In a
Hurry? Editors choice: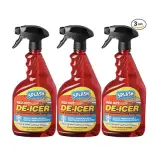 Test Winner: SPLASH

Believe it or not, "de-icer" is a technically-correct term, and it is actually quite a nifty tool for those of you who live in areas that experience
winter
weather. In the literal sense, de-icing is the process of removing ice or snow from a surface. Now, for the purposes of this guide, we are only focusing on de-icers that are designed for windshields. There are other types out there, but you will see wiper fluids and aerosol
sprays
on this list. This product can end up being one of the best ones you ever invest in, however, as how many times have you woken up to your
car
covered in ice? Snow is not too hard to remove but when ice forms, you may need the assistance of one of these bad boys to get to work on time.
Standout Picks
Criteria Used for Evaluation
Effectiveness
If nothing else, the model you pick should be able to at least remove the ice from your windshield.
It has already been brought to your attention what the concept of de-icing implies and the fact that this guide is solely based on those products that are used for your car windshields. So, with this in mind, the first and most important area you must assess with any specific brand is how well it does at actually removing ice from your windshield. Snow is not really going to be an issue as you can just wipe it off. But, as everyone knows, ice is not that easy and tends to be a major hassle to get off. With the help of a de-icer, though, the process is made easier.
However, each brand is not going to perform with the same efficiency (or lack thereof for some brands). Analyzing which ones do effectively remove ice is critically important. When it comes to determining this, the best thing you can do is research. It is tough to look at a specific brand on the surface and either claims it is good or poor. Instead, go through consumer feedback to see what other users have experienced. If the general consensus points to an effective product, you should be good to go.
Style
Before you make a final decision, you need to first decide what type of style you prefer.
Here is where some diversity can come into play. If you actually took the time to view the products above, you noticed that there are different types of styles that you can look out for. While one style is not necessarily superior to the other, you may have a preference but let's break down what those styles are. Firstly, you have your traditional washer fluid models. Now, these will be washer fluids but they will be specially designed to combat ice. As with traditional washer fluid, you simply need to pour an appropriate amount into the washer fluid reservoir that is located under your vehicle's hood. Then, you apply it to your windshield in the same fashion as you would your regulation wiper fluid.
There are also brands sold in spray bottles or even aerosol cans. With these types, you physically apply the solution to your windshield manually. But, you want to pay close attention to the design of the nozzle. Some will come equipped with a trigger nozzle (much like you would see on a Windex bottle) and others with a normal straw (which can have a narrower field of spraying).
Capacity
Depending on how frequently you need to use your de-icer, you may require more than the commonman.
As a consumer, it is always going to be of your best interest to buy what you need. Some of you will prefer to buy in bulk and there certainly is nothing wrong with that. But, at the very least, you need to get what you desire (as obvious as that sounds). In order to do this, in this case, you need to keep a few factors in mind. Firstly, how often do you think you will need to use your de-icer? In order to answer this, you need to take your climate into consideration. If you live in northern areas that experience colder weather for several months, you will probably end up needing more than a little. So, a can that gives you two to three uses is not going to be very efficient.
To combat this, either look for larger brands or packs. Most of the time, when shopping for aerosol-can versions, they will only come in capacities of around 12 ounces or so. Thankfully, most sellers will give you the option of buying in bulk (typically in packs of 12 at the most). As for wiper fluid, the same logic applies and it is typically sold by the gallon.
Value
This plays right off of the capacity and as a consumer, you want the best value that you can get.
In a lot of ways, this plays right off of the last section. You see, the value is going to be determined by the capacity. It will also be determined by other factors such as a brand's effectiveness and price. It is simple logic, really. If a brand is not very effective then you will need to use more of it to get the job done. Consequently, you will need enough of the solution to consistently remove ice during the winter. And, if the price is astronomical then your purchase will not really be warranted.
Typically, the price should not be a top priority for you (keeping in mind your own personal budget, of course). Yet, when you assess the value of a de-icer, the price needs to be added to the overall equation. A lot of times, the better value is in the packs and if you have a long winter ahead, it is best to buy in bulk.
Versatility
Most of the brands out there will be able to perform more tasks than just removing ice from your windshield.
Here is what is really cool about most de-icers; they will be able to be used in a diverse amount of ways. Clearly, each model will be designed to clear ice from your windshield. But, granted you are not using wiper fluid and pouring it inside of your reservoir, most of them can be used to thaw ice on other areas. For example, if your door is frozen shut then you can spray your de-icer inside the crease to help to melt the ice. Also, this stuff can be used on your other windows and even your mirrors.
Of course, if you have an empty spray bottle lying around you can still make de-icer wiper fluid versatile. Simply pour some of the solution inside the bottle and then spray it on areas that are succumbed to ice.
Top Ten De-Icers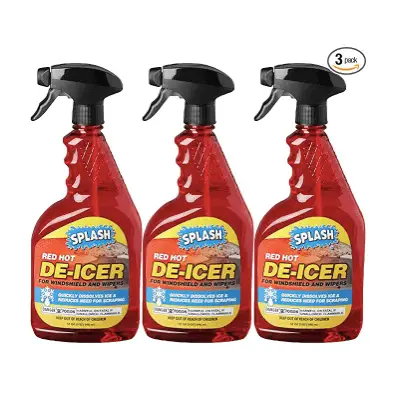 This is actually really unique in the fact that it is the only option on this list to sport a trigger spray. And, because it comes in a pack of three, you get a pretty good bang for your buck.
Read more
Effectiveness
There have been more consumers who have raved about the performance of this than reviewers who have been disappointed with it. There have been a few that fall into the latter feeling.
Design Style
As was mentioned, this is an easy to use solution that can be applied with a trigger. Much like Windex on windows, this applies much in the same fashion.
Capacity
This is actually a pack of three which each individual bottle having 32 fluid ounces of liquid. All in all, you are receiving 96 fluid ounces.
Overall Value
If you only received one bottle then the value would not be good at all. For the price, however, adding in two more bottles significantly increases the value.
Versatility
Even if the windows on your vehicle need defrosting, this can be applied to them as well. It could even be used to thaw frozen doors that will not budge.
Overall
Due to the circumstances of this list, you could call this the best non-washer fluid model on this entire list. Though some buyers have felt otherwise, the general consumer base has been satisfied.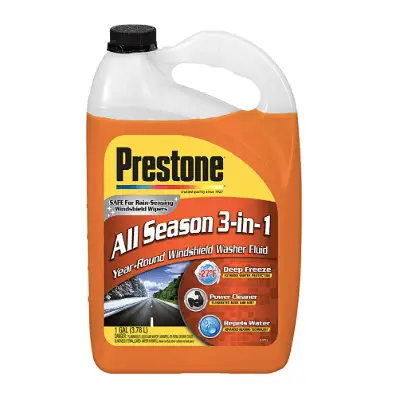 Side note; be prepared to see Prestone on this list a few times. Anyway, as for this product, it is actually a 3-in-1 deal and is a washer fluid that is one of the more versatile options on the market.
Read more
Effectiveness
Thanks to all the technologies that have been integrated into this formula, it is able to deliver streak-free performance while melting any ice on the windshield.
Design Style
Not only is this a washer fluid but it is also pre-mixed and ready to roll.
Capacity
If you do not think you will need very much of this you can opt for one gallon. Of course, the option is also there to purchase a package of six (which equates to six gallons).
Overall Value
Though the value is certainly not bad, some other options outside of one and six would have been nice. Still, for the price, the value is not too shabby.
Versatility
This is arguably the most versatile option on this list and it is because it is a 3-in-1 formula. In addition to its de-icing capabilities, it can also remove tough residue and remove bugs from your windshield.
Overall
It is no real surprise that Prestone landed on the top of this list and this washer fluid is a great example of why they are so trusted.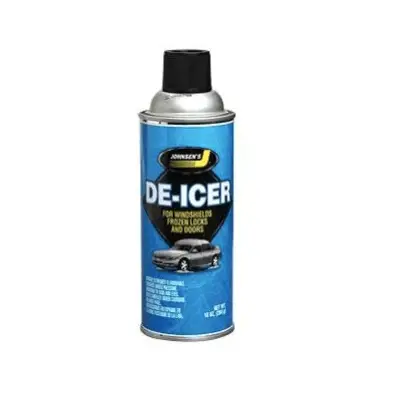 This is a different kind of product and is not a washer fluid. Instead, it is a simple can that is filled with the substance that you need to physically spray on your windshield.
Read more
Effectiveness
Once again, feedback seems to be skewed one way or the other. But, most users out there do feel that this melts ice and does so quickly.
Design Style
This is a standard can that is supposed to come with a straw (which some buyers never received). Also, another model (#3283) actually comes with a built-in scraper.
Capacity
Each can is 10 ounces and while that is not a lot on its own, this is a pack of 10 (bringing the total ounces to 120).
Overall Value
You really can't beat the value here. For the price of admission, this may be the best value on the market (in regard to the online market that is).
Versatility
Not only can this remove ice from your windshield but it can also be used to do so on locks, doors, other windows or even your mirrors.
Overall
In the future, Johnsen's should make it clearer which models come with a scraper and if a straw is included. Despite the confusion, the value and performance make this worth it.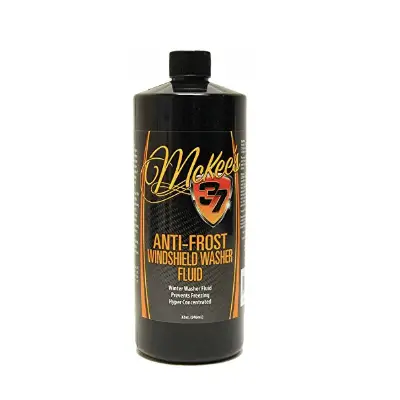 McKee's 37 presents another washer fluid to this list and while the value is not the best, it could be perfect for users who do not need to use it every day.
Read more
Effectiveness
For what this is designed to do, it appears that, based on consumer feedback, it does a sufficient job most of the time.
Design Style
Yep, this is a washer fluid and it can go directly into your corresponding reservoir in your vehicle. In fact, you can even add this as a concentrate to your existing windshield washer fluid.
Capacity
There are two size options to choose from here. You can either go with the 32-ounce option or if you require more, the 128-ounce option.
Overall Value
The value is decent but there are better "deals" out there. Still, it is nice that you can opt for 128 ounces for a slightly cheaper price (as opposed to buying the equivalent in 32-ounce bottles).
Versatility
Here is what is really cool; you can pour this into a standard spray bottle and use the formula to spray your side windows and your rear windows when they need de-icing.
Overall
Without question, this deserves a spot in the top three and for pretty much everyone, this is going to be a suitable option when the ice comes.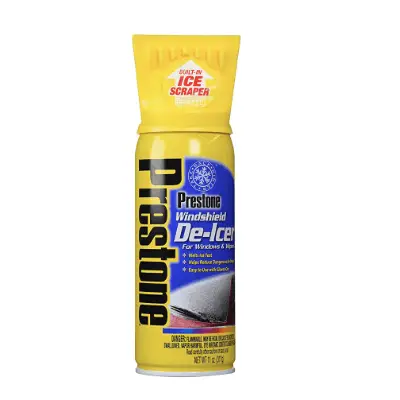 While this is another model from Prestone, they switch it up here. Instead of being a washer fluid, this right here is an aerosol can that also sports a built-in ice scraper.
Read more
Effectiveness
In regard to the overall performance, this works quite well. The main issue is that the stream is a straight shot and should have been wider to make it easier to deliver an easier coating.
Design Style
It is nice that a built-in scraper is included but the scraper itself is not that great. Also, this is an aerosol can and is not liquid.
Capacity
Each can has 11 ounces of substance inside but if you wanted to buy more, there are also options for packs of two, three, and 12.
Overall Value
Per one can, generally speaking, you can expect to get around three uses. That is certainly not the best value but things are made better if you go with the packs.
Versatility
Due to the fact that this is harmless to car finishes, it can be used to de-ice your side windows as well as other aspects of your vehicle.
Overall
This is the worst offering from Preston on this list and it is still superior to other models. That goes to show the quality of Preston ladies and gentlemen.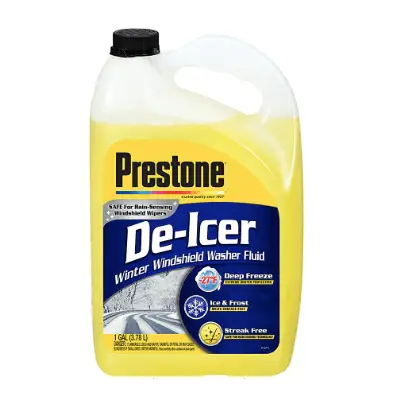 Prestone is back on their list and their AS250 is a washer fluid that is specially designed to handle ice. And, while it does seem a bit overpriced, the effectiveness is worth it.
Read more
Effectiveness
Yes, this fluid seems to work very well. However, it does struggle a bit at lower temperatures (several degrees below freezing) as your wiper blades will struggle to remove all the liquid.
Design Style
As with other wiper fluids, you will simply need to pour an appropriate amount of this into your washer fluid reservoir under the hood.
Capacity
While there are no options in-between, you can either opt for a single one-gallon bottle or buy this in a pack of six (which would equate to six gallons).
Overall Value
Admittedly, when you take shipping into consideration, this seems a bit overpriced. In all honesty, it may be in your best interest to go with the pack of six (to get the most out of this).
Versatility
If you wanted to, you could use a spray bottle to apply this directly onto your windshield (you would just need a spare empty spray bottle).
Overall
This is Prestone, so you know, at the very least, your money will be well spent. While this can struggle in extremely cold climates, it does the job well most of the time.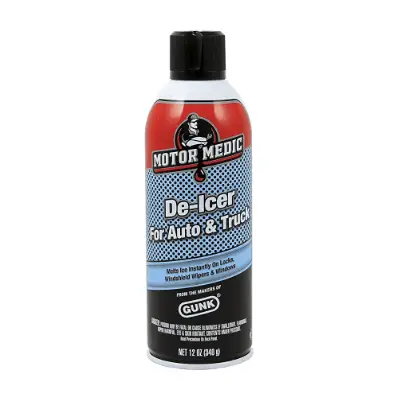 For the most part, the general consensus amongst users is that this works wonders. But, it does tend to make the windshield colder when you spray it (which almost seems contradictory).
Read more
Effectiveness
The general consensus here is that this product works how it is perceived by the seller. As one user noted, it can make your windshield colder (perhaps due to the alcohol-based formula).
Design Style
This is not a washer fluid and is simply a spray. It is not designed with a trigger but rather a regulation nozzle.
Capacity
The 12-ounce can that you receive is standard but you can buy this in a pack of 12, which is nice.
Overall Value
Once again, and without question, the best value you can get here is with the pack of 12. You can do the math but you end up saving a lot of money this way.
Versatility
In addition to the fact that this can be used for windshields, clearly, it can also be useful when you need to remove ice from other windows or to thaw frozen car doors.
Overall
If you go ahead and buy the pack of 12, then you get an excellent value that is worth the price of admission. Plus, these cans are highly versatile.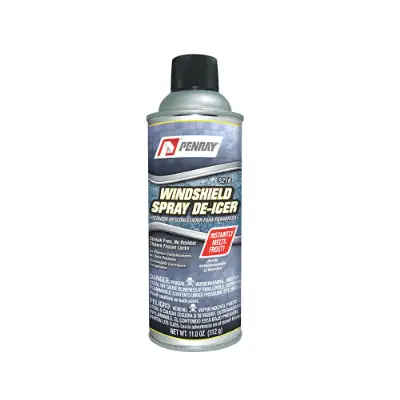 In many ways, this is very similar to the previous model that was just documented. It is a terrific option but you may want to go with the case of 12 as one can is not going to last you very long.
Read more
Effectiveness
As one educated reviewer pointed out, this works as advertised. But, in regard to light frosts as with thicker ice, it is going to take two to three applications.
Design Style
Although this is supposed to come with a spray tip, there have been buyers who have reported they never received any sort of nozzle.
Capacity
One can hold 12.3 ounces, which is about what you would expect, but this can be bought in a pack of 12 if you require more (which you will, most likely).
Overall Value
You get a much better deal when you buy this in a pack of 12 so it is definitely advised to do so. The single can option is simply not that great of a value, unfortunately.
Versatility
Even in the summertime, this can be effective when it comes to removing bugs from glass areas. Also, this can be used to thaw frozen locks.
Overall
Granted you actually receive the nozzles and granted you invest in the pack of 12, you can set yourself up pretty for the current and following ice seasons.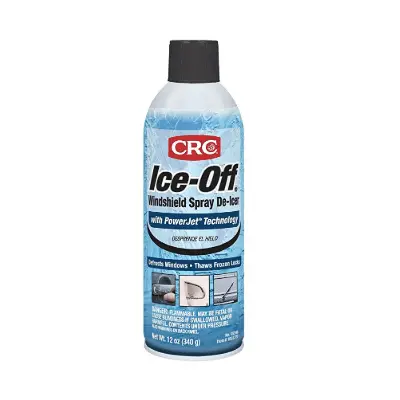 While this is nothing over-the-top, this is about what you would expect at this point from this type of technology.
Read more
Effectiveness
When it comes to thicker ice, this can struggle a little. For thinner ice, however, this will do wonders at loosening it on your windshield.
Design Style
This is a classic can design that comes with a spray nozzle. Yet, this nozzle is not the best when it comes to coating the entire windshield due to its size.
Capacity
At 12 ounces, this is what you expect from a can such as this. But, as with other sellers, there are options for packs (two, three and 12).
Overall Value
Pretty much everything besides the pack of two has a decent to good value.
Versatility
Due to the fact that this is harmless to car finishes, it can be used on locks, windows, headlights, and really any other part of an automobile.
Overall
If you live in a northern area and are constantly dealing with snow and ice, this is not the best option. Due to its effectiveness, it is better suited for casual use.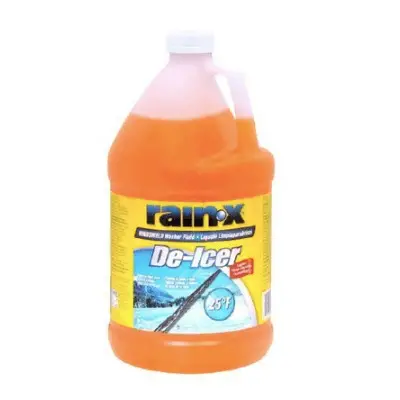 Now, Rain-X is actually a very popular brand and you may be surprised that it is not higher. The actual washer fluid is great but in regard to the value, the price is astronomical online, for whatever reason.
Read more
Effectiveness
Here is the deal; the performance of this model is pretty good. The problem comes with users who own vehicles with electronic washer fluid sensors as this has been known to kill the sensors.
Design Style
As just mentioned, if you have electronic washer fluid sensors in your vehicle you may want to stay away from this. But, it is simple washer fluid, for the record.
Capacity
It does not appear as if there are any other size options available. This lone option comes with one gallon of fluid.
Overall Value
Several users have let it be known that this can be purchased in stores for a much cheaper price. Just something to keep in mind as the online price is ludicrous.
Versatility
On top of being great when it comes to de-icing, this can also be ideal for removing bugs off of your windshield.
Overall
Do not get it twisted; this is a great option. However, it may be wise to find it in stores and should only be used for certain vehicles.

Subscribe to our Newsletter