10 Best Hiking Shirts
In a
Hurry? Editors choice: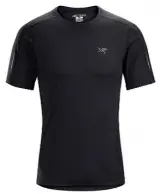 Test Winner: Arc'teryx Motus Crew Shirt

Would it amaze you to know that your hiking experience could be so much better with a simple change of your shirt? While your other
outdoor gear
will come to the forefront, as well, the focus is primarily on the best shirts for hiking today.
But, why does a high-quality shirt matter that much while you are
trekking through the wild
? Well, with the proper materials, wicking technology, and overall performance, the right shirt can keep you more relaxed, more comfortable, and better protected. That is quite a lot, huh?
What this means is you want to take the time to buy the best hiking shirts that you possibly can. Thankfully, that is why we are here. With the assistance of this guide, we hope that the entire buying process is made significantly more manageable for you. So, let's get started.
Standout Picks
Criteria Used for Evaluation
Materials
You better believe that the fabrics of hiking shirts play a huge role in the buying process.
When looking for the best hiking shirts on the market, the first order of business is to understand the different types of materials and fabrics that they can be made with. Three of the most popular base fabrics, for the record, will be cotton, polyester, and merino wool. And, even though cotton is naturally breathable, it is often the odd one out.
What happens is cotton by itself will absorb your sweat like high-quality sweatband and, additionally, it takes a long time to dry. So, if you go with cotton, ensure the shirt has also been designed with sweat-wicking technology (more on that later). As for polyester, this is often a preferred choice.
Polyester is not only quick-drying but also sports fantastic sweat-wicking properties. Polyester shirts will also regulate your temperature quite well. As for merino wool, this is naturally antimicrobial and also wicks away sweat with great efficiency. Also, it is a great material if you need winter hiking shirts (though it still works great in the summer).
Now, past this, some hiking shirts will also be equipped with special fabrics and technologies. For example, some will be designed with enhanced moisture-management systems (such as Omni-Wick), some with UV rays protection (such as Omni-Shade), and others will sport insect repellent coatings. Such fabrics and coatings can deliver much-needed protection from the elements.
Fit
As with any other shirt that you ever buy, the hiking shirt you buy needs to fit you properly.
Now, with the materials out of the way, it is time to talk about something crucial. How many of you enjoy wearing garments that do not fit you, right? Chances are, none of you do as who would? It makes it essential to choose shirts for hiking that will fit you in the manner that you find comfortable.
Of course, not all hiking shirts will be designed to fit you the same way. Some models will be more form-fitting or athletic. Meanwhile, others will sport casual and somewhat loose fits. Regarding which one is superior, it all comes down to your preferences. Both styles are right in their ways.
One of the best ways to ensure you buy the right size of a particular option, moving on, is to see what others have had to say. Amazon, specifically, has a great feature with most of their apparel. You will be able to see the percentage of buyers who felt that a specific article of clothing fit them too small, large, etc.
Comfort
Really, do you want to buy hiking shirts that are uncomfortable to wear?
When you stop and think about it, we have discussed a lot of what affects the comfort of hiking shirts. This is alluding to both fit and the materials utilized, of course.
Characteristics such as the feel, softness, breathability, and weight of a specific hiking shirt will all either positively or negatively affect the comfort of it. And, as was talked about earlier, certain fabrics will sport different properties so keep that in mind.
But, other factors will play a role, such as the design of the seams. To minimize the chance of chafing being a significant issue, you may want to prioritize shirts for hiking that sport flatlock seams. With flatlock seams, two seams will be stitched together with no overlapping. In addition to enhancing comfort, this stitching technique can also make garments stronger.
Additionally, you may also want to look for options that feature four-way stretch fabrics. With such fabrics (such as spandex) they will be able to stretch in both directions. It can enhance your freedom of movement. There is nothing worse than feeling restricted in a shirt, after all, right?
Style
Believe it or not, this section is actually really important and you will shortly see why.
This section is very, very important, so have your eyes glued to the screen for this one. Even though choosing between short and long-sleeved shirts is generally dictated by personal preference, there are advantages to each style.
Even though you would think that long sleeves are only suitable for colder climates, they actually can work great in the summer. The primary reason is they can shield your forearms from the sun. Of course, long sleeves can also deliver a bit more coverage in the winter or fall when the weather drops.
As for short sleeves, they offer a bit more freedom and versatility. In addition to being ideal for hotter weather, we can also use them as base layering during the colder hiking months.
Also read about best neck gaiter for hot weather
But, it is not just the sleeve length that you can keep an eye on. How about whether or not you want buttoned or zippered shirts? These can allow you to regulate your temperature quickly and, again, offer enhanced versatility. You can also look for collars to protect your neck from the sun and even pockets to store some of your valuables.
Color
This section is more than a personal preference. Indeed, the color of your hiking shirt actually can matter.
Would it surprise you to know that if you treat the color of your hiking shirt as an afterthought that it could come back to bite you in the rear? While color is typically all about personal preference, there is some strategy you can implement in this section. And, it all comes down to the season at which you will be hiking.
During the spring and summertime, you will want to opt for lighter colors. Past the apparent fact that brighter colors will keep you fresher in the sun, they are also less attractive to bugs and insects. (More info on how to keep protected against bugs, read here)
When you get into the fall, you need to account for the hunting season. If you plan to hike in areas where hunters will be roaming, the last thing you want is to blend into the surroundings. Just go with any color besides brown.
And, if you do intend to partake in winter hiking, then you will want to opt for darker colors. These will better absorb the heat from the sun and will keep you warmer, as a result. The reality is you should pick multiple colors to account for different times of the year. So, if you find a hiking shirt you like, order it in numerous colors.
Our Top Picks for the Best Shirts for Hiking
1

. Arc'teryx Motus Crew Shirt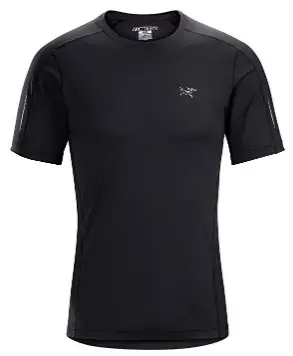 When it comes to making excellent outdoor gear, Arc'teryx always seems to be ahead of the pack. Their Motus Crew Shirt is virtually perfect and though you pay the price for it, every cent is worth it.
Read more
Materials
This is designed primarily with polyester. As for the performance of the fabric, it is lightweight, wicks away moisture, and dries very quickly. Oh, it is also incredibly durable.
Fitting
Most users have gone on record to claim that the fit of this shirt is virtually perfect. However, here and there, you will see buyers claim the fit to be a bit large.
Comfort
In addition to the flatlock seams which add a tremendous amount of comfort, this is also designed with mechanical stretch textiles. This ensures your movement is not restricted.
Style
As for the physical style of this shirt, it is short-sleeved. Also, to note, this sports reflective accents which can allow you to be seen well in low-light conditions.
Colors
While there are not a ton of different colors to choose from, the options that are presented to you (such as black and yellow) are quite nice in their designs.
Overall
Arc'teryx is one of those rare brands where virtually all their products could top any "best of" lists out there. And, for the best shirts for hiking, they have done it again.

2

. Icebreaker Tech Lite Shirt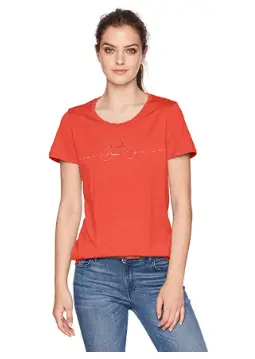 Alright, so you want to talk about expensive hiking shirts? How about this shirt right here? Then again, the merino wool core really does speak for itself and is optimized for comfort and performance.
Read more
Materials
When it comes to buying the best shirts for hiking, merino wool is one of the best fabrics you can go with. In addition to offering fantastic moisture-wicking performance, it is also comfortable and naturally resistant to odors.
Fitting
The size of the neck opening is perfectly sized. And, overall, the fit seems to be that as well, perfect. While this can always be subjective, the fitting seems to be good.
Comfort
The merino wool core itself offers unmatched comfort. But, what also helps is the flatlock stitching and offset shoulder seams that have been employed.
Style
This is classified as a graphic, athletic short-sleeve shirt. It is pretty basic in its design, though, which is not at all a bad thing.
Colors
Speaking of the color choice that is offered with this specific option, the cadence and poppy red are going to appeal to several of you.
Overall
Some of you will find it ludicrous to spend this type of money on a hiking t-shirt. Quite frankly, that is fair. However, the performance of merino wool, coupled with the crazy comfort of this garment is something you may want to experience.

3

. Mountain Hardwear Wicked Tee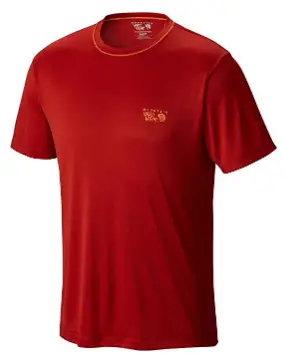 In addition to the fact that this is equipped with moisture-wicking fabric, it is also going to dry extremely quickly in the instance it does get covered in sweat or rain. It is also incredibly comfortable.
Read more
Materials
The interlocking polyester fabric that is utilized for this garment is both lightweight and durable. Additionally, WickQ moisture-wicking technology has been integrated to help with your sweat.
Fitting
Overall, the fit of this garment seems good. However, there are some of you out there who may prefer a more performance cut.
Comfort
There has been nothing but positive remarks from most reviewers in regards to the comfort of this tee. Some users have even gone as far as to call this one of the most comfortable shirts they have ever worn.
Style
This is the short-sleeved version of the Wicked Tee. Also, it is designed with reflective trimmings. These will ensure you are visible in low-light conditions.
Colors
The two colors available (red and dark fire) are virtually the same. Thankfully, the red looks pretty good. Of course, this is speaking for the men's version.
Overall
As a performance t-shirt, this works well. Admittedly, though, it can get overwhelmed with too much sweat. Overall, it is an excellent choice for hiking and other like-minded activities.

4

. ExOfficio BugsAway Shirt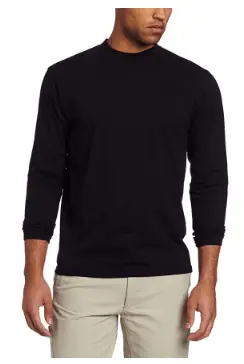 Some of the best hiking apparel is not only going to be comfortable but also protect you from the elements. In this case, this hiking t-shirt actually literally protects you from the elements.
Read more
Materials
This is made with Dri-Balance fabric to be both resistant to wrinkles and sweat-wicking. Now, the structure has been coated with both Insect Shield Repellent and sun guard 30+. This protects you from both the sun and annoying insects.
Fitting
The vast majority of previous users have noted that this garment fits as they expected it to. Then again, a few naysayers have felt otherwise and claimed this was a bit too small.
Comfort
Though this is quite comfortable, the fabric is a lot thicker than you may expect it to be. Yes, this means it is significantly bulkier than other options out there.
Style
This is just your ordinary, run-of-the-mill long-sleeved shirt, regarding its style. It is not a button-up or V-neck shirt or anything like that.
Colors
Overall, the selection of colors is quite lovely. Let's say that many of you will be able to find a color that suits you with little to no issues.
Overall
Arguably more so than any other option on this list, this is perfectly optimized for hiking. Quite frankly, it all goes back to the material and protective coatings to the reasons why this is so.

5

. Columbia Tuk Mountain Shirt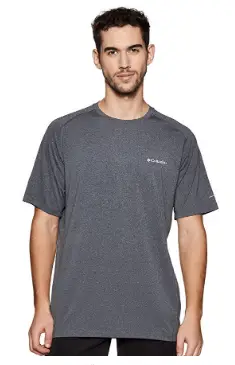 Regardless of whom you are, chances are, you have heard of Columbia before. They are a high-quality brand and, speaking for their Tuk Mountain Shirt, own an incredibly well-designed hiking shirt.
Read more
Materials
Being designed with Omni-Wick technology, this can effectively wick away moisture for enhanced breathability. Additionally, this sports UPF 50 protection from the sun.
Fitting
Because this is primarily made with polyester, it is a more significant issue that this has been known to run large. After all, polyester is not going to shrink. So, you may want to order a size lower than you usually would.
Comfort
The polyester and elastane combination offers ideal comfort. But, the fact that this garment has also been designed with all-way stretch fabric helps quite a bit.
Style
The vintage and classic Columbia logo are embedded at the chest of this shirt. As for the original style, it is short-sleeved.
Colors
Yes, some of the available colors do resemble each other. With that being said, however, the selection is still good enough to be competent.
Overall
In spite of the rather large fit of this hiking t-shirt, it is comfortable, highly breathable, and dries thanks to the polyester core very quickly. In other words, it is great for outdoor adventures.

6

. Columbia Trail Flash Shirt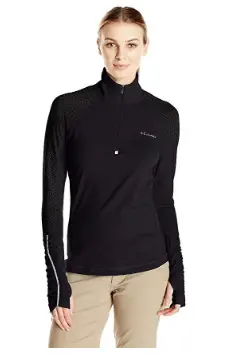 When shopping for the best shirts for hiking, it is never a bad idea to stick with brands that you can trust. Really, that is the best way to compel you to go with this next option.
Read more
Materials
This garment is designed with both Omni-Wick material and also Omni-Shade UPF 50 fabrication. Of course, some users have noted that the stitching can become unraveled rather easily. For the record, also, this is comprised of polyester and elastane.
Fitting
While it seems as if this runs small, it also seems to fit like a glove. So, if you would like a little more breathing room then you should probably consider ordering a size up.
Comfort
In addition to the natural comfort that is provided by polyester, this is also designed with four-way stretch fabric to ensure an improved range of motion.
Style
As compared to the other hiking shirts on this list, this is a bit different. Past the fact that it is long-sleeved, it is equipped with a half-zippered closure and a stand collar.
Colors
Though there are only a few color options to choose from, each of them offers something a little different.
Overall
The combination of the Omni-Wick and Omni-Shade fabrication make this quite compelling for hiking. Add in the four-way stretch "technology" and you have a massive winner.

7

. Mountain Hardwear Wicked L/S Tee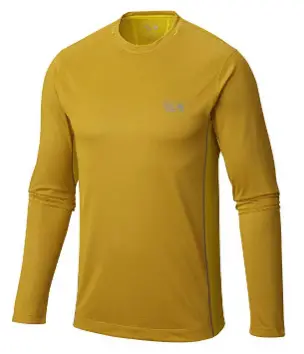 This is actually the long-sleeve version of the Wicked Tee from Mountain Hardwear. As opposed to the short-sleeve version, though, this seems to fit incredibly large. It is a fantastic design, though.
Read more
Materials
Being a 100 percent polyester shirt with Wick Q moisture-wicking technology, this is going to dry quickly and keep you fresh. Of course, it does not precisely hold its shape very well once you start to sweat profusely.
Fitting
Bank on this running larger than you think it will. Count on it being way more significant than you think it will be. Most of you, though, should be good to order only one size smaller than you usually would.
Comfort
Assuming you find a size that fits you in the manner you find comfortable, the rest will be history. This is due to the natural feel and breathability of this shirt.
Style
As noted, this is the long-sleeved version of the Wicked Tee. This is also designed to be an athletic fit, to note.
Colors
In terms of appeal, this looks as good as the short-sleeved version. The Inca gold color, in particular, is quite striking in its appearance.
Overall
The large fit of this garment might scare some of you off. However, ordering a size down should fix that very issue. So, this means there is no reason to fear such a great trekking shirt.

8

. White Sierra Gobi Desert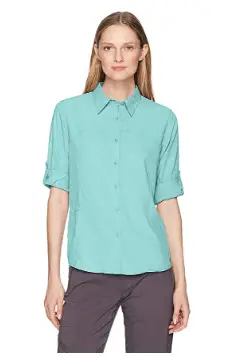 If casual t-shirts are not your ideal hiking apparel then you may want to pay special attention to this option. In addition to being a long-sleeved hiking shirt, it is also a button-up.
Read more
Materials
Overall, this does not breathe as well as other hiking shirts. Now, it does sport sweat-wicking fabric, to note. Also, with the UPF 30 rated material, this is going to protect you from the UV rays that emit from the sun.
Fitting
Unfortunately, the sizing seems to be all over the place here. On the one hand, several buyers have felt that this was too small. But, around the same percentage of folks have thought it was too large, as well.
Comfort
Granted you like the feel of button-up shirts, you should find this comfortable. It also helps that back mesh venting has been integrated to keep your back from overheating.
Style
As noted, this is a button-up shirt. But, it is also long-sleeved and even sports a zippered security pocket that you can store certain valuables in.
Colors
The color selection is right here. And, to no one's surprise, most of the colors that are offered are light in shading.
Overall
The hardest part about buying this hiking shirt is getting the right size. If you can live with the fact that it may take a few tries, you can get your hands on one incredible garment.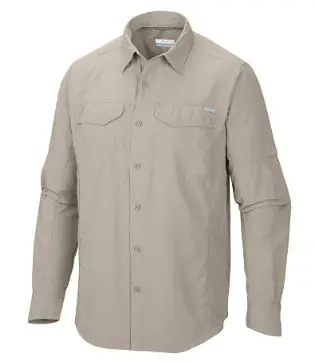 During your treks, you really want to be wearing clothing that can breathe well. Thanks to the signature wicking fabric that is on full display here, it is safe to say this option epitomizes that quite well.
Read more
Materials
Now, this is actually made with 100 percent cotton. Cotton itself is naturally breathable but does not dry very quickly. Of course, this is also equipped with Omni-Wick moisture management technology.
Fitting
In all different areas of this shirt (the shoulders, waist, sleeves, etc.) the fit seems to be different. On the plus side, there are sizes available from small all the way up to 4X-large.
Comfort
If there is one thing that is certain about cotton, it is soft and comfortable to wear. Just be aware that this is probably going to shrink a tad if you dry it in high heat.
Style
This is a flannel long-sleeved shirt, for the record. It is also designed with two chest pockets. But, the design of these pockets was not well-thought-out. Only part of the flaps can be opened and this makes inserting items inside more difficult than it should be.
Colors
Even though some of the color options do resemble each other, the selection is still good overall. There are plenty of different colors that you can go with.
Overall
Many of you will prefer polyester or even merino wool shirts for hiking over cotton ones and that is fair. But, this garment is still designed with special Omni-Wick technology, so be aware of that.

10

. White Sierra Bug-Free Jersey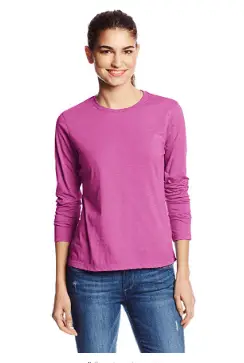 Now, this shirt is a bit different as it sports a cotton and polyester blend along with an Insect Shield Repellent finish. The latter is really nice as it repels all sorts of insects (such as mosquitoes).
Read more
Materials
Indeed, this does sport a polyester and cotton blend (60 percent cotton). And, while it does not breathe incredibly well, the UPF sun protection and Permethrin Insect Repellent protect you from the elements.
Fitting
It is safe to say some of you will not prefer the cut (or lack thereof) of this hiking shirt. Also, for the record, many buyers have noted that the fit can be small.
Comfort
While this is nowhere near uncomfortable next to your skin, it is also a little on the heavy side. Due to this, it can be painful in hotter weather.
Style
This is just a casual long-sleeved crew shirt. That is the best way to describe it, quite honestly.
Colors
Due to the robust variety of colors, not too many of you will have troubles when it comes to selecting the one you find appealing.
Overall
For summer hikes, this is not the best option. Due to the extra weight and slightly disappointing breathability, this is better served in either the spring or fall.

Subscribe to our Newsletter