Best Jump Boxes
In a
Hurry? Editors choice: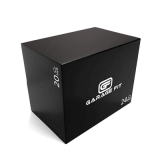 Test Winner: Garage Fit

Success in any
training regimen
lies in those moments where we can push past our previous boundaries. Whether you shaved off a couple of seconds to your mile, or you were finally able to bench press a few more pounds than the previous week- those little moments are why we work so hard.
For plyometrics, success can be found in being able to propel yourself off of the ground just a little bit higher. The best way to train and measure your success is with a great set of jump boxes. These products are far safer to use than trying to use the
stairs in your home
(like many do) and many can be adjusted so that you can increase the intensity as well as the challenge. In this guide, you will find some of our favorite picks.
Standout Picks
Criteria Used for Evaluation
Ease of Use
It may seem silly that something like a box could be difficult to use, but there is much more to these products than meets the eye.
One of the biggest things that we looked at was how easy it is to put together. While the designs that are made from PVC or steel typically come fully assembled, there are some wooden options that are going to require that you dust off your toolbox. In those cases, we wanted to make sure that assembly was going to be at least under 30 minutes, and came with easy to read instructions. The biggest thing you want in these products is stability, and if you run into difficulty putting it together- you run the risk of building a wobbly product. We also wanted to make sure that we selected jump boxes that were going to be easy to adjust. The platform models are typically adjusted using a set of pins in the base, so we made sure that users found that raising it and lowering their device was simple to do in a moment's notice.
Materials
The quality of materials used is going to dictate how sturdy it is going to be, and how well it will treat your joints.
For the frame, you are going to want something that is a naturally strong material. We found that metal or steel bases were regarded as the most sturdy with few users complaining about them being uneven. Wooden options are another great option that is almost as strong as their steel counterparts. Wooden frames are usually composed of ¾ thick construction grade materials that are reinforced with beams on the inside of the cube for a good deal of additional support. As for the base- we wanted to select something that your shoes are really going to be able to grip to eliminate the possibility of slipping. We found that grooved rubber (or sometimes foam or neoprene) is the best material to ensure that you get a really good grip, and this material is also going to absorb some of the impacts to give a little bit of relief to your joints.
Durability
These take a pounding- quite literally, so we wanted to make sure that we selected something that was durable.
Materials play a big part in how well it is going to wear, but weight capacity, as well as design, also play a big role. Some of the stability of design comes from simple engineering. If you look at the shape of most jump boxes you will notice that they are shaped more like a trapezoid and less like a cube. This simple design feature is going to eliminate a good deal of stress on the sides of the unit, and therefore give you a more sturdy and durable frame that isn't going to crack under the pressure. We also made sure that we looked to find listings for weight capacity to ensure that it was going to be something that would work for everyone. From what we gathered, the minimal weight for most topped out at about 300 pounds, and there were some designs that were actually able to withstand over 660 pounds of pressure!
Size
How high it sits off of the ground dictates how high you can fling out body up off of the ground, so we wanted to select sizes for newbies as well as seasoned veterans.
From what we found, sizes typically start at around 12 inches (with a few shorter exceptions), and cap out at 30 inches. For inexperienced users, the 12-inch mark is a great place to start, and many products allow users to flip the cube over on its side to gain a few more inches when your skills start to improve. We liked products that would allow users to change the difficulty level when their skills improved. Most cubed designs would allow for this, but the platform designs were the best in adjusting the height. The metal stand options, unfortunately, do not allow for making height adjustments, but they compensate for this by coming in at a really affordable price point.
Value
It is always important to use to save you some money whenever we can, without sacrificing the quality.
The price tag of these is a little bit higher than you may expect, especially when it comes to designs that offer a high level of adjustability or added foam and padded features. If you are looking to save a little bit of money and give these products a try, we found that the steel frame hollow designs that do not allow users to adjust the height are going to be your most affordable option. We noticed that the price tag would make large jumps when various features were added, such as adjustable settings or padding. Keep in mind, however, that these are very versatile, and there is quite a lot of compound exercises that you can engage in, which makes them well worth the slightly higher price point in our opinion.
Subscribe to our Newsletter