Best Kayaks for Kids
In a Hurry? Editors choice: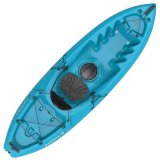 Test Winner: Emotion Spitfire

Even if you already own a fantastic and well-designed kayak, it may be best to start your child off with one of their own. In addition to the fact that you may want to go kayaking with your child (or children), buying them their own kayak can be beneficial for them, as well.

Kayaks for kids are going to be a little different than adult versions. Generally speaking, they are going to be smaller, sport less cargo space, and also be better optimized for stability. That is not to say that kids can't use adult kayaks but it may be best to start them off with something simpler.

And, that is where this guide comes into play. With the information that will be provided to you today, you will know exactly how to buy the kayak of your child's dreams.
Standout Picks
Criteria Used for Evaluation
Stability
Arguably the most important aspect of a kids kayak is its stability.
One of the many reasons why so many people love kayaking is because kayaks themselves offer excellent stability. They will not tip over very easily, generally speaking. However, in spite of this, certain models will still sport superior durability, and this may be in your best interest when looking for kid's models.
For kid kayaks, overall performance and speed are not going to be that important. Instead, it should be all about stability. And, this is one of the reasons why kayaks for kids are much shorter. Most will range between six to eight feet, and these lengths will be manageable for most kids.
But, some other features can make certain models stand out. In specific, some designs will feature chines, fins, skegs, etc. Mainly, these will be attached to the kayak, and they will enhance the stability and tracking of the vessel as a whole.
Oh, and as for the whole sit-on-top versus sit-inside kayak debate, both can work just fine. However, sit-on-top models are sometimes preferred for kids due to their simplicity (as getting on and off them is a breeze).
Comfort
The last thing your child will want to do is kayak in an uncomfortable vessel, right?
Leaving off where the previous section ended, do you think your child will prefer to sit in a sit-on-top or sit-inside kayak? The ball is actually in your court on this one as you will best know your child. They may prefer being enclosed in the kayak (which is where sit-inside models come into play) or they may not want to feel cramped inside.
But, no matter which style you choose, there are some additional design features you need to take into consideration. For starters, assess the seat and/or seats (if you want a tandem kayak). Some kayaks will be optimized explicitly with seats that are ergonomically designed for kids. Others will sport seats that can work for both children and adults.
Also, not all models will come with backrests, and these can help to provide support for your child's back. Oh, and you should also not overlook the footwells. Some kayaks will be designed with indentations (footwells), and these can be used as footrests. To allow for different sized children, look for multiple footwells to be implemented.
Portability
Whenever you buy something like a kayak, you will always need to keep portability in mind.
Alright, so this is where you come into play. Your child will not be able to transport their kayak by themselves so you need to know what you can handle. The benefit of kid kayaks is they will generally weigh less than others.
Most will range anywhere from 18 to 35 pounds and will not be too much of a hassle for you. Of course, your child may want to be able to handle the weight too (in case they do tip it over and need to flip it back).
This is also where inflatable kayaks come into play. Many kayaks of this nature will be safe for kids to use and the benefit of them is undoubtedly their portability. As they can be inflated and deflated, you will not need a roof rack to transport them back and forth (which could be a huge plus for you).
Of course, if you go with a hardshell model then you will want to keep an eye out for carrying handles. For easier carrying, look for models with multiple handles (on the sides, front, rear, etc.) so more than one person can help with it.
Durability
Kids can be hard on equipment so it is important to not overlook this section.
Whether you are shopping for adult or kid kayaks, it should always be a priority to look for models that are actually going to last. But, this is somewhat amplified for kids as they naturally will be a bit more careless and reckless out on the water.
This is why so many kayaks for kids will be engineered from high-density polyethylene. At least, this is speaking for hardshell models as inflatable models will typically be made with PVC and other such materials. But, back to polyethylene and yes, it is indeed plastic.
The thing about polyethylene, however, is it is far from cheap and useless plastic and is actually a thermoplastic polymer. And, there are different densities that exist. But, for kayaks, high-density is preferred over medium-density and low-density.
High-density polyethylene is more demanding and expensive to mould but its strength and toughness are worth it. And, because this plastic is molded at higher temperatures, it is less affected by them in general.
Also, this type of plastic has excellent quality control when it comes to the sun. The UV rays that the sun emits can be extremely damaging to outdoor equipment and gear. So, it is nice that high-density polyethylene kayaks can combat this to a degree.
Features
This section is just going to cover a few extra features that you can keep an eye out for.
Now, it is time to dive into some "extra" stuff that can often make some of the most significant differences. For starters, some models will be equipped with self-draining scupper holes. In short, these will be built into kayaks to prevent them from filling up with water. No draining will be necessary with them as they will do all the performing.
Next up, your child may want a room to account for some of their toys or snacks. Now, cargo space and storage compartments are not quite as prevalent on kid models. But, as you saw on the above list, there are options with rear cargo space, dry storage compartments, etc. so you have a few options.
Lastly, some sellers will include some kayak accessories with your purchase. If you do not want to shop separately for a kids kayak paddle, for example, you can find kayaks with one included. Other items (such as kayak covers or pumps for inflatables) will sometimes also be included.
Our Top Picks for the Best Kayaks for Kids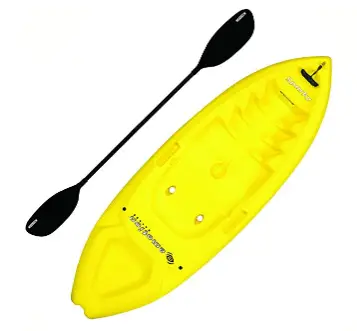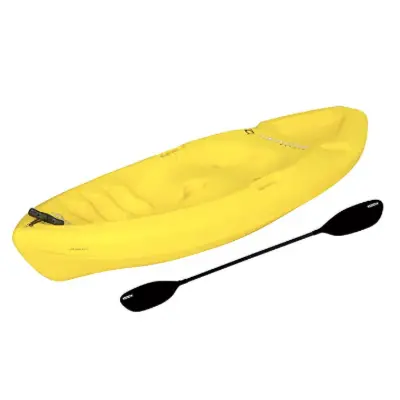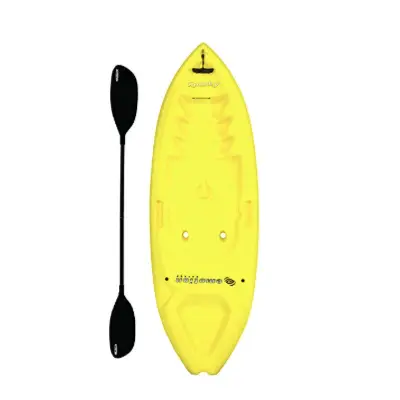 While this top kayak does not come with a paddle, it is one of the single best models available to this day. The Sparky is everything you look for in a youth kayak, to be perfectly honest.
Read more
Stability
Without comprising the stability that is provided by the design of the hull, it was also designed with a semi-flat shallow profile. This allows the Sparky to remain extremely agile on the water, as well.
Comfort
Though this may not be comfortable for hours on end, it is far from uncomfortable. What helps is the sit-on-top design as your child will not feel as cramped inside of it.
Portability
In addition to the fact that this only weighs 22 pounds, it has also been designed with molded-in side handles for additional portability. Also, this sports a front toggle handle.
Durability
Because this was engineered from high-density polyethylene, you can rest easy knowing it is not going to break very easily. This is about as good as it will get for plastic kayaks.
Extra Features
Unfortunately, you will need to account for a paddle yourself. The good news, though, is that your little one can tag along with all sorts of items with the storage space that is provided from the tank well.
Overall
From kids five and up, the Sparky is going to work incredibly well. It is only six feet long, however, so it is not going to be the absolute best for older kids or teenagers.

2

. Ocean Kayak Malibu Two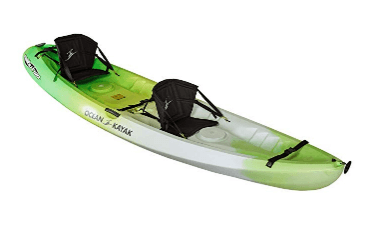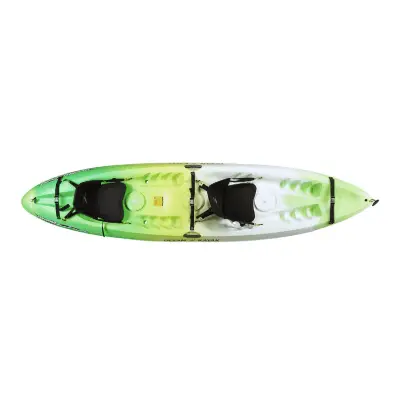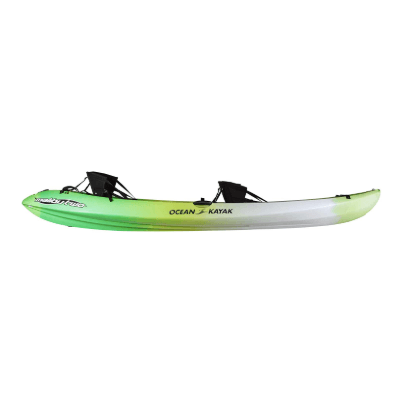 Now, this is actually a tandem kayak but it can still work with kids. Whether you wanted to kayak with your child or allow two children to paddle with the Malibu Two, it is very versatile.
Read more
Stability
Thanks to the tri-hull design of the Malibu Two, it is optimized for stability. In short, this basically just means that the hull is made of triple-layer polyethylene.
Comfort
The combination of the open cockpit design and the four-way adjustable seats make this a fairly comfortable kayak overall. The footwells are also overlapping which to allow for different sized users.
Portability
When the time comes to transport this vessel, it will be made easier with the molded-in handles. Still, this is a tandem kayak so it will be somewhat more cumbersome to transport around.
Durability
Overall, this sports a load capacity of 425 pounds and it has been engineered from high-quality polyethylene plastic. It is constructed very well, let's just say that.
Extra Features
This is one area where the Malibu Two could have been better. Past the fact that it does not come with a needed paddle, it also does not feature any storage compartments whatsoever.
Overall
Performance and durability are the two areas in which this excels the most. It is an excellent choice if you want your child to start off kayaking with a little bit of assistance first.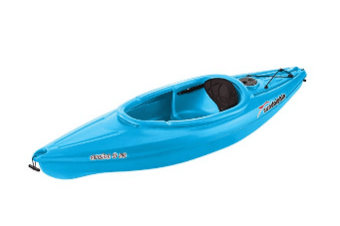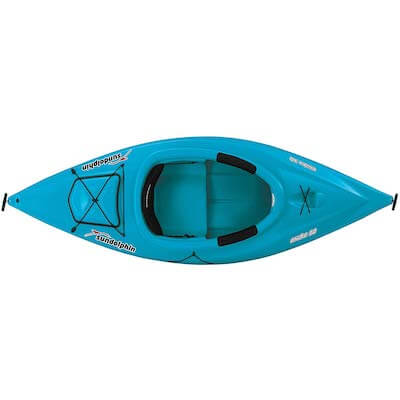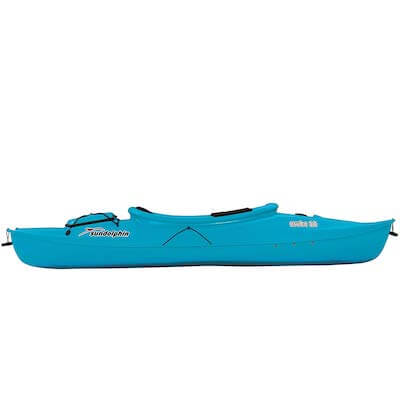 Sun Dolphin has stamped their name on the kayaking industry so it is no surprise to see them secure a spot on this list. Their Aruba model, which is eight feet in length, is just about perfect for the little ones.
Read more
Stability
Compared to some of the other best kayaks for kids, admittedly, this does not track incredibly well. With that being said, it is very stable on the water which is important for kids and beginners.
Comfort
As you can see from the photos, this is a sit-in kayak. The included backrest is quite helpful. However, there are no footrests present so just take note of that.
Portability
One of the reasons Aruba is so beloved is because of its weight. For a kayak, it is very manageable to transport and carry around.
Durability
The classic construction of Aruba gives you peace of mind when your little one goes out with it. Unless they are utterly careless with it, not too much trouble should occur.
Extra Features
There is a dry storage compartment that can be utilized as well as a paddle holder and a recessed drink holder. Just a note, though, that the storage compartment is pretty darn small.
Overall
If your child would rather sit in a kayak as opposed to sitting on top of one, this is an excellent choice. It has also been designed by a reputable kayaking company so that always helps.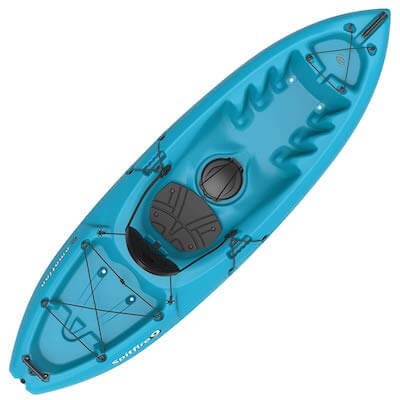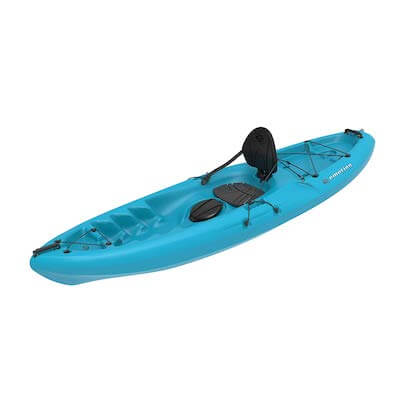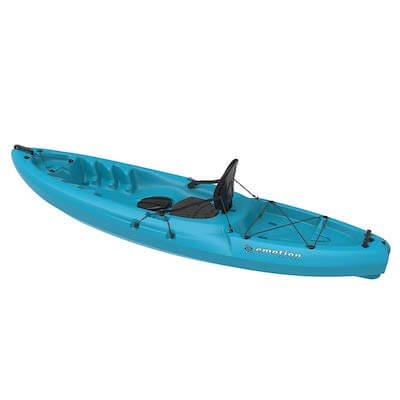 What makes the Spitfire Kayak so nice is it is designed with a ton of features that you will find on adult kayaks. This includes cargo net lacing and also self-bailing scupper holes.
Read more
Stability
For its size, the ST Performance Hull of the Spitfire does a fantastic job of delivering both stability and speed. It is somewhat hard to keep straight but is still good overall.
Comfort
Simple but effective features (such as the molded-in footwells and the padded backseat) allow the Spitfire to be a pretty comfortable ride.
Portability
With the sheer amount of carrying handles that have been implemented (on the front, rear and side of this kayak), this is not going to be too cumbersome or tricky to carry around.
Durability
As with so many of the best kayaks for kids, this has been engineered from high-density polyethylene. This same plastic has also been UV-protected to withstand the abuse of the sun.
Extra Features
Truthfully, this is where the Spitfire truly shines. It is equipped with a rear tank well that sports cargo netting for storage and also self-bailing scupper holes (which allow for proper drainage).
Overall
A good way to spoil your child is to buy them the Spitfire Kayak. If they really have an interest in different types of water activities then it may be worth giving this a shot.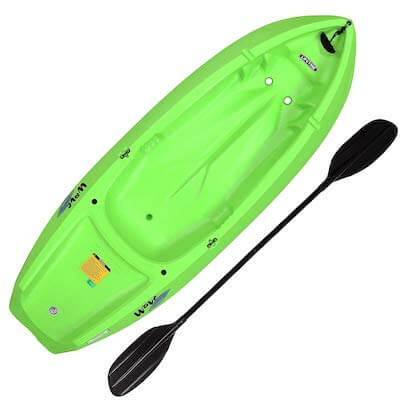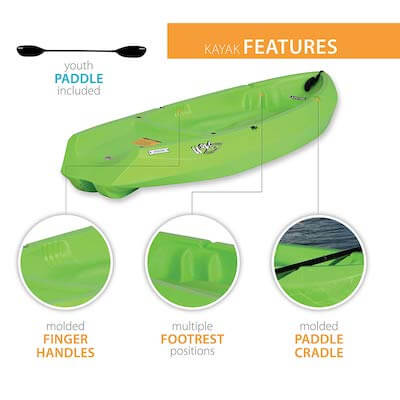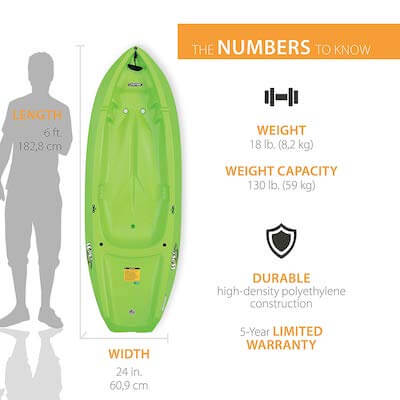 This is one of the most popular kid kayaks on the market bar none. It may not track the best in wavy waters but it is incredibly durable and stable.
Read more
Stability
As noted, this is not the best in rougher waters. With that said, its twin-fin design and reverse chine do provide fantastic stability and tracking in calmer waters.
Comfort
Though the back could be a little higher for kids, the cockpit is ergonomically designed. Additionally, there are multiple footrest positions available to account for different riders.
Portability
On top of the lightweight 18-pound design, this vessel is also designed with molded finger handles on each side for easier carrying.
Durability
This is built to last, let's just say that. The main core has been engineered from high-density polyethylene. Also, this kayak is UV-protected and will not fade or crack in the sun.
Extra Features
To allow the cockpit to drain, this is designed with scupper holes. Also, a double-sided paddle does come with your purchase.
Overall
For younger children, it is easy to see why this youth kayak has become a go-to choice. It is one of the most compelling options on the market that is for sure.

6

. Sevylor QuickPak Kayak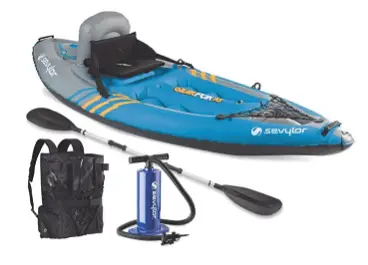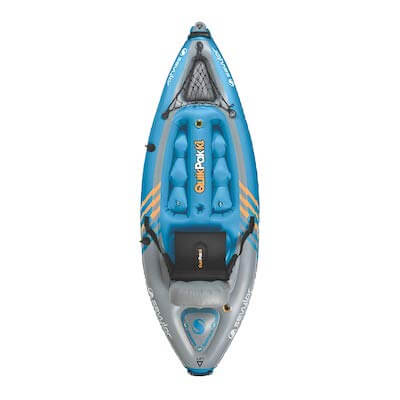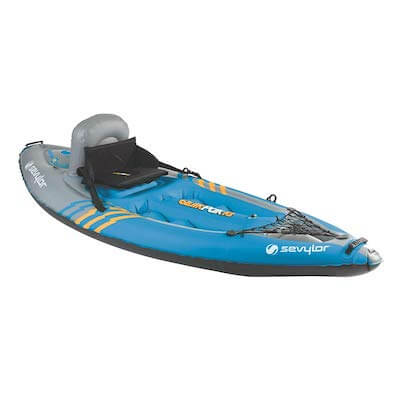 Unique would be the best word to describe this next model. It is inflatable, comes equipped with dual tracking fins and also implements a backpack system for storage.
Read more
Stability
Indeed, this is another inflatable kayak. In addition to being reasonably stable while on the water, it also sports dual tracking fins. These will allow for easier movements on the water.
Comfort
The simple nature of this kayak (it is an inflatable, sit-on-top design) makes it comfortable for the right users. The seat and backrest are also competent, so that helps.
Portability
In just around five minutes or so, this bad boy will be up and running. Again, it is inflatable, and this makes transporting it a lot easier.
Durability
As is noted in the product description, this has been designed with an Airtight system. It just minimizes the risk of abrasion or any leak being caused.
Extra Features
The included paddle is nothing special, but it is nice that one is at least included. For the record, you also get a pump and a backpack. The backpack is a bit difficult to work with, however.
Overall
It seemed appropriate to include a couple of inflatable models on this list as they are always ideal for kids. This is another such example, and it is an incredibly solid design overall.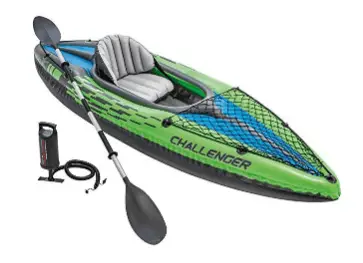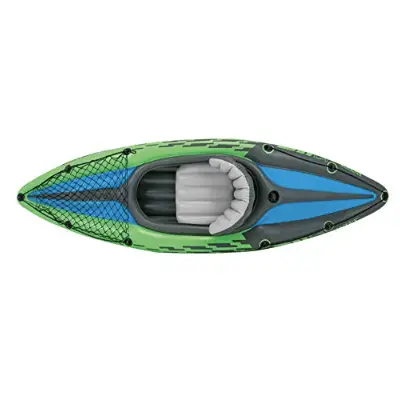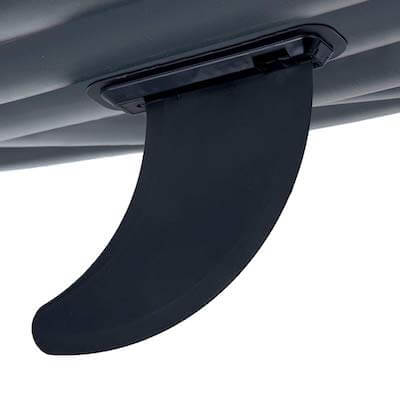 The Challenger K1 is one of those kayaks that are actually great for both kids and adults. It is inflatable, just to note, which makes it a lot easier to transport from location to location.
Read more
Stability
As this is an inflatable model, it is going to feel a bit different. However, the inflatable I-beam floor helps to enhance the overall stability of the Challenger K1.
Comfort
Even though the cockpit is designed for comfort and space, the included seat could have been better. But, for kids, it should be less of a worry as they are not as large as adults.
Portability
If you know anything about inflatable kayaks, then you know that they are incredibly portable. The Challenger K1 is no different and is equipped with Boston valves for inflation and deflation.
Durability
The rugged vinyl makeup of this kayak allows it to outlast some of the competition. All the material has been welded with quality in mind, also, enhancing the durability overall.
Extra Features
This comes with all types of goodies. As for the actual kayak, it comes with cargo netting and grab lines on both sides. Additionally, you receive a repair patch, hand pump, and aluminum oar.
Overall
The good news with the Challenger K1 is that your kids will not be as uncomfortable as you would be (even though the seat is still not awful). As for everything else, it really speaks for itself.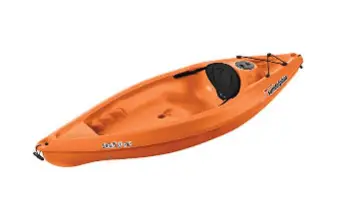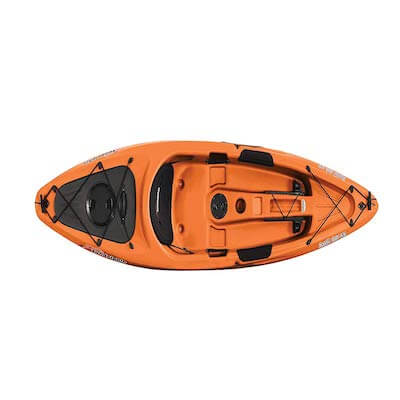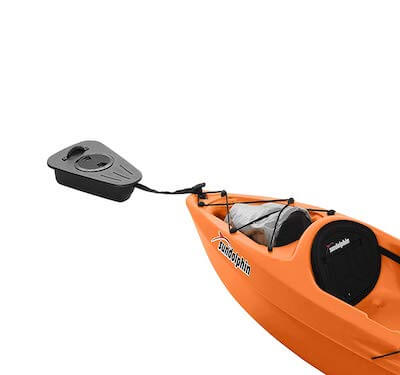 While the Bali is on the expensive side, it is one of the best-built kayaks for kids on this list. The molded-in footwells also make it ideal for kids of various sizes.
Read more
Stability
Stability-wise, this is fine, so there are no worries there. You should know, however, that this takes some energy to track. The reason this is important is you may or may not feel as if your child is ready for something like this.
Comfort
This is a sit-on-top kayak but is almost a hybrid of sorts as it sits lower to the water. Either way, there is a padded backrest included, and there are also graduated footwells implemented.
Portability
At 30 pounds in total weight, this is not exactly a light kayak. However, there are grab handles on both ends so two people could easily carry it around.
Durability
One thing is for sure; not too many users are going to question the build quality of this vessel. This is because it has been molded from high-density polyethylene plastic.
Extra Features
For the record, there is a dry storage compartment that can be accessed. Also, equipped on the deck are a few bungee cords for securing some cargo.
Overall
The neat aspect of Bali is nearly all members of the family will be able to enjoy it. However, it is not quite optimized for younger children out there so be aware of that.

9

. Best Choice Products Kids Kayak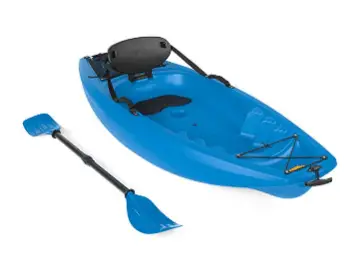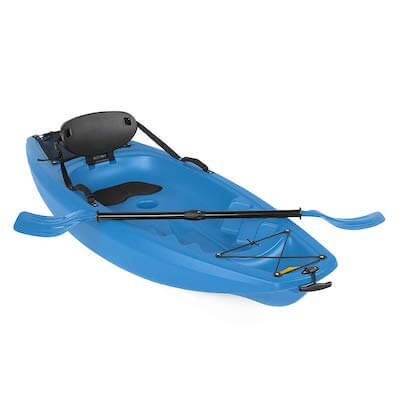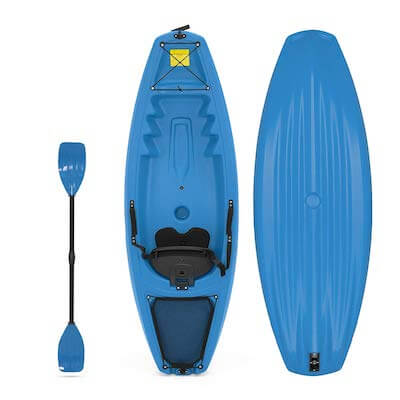 Speaking for the actual kayak that comes with your purchase, it is well-designed and very easy to track. However, the included paddle has been heavily criticized by a number of reviewers.
Read more
Stability
In addition to the fact that this provides riders with reliable stability, it also tracks quite well. Your child or children should not have too much trouble operating this sucker.
Comfort
The padded backrest is a nice touch as in addition to providing support, it can also be folded down when need be. Also, there are molded-in footwells to account for different riders.
Portability
To make transporting this easier, it has been equipped with a front toggle handle. It also helps that this is relatively light in weight (as far as kid kayaks are concerned).
Durability
Over time, this is going to hold up quite well thanks to the UV-resistant and tough plastic construction. Yes, the words tough and plastic can be used in the same sentence.
Extra Features
The good news is this is built with a cup and bottle holder and also a rear cargo area. However, the bad news is the included two-fin paddle is pretty much useless. Just count on buying a separate kids kayak paddle.
Overall
Granted you are not limiting your search to kayaks for kids that come with well-designed paddles, you should be highly compelled to go with this option.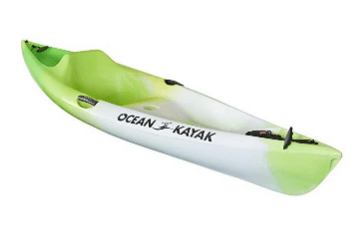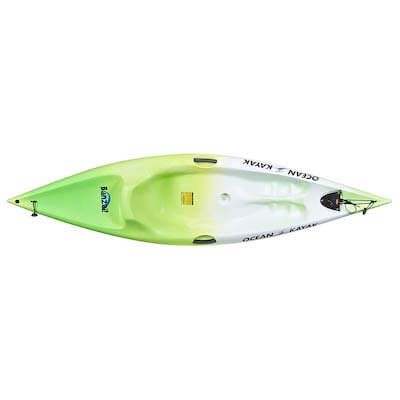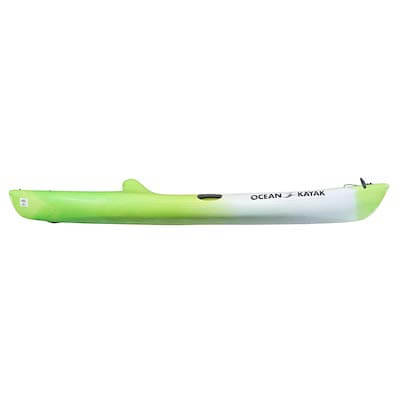 There are some features implemented into the Banzai that make it extremely compelling. It is also quite easy for kids to control and that is always a plus.
Read more
Stability
The Banzai mainly secured a spot on this list due to its overall performance. For kids, it is going to be incredibly easy to turn and remain stable (which is a big plus).
Comfort
For whatever reason, the molded footrests are too far for kids. It is odd as the seat is a low-profile and kid-friendly design that is ergonomically optimized just for kids.
Portability
As this is a relatively light kids kayak, it will not be too much of a nuisance to haul back and forth. It also features molded-in side handles and toggle handles too.
Durability
This is a high-quality design that is not going to crumble after a few accidental bumps and bruises.
Extra Features
One of the unique aspects of this kayak is it can be towed when your child is too tired to paddle. On the flipside, one of the most significant omissions was drainage holes.
Overall
The good does far outweigh the bad here, which is why this model made a list. However, admittedly, some of the "design flaws" are simply head-scratchers.

Subscribe to our Newsletter