Best Kombucha Starter Kits
In a Hurry? Editors choice: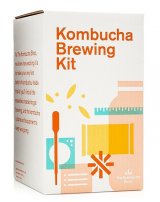 Test Winner: The Kombucha Shop

Kombucha is a fermented drink that is made of sugar, black or green tea, and bacteria and yeast. On the surface, it kind of sounds disgusting but there are people out there who can't get enough of it. However, why should you have to waste x amount of dollars every week on the drink when you can simply create it yourself. That is right; there are several starter kits out there that can get you started right away. There is a kit out there for all types of consumers so do not worry, you should be able to find one that is right for you.
Standout Picks
Criteria Used for Evaluation
Materials
This is mainly in reference to the brewing vessel if one is included. You want to assess the main material as it is critical.
There is really only one main accessory that you need to worry about in regard to the materials utilized and that is the main brewing vessel. This will typically be in the form of a mason jar but it can come in a wide range of materials. As you have seen on this list, the most popular option and the best option is glass. Part of the reason why is that it does not contain chemicals that can leach into the kombucha. Also, it will not react to the acidity of the brew. But, there are other materials such as ceramic and porcelain that can suffice. With those, though, ensure that they are food-grade because if they are not, the materials should be avoided.
Speaking of materials to avoid, you pretty much want to avoid any kind of metal (outside of stainless steel), crystal, or plastic. Crystal and metal are pretty obvious as the former contains lead and the latter is pretty much detrimental to the fermentation of the tea. As for plastic, it has too many warning signs. For example, it can contain chemicals that can leach to the SCOBY and can also easily be damaged with can affect the foreign bacteria.
Accessories
These are kits, ladies and gentlemen. Thus, the included accessories will make or break the purchase, period.
Given the fact that these are starter kits, it is only logical to assume that a number of key accessories will be and should be included with your purchase. As there really is a laundry-list of items that can come with one individual kit, the easiest way to break down this section is to break down the individual accessories and explain their importance. For starters, each option will come with a SCOBY. This is indeed an acronym and actually stands for symbiotic culture of bacteria and yeast and is a mandatory element. You should also receive other starter ingredients such as cane sugar (which is the most popular type of sugar for the brewing process), tea bags, a starter tea and a brewing jar (although not all kits will come with this).
All of these items will get you started but there are a couple of other accessories that can make the brewing process easier and more sufficient. This can include a white cotton cloth and a rubber band for covering the top during brewing, pH strips to determine the acidity level of the kombucha, and also a thermometer to check the temperature (which should be around 75 to 85 degrees Fahrenheit.
Product Purity
The included ingredients need to be healthy to ensure the end result is as good as it can possibly be.
For the record, when we say "product purity", we are mainly focusing on the ingredients that are included and not any pieces of equipment. So, this would be referencing the starter tea, SCOBY, sugar, and type of tea used. Thankfully, with these kits, most of them will include all these necessities. But, it is up to you to assess if the included ingredients are as pure and healthy as you desire. For example, let's start with the SCOBY itself. This is really the lifeblood of the overall brewing process and without a healthy SCOBY, the brewing process is doomed from the start.
As for the plethora of other ingredients such as the sugar (which is mostly going to be cane sugar), starter tea, and type of tea you use, you can never go wrong with organic. To avoid any chemical contaminants, you may want to look for 100 percent organic ingredients. Oh, and do not forget about the water. Ideally, the water that is being used should not have too high of a mineral content as this can be harmful to the SCOBY. Shoot for water that is also free of contaminants.
Ease of Use
Have you ever made this stuff before? If not, you may need a little guidance (or a lot of guidance).
If you have never made this stuff before, you are clearly not going to know what to do. Let's just say that making kombucha is not exactly as simple and as easy as making chocolate milk. You could even say it is an art form and because of this, most sellers will provide detailed instructions with their kit. Most of them should walk you through the entire process, step-by-step, to ensure your end result is as good as it can be. Obviously, as with anything else, it will get easier over time as you acclimate yourself to the brewing process.
What is also interesting to note here, though, is some sellers will provide you with exclusive access to online training videos and private online communities. This can be an advantage as you gain full access to all the tricks of the trade. Of course, the internet is a massive database that holds the answers to a lot of the questions that you probably have so never be afraid to conduct a little research.
Capacity
All sorts of contents need to be taken into consideration here as the more you get, the more kombucha you can make.
If you take nothing else away from this guide, let it be this. Not every single kit is going to provide you with the same amount of ingredients and equipment. It is important for you to analyze how much money you want to spend and how much kombucha you are going to want to make. Granted, you can individually buy any of the ingredients you want, it makes it easier when a sufficient amount is supplied to you.
So, pay attention to how large the SCOBY is, how much tea and cane sugar you get, and also how large the brewing jar is (or any storage containers that come with it). Knowing this information can really sway your final decision one way or the other.
OUR TOP PICKS FOR THE BEST KOMBUCHA STARTER KITS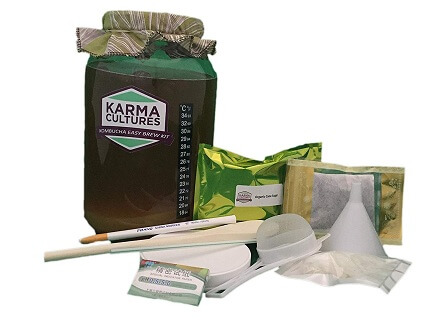 Man, it really is difficult to go wrong here. Whether you want to point out the premium and organic ingredients, the glass jar that is included, or the quality sized and packaged SCOBY, it does not matter.
Read more
Materials
Thankfully, the jar that comes with your purchase is made out of durable and long-lasting glass.
Accessories
For certain, this is a total package. With your investment, you receive a one-gallon jar, china marker, jar lid, LCD thermometer, starter fluid, pre-measured sugar, pre-measured tea bag, straw, cotton cloth cover, and gloves.
Product Purity
This is about as pure as it gets as it is grown with organic cane sugar, filtered water and Shanti organic teas. The end result will support your immune system, clarify your skin and streamline your digestive system.
Ease of Use
To take all of the guesswork out of your first time, this kit has pre-measured ingredients and also a comprehensive guide with step-by-step instructions for your convenience.
Capacity
First off, the jar is one gallon which is pretty much the standard. But, the SCOBY is actually a really good size, which is certainly a bonus.
Overall
In all honesty, this could easily share the spotlight with the top entry on this list. This packaged deal is an excellent value and is going to make an amazing gift to anyone who loves kombucha.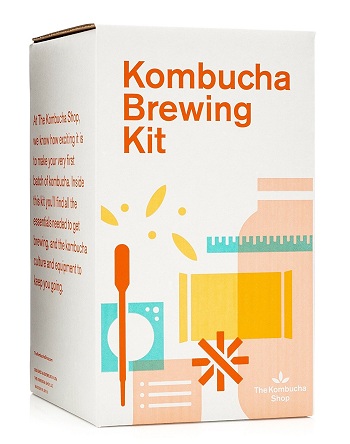 Most users concur that this starter kit is one of the best in the business. What is really nice is you have the option for either the original kit or the deluxe version (which comes with more accessories).
Read more
Materials
Now, there have been a few users who have claimed that they have received the glass jar with a crack in the top. Yet, the jar itself is made of thick American glass and is designed to last.
Accessories
While you can receive more accessories, the standard version includes pH test strips as well as a temperature gauge that will help you monitor the progress of your brew.
Product Purity
One really nice aspect about this option is the fact that the ingredients are 100 percent organic. This includes the sugar, teas and also purified water to ensure the end result is as natural as it gets.
Ease of Use
To ensure the utmost success, this kit comes with a ton of educational material. This includes detailed instructions on how to brew the drink, as well as a 16-page guide on what to do after it brews.
Capacity
If you opt for the original, you will receive a one-gallon brewing jar. However, with the deluxe version, you receive six 16-ounce swing top bottles that are made of thick glass.
Overall
It is interesting to note that some buyers have felt the included SCOBY here is not the best. Yet, in spite of that, this still remains arguably the most popular option in the world.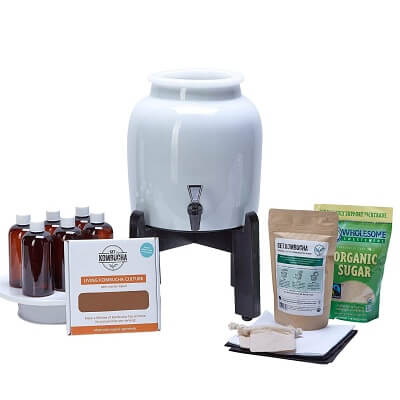 While some consumers out there will be terrified and scared off by the price of this model, it actually is worth it. Overall, you can make up to eight gallons of tea with the equipment included.
Read more
Materials
There are a few notable factors to point out here. One, the spigot on the included vessel is made of plastic. Two, the included bottles are made of plastic and probably should be glass.
Accessories
Everything you need to make up to eight gallons of tea, which works out to around 128 bottles for those curious, is included here. Plus, the actual equipment is reusable for a lifetime.
Product Purity
As the product description so perfectly claims, this is the Rolls Royce of meticulous. Not only does this include triple certified lead-free brewing vessels but it also includes an organic whole leaf tea blend.
Ease of Use
On the plus side, you gain access to over 100 online training videos with this order. The downside, though, is the directions that are included can actually sometimes be contradictory.
Capacity
Wow, do you ever get a lot here? With your pricy investment, you receive a 2.5-gallon brewer and 120 grams of the tea blend. As mentioned, you can make up to eight gallons.
Overall
Due to the price and what is included, it is fair to consider this an ideal option for devotees out there. Some consumers will not see the need to pay so much and that is fair.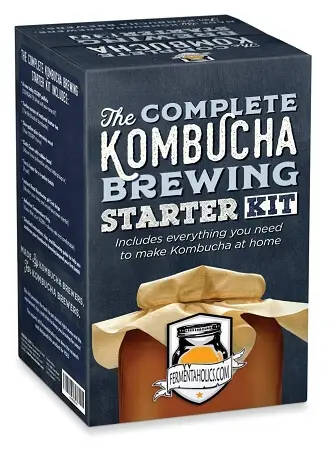 When you call your company Fermentaholics, you better live up to it. Even though they could have included a larger SCOBY with their kit, it is safe to say that Fermentaholics does provide the goods.
Read more
Materials
For your convenience, a brewing vessel is included with this package. Also, for your convenience, it has been made out of thick American glass that is engineered to last.
Accessories
For the price of admission, you are provided with a lot of items. This includes 1.5 cups of starter tea, a brewing jar, raw cane sugar, an adhesive thermometer, a cotton cloth cover, a rubber band, and a cotton tea bag.
Product Purity
As the product description claims, you can brew with confidence here. Due to the fact that the lab that this was created in is fully licensed with the FDA, it should be good to go.
Ease of Use
On top of the fact that a bonus flavoring guide is included with your purchase, you also receive an easy to follow guide that provides you with step-by-step instructions.
Capacity
The gallon jar, 15 pack of pH strips and 1.5 cups of starter tea is all fairly sufficient. However, as some reviewers have claimed, the included SCOBY is quite small.
Overall
Perhaps with a larger SCOBY, this could have ascended higher on this list but pretty much every other accessory makes up for it. That is really all you are looking for, a good balance of included accessories.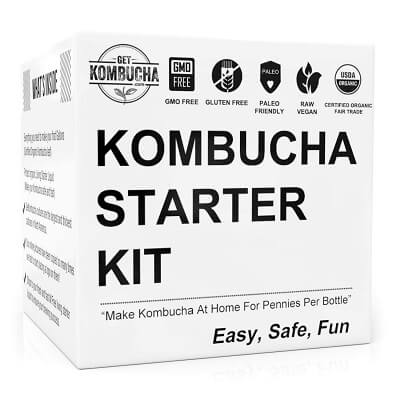 It is interesting to note that this comes from the same seller as the last model. While it does not include a brewing jar, it comes with a SCOBY that is fantastically sized and one of the better ones out there.
Read more
Materials
As noted, no jar comes with this kit. Because of this, you are directly responsible with what material you choose (go with glass for the best results).
Accessories
The brewing jar is not the only accessory missing, let's say that. But, you receive four ounces of tea blend, nylon glows, a breathable cloth, a rubber band, the SCOBY, and cane sugar.
Product Purity
For those seeking nothing less than organic ingredients, you are in luck here. The black and green whole leaf tea leaves and sugar cane are indeed that.
Ease of Use
Here is where the seller of this model deserves so much accreditation. They provide you with a lifetime of real support, as well as access to their private online community to answer any questions you have.
Capacity
Yeah, this is quite the SCOBY here. As some users have commented, it is very large in size. In addition, the sugar cane that is provided is enough for a two-gallon batch of tea.
Overall
There have been a handful of reviews out there that have alluded to the fact that this is not really a suitable starter kit as is. While you do need to supply other accessories, what is included is phenomenal.

6

. Brindle Southern Farms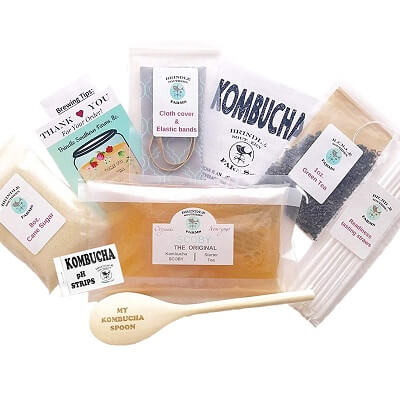 Right off the get-go, be aware that this is not a complete package. You receive the necessary ingredients to make kombucha but what you do not get provided with is a glass jar.
Read more
Materials
As mentioned, this is another package deal where you actually need to provide your own glass jar.
Accessories
All you will need is a jar and some water; that is it. That is because you receive a plethora of items such as sugar, tea, a cloth cover, a wooden spoon, pH strips and more.
Product Purity
In addition to the fact that all the ingredients included are organic, the SCOBY has been double packed in a food-grade vacuum pouch.
Ease of Use
The seller here knows that not all of their consumers will know what they are doing and they include exceptional step-by-step instructions for the novices out there.
Capacity
While you provide the one-gallon jar yourself, you get 1.5 cups of starter tea, one cup of cane sugar, 10 organic tea bags, and 12 pH test strips.
Overall
This is not the most complete kit on this list but it is really hard to argue with the results. For most consumers, the all-organic ingredients will be the icing on the cake.

7

. Northern Brewer Everbru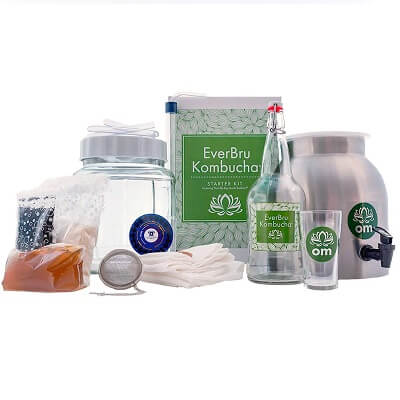 It is worth noting that this is another option where you can either go with the standard kit or the deluxe version. For the purposes of this mini-review, let's take a look at the fantastic deluxe version.
Read more
Materials
Not only does EverBru provide you with a glass fermenter, but their carafe that is included is made of stainless steel.
Accessories
The steep price tag makes a little more sense when you see what you receive here. The most notable items are the glass fermenter, stainless steel carafe, two glasses, an adhesive thermometer and a stainless tea ball.
Product Purity
It is interesting to note that the seller notes that it is not specified on the kit whether the sugar is organic or not. But, the SCOBY is not organic, for the record.
Ease of Use
Overall, the included instructions are sufficient enough to get through the basic brewing process. For other flavors, though, you may need to do more research.
Capacity
The fermenting jar that comes with your purchase can actually hold 1.75 gallons of substance. Also, the seller gives you enough ingredients for two one-gallon batches of kombucha.
Overall
If you are anal about organic ingredients and require nothing less, you may want to steer clear of this. For everyone else, this is a fantastic option.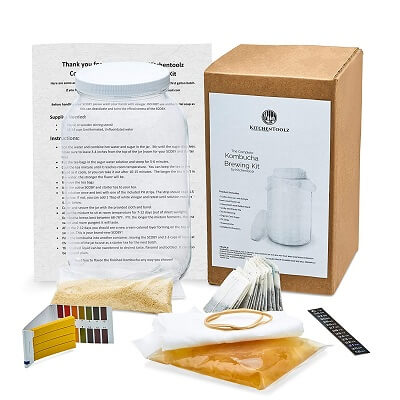 There are other options out there that provide you with more accessories than this kit but that is not to say this is not a complete package. Of course, the instructions could be better.
Read more
Materials
To ensure you never need to worry about toxins or BPA, included is a glass jar (which will produce enhanced flavor overall).
Accessories
Being dubbed as the complete brewing kit, this includes organic sugar, a cotton cheesecloth, an elastic band, pH test strips, a temperature gauge, SCOBY, and a glass jar.
Product Purity
The SCOBY that is included here has been made in a clean and safe environment. Not only this but it has also been made using only all-natural ingredients.
Ease of Use
As was mentioned, the "detailed instructions" that are included could be more detailed. Once you get the hang of things, it will be okay but for the very first batch, it can be tricky.
Capacity
In comparison with some of the other options on this list, this is a decent value. The jar that comes included is one gallon, which is about what you would expect.
Overall
Ironically, this seems like the perfect option for beginners and it would be with better instructions. But, all things considered, most users will find this a suitable starter kit.

9

. Get Kombucha Tea Starter Kit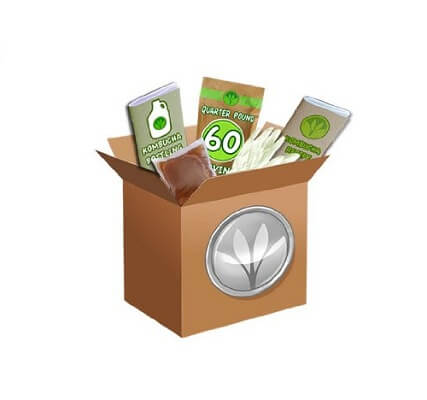 As some reviewers have pointed out, this may not be the best value option out there. Then again, the accessories that you get are mostly high in quality and will yield great results.
Read more
Materials
A mason jar does come with this package and it is made of glass, to ensure optimal durability and no worries of BPA.
Accessories
There have been customers who have expressed their displeasure with the value of this set. Outside of some storage containers for your kombucha, pretty much everything is included, though.
Product Purity
Much like most of the other end results on this list, your gut will be thanking you as you provide it with healthy fermented probiotic bacteria.
Ease of Use
There are a lot of tools at your disposal to ensure you fully understand what you are doing including a video, free recipe book and step-by-step instructions. But, the latter has been criticized a bit.
Capacity
While the jar is one gallon, the black tea and organic cane sugar that you receive are enough for two brews. Overall, it is nothing overly impressive but is also not too shabby.
Overall
From a quality perspective, there is little to nothing wrong with the accessories that you receive here. But, it is fair to listen to the reviewers who feel this is overpriced.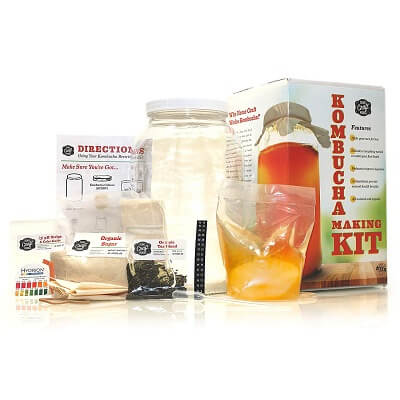 What is a bit ironic is this kit actually includes a glass jar yet still has some slight issues with the overall capacity. But, the provided SCOBY has been registered with the FDA.
Read more
Materials
Home Craft Works includes a jar that is made out of glass and in the world of kombucha starter kits that really is the only logical option.
Accessories
You get a lot of the accessories you would expect here including green and black tea, pH strips, a pipette for tasting, an adhesive thermometer strip, and the SCOBY itself.
Product Purity
The designer here claims that they performed diligent searching to find the perfect SCOBY and for your reassurance, their SCOBY is registered with the FDA and licensed with the Department of Agriculture.
Ease of Use
Even an experienced user commented on the instructions and reported that they were very satisfied with them as they are exact and detailed.
Capacity
Outside of the gallon jar, most of the items you receive are lacking in size and amount. This includes the SCOBY, sugar, tea and starter liquid.
Overall
It is not as if this is not an excellent kit. But, there are simply other options out there that will provide you with more value.

Subscribe to our Newsletter