Best Kombucha Starter Kits
last updated:
Feb 07, 2020
Kombucha is a fermented drink that is made of sugar, black or green tea, and bacteria and yeast. On the surface, it kind of sounds disgusting but there are people out there who can't get enough of it. However, why should you have to waste x amount of dollars every week on the drink when you can simply create it yourself. That is right; there are several starter kits out there that can get you started right away. There is a kit out there for all types of consumers so do not worry, you should be able to find one that is right for you.
This is the best product on our list that is currently in stock: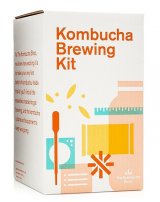 The Kombucha Shop
Why is it better?
Includes 100 percent organic ingredients
Comes with a temperature adhesive
The jar is made of thick American glass
In a
Hurry? Editors choice: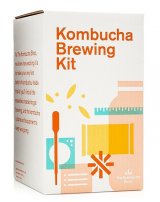 Test Winner: The Kombucha Shop

8
Researched Sources
20
Reviews Considered
3
Hours Researching
16
Products Evaluated
Materials
Accessories
Product Purity
Ease of Use
Capacity
By Default
OUR TOP PICKS FOR THE BEST KOMBUCHA STARTER KITS
Criteria Used for Evaluation


Materials
This is mainly in reference to the brewing vessel if one is included. You want to assess the main material as it is critical.
There is really only one main accessory that you need to worry about in regard to the materials utilized and that is the main brewing vessel. This will typically be in the form of a mason jar but it can come in a wide range of materials. As you have seen on this list, the most popular option and the best option is glass. Part of the reason why is that it does not contain chemicals that can leach into the kombucha. Also, it will not react to the acidity of the brew. But, there are other materials such as ceramic and porcelain that can suffice. With those, though, ensure that they are food-grade because if they are not, the materials should be avoided.
Speaking of materials to avoid, you pretty much want to avoid any kind of metal (outside of stainless steel), crystal, or plastic. Crystal and metal are pretty obvious as the former contains lead and the latter is pretty much detrimental to the fermentation of the tea. As for plastic, it has too many warning signs. For example, it can contain chemicals that can leach to the SCOBY and can also easily be damaged with can affect the foreign bacteria.


Accessories
These are kits, ladies and gentlemen. Thus, the included accessories will make or break the purchase, period.
Given the fact that these are starter kits, it is only logical to assume that a number of key accessories will be and should be included with your purchase. As there really is a laundry-list of items that can come with one individual kit, the easiest way to break down this section is to break down the individual accessories and explain their importance. For starters, each option will come with a SCOBY. This is indeed an acronym and actually stands for symbiotic culture of bacteria and yeast and is a mandatory element. You should also receive other starter ingredients such as cane sugar (which is the most popular type of sugar for the brewing process), tea bags, a starter tea and a brewing jar (although not all kits will come with this).
All of these items will get you started but there are a couple of other accessories that can make the brewing process easier and more sufficient. This can include a white cotton cloth and a rubber band for covering the top during brewing, pH strips to determine the acidity level of the kombucha, and also a thermometer to check the temperature (which should be around 75 to 85 degrees Fahrenheit.


Product Purity
The included ingredients need to be healthy to ensure the end result is as good as it can possibly be.
For the record, when we say "product purity", we are mainly focusing on the ingredients that are included and not any pieces of equipment. So, this would be referencing the starter tea, SCOBY, sugar, and type of tea used. Thankfully, with these kits, most of them will include all these necessities. But, it is up to you to assess if the included ingredients are as pure and healthy as you desire. For example, let's start with the SCOBY itself. This is really the lifeblood of the overall brewing process and without a healthy SCOBY, the brewing process is doomed from the start.
As for the plethora of other ingredients such as the sugar (which is mostly going to be cane sugar), starter tea, and type of tea you use, you can never go wrong with organic. To avoid any chemical contaminants, you may want to look for 100 percent organic ingredients. Oh, and do not forget about the water. Ideally, the water that is being used should not have too high of a mineral content as this can be harmful to the SCOBY. Shoot for water that is also free of contaminants.


Ease of Use
Have you ever made this stuff before? If not, you may need a little guidance (or a lot of guidance).
If you have never made this stuff before, you are clearly not going to know what to do. Let's just say that making kombucha is not exactly as simple and as easy as making chocolate milk. You could even say it is an art form and because of this, most sellers will provide detailed instructions with their kit. Most of them should walk you through the entire process, step-by-step, to ensure your end result is as good as it can be. Obviously, as with anything else, it will get easier over time as you acclimate yourself to the brewing process.
What is also interesting to note here, though, is some sellers will provide you with exclusive access to online training videos and private online communities. This can be an advantage as you gain full access to all the tricks of the trade. Of course, the internet is a massive database that holds the answers to a lot of the questions that you probably have so never be afraid to conduct a little research.


Capacity
All sorts of contents need to be taken into consideration here as the more you get, the more kombucha you can make.
If you take nothing else away from this guide, let it be this. Not every single kit is going to provide you with the same amount of ingredients and equipment. It is important for you to analyze how much money you want to spend and how much kombucha you are going to want to make. Granted, you can individually buy any of the ingredients you want, it makes it easier when a sufficient amount is supplied to you.
So, pay attention to how large the SCOBY is, how much tea and cane sugar you get, and also how large the brewing jar is (or any storage containers that come with it). Knowing this information can really sway your final decision one way or the other.
Frequently Asked Questions
q:

Does it matter if the SCOBY sinks?

a:

During the brewing process, you may notice that your SCOBY ends up sinking. If this does happen to you, do not fret that it is just fine. The reason why it is okay is because a new SCOBY is going to grow across the top. But, the only potential issue is that if you have a weak SCOBY, it can take some time for a new one to grow across the top. The logical solution would be to prevent the SCOBY from ever sinking, in the first place.
The good news is if you bring both it and the tea to room temperature beforehand, it should not sink. You see, the difference in temperature is what causes it to sink and just a few degrees can cause it to.
q:

Is it going to be alcoholic?

a:

Yes, this stuff does contain traces of alcohol. However, it is never going to be enough to be a concern. In other words, it is not as if you will get hammered if you drink this stuff. For the most part, the alcohol content will be less than .5 percent and probably will be around .03 to .05 percent (to be honest). With this content, you would be more likely to get drunk off of freshly squeezed orange juice.
However, it is worth noting that the alcohol level can be raised if you add certain flavors. This can be caused by the naturally occurring sugars reactivating the yeast. If you truly are concerned about this, you can always go out and invest in a hydrometer to determine the actual ABV level of the drink.
q:

Can you cut a SCOBY in half?

a:

Wait; why on earth would I want to cut a SCOBY in half? That right there could have been the question that you just pondered in your mind but do not think too hard about this one. What if you had a family member, colleague, or even a friend who wanted to try out some of this stuff? Could you give them half the SCOBY and leave the other half for you? Yes, you can.
Even if you cut it in half, it is still going to produce a new SCOBY on the top, anyway. Actually, the main concern is what you cut it with. Be sure you use a knife or scissors that have been cleaned to avoid potential contamination of the SCOBY.
q:

How much should you drink of this stuff?

a:

Even for those of you who love this drink, it still may not be your go-to beverage. This can't speak for everyone, obviously, as some of you may not be able to get enough of this. But, is there an amount that you should be drinking? Well, the reality is, everyone's body is different and may react differently to this substance. At first, it can be quite potent and it may take a while for your body to become accustomed to the tea. So, you should start out slow and many experts out there will recommend four to eight ounces twice a day. Once you start to get content with this, you can drink more. It really is all up to you and your body.
q:

How can you tell when the brewing process is complete?

a:

It will be ready to go in 15 days exactly, moving on to the next question. No, we are just playing around. Although, ironically, it may be done in 15 days but that really depends on you and what climate you are brewing in. It all comes down to achieving the flavor that you desire but do know this, the fermentation process is going to take several days no matter what you do.
In the winter when the room temperature of your home is cooler, it may take a few weeks for an ideal level of tartness to be achieved. Yet, in the summertime, it could take as little as seven days.
q:

When completed, how long will it last?

a:

This is probably one of the best aspects to kombucha as it can last several months in your refrigerator. If you leave it there, it will continue to ferment but it will do so at a very slow rate. Now, unfortunately, the fizz is not going to last forever but even without this, the health benefits are still there. If you happen to leave the drink unrefrigerated, though, it will ferment quicker and may become tarter than you desire. At this point, it may not be the ideal flavor for you to want to consume.