Best Trail Mix
In a Hurry? Editors choice: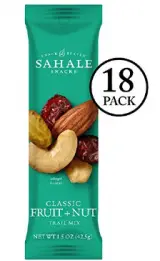 Test Winner: Sahale Snacks

Without question, one of the best
foods you can pack
on a hike is trail mix. In addition to the fact that most brands will be
optimized for portability
, trail mix itself can often provide you the
energy you need for the day
. Oh yeah, there is also no prep work involved, and refrigeration is not required.
Then again, the reason you are here today is that not all trail mix is the same. From brand to brand, there may be different ingredients, quantities, and blends all together. With that said, however, most mixes typically include the same
types of foods
(such as nuts, fruits, raisins, etc.).
Still, the point is the open market is filled with several fantastic choices. To narrow the selection down, you will need to know a thing or two. And, that is where this guide comes into play.
Standout Picks
Criteria Used for Evaluation
Potency
This section is all about the ingredients and which ones you want to be included.
Trail mix ingredients are everything. Truer words have never been spoken. And, this all starts with the nuts and seeds. Now, the best options will offer a beautiful blend of different nuts and seeds. Outside of taste and texture, different types can provide different nutrients and such.
For example, almonds (on a per-serving basis) will have about four grams of fiber and six grams of protein. Meanwhile, cashews, another nut, will deliver Vitamin B and C and also plenty of unsaturated fats and protein. Even for something like pumpkin seeds, they can offer high levels of magnesium. Indeed, different nuts and seeds can offer all sorts of health benefits.
But you also need some dried fruit. Dried fruit is simply fruit that has been extracted from nearly all its water. It is allowed to last longer, as a result, but still keeps most of its nutritional value. And, there are several different types of dried fruit you can find (from cranberries to blueberries to strawberries).
Of course, you can also look for options with bagel chips, pretzels, and other such ingredients. Then again, added potassium is also not a bad thing to look for. Elements such as prunes and raisins can account for this. Oh yeah, and dark chocolate can also be high in antioxidants if you want to look for that.
Taste
Why on earth would you want to buy a trail mix that you do not find tasty?
At the end of the day, do you want to buy any food item that you do find flavorful? Sure, some food items will be consumed for dietary purposes only but the fact remains flavor is important. And, you better believe that it will play a huge role when choosing a trail mix.
Once again, it all starts with the nuts and seeds, and this is why a beautiful blend of them is ideal. Let's take, for example, almonds, cashews, and peanuts. If you have tried all three, then you know that the taste and texture of all three of them are entirely different. When joined together, they can create a beautiful blend of flavors.
But, it is not just the nuts as you also want some sweetness. This is where the dried fruit comes into play. Buying options that satisfy both your sweet and savory taste buds is essential. However, some people do not like that dried fruits tend to have more sugar content.
While this can be true, dried fruits are long-lasting and often used in all trail mixes. So, you might as well get used to them (as they are far from unhealthy).
Product Purity
It will be in your best interest to buy options that are high in quality and pure in nature.
Anytime you buy packaged food; you run the risk of it being loaded with additives and preservatives. But, the best trail mixes out there will be the opposite. The best ones will be filled with 100 percent natural and fresh ingredients. And, several of them will have no artificial ingredients or additives whatsoever.
Also, you may want to look for non-GMO options. This means that they are free from GMOs (which are novel organisms that have been created in a lab). These organisms have been cited for having both environmental and health risks when in foods.
Another factor you should consider, and this goes back to the first point, is if the included ingredients have been tested for quality. This is simply an added level of safety and health that you can look for.
Lastly, if you have any major food allergies (such as celiac disease), then you need to ensure that the trail mix you buy is safe for you to consume.
Value
The value is more than just the price so do be aware of that.
No, assessing the value of the trail mix is not merely evaluate the price. It is a three-step process, and it all begins with the quality. Indeed, the quality of the trail mix will go a long way in determining its value. After all, a lower price means nothing if the included ingredients are bland and lackluster.
Secondly, you need to assess the quantity of the mix. Trail mixes will be measured in ounces, and this needs to be your reference point. Now, it is worth noting that some options will be offered in smaller packs (but you will get several of them). Whether you want multiple packages or not merely is up to you.
Lastly, then you can assess the price as it still matters. Now, as many of you know, certain nuts tend to be incredibly expensive. So, typically, the top-end trail mix will be charged as such. The best way to compare prices, for the record, is to do so on a per-ounce cost (which will typically be provided to you on Amazon).
Weight
If you want to buy this stuff for portability reasons then you need to pay attention to the weight.
In a way, this section is somewhat counter-intuitive to what was just discussed. Yes, the amount of trail mix that you want will have a direct implication of the weight you will need to carry. This is, clearly, only regarding those of you who want it for hiking, backpacking, or another similar activity.
This is also where it can be handy to buy multiple packs instead of one giant bag. Think of it this way, if you had 32, 1-ounce pouches you could take only the number you needed. This will not be possible with one giant two-pound bag (unless you use Ziploc bags or something).
Oh, and lastly, pay attention to the packaging. Most options will come in pouches that can be resealed. Clearly, for outdoor adventures, this is going to be the most convenient packaging possible. Pouches of this nature will also be pretty darn easy to pack inside your backpack.
Our Top Picks for the Best Trail Mix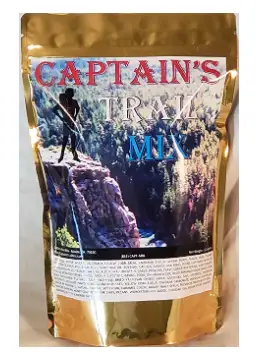 In spite of the fact that this mix is overpriced, it seems to be one of the most flavorful, natural, and fantastic blends available on the market. Not a bad combination, huh?
Read more
Ingredients
Do not worry about the quality of the ingredients here as only high-quality ones were included. This includes cheddar crackers, sesame sticks, honey-coated chips, almonds, cashews, and fresh pecans.
Flavor
What is so great about this particular trail mix is that the blend of textures and flavors is incredible. It almost tastes like Chex Mix with added sugar and chocolate. How amazing does that sound?
Purity
Above all else, what makes this option so compelling is all the fresh and high-quality (and pure) ingredients that were utilized.
Value
As noted, this is an overpriced option but that is almost commonplace. As for how much you get, this has a net weight of 12 ounces.
Weight
Past the 12-ounce net weight, this trail mix has also been packaged in a double-insulated bag. Oh yeah, this bag is also designed to stand straight up for convenience purposes.
Overall
Sure, this may not be the healthiest option out there but it is also not "bad" for you either. The trail mix of unhealthy and healthy, in fact, makes for one tremendous bag of nutty goodness.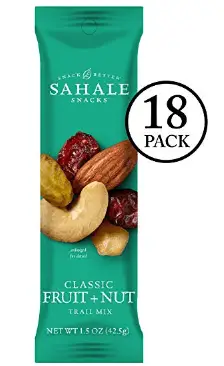 One of the nice aspects of this option is the fact that you receive 18 packs of trail mix. While each bag is pretty darn small, it makes for easy grab and go snack pouches.
Read more
Ingredients
This is simply a superb combination of fruit and nuts. Some of the most prominent ones included are cashews, almonds, pistachios, cranberries, and apples. Additionally, all the ingredients that are utilized are natural.
Flavor
Overall, the flavor of this trail mix is excellent. However, quite a bit of sugar has been added, which makes this a bit sweet. Oh yeah, and for the nuts, oil was not used to roast them (to make them perfect in their texture).
Purity
In addition to the fact that this is the non-GMO project verified, there are also no added flavors, colors, or artificial preservatives.
Value
Each pack is 1.5 ounces, for the record. While this means that each pack is quite small, you are provided with 18 of them. Of course, overall, it is a bit expensive for what you receive.
Weight
What is nice is each pack weighs only 1.5 ounces and is small enough to fit anywhere. So, even if you do not want to take all 18 with you, you can take as many as you want.
Overall
Some of you may not be too fond of the added sugar but the all-natural fruits and nuts included are just tremendous. Plus, you can take as many packs as you want with you on your hiking trip.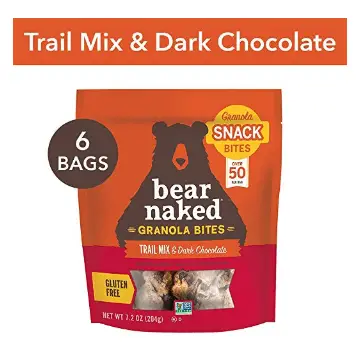 This particular trail mix is actually a blend of trail mix and dark chocolate. Due to the chocolate that has been included, this is not the best trail mix for summer hikes. For cold to mild weather, though, it is tremendous.
Read more
Ingredients
The blend of the clean ingredients that are included is as good as it gets. This includes dried cranberries, whole grain oats, peanut butter and semi-sweet chocolate chips.
Flavor
Though one user got a batch that was not very fresh at all, this will fulfill both your salty and sweet cravings. The flavor is as good as any other trail mix you will buy, relatively speaking.
Purity
There is no doubt about it, this batch is pure. First off, it is both non-GMO and gluten-free. Secondly, there are no preservatives, colors, or artificial flavors that have been added.
Value
For the price, the value is pretty good. With your purchase, you receive six, 7.2-ounce pouches. Also, on another note, each serving contains 12 grams of whole grains and four grams of protein.
Weight
As just noted, each bag is 7.2 ounces in weight and you get six of them. Of course, each bag is resealable and can easily be taken with you go.
Overall
Due to the addition of the chocolate chunks, this is not the best option for everyone. For example, in hotter weather, this will not work that well. Then again, it still is an excellent option.

4

. Oberto Original Beef Jerky Mix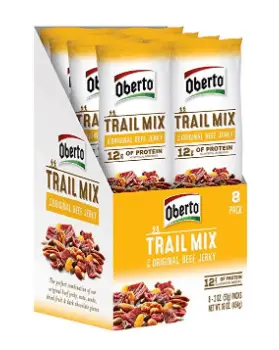 Indeed, there is trail mix that includes beef jerky and this is one of the best. Given it includes jerky, it means that this pack (or packs as you get eight of them) is rich in protein.
Read more
Ingredients
In addition to the jerky itself, this trail mix also includes a great blend of fruit and nuts (and also a bit of chocolate). But, admittedly, more jerky bits would have been a welcome sight.
Flavor
The mix of flavors seems like it would clash but blends really well. Also, this will taste good day after day (granted you seal the pouch back up).
Purity
While this does contain soy and tree nuts, it is gluten-free. Oh yeah, no artificial ingredients were utilized, and that is always a plus.
Value
To say the price is obnoxious is a bit of an understatement. To make it clear, you get eight, two-ounce packs of the jerky trail mix. All in all, this is a pound in total for a pretty hefty price.
Weight
Again, this is a highly portable option because each pack only weighs a minuscule two ounces. Additionally, you do not need to take all the packages on one hiking trip.
Overall
The value could be better, and there could have been more jerky bits included. In spite of these issues, however, the flavor is phenomenal, and the ingredients are even better.

5

. Happy Belly Yogurt Mix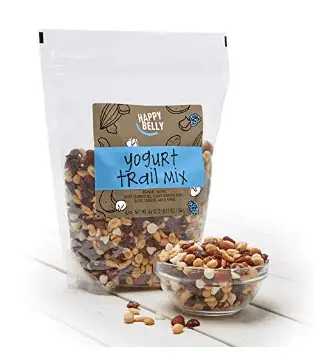 Overall, like other trail mix recipes, admittedly, there are probably too many peanuts here for many of you. However, the taste is fantastic, the quality has been tested, and the value is tremendous.
Read more
Ingredients
Overall, this includes a beautiful blend of cashews, almonds, cranberries, raisins, and yogurt chips. Then again, a few buyers have noted that too many peanuts were used overall.
Flavor
The flavor is delicious, so do not misunderstand that. But, the added salt is something to take into consideration as well as the oversaturation of nuts.
Purity
What is nice is Happy Belly notes that they not only carefully select their ingredients, but they also perform rigorous testing on all of them for optimum quality and purity.
Value
Out of all the options on this list, this could have the best value. When looking at the price for the amount you get (44 ounces), the cost is just terrific.
Weight
This is just short of three pounds of trail mix. While this is an excellent value, you need to account for this more massive load. The reason for this is only one bag of the blend is included (though you could just put some in a Ziploc bag).
Overall
This is the typical cliché of trail mix bags that do not proportion their ingredients well enough. In spite of this, it is hard to argue against this option's purity and excellent taste.

6

. Enjoy Life Seed & Fruit Mix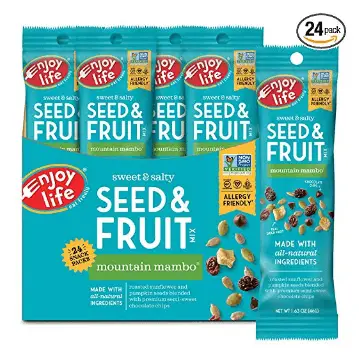 Typical trail mix consists of some type of nut but not this mix. Instead, this is a seed and fruit trail mix that consists of several all-natural and high-quality ingredients.
Read more
Ingredients
As noted, nuts are not included in this blend of ingredients. Instead, this healthy trail mix consists of roasted pumpkin and sunflower seeds, semi-sweet chocolate chips, cranberries, and raisins.
Flavor
The mix of chocolate, fruit, and seeds is quite tasty. Again, it is one of those trifectas that satisfy many of your first taste buds in one shot.
Purity
Because every one of these trail mixes has been made in a dedicated gluten-free facility, you can count on them all being gluten-free. Also, they are free of many other allergens.
Value
There are different capacity options that you can go with. Each of them, though, offers a decent yet not great value.
Weight
One of the capacity options offers you 24, 1.63-ounce bags. All in all, this is 39 ounces in weight. But, the subtle aspect about this option is, you receive 24 different pouches.
Overall
The substitution of nuts for seeds will not be loved by all of you, and that is fair. But, the added pumpkin and sunflower seeds do make for quite the blend of healthy flavors.

7

. Nature's Garden Organic Mix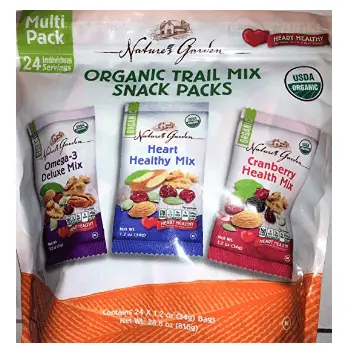 In addition to the fact that this is organic trail mix, multiple flavors are provided to you. All in all, you get eight packs of three separate flavor combinations.
Read more
Ingredients
As noted, you receive three different types of trail mixes. One of them (the cranberry health mix) includes unsalted peanuts, sunflower seeds, raisins (both black and gold), walnuts and sweetened cranberries.
Flavor
The flavor of every one of the characteristics seems to be good. With that in mind, there have been previous buyers who had noted that some of the packs were not fresh when they ate them.
Purity
The quality and purity seem to be great. However, as noted, some of the bags have been known to be lackluster in regards to their freshness.
Value
It is a bit of a theme, but the value here could be better. Yes, you do receive 24 individual pouches of the trail mix. But, the price for such (as each bag is only 1.2 ounces) is pretty high.
Weight
Even if you took every one of these pouches with you on one trip, it would still not eclipse two pounds. That is not too bad when you think about it that way.
Overall
The variety of trail mixes that you get here makes this quite a compelling choice. Then again, this option is not without its flaws, so do be aware of that.

8

. Power Up Summer Trail Mix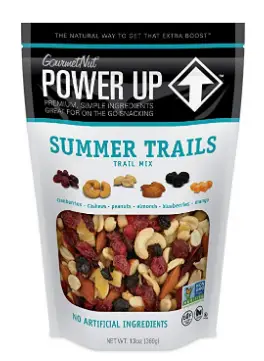 Now, this trail mix is far from bad as it would not be on this list if it were. However, to warn you, the taste is incredibly sweet and the ratio of cranberries to the other ingredients is too high.
Read more
Ingredients
Past the fact that there are far too many cranberries compared to the other fruits (strawberries and blueberries), this is quite a great blend. The mixed nuts that are included (almonds, peanuts, and cashews) help with this quite a bit.
Flavor
The added sugar will either be a welcome sight or somewhat of a nuisance. It all depends on your preferences. But, do know that the sugar adds quite a bit of sweetness to the already sweet fruits.
Purity
In addition to the fact that this mix is gluten-free, it is also project verified non-GMO and includes no artificial ingredients whatsoever.
Value
Look, the value is not terrible due to the quantity (13 ounces) and quality. With that said, much like anything else with cashews, the price is still quite high for what you get.
Weight
This really could not be more perfect for hiking due to its weight and its packaging.
Overall
For the most part, this is a trail mix that most of you will enjoy. Sure, there are some potential issues here and there but it remains a great choice regardless.

9

. Trader Joe's Omega Trek Mix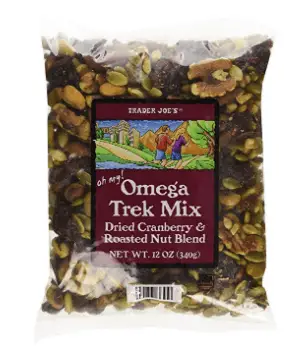 If you are looking for a trail mix recipe that is high in Omega 3s then you have found it right here. While too much sugar was probably added, this remains one of the best options out there.
Read more
Ingredients
A nice blend of mixed nuts (almonds and walnuts) is joined with dried fruit and also some pumpkin seeds to create this above-average mix. Also, this contains 500 milligrams of Omega 3s per each serving.
Flavor
Most people will agree that the straight flavor of this trail mix is exceptional. Then again, from a health perspective, previous buyers have noted that a little too much sugar has been added.
Purity
The cranberries are actually packed with Omega 3s and these actually originate from the oils that were extracted from the seeds of the actual cranberries themselves.
Value
The price itself is not that bad until you realize that all you get for that price is a 12-ounce bag of goodies. Let's just say that the value is not exactly the best here.
Weight
The weight itself is not an issue but what can be is the fact that the packaging has been known to be subpar. Various users have reported that the packaging takes a lot away from the quality of the ingredients.
Overall
With some new packaging and maybe a little less sugar, this trail mix could have been even better. As it sits, though, it is still flavorful and loaded with Omega 3s.

10

. Wild Roots Natural Mix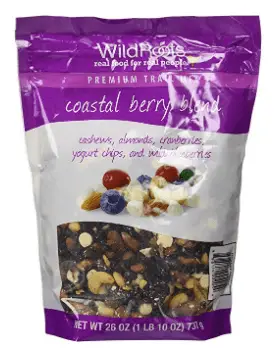 Let's just say this, you need to enjoy yogurt pieces or you probably will find yourself not eating this specific mix. It is all-natural and quite tasty but is quite dependent on yogurt.
Read more
Ingredients
Indeed, this blend is loaded with tons of yogurt-covered drops. Then again, it also includes some almonds, cashews, wild blueberries, and cranberries. Oh, and this is all a 100 percent natural blend.
Flavor
As you can garner with the addition of so many yogurt-covered drops, this trail mix is sweet as can be. For some of you, it will only be too sweet (though the other ingredients do taste superbly).
Purity
Although this is a 100 percent all-natural blend of ingredients, there is no indication on the packaging if this is a gluten-free healthy trail mix.
Value
For a 26-ounce bag, the price here is still pretty darn high. However, amazingly, there are other options on this list that are more expensive on a per-ounce basis.
Weight
For hiking and backpacking, you will need to account for nearly a two-pound bag of mix. Granted this is not an issue for you, this will not be a concern to you.
Overall
If you are a health buff then you may want to stay away from this option simply due to the high concentration of sweetness. Then again, the flavor is superb if you are into sweet and salty blends.

Subscribe to our Newsletter