The National Parks – Arches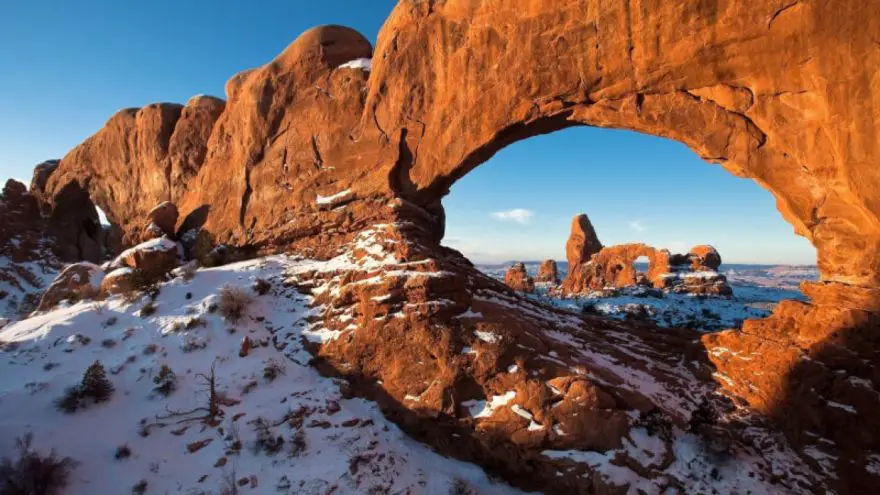 The National Parks – Arches
gearweare.net
With over 2,000 natural stone arches located within Arches National Park, where this park gets its name is no mystery. The landscape here is almost other-worldly, with bright red rock formations springing from the ground, and mineral deposits coloring the landscape with subtle hues of every color imaginable. Only a four-hour drive from where I live, I have been to Arches many times, and I am always particularly struck by conglomerates of light turquoise rock that can be found throughout the area.
The real stars of this park are the sandstone arches though. Varying in shape, size, and width, a tour Arches demonstrates natures ability as a sculptor. Many of the most famous arches are readily accessible, either able to be seen from 18-mile-long main road that meanders through this 75-acre park, or able to be viewed after an easy to moderate hike.
Delicate Arch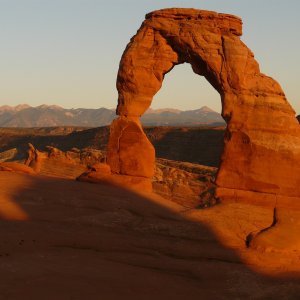 By far the most iconic arch in the park, Delicate Arch can be reached by hiking a 1.5 out and back trail. The trail, which begins at the Wolfe Ranch parking lot, is of moderate difficulty and does have some exposed areas that may get anyone with a fear of heights a bit shaky in the knees. Overall it is quite doable though, and should only take 3 to 4 hours, depending on how much time you want to spend at the arch once you get there. If the hike seems like it will be too difficult though, it is also possible to view Delicate Arch from points along the road. Continue driving the paved road until you reach the parking lot right before it turns to dirt. From here you will be able to see the stand-alone arch silhouetted against the sky in the distance.
On a side note, make sure to check out the ruins of Wolfe Ranch and the Ute Indian petroglyphs that are right next to the Wolfe Ranch parking lot before heading to your next destination.
The Windows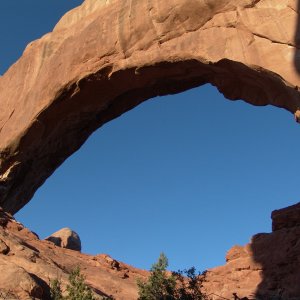 At the windows, you will find a large concentration of impressive arches that are easily accessible. Double Arch can be reached by following a half mile trail over even ground. This impressive rock feature has two large arches that are linked to form an amphitheater-like structure. They look beautiful from the ground, but the nimble-footed and brave can also climb up the rocks to sit silhouetted beneath the arch to the left. At 112 ft., Double Arch is the tallest in the park, something you will certainly feel perched beneath it.
On the other side of the road, there is a trail that meanders 0.7 miles up to the North and South Windows. Turret Arch can also be found here across from the Windows. When you are done exploring this area you can either take the same mellow trail back to the parking lot, or a slightly longer and more primitive one that loops behind the Windows. Starting at the South Window, this trail covers 1 mile and offers sweeping vistas of the far edges of the park. Having walked it myself, I highly recommended this trail, both for the views and for the solitude that can be hard to find in other areas of Arches National Park.
Balanced Rock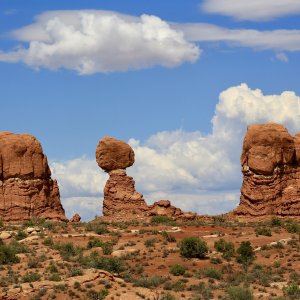 If you are very short on time during your visit to arches, a trip to Balanced Rock is a great choice. This massive boulder, that seems to be perched precariously atop a large stone pillar, can be viewed from the road. If you decide to stop and hike around, the trail that leads to this geologic feature is only 0.3 miles long.
Balanced Rock looks like it is sitting atop a separate spire, however, in reality, the two formations are attached. The rock is made of harder sandstone, while its pedestal is made of mudstone that erodes more quickly and has thereby created the appearance of this balancing act. Eventually, the mudstone will erode enough that this structure will fall, but until then it will remain a must see stop during anyone's trip to this park.
Devil's Garden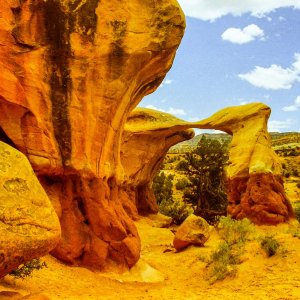 Visitors to the park looking for more strenuous hiking and more secluded adventure should drive all the way to the end of the main park road to Devil's Garden. Here you will find many arches at varying distances from the parking lot.
Landscape Arch, which is the thinnest and longest arch in the park, can be reached by hiking 1.6 miles on relatively flat ground. Continue to reach Double O Arch, Navajo Arch, and Partition Arch, among others. Do be aware that the farther you hike into Devil's Garden the more difficult the trail becomes, with steep slopes and drop offs, and primitive rout finding.
Sand Dune Arch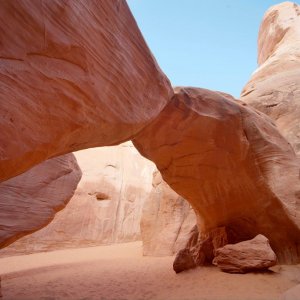 Photo By: Matthias Kabel (WikipediaCommons)
Sand Dune Arch is tucked inside an impressive sandstone rock formation that, through erosion, has created a dune-like sandy area. Close to the trail, this is a fun arch to check out if you don't have much time left in the day. If you do have more time, continue down the trail to Broken Arch. Here, you can then either turn around or keep walking in a loop that passes through the Devil's Garden Campground.
Other Things to Do
Most people take in the incredible stone structures in Arches National Park by hiking around, however there are other ways that this park can be explored as well. Moving through the park on mountain bikes, all-terrain vehicles (ATVs), or horseback are all available options that will allow you to cover more ground more quickly, access different parts of the park, and view the park from a different perspective. Backcountry permits for up to seven people for up to seven days are also available.
Nightly stargazing tours and other ranger-led informational expeditions through the park are other activities you can do in Arches National Park. One tour that is especially worth checking out is a trip into the Fiery Furnace area, which can also be explored solo but a permit is necessary. Those looking for different kinds of adventure, should also check out the options for canyoneering and rock climbing within this park.
Most Read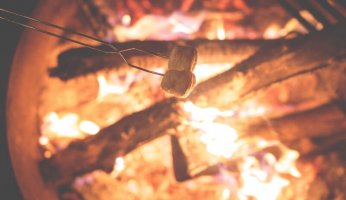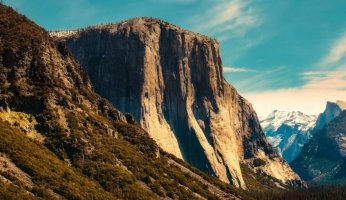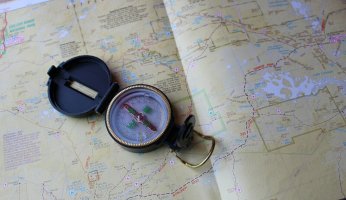 Subscribe to our Newsletter