Best Camp Towels
last updated:
Feb 10, 2020
Staying dry in the outdoors is important for comfort and for reducing your chances of contracting dangerous illnesses like hypothermia and pneumonia. Traditional cotton towels can be a cumbersome addition to your camp set up though. They are bulky and hard to pack down, and once damp stay that way for a long time. Camp towels, which are made with fast-drying microfiber material, will dry you off quickly, can be compressed to very small sizes, and weigh almost nothing. Some of these towels also have an antimicrobial treatment that keeps them smelling fresh for days on end, and many come in assorted sizes so you can pick the towel that best fits your needs.
This is the best product on our list that is currently in stock: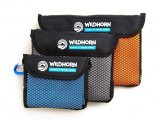 Wildhorn Outfitters Microlite
Why is it better?
Comes in three pack
Fast Drying
In a
Hurry? Editors choice: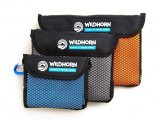 Test Winner: Wildhorn Outfitters Microlite

12
Researched Sources
1,587
Reviews Considered
9
Hours Researching
10
Products Evaluated
Materials
Size
Features
By Default
Criteria Used for Evaluation


Materials
You probably already noticed that every towel on this list is made of some type of synthetic microfiber material. This is because these towels offer a lightweight alternative to bulky cotton towels. Microfiber can feel rather strange against your skin, and drying yourself off with this type of towel requires you to pat yourself down. However, in terms of performance microfiber towels can't be beaten.
If you don't like using synthetic materials, linen is an alright choice for a camp towel. However, linen fabric is rougher and thinner than microfibers, and quite simply won't be as effective. Traditional cotton towels can also work if you are car camping, but are bulkier and dry much more slowly than towels designed specifically for camping. They should not be used for any type backpacking, and really aren't recommended for camping in general.
Most microfiber towels can take on 3 to 4 times their weight in water. To dry yourself with a microfiber towel, move the towel across your body in a dabbing motion. Gliding the towel across your skin may be instinctual, however, this type of motion is not effective for trapping water in microfiber. This is because this material does not actually absorb water in the strictness sense, but rather holds it between the fibers. Pushing motions will, therefore, move the water but won't allow the towel to pick it up.


Size
Of all of the ways that you may want to utilize a camp towel, taking it on a backpacking trip requires the most thought. For the most part, even large camp towels are very lightweight and they won't weight you done stuffed inside your bag or backpack. How large your towel is and how much it weighs, therefore, becomes a question of preference. However, when backpacking every little bit of weight counts. A small hand towel can do just fine for this type of adventure and will be the lightest weight in your bag. If you want something a bit larger, many brands carry a large variety of sizes. The exact dimension of a camp towel is easy information to find online. Weight measurements can be a bit trickier to locate. The Packtowl Personal is one product that comes in every size you may need and has all of the information readily available.
How you want to use your camp towel is important to consider before you buy one. Backpacker's, for whom weight and space are very important, will want to buy a towel that is as small as possible while still being useful. Those who plan on mostly using their towel while car camping can be less picky, and may actually want a larger towel that they can use at the lake or the beach. Other possible functions for camp towels include foreign backpacking travel, gym towels, and everyday use after showering.


Features
Antimicrobial
If you are going to be on the move with your towel, using it for long periods of time without being able to wash it, it is probably a good idea to invest in one that is treated to be antimicrobial. The way this actually works varies from towel to towel, however, the effect is the same – bacteria and other germs that get on the towel are neutralized, leaving it feeling clean and smelling fresh even after repeated, heavy use.
Style
When it comes to camp towels, style is more about the color of the towel than anything else. Many towels come in a wide assortment of colors, however, some are available only in a few. Although this may be very important to you, what color your camp towel is should be the last thing you consider. First, find a towel that you know will work well and meet all your need. Once you have established which product is best for you in those areas, then you can consider what style you like the best.
Travel Readiness
Many camp towels have super handy features that make them easy to travel with. Most come with a small bag that they can be folded into. These bags typically pack the towel into the smallest size possible, making it easy to store neatly. These bags also often include a loop from which they can be hung. Since the bags are typically mesh, one great solution to a still damp towel is to place it in its bag, hang that bag on the outside of your backpack, and to let your camp towel continue to dry through the mesh as you walk.
There is also often a small loop attached to the camp towel itself. This loop allows the towel to be easily hung almost anywhere. If you are using a towel that is small enough so that it won't get in the way, this loop can also be used to employ them on the go drying trick mentioned above. In fact, attaching your towel to your bag directly will be more effective for a fast dry than attaching it while it is inside its bag.
Expert Interviews & Opinions
Most Important Criteria
(According to our experts opinion)
Experts Opinion
Editors Opinion
Users Opinion
By Default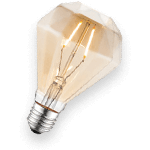 Hooks and Loops
While you could just drape your towel over a tree branch, it will collect dirt faster that way and could absorb unwanted scents. It is a good idea to check your camping towel for a hook or loop that enables you to easily hang the towel anywhere.
Towel Size
Always pay a lot of attention to the size of the towel you are buying! Hopping out the shower and realizing your towel is only big enough to wrap around one leg can lead to an uncomfortable situation. Aside from that, the size of your towel is important for packing also.
Color Options
This may sound silly, but having a set of camping towels that are available in multiple colors is very useful. How will you know which towel is meant for the dog, dishes, or your body if they're all the same?
Other Factors to Consider


Durability
Camp towels are designed to be sturdy in the outdoors, but like anything else, these products are not perfect all the time. Make sure to read product reviews carefully before actually purchasing anything, as these will give you honest feedback on issues that may arise. In particular, camp towels have been known to fray along the edges. The connection between a towel and its hanging loop is another weak point to watch out for.
Another thing you want to be aware of is the potential for bad odors. Some camp towels arrive with strange smells, while others can develop them after being used. Most of the time these smells can be washed out, although it may take more than one try. Antimicrobial towels are designed to stay fresh smelling for longer.
Finally, just like with any other new towel, you will want to watch out for bleeding color. To make sure none of your other clothes get stained, always wash a towel by itself, to begin with. This is important to do before you use the towel for the first time since there is potential for the towel to bleed on you as you dry yourself off. If there is no bleeding then you should be good to go. However, if your towel does bleed, continue to wash it separately until the dye ceases to leak.


Value
If you know how to look for them, finding a great deal on your camp towel can be a breeze. Some towels are sold in sets of two or three. Although this may seem like a steal, always study the price point before making a purchase. Some "two for one" deals actually cost more than buying two towels from another retailer. Break the price down piece by piece to be sure you are really getting your money's worth. Of the products listed above The Friendly Swede, Northbound Train, and WildHorn Outfitter's camp towels are the best bargains.


Portability
Weight and size play a big role in portability, but so does drying time. If your camping towel doesn't dry in time, you aren't going to want to fold it up and stuff a wet towel in with your clean clothes that you will need for the next half of your trek. All of the towels on our list have extreme wicking power, but you will also want to take a deeper look into drying time.
Most microfiber towels can take on 3 to 4 times their weight in water. To dry yourself with a microfiber towel, move the towel across your body in a dabbing motion. Gliding the towel across your skin may be instinctual, however, this type of motion is not effective for trapping water in microfiber. This is because this material does not actually absorb water in the strictness sense, but rather holds it between the fibers. Pushing motions will, therefore, move the water but won't allow the towel to pick it up.
The fact that microfiber material holds water as opposed to absorbing it, gives it incredibly fast dry times. Microfiber towels tend to dry 8 to 10 times faster than cotton ones. Quick dry time is crucial while you're on the trail since you want to avoid putting a damp towel into your backpack if possible. A wet towel in your bag will increase the weight, and cause dangerous mildew and mold. Most microfiber towels will expel 70% to 80% immediately after being wrung out. The rest of the water should dry within a few hours. To optimize dry time, always hang your towel, and if possible do so in a sunny spot. The WildHorn Outfitters Microlite Towel dries the fastest out of any towel on this list – it consistently loses all dampness after only a half hour to 45 minutes.
Frequently Asked Questions
q:

How do camp towels compare to traditional towels?

a:

When most people hear the word towel, they picture fluffy cotton that is cozy when wrapped around your body. This is not the experience of using a microfiber camp towel. Unlike traditional towels, camp towels are very thin. When used to dry you off they almost feel sticky and are most effective when dabbed across your body in a motion similar to what you would use to remove a stain from the rug. Furthermore, while cotton towels can stay warm once wet, camp towels tend to get chilly and uncomfortable. These towels are utilitarian, meant for drying you and then themselves as quickly as possible. Finally, microfiber camp towels are nowhere near as soft as traditional towels. This does not mean that they are uncomfortable though. They are still designed to be gentle against your skin and many have a nice, suede-like feel.
q:

How do I wash a camp towel?

a:

Most camp towels are machine washable, and will also do fine in the dryer. To avoid damaging your towel make sure to read the product directions carefully though. Also, excessive washing can be damaging, so only wash your towel when it is absolutely necessary. Furthermore, try to hang dry all towels, even ones that are listed as dryer friendly. This will help to stretch out the life of the product that you choose. If you run your towel through the drier, make sure to do so on the gentle cycle.
q:

Where can I buy camp towels?

a:

Camp towels are actually pretty easy to find. Cheap versions of these products are available in places like Walmart and Target. If you are looking for something a bit nicer head to your local camping supply store. Here you will find quality products that have are guaranteed to be a great addition to your backpacking gear. Online there are also lots of options, with websites that are specifically catered to outdoor recreation is your best bet. You can also always go directly to the retailer's website.
q:

How much should I expect to pay for a camp towel?

a:

As a general rule, you should never pay more than $20 for a microfiber camp towel, and even that is a bit pricey for one of these products. The price of each individual towel depends on a number of factors including size, extra features, and the quality of the material. A small hand towel will, of course, cost less than a full sized beach towel, so don't be surprised when picking the largest towel possible ups the price significantly. Specialty features like antimicrobial treatment and travel pouches will also raise the price. Finally, as with anything else, you get the quality that you pay for. If you want to softest, fastest drying towel with the highest water absorption possible, expect to pay more.
q:

Can I use camp towels for anything else?

a:

Absolutely! Many of these towels are offered in different sizes that offer many uses. A small towel could be used to dry your hair, or as a bath mat, a hand towel, or even for your dog. There really are no rules about how you can use these towels. Their light weight and ability to dry quickly making them a great item to pack along anywhere. For a larger towel, you could use it as a seat cover, to protect your car seats from wet passengers, as an extra blanket layer on cold nights, or even as a changing curtain.
q:

What does "antimicrobial" or "odor control" mean when talking about a towel?

a:

Antimicrobial simply means that microorganisms, such as bacteria, cannot easily grow on the item. As such, without the presence of bacteria, there is much less of a chance of a foul smell forming on your towel. Almost all microfiber towels naturally have antibacterial properties. Some even have special materials, such as silver, spun in to make their properties even stronger.

These features are very important in a camp towel because you might not have enough time to fully let your towel dry before packing up or switching campsites. Additionally, all of your clothes and belongings will most likely be in one bag and you don't need one smelly towel ruining your wardrobe for the whole trip.
Subscribe to our Newsletter