Best Camp Towels
In a
Hurry? Editors choice: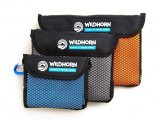 Test Winner: Wildhorn Outfitters Microlite

Staying dry in the
outdoors
is important for comfort and for reducing your chances of contracting dangerous illnesses like hypothermia and pneumonia. Traditional cotton
towels
can be a cumbersome addition to your camp set up though. They are bulky and hard to pack down, and once damp stay that way for a long time. Camp towels, which are made with fast-drying microfiber material, will dry you off quickly, can be compressed to very small sizes, and
weigh
almost nothing. Some of these towels also have an antimicrobial treatment that keeps them smelling fresh for days on end, and many come in assorted sizes so you can pick the towel that best fits your needs.
Standout Picks
Criteria Used for Evaluation
Materials
You probably already noticed that every towel on this list is made of some type of synthetic microfiber material. This is because these towels offer a lightweight alternative to bulky cotton towels. Microfiber can feel rather strange against your skin, and drying yourself off with this type of towel requires you to pat yourself down. However, in terms of performance microfiber towels can't be beaten.
If you don't like using synthetic materials, linen is an alright choice for a camp towel. However, linen fabric is rougher and thinner than microfibers, and quite simply won't be as effective. Traditional cotton towels can also work if you are car camping, but are bulkier and dry much more slowly than towels designed specifically for camping. They should not be used for any type backpacking, and really aren't recommended for camping in general.
Most microfiber towels can take on 3 to 4 times their weight in water. To dry yourself with a microfiber towel, move the towel across your body in a dabbing motion. Gliding the towel across your skin may be instinctual, however, this type of motion is not effective for trapping water in microfiber. This is because this material does not actually absorb water in the strictness sense, but rather holds it between the fibers. Pushing motions will, therefore, move the water but won't allow the towel to pick it up.
Size
Of all of the ways that you may want to utilize a camp towel, taking it on a backpacking trip requires the most thought. For the most part, even large camp towels are very lightweight and they won't weight you done stuffed inside your bag or backpack. How large your towel is and how much it weighs, therefore, becomes a question of preference. However, when backpacking every little bit of weight counts. A small hand towel can do just fine for this type of adventure and will be the lightest weight in your bag. If you want something a bit larger, many brands carry a large variety of sizes. The exact dimension of a camp towel is easy information to find online. Weight measurements can be a bit trickier to locate. The Packtowl Personal is one product that comes in every size you may need and has all of the information readily available.
How you want to use your camp towel is important to consider before you buy one. Backpacker's, for whom weight and space are very important, will want to buy a towel that is as small as possible while still being useful. Those who plan on mostly using their towel while car camping can be less picky, and may actually want a larger towel that they can use at the lake or the beach. Other possible functions for camp towels include foreign backpacking travel, gym towels, and everyday use after showering.
Features
Antimicrobial
If you are going to be on the move with your towel, using it for long periods of time without being able to wash it, it is probably a good idea to invest in one that is treated to be antimicrobial. The way this actually works varies from towel to towel, however, the effect is the same – bacteria and other germs that get on the towel are neutralized, leaving it feeling clean and smelling fresh even after repeated, heavy use.
Style
When it comes to camp towels, style is more about the color of the towel than anything else. Many towels come in a wide assortment of colors, however, some are available only in a few. Although this may be very important to you, what color your camp towel is should be the last thing you consider. First, find a towel that you know will work well and meet all your need. Once you have established which product is best for you in those areas, then you can consider what style you like the best.
Travel Readiness
Many camp towels have super handy features that make them easy to travel with. Most come with a small bag that they can be folded into. These bags typically pack the towel into the smallest size possible, making it easy to store neatly. These bags also often include a loop from which they can be hung. Since the bags are typically mesh, one great solution to a still damp towel is to place it in its bag, hang that bag on the outside of your backpack, and to let your camp towel continue to dry through the mesh as you walk.
There is also often a small loop attached to the camp towel itself. This loop allows the towel to be easily hung almost anywhere. If you are using a towel that is small enough so that it won't get in the way, this loop can also be used to employ them on the go drying trick mentioned above. In fact, attaching your towel to your bag directly will be more effective for a fast dry than attaching it while it is inside its bag.
Subscribe to our Newsletter