Best Defrosting Trays
In a Hurry? Editors choice: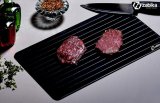 Test Winner: Zabika Rapid Thaw

For the people out there who have come home after a long day of work only to realize that they did not pull out the meat from their freezer, they know how frustrating it can be. Yet, what if there were a healthy and efficient method to thaw your meats relatively quickly? Well, there is, and the
tool you are looking for
is a defrosting tray. Now, we know what you must be thinking. You are thinking that there are several different methods for defrosting meats, such as microwaving and in cold water, and that investing in a separate tray would be a waste of money. Fear not, ladies and gentlemen, because this is not a waste of money. Due to the years of innovation and the technology that is integrated into these trays, they are actually extremely efficient and worthwhile. Well, some of them are, that is.
Standout Picks
Criteria Used for Evaluation
OUR TOP PICKS FOR THE BEST DEFROSTING TRAYS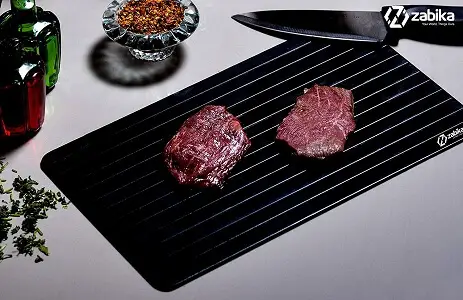 If you are willing to spend a little extra money, then you can receive probably the best example of why this technology is so special. This right here is as good as it gets.
Read more
Materials
As with most of the other top-end models in the world, this is made of high-quality aluminum. Plus, no hazardous elements are involved for safety purposes.
Efficiency
Due to the thermal conductivity of aluminum and the three-millimeter thickness, this is going to thaw your meats at much faster rates than without.
Ease of Cleaning
Okay, for those curious, this is actually not dishwasher safe. However, due to the non-stick coating that has been implemented, an easy hand-wash should do the trick.
Overall Size
This measures 14 inches by 8.1 inches and this makes it suitable for just about any meat that you will need to defrost.
Portability
Outside of the fact that this is naturally easy to move around, it has been designed to take up less kitchen space and is much easier to store, because of it.
Overall
Though this may not defrost your meats in seconds, as no trays out there will do that, it is still as efficient as it comes with food-grade and high-quality aluminum.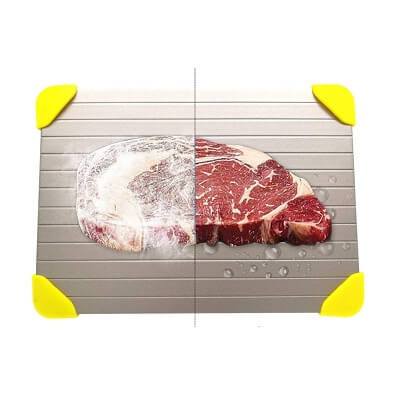 This next defrosting tray introduces the silicone corners to the fold. Ironically, this is one of the few issues with this model because overall, its aeronautical aluminum alloy makeup is fabulous.
Read more
Materials
Not only is the aforementioned aluminum alloy ideal for longevity but it is also non-toxic, food-safe, antimicrobial, and approved by the FDA and ROHS for safety.
Efficiency
In addition to the higher quality HDF aluminum, this also has four silicone corners and a groove design that can speed up air circulation. Also, this measures three millimeters in thickness.
Ease of Cleaning
Due to the fact that this has been finished with a high-density silver ion antibacterial coating, it can easily be cleaned with flowing water.
Overall Size
Admittedly, this is one of the smaller designs on this list. But, at 11.6 inches by 8.1 inches, it can still hold a suitable amount of meat and other food items.
Portability
The reduced size and weight (just over a pound) make this perfect for transport. Whether to take to a buddy's house or on a camping trip, it can be an easy companion.
Overall
Babali certain deserves a lot of accreditation for its design. The advanced craftsmanship and efficient nature of it makes it a steal for the price, to be honest.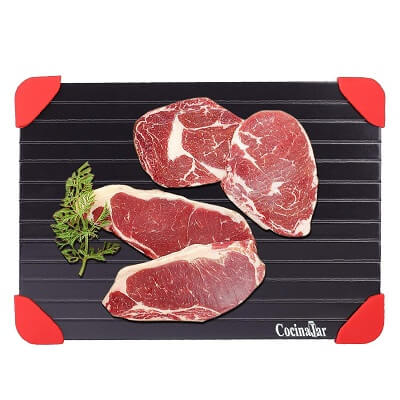 It is advertised that this can provide defrosting times that are eight times faster than the average times. Even if that is exaggerating a little bit, that is still impressive.
Read more
Materials
Do not worry about safety here as the aluminum that has been used is food-safe and certified by the FDA. It also is equipped with 12 individual slots and is non-toxic and has no plasticizers.
Efficiency
Now, there have been a few users who have claimed this is thinner than they expected. Again, though, it is designed to produce thawing times that are eight times faster than the average times.
Ease of Cleaning
On top of the fact that this is another model that is dishwasher safe, it is equipped with a non-stick coating which makes cleaning easier, as a result.
Overall Size
This is around the same size as most of the other options on this list at 14.4 inches by 8.9 inches.
Portability
Nothing out of the ordinary here as this is another unit that is pretty easy to transport from place to place.
Overall
Being designed with food-grade aluminum, efficiently thawing meats, and being dishwasher safe, it is not too difficult to see why so many buyers have fallen in love with this.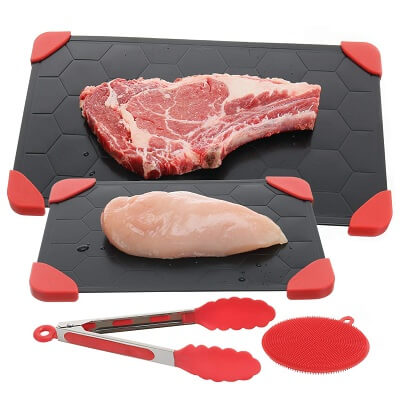 Even though this only measures two millimeters in thickness, there have been a ton of buyers who have raved about the efficiency of this next design. Plus, you receive a custom cleaning brush with your purchase.
Read more
Materials
Not only is the aluminum used durable but it is also 100 percent hygienic and this is going to prevent any bacteria growth on your foods.
Efficiency
As was mentioned, despite the lower thickness, buyers have raved about how well this tray defrosts their meats. At the end of the day, that really is the most important factor you can ask for.
Ease of Cleaning
Erad takes all the guessing work out of how to clean their model as they include their cleaning brush with your purchase for your convenience.
Overall Size
What is also really nice here is you get two individually-sized trays with your purchase. You get one large (at 14 inches by 8.3 inches) and one small (at seven inches by nine inches).
Portability
Even if you wanted to transport both of these trays, it would be incredibly easy due to their natural size and shape.
Overall
This really is a total package because, in addition to the two trays and the cleaning brush, you also receive a pair of tongs with your investment. That is not a bad gig, all things considered.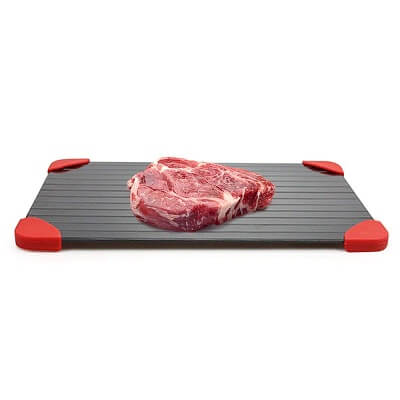 It is safe to say that the MN Majestic tray is one of the more popular options on the market today. Given the makeup and the feedback, it is definitely one worth checking out.
Read more
Materials
First off, this is made from a non-toxic and FDA approved food-safe aluminum. But, there are also corner edges that provide additional stability on countertops.
Efficiency
Per the product description, it is claimed that this will defrost frozen foods twice as fast as normal. While a few buyers have questioned this, the aluminum will absorb the cold and release the heat.
Ease of Cleaning
Unlike other options, this is actually dishwasher safe which is a huge bonus. Even without a dishwasher, however, this has a non-stick surface and is generally easy to clean.
Overall Size
It is worth noting that this is MN Majestic's largest size and it measures 14 inches by eight inches.
Portability
Nothing too shocking here as at just over 1.5 pounds, this is both easy to store and carry around.
Overall
You know, it is hard not to feel a tad bit disappointed with the results here. Yes, it made this list and is a worthy consideration, but we can't help feeling this could have been even better.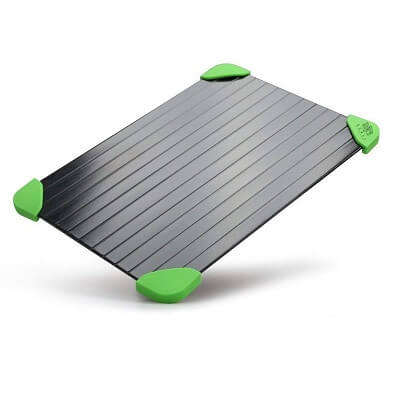 In spite of the fact that this is not the sturdiest defrosting tray out there, it is efficient through and through. If there is one advantage to any of these designs, it is their efficiency.
Read more
Materials
The mainboard is non-toxic and FDA approved for your safety. Also, there are integrated silicone corners that will keep your countertop clean. But, the board is a bit flimsy.
Efficiency
As the product description points out, this is larger and thicker than other boards out there that claim to perform the same task.
Ease of Cleaning
If you have a dishwasher installed in your home , then you are in luck here. If you do not, though, the non-stick surface can still easily be cleaned by hand in soapy water.
Overall Size
At 13.7 inches by 8.8 inches, this is a very suitable size. While some buyers out there expected bigger, this is still fairly large.
Portability
Alone, this is easy to transport. But, you may want to remove the silicone anti-skid pads during travel so they do not accidentally fall off and get misplaced.
Overall
Not all defrosting trays out there will be dishwasher safe so the fact that this is could be seen as a nice incentive. Of course, these live and die with their ability to defrost meat and this does that pretty well.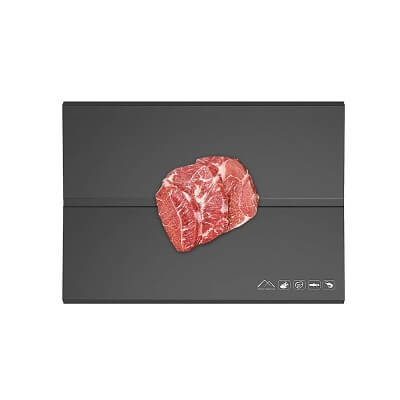 The last few options have been a bit on the smaller side but not this one. In addition, this tray is also comprised of non-toxic recyclable materials that are safe for humans.
Read more
Materials
In addition to the aforementioned non-toxic recyclable materials that are used, the main alloy used to comprise this is a special HDF. Also, this sports a precise coating on the surface.
Efficiency
As opposed to traditional metal, the thermal conductivity of this metal is several times superior. But, for larger and thicker meats, it will still take a sufficient amount of time.
Ease of Cleaning
Though dishwashers have been advised to be avoided here, the dense surface of the plate and the precise coating ensure the cleanup is a breeze.
Overall Size
Yep, this is a little bigger than some of the other options here. It is not an astronomical boost in size, but the 13.1-inch by 10-inch stature is still a nice boost.
Portability
Nothing really out of the ordinary here as despite the extra inches, this is still very easy to transport with.
Overall
Let's just say that this has been met with its fair share of naysayers. Of course, there are also consumers out there who have felt truly satisfied with the performance (and they outbalance the former).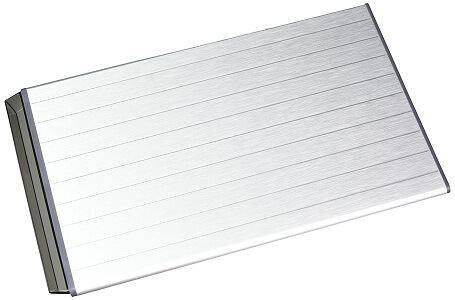 It really seems like this should be a top-three product on this list. The price and advertised performance are signs for that but it drops down the radar a little bit due to some consumers feeling lukewarm about the effectiveness.
Read more
Materials
Being made with rugged aluminum, this plate is not going to need any other external heat source to thaw your foods.
Efficiency
Due to the fact that this uses thermo-liquid and heat fins to maximize the rate of heat exchange, you would think it would be the best of the best. But, many buyers have reported that it takes longer to thaw than the description hypes up.
Ease of Cleaning
While it is not recommended that you place this tray in the dishwasher, it can be hand-washed with a sponge with relative ease.
Overall Size
Much like the last model, this is not that huge. It measures 11.5 inches by 7.75 inches and could be seen as a smaller entry on this list.
Portability
The sleek design of this comes in handy for two reasons. One, it is easier to store in your kitchen and two, it is very easy to travel with.
Overall
It is hard to say the ball was dropped here because the overall design is still great. Yet, if this plate actually thawed in the manner that was claimed in the description, it could have been elite.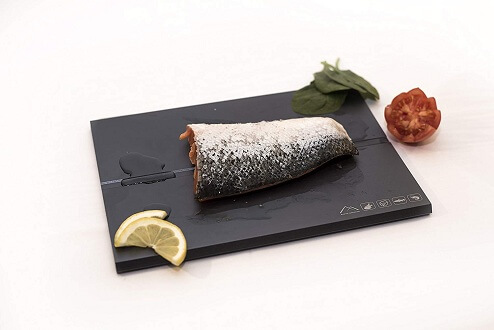 When it comes to this next model, it is all about the performance. That is where Nine-X really thrives with their design and if it were a bit bigger and had a better non-stick coating, it could have been even better.
Read more
Materials
What is rather unique about this design is the fact that it is made out of HDF aeronautical metal and is also covered with high-density silver ions.
Efficiency
As Nine-X points out, the thawing times are going to vary on the thickness of your meat. But, they claim their plate can thaw a 12-ounce steak in around 15 minutes (to give you a vague reference).
Ease of Cleaning
In reality, this is not really that hard to clean due to the non-stick coating. Yet, the non-stick coating, as pointed out by one buyer, peeled off after they washed the plate by hand.
Overall Size
As mentioned, this is not the largest tray out there. But, at 11.4 inches by 8.1 inches, it is going to be suitable for a few types of meats or other foods at a time.
Portability
The smaller stature lends a hand a little bit in portability but this also weighs nearly two pounds. Overall, it will not be too difficult to transport.
Overall
There are reasons why it is easy to get excited about this specific defrosting tray. Then again, on the flip side, you can say the same thing about reasons to be a bit wary.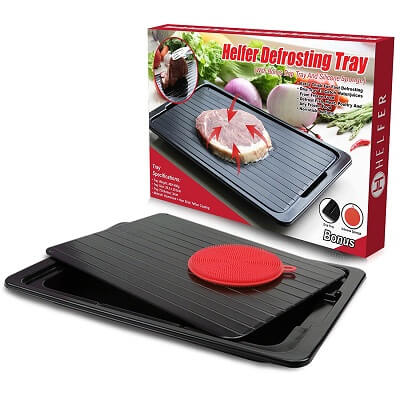 Ironically, one of the best incentives for buying this next option is the bonuses that come with your purchase. Of course, the included drip pan is not exactly going to win durability awards.
Read more
Materials
Though the included drip pan is very flimsy, the actual defrosting tray is three millimeters thick and made of high-quality aluminum.
Efficiency
Not too many buyers have had too many disparaging remarks to say about the performance of this three-millimeter aluminum plate.
Ease of Cleaning
Though this is not dishwasher safe, included with your purchase is a silicone sponge. This sponge can be used, with tap water, to clean off the non-stick surface.
Overall Size
For a larger family, this would still be too large but for one or two people, the 13.9-inch by 10.1-inch size will be just what the doctor ordered.
Portability
If you wanted to transport all these items on a camping trip, just as an example, you would probably need to place them in a bag or storage bin.
Overall
Everyone loves receiving free products so it is nice that a few are included here. Overall, this is a pretty good package deal (although the drip pan leaves a lot to be desired).

Subscribe to our Newsletter