Best Floor Lamps
In a Hurry? Editors choice: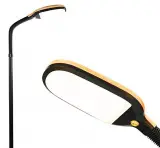 Test Winner: Brightech Litespan

The right floor lamp can be the focal point of a room. It can add the perfect decorative touch, but is at the same time
extremely practical.
Whether you want to add some extra light to a room or switch up the look, a floor lamp may be just the accessory you need.
Lamps
come in a huge range of styles, features, and prices to match. Some are smart lamps, some are classic and simple. The styles can be anything from modern to quirky to traditional or retro.
Whatever floor lamp you choose, it will be one of the first things people notice when they walk into the room. There's just something about the right lighting accessory that adds so much
warmth to a room
.
Standout Picks
Criteria Used for Evaluation
Use
Based on their unique features, each lamp is better suited to certain rooms, situations, or uses.
Some lamps are perfect for reading or detailed work or hobbies, but less well suited to general room lighting needs. Other lamps are just what you need to light a whole room, but they don't have focused, adjustable lights needed for detailed work or reading. We knew it was important to feature a variety of lamp styles (and the best of each stye) on this list since every user has different lighting needs. However the design and features differ, the basic types of lamps tend to be tree lamps, tripod lamps, gooseneck lamps, hobby/reading lamps, or paper shade lamps. The tree, tripod, and paper shade lamps are usually best for general room light, while the gooseneck and hobby/reading lamps are best for just that—hobbies (or work) and reading.
Durability
Of course everyone wants any product to last a good long time. Lamps, which are used so frequently, are no exception.
We tend to think of lamps as a part of the furniture—a semi-permanent fixture in the room. We expect them to last despite constant use and turning off and on. This was an important factor in choosing the lamps on this list. We wanted to make sure that not only were the lamps made of high grade materials expected to stand up to years of use, but also that the brand stood behind their product with a warranty, showing that they believe in its quality enough to offer to replace a defective product. Some of the tough materials of the lamps we chose are metal (including brass, nickel, and steel), wood, and concrete (for the lamp base). Another important factor was the bulb. Most of these lamps allow for LED bulb use which will last longer than other bulbs, and will stay cooler. Time and time again, users rate durability as the most important aspect of a product. What is the point of any of the other features if the product isn't going to last?
Stability
We know how important the safety of the lamp is, especially if you have children or pets around.
Every lamp on the list is well designed so as not to be top heavy. They each include a large, solid base, and most of them are weighted for added stability. The stability was one of the first things we looked at when determining the right lamps for this list. Safety is a top priority and we understand how vital it is that the lamp does not accidentally get knocked over.
Style
When choosing a practical product, such as a lamp, why not have some fun and choose something special according to your specific tastes and decorating style?
A lamp can brighten up a room literally and figuratively. Along with practical considerations, we weighed the options according to aesthetic considerations. The lamp needed to look good and fit in with a variety of room styles and themes to make it onto this list. We made sure to include a range of lamp styles and colors, and many of the lamps include color or style choices within the same model when buying. When judging a lamp's style, we took into consideration its proportions, color, design, simplicity, and potential for customization. A lamp that serves two purposes—functionality and adornment—is a lamp well worth its price.
Value
When you buy anything, you want to know you're getting good value—high quality for the price.
We took into consideration all the quality factors of the lamp and paired them with the price to determine if the lamp is a good value. To make it on the list, the lamps had to be made of high quality materials, last a long time (and many of them have a warranty), and be stable and durable. We tried to choose lamps that met all the quality specifications while being offered for a relatively low or mid range price.
Top 10 Picks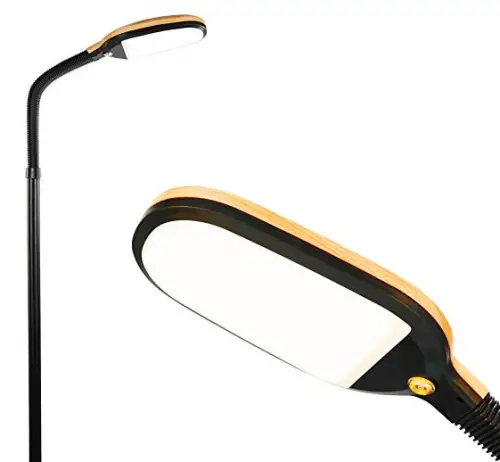 The Litespan comes from a leading brand in all types of lamps and lighting fixtures. The best features of this particular model are its adjustable head and the LED bulb which lasts for years and which stays cool to the touch even after hours of use.
Read more
Use
This floor lamp is an excellent choice for both office use and hobby use. It is perfect for illuminating a desk or workspace, or for providing over the shoulder light for reading, crafts, or any other hobby. The light comes with a night light setting which provides a soft, orange light perfect for nighttime use.
Durability
The 12 Watt LED light bulb saves energy and is efficient. The light bulb is built in and is estimated to last about 20 years, so you will never have to replace a bulb.
Stability
The base of the lamp is weighted, ensuring that it won't accidentally be knocked over, which allows for its safe use around children and pets.
Style
Users will like the modern design of this minimalist style lamp. The gooseneck allows for easy adjustability. The light is dimmable and puts out a soft, white, natural daylight. The lamp itself comes in five colors: alpine white, classic black, Havana brown, natural wood, and platinum silver.
Value
As far as floor lamps go, the Litespan is low cost for the quality. Best of all, it comes with a 3-year warranty which fully guarantees your satisfaction.
Overall
The combination of appealing design, practical features, and long term durability are what give the Brightech Litespan this spot on the list as our favorite floor lamp.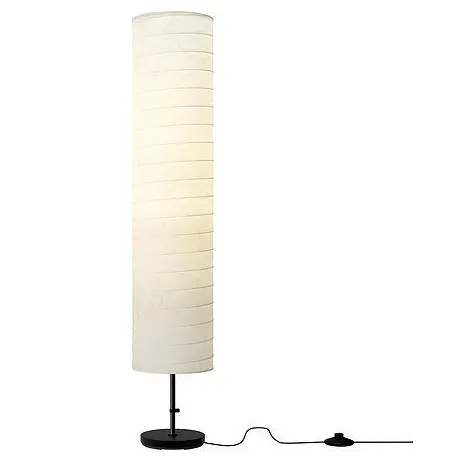 Our favorite aspects of the Ikea Holmo are the well built steel frame and concrete base and the decorative style of the rice paper shade. Since it's coming from a trusted brand, you can be sure of the quality you're getting, and the good news is that the price is on the low end of the scale for floor lamps.
Read more
Use
The Ikea Holmo features a rice paper shade, making it decorative as well as practical. It's perfect for brightening up a room with soft, diffused light. This would be a good option for living rooms or bedrooms—anywhere you want a more atmospheric light rather than a spotlight for detailed hobbies or work. The cord is nice and long at 9'2" which gives users a great deal of flexibility in choosing where to place the lamp within a room.
Durability
What is really nice is that this lamp has a frame made from steel, and the base is made of concrete. The rice paper shade looks delicate but is actually durable.
Stability
The concrete base of the lamp provides excellent stability, as does the fact that the lamp has a low center of gravity. Users will find that the Holmo is unlikely to tip over even if accidentally bumped.
Style
Rice paper gives this lamp a beautiful, decorative look. Soft, glowing light from this lamp projects a relaxing atmosphere into a room. This lamp would be a beautiful addition to any home.
Value
The Holmo is one of the most affordable lamps out there. Buying from a well known and trusted brand assures that you are getting your money's worth in quality.
Overall
This lamp is for those users who want an affordable, high-quality product that is both decorative and practical. The lamp's beautiful design and soft, gentle light are the top reasons why we have placed this product in the top three.

3

. Bingham Black Tree Torchiere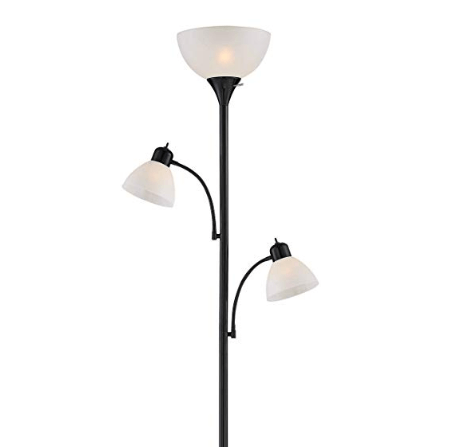 We love this beautiful Black Tree Torchiere from Bingham with its three separate lights and controls. This lamp is one of the most flexible lamps out there for serving a whole range of needs.
Read more
Use
With three separate lights, two of them being adjustable, this Bingham lamp would be great for a craft area or a living room or behind a chair or sofa for reading. The nice thing about this lamp is that you can use the main light for general lighting, but then add one or both of the side lights for more concentrated, specific lighting needs, and you can adjust them to point in whatever direction you need.
Durability
The Bingham lamp is strong and well built. It is made for the most part out of metal. Users agree that it is a long-lasting and strong lamp.
Stability
The three lights balance each other, with the one in the middle adding a stable weight. The base is metal and round and keeps the whole lamp securely upright.
Style
This lamp comes in a classic, black and white color, and the three lights give it a balanced, symmetrical look. This lamp would add simple beauty to any area.
Value
The price of this lamp is about the usual for a good quality, yet affordable product.
Overall
One of our favorite things about this lamp is its unique and stylish design, yet it remains still completely practical.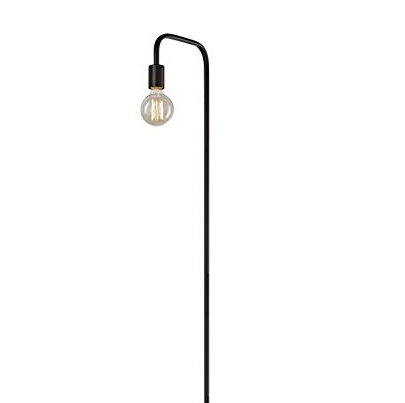 This model is the only one of its kind on this list. It is simple and stunning and would be a welcome addition to any room regardless of decor style. You can easily change the look of this lamp to fit your style by simply choosing a different kind of light bulb.
Read more
Use
The on/off switch is a rocker style foot pedal which is nice for hands-free use.
Durability
Users agree that this lamp is sturdy and made of quality material.
Stability
The base is robust and made out of metal, giving the lamp nice dependable stability. The lamp itself is so minimal and bare that it should have no trouble remaining upright.
Style
The Holden lamp is unlike any of the other lamps on this list. The bare look is stunning. You can choose from a variety of decorative bulbs, or choose the lamp version that comes with a shade, depending on your taste. If you do choose to just go with the bulb, you can choose something that really stands out like an Edison bulb for a historical feel. This lamp would add nordic, hygge style decor to a room.
Value
The price for this one runs on the lower end for lamps, and users mentioned that the lamp turned out to be of great value since it was well made and lasted a long time.
Overall
The stunning look of the Holden is why we love it enough to put it on this top ten list. One of its best qualities is the ability to completely customize the look by switching out the type of lightbulb.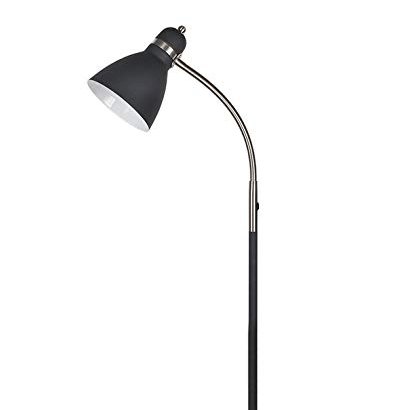 With its simple look and sturdy build, this lamp is a good choice for anyone wanting a classic floor lamp. Adjustability and a reasonable price are two of its best features, along with a matching desk lamp that you can buy separately.
Read more
Use
Any home office would benefit from this practical and simple lamp. An excellent choice for study or work, the LEPOWER brightens any room and features a handy adjustable head. The on/off switch is conveniently placed on the lamp's cord in an easy to reach the place.
Durability
Made out of metal, the lampshade and base are strong and durable. The brand stands behind the quality of their product with a 12-month warranty.
Stability
Some users did have an issue with the stability of the lamp. When in an upright position, the lamp's stability is fine, but if bent too far in one direction, it could become less stable. The lamp's base is weighted, however, which should help ensure stability, as should the fact that the lamp is made out of sturdy material.
Style
Matte-gray metal gives this lamp a simple, industrial look. It's perfect for a professional setting or for minimalist decor in the home. You can get a matching desk lamp to give the room a sense of coherence.
Value
In the low to mid-level price range, this lamp is a good choice for a practical home or office needs. Being built out of metal means that you will get a good quality lamp for the cost.
Overall
The LEPOWER lamp is a well-built design with a classic look. The potential to add a matching desk lamp adds to the decorative appeal of this particular model.

6

. Brightech LightView Pro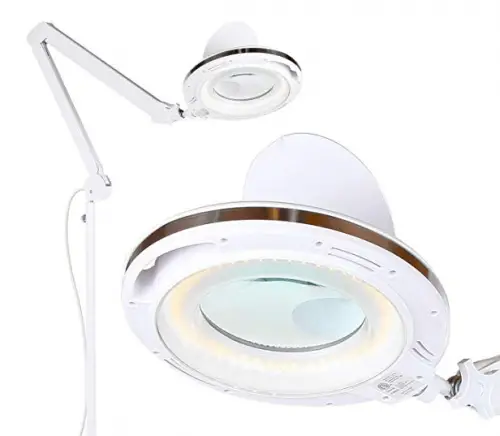 This lamp from Brightech provides serious brightness and magnification. It is an excellent choice for professionals such as dentists, but it's also great for hobbies such as reading, woodworking, sewing, drawing or any other kind of detailed work. Anyone with vision loss due to aging or macular degeneration will find that this lamp helps a great deal with everyday activities.
Read more
Use
This lamp is great for both professional and home use. It can be used to easily work on fine details for any hobby such as sewing, quilting, beading, cross stitching, or putting together jigsaw puzzles just to name a few. It's also great for reading and is an excellent tool for those with vision problems.
Durability
The energy saving LED light bulb, which is built into this lamp, lasts 20 years for most users. The lens is removable for easy cleaning, and the light stays cool to the touch.
Stability
While the lamp is set on wheels for easy maneuvering, it is still quite stable thanks to a weighted base. The adjustable multi-jointed arm allows you to easily position the head of the light while the base stays in one place.
Style
One of the best features of this lamp is its highly adjustable swivel arms which allow you to move the lamp into any position. Another great feature is the lamp's ability to be dimmed and its color adjusting settings. The color temperature ranges from 3000k (which is a warm white) to 6000k (which is a cool white).
Value
Quality comes at a cost with the lamp, which is a bit pricier than the others, but it is worth the cost to anyone looking for the biggest diopter magnifying lens that is available on the market. Brightech's 3-year warranty ensures your satisfaction with the value of the product.
Overall
For any professional or serious hobbyist, or anyone wanting to ease the effects of poor vision, this lamp would be an excellent choice.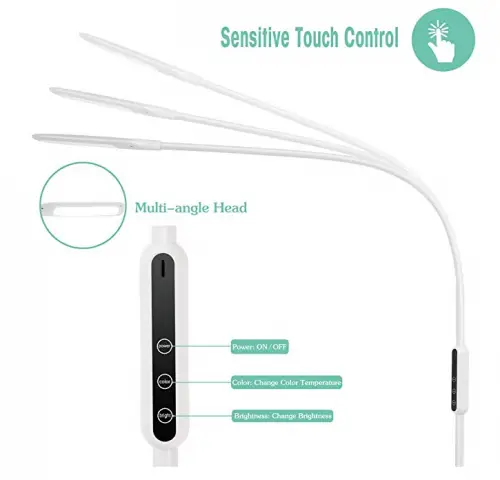 While this IMIGY lamp appears similar in style to the PHIVE lamp listed later on the list, one of the differences is that the IMIGY has five color controls instead of four.
Read more
Use
One fantastic thing about the IMIGY is that it comes with a remote control. If you are sitting some distance away from the lamp, you can change the color or brightness level without having to get up. This makes the lamp ideal for reading in bed.
Durability
This lamp is made partly out of silica gel and partly out of iron, both of which give it added strength.
Stability
The IMIGY's base diameter is 8 ½", which keeps this lamp quite stable.
Style
Much like the PHIVE (below), the IMIGY is sleek and doesn't take up much room. It is modern in design, yet retains a classic simplicity.
Value
The IMIGY is close in price with all the other mid-price range lamps on this list. It is well built and has plenty of options for light level and color control, but the real added value comes from the addition of a remote control.
Overall
How wonderful to have a remote control come with this lamp! We also love the fact that you have two choices for lamp color—black or white, which is an option not too many other lamps offer.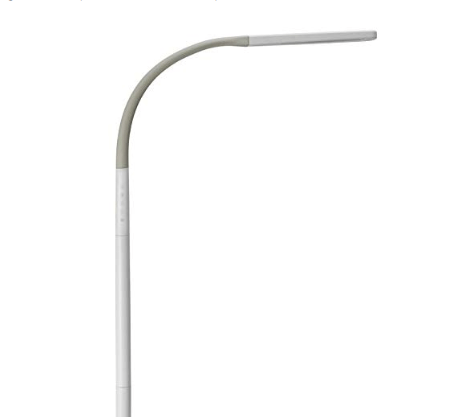 Featuring a memory function and several customizable options, this semi-smart lamp would look great and function wonderfully in a variety of rooms and situations.
Read more
Use
Among its many possible uses, the PHIVE floor lamp would be great as an over the shoulder light for reading. The head can also be swiveled up to serve as a general room lamp. The rubber gooseneck is silent when you are adjusting it, and brightness levels and color modes allow you to customize the lamp for any situation.
Durability
While some users did have an issue with the lamp's durability, the brand usually made it right and replaced the lamp, which does come with an 18-month warranty. One of the good things about the lamp, however, is that the gooseneck is made of rubber which allows for greater flexibility while still retaining durability. The rest of the parts of the lamp are made of either plastic or metal.
Stability
With a solid and sturdy base, the lamp is light yet stable. The size of the oval base (at over 11" by 15") helps keep the lamp strong and upright.
Style
This beautiful and simple design is complemented by some great features like the four lighting modes which can produce white, cool white, yellow, or warm yellow light. Another great feature is the five adjustable brightness levels for adding just the right amount of light in any situation.
Value
In the mid-price range, this lamp adheres to the old adage, you get what you pay for. While some have experienced a lack of durability with this lamp, the warranty ensures that the lamp will be replaced, if needed.
Overall
If you need a simple looking lamp but want it to offer quite a few extended features, then this is the lamp for you. The lamp looks unassuming, but actually offers some smart controls.

9

. Aaron Aged Brass 3-Light Floor Lamp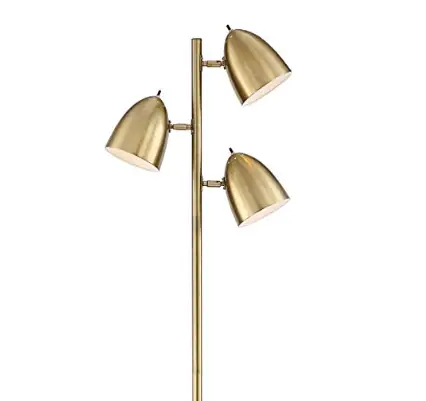 This lamp has a wonderful all metal look. The design is based on retro tree lamps. When purchasing, you have a choice of aged brass or nickel.
Read more
Use
The Aaron lamp would be great for ambient room light. Though the lights do not have goosenecks as many of the other lamps on this list do, they are still movable and so can provide some focused light as well.
Durability
You can't get more durability than a brass or nickel lamp. This is a good quality product.
Stability
At ten pounds weight, the lamp is light enough for portability, yet should be quite stable.
Style
The striking aged brass or nickel lamp (depending on the style you choose) will be the first thing visitors notice upon entering the room. Decorative, yet functional, the retro style tree lamp is one of the most unique, yet classy lamps that you can find on the market.
Value
This one is just a bit more expensive than many other lamps, but it is made of sturdy and excellent quality and the brass or nickel style is definitely worth the price.
Overall
This one had to make it on the list because it's so stylish and beautiful. We love the tree lamp look and the fact that you can choose your color of the lamp.

10

. Brightech Emma LED Tripod Floor Lamp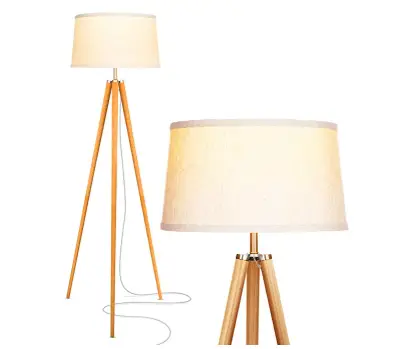 The Brightech Emma is one of the best tripod lamps on the market. It is well built and extremely stable, making it safe to use in a child's bedroom. The name Emma says it all, giving the impression of a classy lamp that blends old and new styles.
Read more
Use
The Emma would be a great choice for an apartment or a study room. It would also be a practical choice for a children's room due to its excellent stability. Since the lamp is not adjustable, it is best used for ambient room light.
Durability
The Emma is coming from a good brand, which means it is going to be durable. Plus, the brand stands behind the product with a 3-year warranty. The legs are made of wood, and the shade is made of burlap. The LED bulb, which is included, is estimated to last about 20,000 hours.
Stability
As far as stability goes, this is one of the best lamps on the list. The tripod gives the lamp stability.
Style
The style would fit right in with a nautical theme or a modern designed room. This lamp combines contemporary and classic style for a truly unique look. The lamp could also work for a 1950's or retro style room.
Value
On the high to mid-end of the price spectrum, this lamp is still worth the cost. It's a solid product with excellent stability and design.
Overall
What we love about the Emma is its fail proof stability, its classy look, and the fact that it is compatible with Alexa.

Subscribe to our Newsletter