Best French Presses
In a Hurry? Editors choice: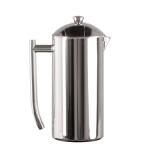 Test Winner: FRIELING

While flavor and taste are all a matter of personal preference, you have probably heard your friends,
family
, or coworkers claim that the best coffee comes from French presses. Now, this guide is not being formed to debate which
kitchen
appliances create the best coffee but it is worth pointing out that this type is ultra popular and a fan-favorite. You may be interested to see what the entire hubbub is about in regard to a French press
coffee
maker. For most designs that you will see, they will sport beakers that are made of glass or stainless steel and also have multiple step
filtration
systems to ensure the best coffee possible. As with any other consumer product in the world, there are designs that stand above the rest and others that are duds. Today, though, let's focus on the latter to give you a plethora of fantastic options.
Standout Picks
Criteria Used for Evaluation
Materials
While there are essentially only two main materials to choose from, doing so is critical.
When it comes to this type of technology, there is a key decision that you need to make. This decision is whether you want the main vessel to be made of stainless steel or glass. Yes, not all models will be made of these materials but nine times out of ten, they will be. As you have seen on this list, there are several terrific designs that utilize both stainless steel and glass. So, which one is superior? Well, it is not right to simply declare one of the materials inferior to the other. Instead, let's take a look at the advantages of each of the materials. Starting with glass, and more specifically borosilicate glass, it has two main features that users admire. Firstly, you can actually see what is brewing inside of a glass vessel. Secondly, it could be considered the better aesthetic piece out of the two. Now, one key disadvantage is that it is easier to break than stainless steel. Speaking of stainless steel, not on is it extremely durable but it will also retain heat a little better than glass. Of course, you can't see inside steel so that is a bummer. Truthfully, both materials are terrific and it just depends on your preferences (and clumsiness).
Effectiveness
French press coffee makers themselves are very effective but certain models can perform much better than others.
When buying a french press, you want to keep an eye out on a few things. Besides ensuring the plunger is made of quality materials such as stainless steel, you may want to look for double-walled insulation and even a vacuum-sealed lid. Both of these attributes will allow the system to either keep your coffee hotter or colder for much longer. Plus, when you factor in stainless steel already holds heat better than borosilicate glass, you can really maximize the heat retention. Also remember, though, that a lot of what goes into brewing the perfect coffee is the ingredients you place inside.
Features
There are only a few key features to keep an eye out for but doing so is important.
Outside of the vessel and the plunger, there is not too extensive of a list for design features that you need to pay attention to. However, there are two and one of them was touched on earlier. Firstly, the design of the lid is very important. While it does not necessarily need to be vacuum-sealed, it should at least have a tight fit if you plan to leave your coffee inside the vessel for prolonged periods of time. Speaking of the lid, it should also be designed with a no-drip spout and prevent the coffee from spilling when you transfer it to your coffee mug. Something so simple can be so important, remember that. Also, do not forget about the handle. Now, this one is not too difficult as all you are looking for is an integrated handle that is easy to grip. It is not as if you will be carrying the press around everywhere but when it is full of coffee (depending on the size), it can get heavy. So, ensuring a well-designed handle is implemented is important.
Capacity
How much do you truly love coffee? Depending on how much you drink, you will need to get a vessel size that suits you.
When assessing the capacity, the vessel will typically be measured in ounces. Now, models out there can range from as little to 10 ounces to as much as 50 ounces. It does depend on the coffee mug that you are using but most of them will hold eight to 12 ounces. Using this as a reference should help you determine the size you will need.
Ease of Use
Cleaning these bad boys should not be too daunting of a task but some can be made easier than others.
Whenever you are in the market for a product that belongs in the kitchen, there is a strong likelihood that you will need to clean it. And, yes, the same is going to apply to French press coffee makers. Here is the good news; most models you purchase will be dishwasher safe. "Most" is the keyword here as it can't be guaranteed that all will. What you need to do is check with the manufacturer to ensure their model is in fact dishwasher safe. Even if it is, there is another factor you need to keep in mind. Are the components easy to disassemble? Is the vessel easy to remove the frame? Are the screens easy to remove? Remember, it is sometimes the little things that matter. Also, when cleaning glass carafes, be careful as they can break on you if you are not careful.
OUR TOP PICKS FOR THE BEST FRENCH PRESSES


In addition to being made of premium stainless steel, this is also double-walled which increases its ability to keep your coffee either warm or cold.
Read more
Materials
Indeed, this is made of stainless steel (premium 18/10 grade). This also sports a mirror finish on the outside and a brushed finish on the inside. Plus, the durable PVD coating and UV top coating reduce fingerprints.
Effectiveness
Adding on to the fact that this is double-walled, it also is engineered with a two-stage filter system. This system utilizes a pre-filter and a super-fine mesh filter to ensure zero sediments end up in your cup.
Design Features
As you can see, the stainless steel handle is of the full-length variety and offers comfortability. Also, the no-drip spout ensures a cleaner transfer from the vessel to your coffee cup.
Capacity
Frieling gives you many different options for capacity (with this one being 36 ounces). The slim design of their coffee maker does make getting coffee grounds in and out a little more annoying.
Ease of Cleaning
All components of this system are dishwasher safe. Adding on to this, this unit will disassemble easily when you need to wash it.
Overall
For certain, this is a high-end model that will make a dent in your wallet. As you can see from the design of it, but it is worth it for serious French press enthusiasts.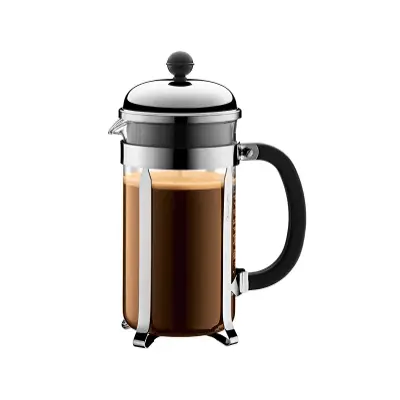 No matter how many lists you look at it, there is a high likelihood that the Bodum Chambord will make an appearance. Most of the time, much like this, it will be near the top.
Read more
Materials
While the internal components are made of stainless steel, the vessel itself is made of heat-resistant borosilicate glass. Users have pointed out that this vessel needs to be handled with delicacy.
Effectiveness
Instead of merely being absorbed by a paper filter, this is designed with a three-part stainless steel plunger. This plunger sports a mesh filter which extracts the coffee's subtle flavors and aromatic oils.
Design Features
Thanks to the integrated safety lid, this unit will prevent your contents from spilling during the transfer process. The D-shaped handle also makes pouring very easy.
Capacity
From as little as 12 ounces to as great as 51 ounces, you have a few options at your disposal in regard to how much coffee you want this press to make.
Ease of Cleaning
As is mentioned in the product description, this bad boy is dishwasher safe. If you wash by hand, though, remember to be delicate with the glass vessel.
Overall
The overwhelming amount of positive feedback that the Chambord has garnered says all you need to know about its quality. Just treat it with care and you should be golden.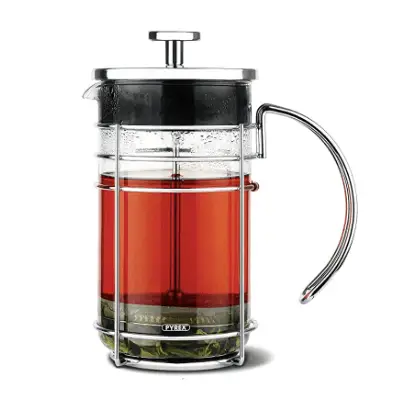 Thanks to the fine-crafted chrome housing, the durable and premium glass beaker, and the dual-filter system, the Madrid is one of the best coffee makers that you will ever come across.
Read more
Materials
As was mentioned, this is designed with both a premium glass beaker and a chrome housing which protects the beaker. Other than the chrome base, the beaker never comes in contact with any other surface.
Effectiveness
Due to the dual-filter system that has been integrated, the heat of your coffee and the overall flavor that is produced is going to be enhanced.
Design Features
In spite of the fact that the housing features Tri-Grips to prevent the beaker from slipping, there is a flaw in the lid. You see, moisture can get in-between the metal outer lid and the plastic inner lid and cause the former to rust.
Capacity
There is a decent variety of capacity options available for you to choose from. You have options for 11.8 ounces, 34 ounces, and 51 ounces.
Ease of Cleaning
What is nice is when you need to clean the glass beaker, it will easily slide out of the metal frame.
Overall
Yes, the lid is flawed and while some of you will find it ludicrous that this still is so high on this list, it pretty much knocks everything else out of the park.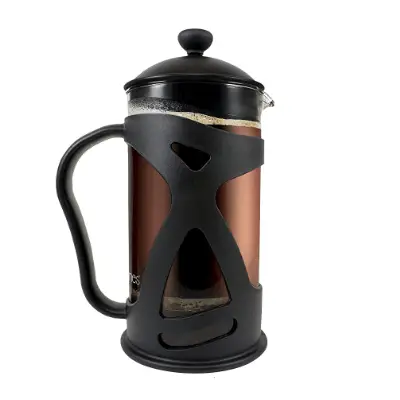 Of all the features that this bad boy is known for, perhaps none of them are greater than its durability. This is because it is designed with an outer shell that protects the thick glass pitcher.
Read more
Materials
Okay, so outside of the aforementioned insulated outer shell for protection, the actual main carafe is made of thermal shock-resistant borosilicate glass.
Effectiveness
Even though there are reviewers out there who have felt disappointed by the end result here, this is built with a three-piece stainless steel infuser filter system.
Design Features
First off, this is equipped with a durable, sturdy, and comfortable handle for pouring. Additionally, the plastic lid is BPA-free to ensure no chemical leaching takes place.
Capacity
This specific KONA model is 34 ounces and this is a fairly suitable size and will suffice for most users.
Ease of Cleaning
Here is the good news: this is dishwasher safe and is not too tricky to clean. About the only potential nuisance can be the glass carafe as it is hard to remove it from the frame.
Overall
Very few consumer products on Amazon reach the level of popularity and acclaim that this model has achieved. While not everyone has loved it, the vast majority certainly has.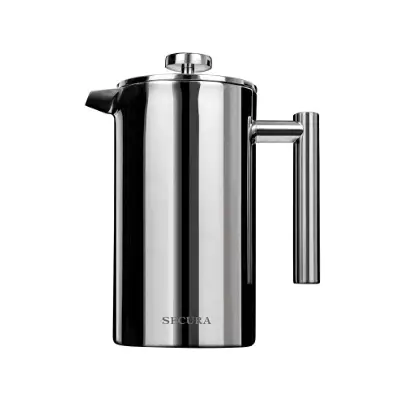 As tremendous as this design is, and it really is fantastic, there is one design flaw that is counterintuitive to one of the best features of this model, ironically.
Read more
Materials
Both the interior and the exterior of this coffee maker are made of top-quality 18/10 grade stainless steel and this is made to outlast other options.
Effectiveness
Both the double-walled construction and the three-layered stainless steel filter system work dividends for this model. One major flaw is that the lid never fully closes and this allows heat to escape.
Design Features
Integrated into this coffee maker are both a cool-touch handle for pouring and a top knob on the lid.
Capacity
If the 34-ounce option is not suitable enough for you, then you can also go with 50 ounces. Thanks to the minor price increase, this may be something you want to do.
Ease of Cleaning
Two key factors make this easy to clean. One, all the components are easy to disassemble and, two, these same components are dishwasher safe.
Overall
If not for one design flaw, this could have easily landed in the top three of this list. As it rests, it is a near-perfect design with one frustrating issue.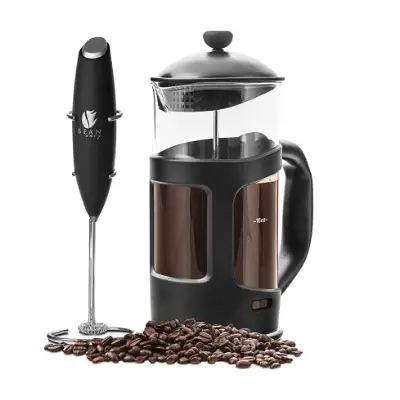 This is a nice "set" that comes with an extra filter screen and also a milk frother. Of course, some users have commented on longevity issues so do be aware of that.
Read more
Materials
Here is the deal. The carafe is made of borosilicate glass and it is hard to go wrong with that. Some buyers have noted that leaking and breaking can be issues down the road.
Effectiveness
All the internal components, including the screw design, plunger, and filter screens, are designed with 304 stainless steel to deliver improved consistency and flavor of your coffee.
Design Features
Both the silicone knob and the easy-grip ergonomic handle make handling this unit much easier. Also, and this is a bit of a bonus feature, there is a handy 16-ounce measurement marking on the side.
Capacity
The manufacturer notes that they found 34 ounces to be the perfect size for a French press machine. That is what you get here.
Ease of Cleaning
Although this is dishwasher safe, there are a few things to note. Firstly, only the lid and the vessel are dishwasher safe and only on the top rack.
Overall
What a nice package deal this is. Plus, it can also be used for other drinks outside of coffee and can even be a suitable means to juice fresh berries. At its core, it can deliver exceptional coffee.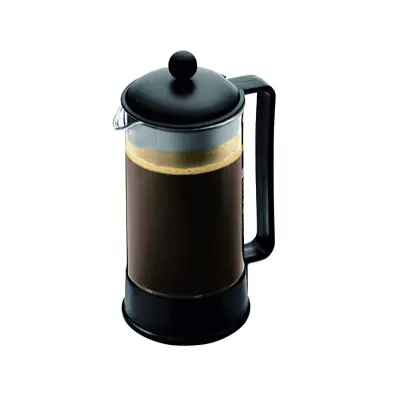 This has been touted as being one of the better affordable options on the market. As you can expect, though, you do need to be delicate with this unit as it can break if you are not cautious.
Read more
Materials
Yep, this beaker is made of borosilicate glass and is a bit delicate. Also, the included plastic component above the screen tends to wear down quickly.
Effectiveness
Despite the lower price, this comes with a high-end three-part stainless steel plunger that sports a mesh filter to help better extract the natural aromatic oils and flavors that come from coffee grounds.
Design Features
The body, handle, and lid are made out of plastic. Conveniently, this plastic is BPA-free.
Capacity
If you find that the 34-ounce capacity is not suitable enough for you, there is a larger option of 51 ounces (and even a smaller option of 12 ounces, if you wish).
Ease of Cleaning
Yep, this is another design that is dishwasher safe but even if you do not have a dishwasher installed it is easy to clean.
Overall
There is a reason why this option is affordable. No, it is not because it is a cheap piece of junk (otherwise it would not on this list). You do need to be delicate with it.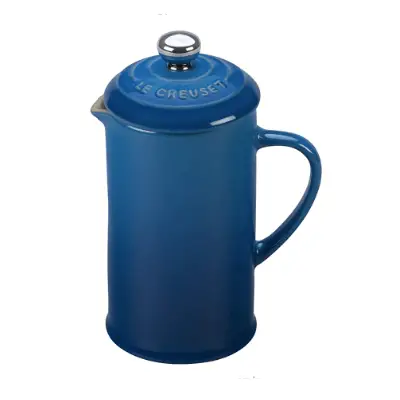 Now, this is a little bit of a different design. While most users will either prefer glass or stainless steel, Le Creuset designed their beaker out of stoneware which is both stylish and functional.
Read more
Materials
Instead of being made of glass or stainless steel, this main beaker is made of stoneware. Stoneware is going to block any moisture absorption and this will prevent cracking. Also, this is coated with enamel to resist stains and scratches.
Effectiveness
Now, this does come with a stainless steel plunger. But, this is where stoneware has its advantages. Due to its thermal resistance, it is safe for most uses and maintains an even temperature.
Design Features
The handle is molded onto the base and it provides an excellent means for pouring. However, be careful because you do need to hold the top when you are pouring.
Capacity
For some people, this just is not going to cut it. It is marketed as making 12 ounces but one user claimed it is really more like seven to eight ounces (which is not much).
Ease of Cleaning
While this is dishwasher safe, a key benefit to this design is the glazed interior which is pretty much non-stick. Due to this, cleanup will be made much easier.
Overall
Though this French press most certainly will not be suitable for more than one person, its stoneware construction and excellent design are perfect for casual coffee drinkers.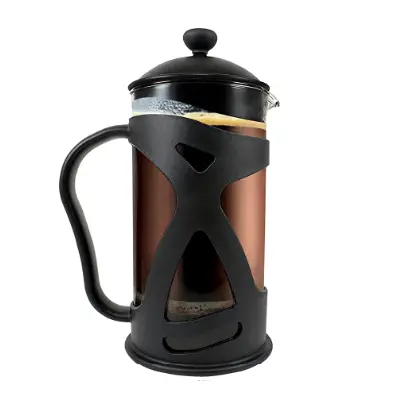 Only premium materials have been used to construct this coffee maker and it is also vacuum sealed. Some issues with the lid prevent this from ascending any higher on this list.
Read more
Materials
SterlingPro went with a heat-resistant borosilicate glass vessel instead of a stainless steel one. However, they do use stainless steel for other parts.
Effectiveness
Now, this is vacuum-sealed and the double-screen filters do help to remove all coffee grounds. However, the lid can be problematic and can end up leaking.
Design Features
With your purchase, you receive two extra replacement screens for your convenience. As for the design itself, the integrated handle allows for easy pouring and handling.
Capacity
This style comes with a capacity of 34 ounces. We say this because the other size options are for different styles entirely, so be aware of that.
Ease of Cleaning
When the time comes to clean this unit, the screens will come apart easily and you can place it in your dishwasher safely.
Overall
This right here is actually fairly identical to another design on this list. This one has the caveat of a potentially problematic lid, which is a bit of a disappointment.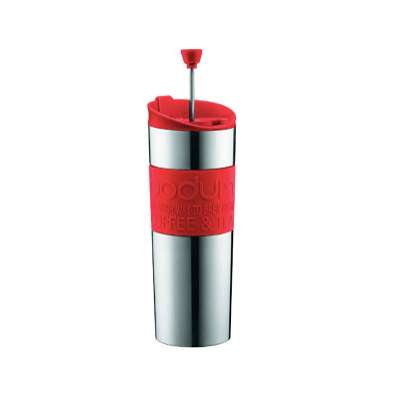 It is worth noting that some other models on this list can be used for camping. This bad boy right here is specifically optimized for both camping and backpacking.
Read more
Materials
Bodum actually designs their travel press in a few different materials. You have the standard stainless steel but if you did not want that, they also have an option for acrylic.
Effectiveness
When it comes to keeping your coffee warm, this vacuum-sealed and double-walled construction design succeed with flying colors. As some buyers have noted, the plunger does not reach far enough down in the main vessel.
Design Features
Because this is a travel-friendly design, it actually does not have a handle. Instead, it just has a non-slip grip base and also a spill-resistant lid. Although, this same lid can be randomly annoying to get on.
Capacity
For being a travel mug, this holds 15 ounces of coffee, which is not too shabby. You can brew the coffee in this as it is a French press.
Ease of Cleaning
This is pretty scientific when it comes to the cleaning process. It can safely be placed in the dishwasher or simply washed by hand.
Overall
Bodum is known for making some of the best coffee makers out there and it is nice that they provide an option for consumers on the go. While not flawless, it gets the job done.

Subscribe to our Newsletter