Best Hammock Chairs
In a Hurry? Editors choice: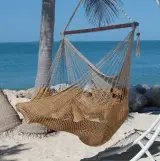 Test Winner: Caribbean Hammocks Hanging Chair

Are you looking for an extremely versatile, comfortable and durable solution to your outdoor or even
indoor sitting woes
? While more tailored to outdoor use, your solution may be a hammock chair. Indeed, these chairs are incredibly unique in their design and are truly one of a kind.
But, just because they are unique, it does not mean that all of them are the same. From model to model, you will see differing design techniques, materials, and styles altogether. The key is to become knowledgeable about it all to make the most educated purchase possible.
Thankfully, we will provide you with all the coveted information you will need. Plus, you can also take a look at what we believe are 10 of the absolute best hammock chairs on the market today.
Standout Picks
Criteria Used for Evaluation
Our Top Picks for the Best Hammock Chairs
1

. Krazy Outdoors Hammock Chair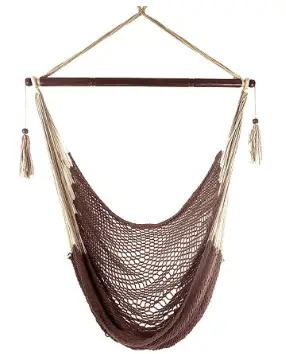 Above all else, this hammock swing chair is simply superbly comfortable. While there may be slightly more durable options out there, you just can't beat the comfort of this sucker.
Read more
Comfort
When compared to hammocks that are made with rope, this one is far superior in the comfort department. This is thanks to the natural feel of cotton construction.
Durability
It is worth noting that this model is far from deficient in quality. The varnished wooden bar is quite durable, and the 100 percent cotton rope (while somewhat thin) is well-made overall.
Size
The issue with some hanging swing chairs is they do not have enough room to be comfortable. Thanks to the large size of this design that is not an issue here.
Weather Resistance
To prolong the use of this model, you may want to either cover it or store it indoors when it begins to rain. Over time, the weather can start to deteriorate the cotton rope.
Features
Because this is equipped with a loop-end top, this can be hung from virtually anywhere. From indoors to outdoors, you can mount this bad boy anywhere you, please.
Overall
Thanks to the spacious interior and the natural feel of this hammock, it is completely optimized for comfortability. It is also well-made, overall, and deserves the number one spot on this list.

2

. Caribbean Hammocks Hanging Chair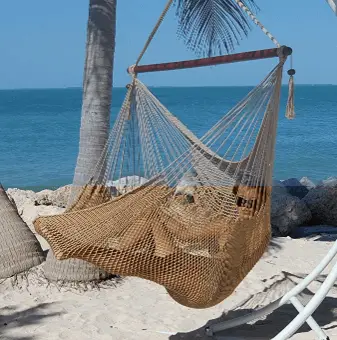 If you are a fan of old-school hammocks that are primarily designed with rope then you will most likely adore this next option. And, what many of you will love is the fact that it is oversized to provide you with ample room.
Read more
Comfort
Think again if you believe that a hammock of this nature can't be comfortable. This is designed with soft and comfortable polyester cords and is also quite spacious in its design.
Durability
Not only are the polyester cords comfortable to sit on, but they are also durable. Even better, they will hold up quite well in the elements.
Size
Indeed, this provides you with ample room because it is oversized purposely. It is 48 inches in width and gives you with extra shoulder room and enhanced space overall.
Weather Resistance
Even though the wooden spreader bar sports multiple coats of marine varnish, it has still been known to split. As such, you may not want to keep this out during inclement weather.
Features
For the record, the zinc-plated hardware and stand are not included with your purchase. On another note, this does come equipped with a built-in footrest.
Overall
What so many of you will appreciate about this model is its space. It is such a subtle feature but it makes a world of difference. Also, this is made with polyester cords, which is another perk.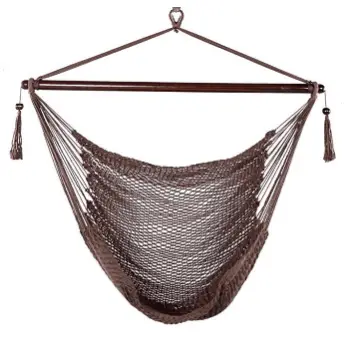 In addition to the fact that the soft polyester cotton blend makes this incredibly comfortable, it is also breathable. This is ideal if you ever want to sit in a hanging hammock chair when the outdoor weather is a little on the hotter side.
Read more
Comfort
Even though this is a little difficult to get in to, it is superbly comfortable. As noted, the texture feels nice, and it is breathable.
Durability
With regular use, this is unlikely to rip and tear. This is due to the polyester cotton is a woven rope that was utilized.
Size
For taller folks, this is not the best option because of its length. Some of you will not be comfortable when you extend your legs is.
Weather Resistance
Previous users have noted that they have successfully left this outside without issues. It seems to be optimized pretty well to handle the elements.
Features
In addition to the fact that this can be hung pretty much anywhere with the loop-end top, it can also be easily transported. This is thanks to its lightweight and foldable core.
Overall
From a quality perspective, this is a highly compelling option. Then again, it is not the best option for those of you who are tall.

4

. Best Choice Products Chair Swing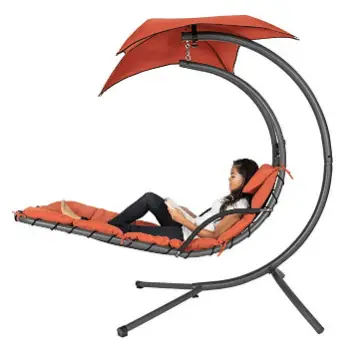 This is arguably the best example of a hanging swing chair on this entire list. What makes it special is the fact that it is almost a hybrid design of a hammock and a lounge chair.
Read more
Comfort
Above all else, this is just as comfortable as it gets. The two-inch foam-filled cushions and the fully-body support provided by this swing make it a joy to lie in.
Durability
While a few users have received this hammock chair with damage, it is wonderfully designed. It sports a heavy-duty powder-coated frame that is going to hold up extremely well over time.
Size
If you are taller than six feet, your feet may hang off of the edge of this chair. If that is not something that will be okay for you, you may want to pursue other options.
Weather Resistance
The same powder-coated steel frame that was just mentioned also protects the metal from corrosion and rust. And, yes, this makes it ideal to handle the outdoor elements (to an extent).
Features
One of the most important features of this design is the included 46-inch umbrella. Past the fact that it protects you from the sun, it can be removed if need be.
Overall
While this is not exactly a portable option, it is literally incredible. Its combination of comfort and build quality is through the roof.

5

. Sunnydaze Hammock Chair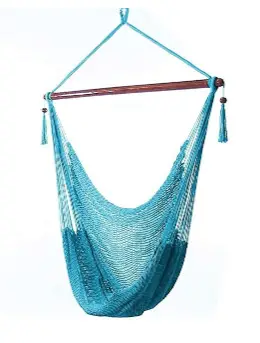 The fact that is made of soft polyester is beneficial for a few reasons. Firstly, polyester itself is a durable synthetic fabric. Secondly, it ensures that this specific hammock chair is super comfortable to sit in.
Read more
Comfort
As just noted, the soft polyester central core of this hammock makes it comfortable to sit in. It has been tightly woven and, as a result, is both durable and comfortable.
Durability
Past the tightly woven polyester fabric that was just alluded to, this is also designed with a wooden spreader bar. This is an ideal combination of strength for sure.
Size
At 47 inches in width, 36 inches in depth, and 48 inches in height, this is going to be optimally sized for most of you reading this right now.
Weather Resistance
Now, the polyester rope is not going to have issues with the weather, but the same can't be said about the spreader bar. A few users have noted that it has chipped on them.
Features
First off, the loop-end top allows you to mount this just about anywhere. Also, just for the record, this can be bought with or without a stand.
Overall
It is not difficult to see why so many previous users have adored the design of this hammock chair. From top to bottom, it is merely one of the best options available for you.

6

. Best Choice Products Hammock Chair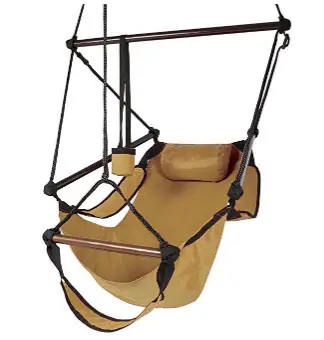 To be honest, this is almost a mix of a hammock chair and a regular camping chair. It is made of weather-resistant nylon and comes with both armrests and a cup holder.
Read more
Comfort
Unlike other hammock chairs, this is not made of rope and is made of fabric. This is where it acts like a camping chair. Oh yeah, this also comes with an adjustable pillow.
Durability
All in all, this is built incredibly well. Whether you want to point to the 600-denier double-layer nylon fabric, hardwood oak dowels, or polypropylene supportive rope, it does not matter.
Size
For most people, this seat is going to provide enough room. Without question, however, it is a one-seater and should be treated as such.
Weather Resistance
Now, the footrest, pillow, and arms are not exactly UV-resistant. Then again, the 600-denier nylon fabric is weather-resistant and can handle the elements.
Features
Overall, there are several ropes that you have to adjust and this can get a bit annoying. Additionally, this comes with a footrest, armrests, and also a cup holder.
Overall
This is proof that there are hammock chairs that are not primarily made of rope. If you have been looking for something like this then it is your lucky day.

7

. Hammock Sky Cotton Chair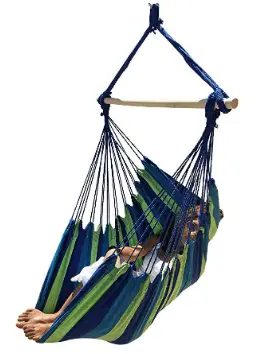 As with most other hammock chairs, this model is beloved by hundreds of consumers because of its versatility. And, it is extremely lightweight but can support 75 times its weight.
Read more
Comfort
Alright, so here is the deal; this chair is tightly woven with cotton thread. While cotton is naturally breathable, various users have noted that this chair is not. Then again, other than that, it is comfortable to sit in.
Durability
At four pounds, this can support an incredible 300 pounds of weight. The seams could have been more reinforced at both the top and bottom, but that is about it.
Size
This is one of those models that almost cocoon you. It makes it feel much smaller than it is, so keep that in mind.
Weather Resistance
Even though you still may want to store this indoors at certain times, it can be hung outside if you want it to.
Features
Though this is relatively simple in its design, its most significant feature is the fact that it can be hung from virtually anywhere.
Overall
Some of you will like the feeling of being cocooned while others will not. Clearly, you can understand which demographic will be appealed to a design like this.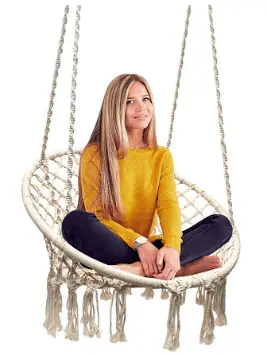 Alright, so this model is a little different than the other ones on this list. It is suitable for both indoor and outdoor use but is better geared for teens and kids, quite frankly.
Read more
Comfort
Yes, this is tailored to smaller adults and teens. The reason is for adults; this is going to be somewhat uncomfortable on the back of the legs.
Durability
The 100 percent handmade cotton construction is going to hold up well over time. It helps that this is a macramé swing (which is a durable form of textile).
Size
As alluded to, this is a little on the small side. At only 24.5 inches in width and 31.75 inches in length, it only will be too small for medium-to-large-sized adults.
Weather Resistance
An interesting note, based on one user's experience, is that this may attract squirrels. In spite of this little random anecdote, this will hold up well in inclement weather.
Features
If you wanted to hang this from the ceiling, you would need to do so with a chain or something similar. The ropes are simply too short to hang this direct from most ceilings.
Overall
This is different and it is always good to have variety, right? It is on the small side but hey, it is well-made and comfortable for the right people.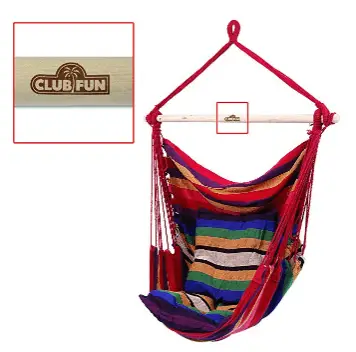 Though this is advertised as being both an indoor and outdoor model, it really is best to be used indoors. Or, if you want to use it outdoors, ensure it does not get exposed to heavy rain.
Read more
Comfort
In spite of the thin pillows, this is still pretty comfortable overall. It is somewhat better, however, for smaller adults and teens.
Durability
Because this is built with cotton and polyester, it is not going to break down from wear and tear very quickly. Overall, this hammock can support up to 265 pounds.
Size
As you probably determined, this chair is on the smaller side. The cushions, in particular, are quite small.
Weather Resistance
As noted, this is only suitable for indoor use. If you do use it outside, ensure you store it right after. The reason is the utilized materials are quite absorbent.
Features
What is careful about this model is the fact that it can be rolled up easily. When rolled up, it can then be stored away or transported with ease.
Overall
If you are looking for an indoor hammock chair, then this may be the lucky ticket. It is on the small side, however, so do remember that.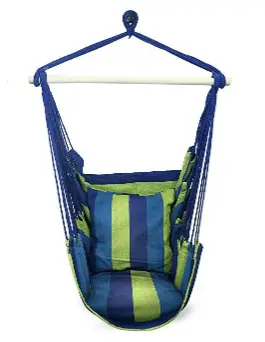 Bar none, this is one of the most popular hammock chairs on the market. It is flawed in some respect but that is to be expected as, what hammock chair out there is not?
Read more
Comfort
Two-seat cushions and back support are provided to you. Speaking for the pillows, they are a little small. They are comfortable, though, so that is nice.
Durability
As with many others, this sports a cotton and polyester core. It can support up to 265 pounds of weight, and the fabric will hold up well over time.
Size
Again, as some other users have noted, the cushions are on the small side. The chair itself, though, does measure 40 by 50 inches and is adequately sized.
Weather Resistance
From the photos, you can see that this is advertised as an outdoor chair. However, if you let it out in the rain, the fabric is going to develop mildew if not dried properly.
Features
Overall, this is a pretty simple design. If you want to transport it with you (such as for camping), you can easily do so, however.
Overall
The sheer volume of positive feedback that this model has received is worth mentioning in and of itself. For the most part, you can see why this is the case.

Subscribe to our Newsletter