Best Smart Glasses
In a
Hurry? Editors choice: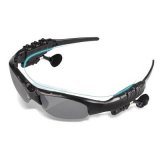 Test Winner: TechKen

Wearable tech is something that is still quite in its infancy in terms of development, but there are some brands out there on the market that are trying to get a jump on things. There are few companies out there that are making the ideal designs that reflect your phone screen right into the lens of your glass, and many of these designs may cost you a lot more than what you paid for your phone. What we did find, however, are designs that perform basic tasks such as listening to music, answering calls, and monitoring workouts to send infor right to your phone. Users that are out on the trails or on the go love them because they serve very basic functions while also offering great eye protection. In this guide you will find some of our favorite picks for current smart glasses.
Standout Picks
Criteria Used for Evaluation
Style
Style is something important to consider, because this is something that you are going to wear on your face.
We wanted to select styles that were functional, of course, but we didn't want to picky unnecessary bulky options that would make you look like Robocop (unless that's something that you are into). For the most part, users typically want something that it going to look like their everyday shades without adding too much bulk. While it is impossible to fit all of that tech into a normal sized frame, there were options that could actually pass as normal eyewear. We also wanted to select styles that gave the user some options on how to wear them. We were drawn to design that came with packs of multiple packs of lenses that were interchangeable. This will allow you to pop in lighter lenses when out on the slopes, or clear lenses when you are working inside.
Features
At the end of the day, you are in it for the features.
The frames could be a little weird and awkward, but as long as it is able to deliver results, you probably won't mind the look as much. We wanted to make sure that we selected designs that were able to tackle the most amount of features while still being functional, practical, and useful. One of our favorite features that we found a few companies were able to pull off quite well was the camera feature. Once it is synced to your phone, a small camera in the side of the frame is able to record all of your adventures in a first person perspective that would send it directly to your phone so that you can easily upload it to YouTube. Things like wirelessly streaming music, answering phone calls, or voice dialing people on your contact list were also some of the big features that we considered. There were a few companies that we found that also seemed to really master very basic display screens that were able to relay important information such as heart rate, time, and miles traveled, and then send off that information to your phone.
Power Source
We wanted to make sure that these devices offered a quick and easy way to charge it up before heading out for the day.
It seems that we are all accumulating more and more devices that absolutely have to be charged before we start our day, so we made sure that the devices that we selected were going to be quick and easy to charge. One way to ensure that it is going to be easy to to select options that have a universal charging method. USB charging cables are going to be the best way to ensure that you get a good charge, and that you will always be in close proximity to a USB port. Plus, if you ever lose the charging cable that came with your purchase, you can always just replace it with one of the myriad of similar cables that you likely have lying around the house. The bare minimum number of hours of use that we found with these designs was about a constant 2 hour run time. There were some designs out there that were actually able to hold a charge for 4-6 hours, and at the high end were products that could run for about 8 hours.
Sound Quality
Most of the options out there offer a speaker set up of some kind, so we took a look at the quality of the sound produced.
We aren't going to sugarcoat this- the sound on most of these devices are not going to be specktacular. Most companies do not opt for the earbud design, because it blocks out much of the exterior sound. While this may be an ideal feature if you are sitting at work and trying to block out the sound of chatty coworkers, it's not going to be ideal for cycling on a busy road. Most options out there try and not obstruct your ear at all because if you are driving or running a busy trail, you are going to need to be in tune with the world around you. Due to this design feature found in model models, it means that the sound isn't going to be as rich, and it is also not going to get quite as loud. If you really want to make sure that you get something that is going to have better sound, we suggest selecting an option that uses bone conduction technology. This is going to give you a better sound, but it can come in at a higher price point than most.
Value
As always, we want to save you some money when we can, but we want you to get the most bang for your buck.
From what we found, the price of these devices is a little all over the map. At the low end of the price spectrum are the basic and bulky models that perform all of the basic functions such as streaming music and taking calls. They might not look the coolest, but they are functional and affordable. Next in line is the medium priced options. These are typically a lot thinner, sport polarized lenses, and produce a few more functions such as taking videos and photos. At the high end are products that have a screen that is displayed in the lower part of your vision. These products typically have a price tag that is going to rival the price of your phone, and sometimes have flawed or counterintuitive design features that may make it difficult to use.
Subscribe to our Newsletter