Best Vegetable Steamers
In a Hurry? Editors choice: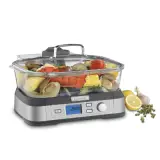 Test Winner: Cuisinart STM-1000

Everyone who is reading this is fully aware that there are methods out there that make eating
healthier
easier. Sure, everyone needs to consume the proper amount of fruits, vegetables, and nutrients (among other things) throughout the day. But, the manner in which you
cook
your meals and snacks can also go a long way to determining their health factor. And, one of the healthiest cooking methods that are known to man is steaming. A
vegetable
steamer, which is what will be focused on today, indeed implements this method of cooking. However, coming to the conclusion that you want to invest in one is only step one. Because, as you will soon find out, buying one is an entirely different animal.
Standout Picks
Criteria Used for Evaluation
Features
These devices may seem simple at their core but that does not mean there are not design features to look for.
As a buyer, you need to ask yourself a question right from the get-go. Do you want a vegetable steamer that is electric or one that is designed to be used on your stovetop? The difference is vast between the two. Stovetop models are pretty simple in their design and are literally just inserts that fit into your existing saucepans filled with water to simmer. However, electrical models are more advanced and can be built with a plethora of different design features. In fact, that is what this section is all about, the design features. As this applies to electrical models only, if you are interested in stovetop designs then you can pass over this section if you desire.
To begin, a mandatory feature for a lot of you is going to be a timer. While the timer will not always be 100 percent accurate, it is a great tool to prevent overcooking. Also, after the timer has stopped, most systems will be designed to shut off afterward. Of course, this leads to another feature and that is the keep warm function. This comes in handy when you want to keep the items inside but do not want them to steam any longer. Oh, and some models will come equipped with preprogrammed functions to make your job even easier.
Capacity
You need to buy a model that is large enough for your needs, simple.
There are two main areas that you need to pay attention to here. Firstly, understand that not all models will come with multiple tiers. Of course, you have stovetop inserts and their capacity will be dictated based on their size and what pans they can be inserted into. As for electrical models, these differ too. Some designs will simply consist of one giant pot. Typically, these same models will be designed to serve other purposes outside of steaming (such as cooking rice). But, there are also some steamers that implement multiple tiers. Sometimes it is two or three but no matter the amount, they literally stack on top of one another. The benefit here is you can separate certain food items while they steam.
Now, the second area is the actual capacity rating. This will typically be presented to you in either quarts or liters. Given that one liter just about equals one quart (with a liter being slightly larger), you can compare them quite easily. For the most part, capacities will range as small as two to three quarts to as large as 10 liters. If you plan to feed a larger family with your steamed greatness then you may want to shoot for 10-plus liters (or around there) and possibly a three-tiered design.
Materials
Look for models that are made of high-quality materials to ensure long-lasting performance.
Anyone who has ever worked in the kitchen or anyone who spends a lot of time in the kitchen understands that high-quality tools and appliances are a necessity. Well, vegetable steamers are certainly not exempt from this notion and that means you need to assess their durability. In fact, it is not even their durability as much as it is the materials that are utilized. The most common materials you will see are plastic, glass and metal. Now, most of the time, stainless steel will be used for the base (if the unit is electrical). Stainless steel is also a popular material for stovetop models. But, what about the bowls and compartments on electrical models? Is plastic or glass superior?
The reality is glass compartments can shatter if they are dropped from a sustainable height. Then again, glass tends to look better and degrades very, very slowly (we are talking about centuries here). Also, you do not need to worry about exposure to BPA. On the flipside, this can be an issue with plastic. This is why it is imperative for you to ensure that the plastic containers are BPA-free. But, plastic is extremely popular (as you can see on this list) and granted it is hard and free of BPA, it should be fine.
Ease of Use
Who really wants to own a kitchen device that is hard to clean?
Whenever you are dealing with items that are used in the kitchen, this section right here will play a major role. Guess what, the same goes for vegetable steamers. Now, because this method of cooking does not utilize any oils of any kind, cleanup is generally not that difficult. Yet, things can still get messy (depending on what you steam) and it may be in your best interest to look for models that are dishwasher safe. In specific, look for the containers themselves to be dishwasher safe. Of course, if you do not have a dishwasher installed in your home then this will not be a concern for you in the slightest.
As for the bases (referring to electrical models), clearly avoid placing them in the dishwasher. Just stick to a damp cloth to wash them and even avoid submerging them in water (you do not want to mess with the electrical components).
Accessories
Not too many accessories will be in order here but some sellers will include a few.
Is there anything better than when you receive something extra or something you did not think you would be getting? In other words, is there anything better than receiving free items? Well, that is what this section revolves around. There will be instances where sellers include some additional accessories with your purchase and when it comes to vegetable steamers, most of the time it will be rice bowls. Standard accessories, such as the food baskets, a drip tray, and even a water reservoir, are all but expected to come with your purchase. But, sometimes that extra something can be really special. As far as what a rice bowl is, it is literally a dish that is used to serve rice. You may have no use for it but, hey, it sometimes will be included with your purchase (it depends on the seller).
OUR TOP PICKS FOR THE BEST VEGETABLE STEAMERS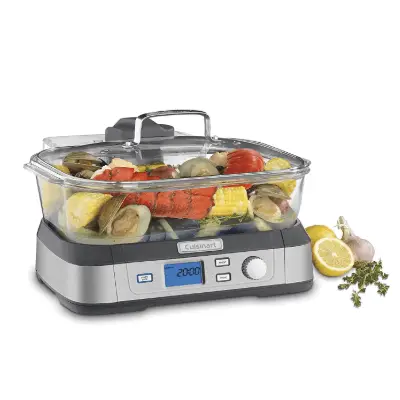 As opposed to most of the other models on this list, the STM-1000 from Cuisinart integrates a glass cooking pot. However, it does not sport multiple tiers, for the record.
Read more
Design Features
There are five preprogrammed food settings that you can choose from as well as a 60-minute countdown timer, a start/stop button, and pause and reheat buttons.
Internal Capacity
Now, this is merely one large cooking pot and it can hold five liters of food. It is large enough to feed a few people when filled with meats and vegetables.
Materials
Although there are some plastic components that make up the STM-1000, the main pot is made of glass and the rim is made of stainless steel.
Ease of Cleaning
The main cooking pot is dishwasher safe so when the meal is complete, you can place it inside your dishwasher for easy cleanup.
Accessories
Outside of the actual main glassware, this comes with a stainless steel tray and also a one-liter water reservoir.
Overall
From a quality standpoint, the STM-1000 is simply the best at what it does. If you are looking for the ability to separate your foods and vegetables, though, there are superior options out there.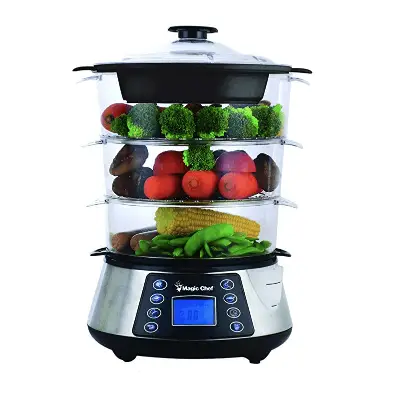 Of all the models on this list that implement multiple tiers, this right here is arguably the most advanced out of all of them. Then again, you are stuck with the preprogrammed times which is a bit limited.
Read more
Design Features
It is really cool that this comes programmed with seven easy-touch cooking settings. However, you can't physically select a custom time and this is an unwarranted limitation.
Internal Capacity
With three different tiers, you can steam all kinds of different delectable foods and separate them while doing so.
Materials
The baskets themselves are made of hard plastic. However, the actual unit itself is made of stainless steel which is not only durable but also elegant, as well.
Ease of Cleaning
Each and every one of the removable components are dishwasher safe. Simply rinse out each of the baskets and allow the dishwasher to do the dirty work.
Accessories
In addition to the food baskets that come with this model, you also receive a rice bowl free of charge.
Overall
Some users may not be able to get over the inability to program custom times. This is not detrimental to the performance of the appliance, though, so be aware of that.

3

. Hamilton Beach Digital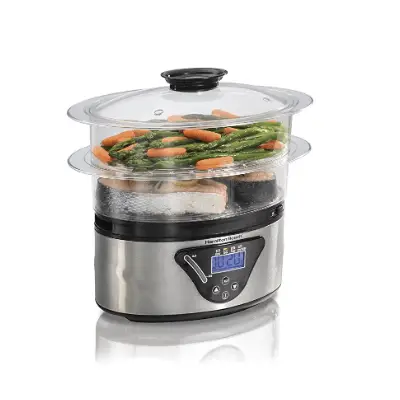 As this is a list focused on a kitchen appliance, it should not be a surprise to anyone that Hamilton Beach is on it. They have become a staple brand for kitchen appliances due to products like this.
Read more
Design Features
A digital control panel is integrated for operation, for the record. Among the features you will find are a warm setting, a delay start timer (which will allow you to preload it and then start it later) and the digital timer.
Internal Capacity
This is a two-tier model that can hold 5.5 quarts of food. There is also an interior divider that can be removed to fit larger foods and meals when you need to.
Materials
The main base is stainless steel but the bowls are made of plastic. It is pretty durable plastic that is BPA-free. But, daily use of this machine can wear down the plastic quicker.
Ease of Cleaning
It is important to note that only the rice bowl and the drip tray are deemed dishwasher safe here. The bowls themselves should be hand-washed and, thankfully, doing so is fairly easy.
Accessories
Yes, a rice bowl is indeed included with your purchase. Along with the drip tray and the two food containers, this is a nice package deal.
Overall
You really have to admire the design from Hamilton Beach here. They manage to combine stainless steel with plastic to construct a vegetable steamer that will make you actually want to consume healthy foods.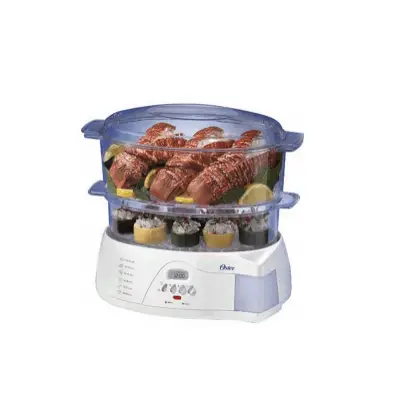 There are a lot of reasons to love this design from Oster. Then again, there is also one major flaw that could be seen as detrimental to the entire design.
Read more
Design Features
Now, this does sport a 95-minute timer, a delay timer up to 12 hours, and is also powered via its 900-watt motor. However, the LCD display has no backlight and can be really hard to see.
Internal Capacity
Overall, around six quarts (6.1 quarts, to be exact) of vegetables and other foods can be cooked inside the two containers of this model (it is two-tiered).
Materials
The build quality of this appliance is not going to blow you away, let's just say that. In fact, the plastic that is used for the actual cooking chambers is quite thin.
Ease of Cleaning
Even if you do not have a dishwasher installed in your home, most of the components here will be easy to clean. Of course, most of the items are dishwasher safe, anyway.
Accessories
Included with your purchase are the two bowls and also eight egg holders for cooking eggs. Also, you receive the external water-fill system (that sports a see-through reservoir).
Overall
The plastic is thin and the digital display is not well-designed. However, at the end of the day, as a steamer, this performs extremely well and comes with several features.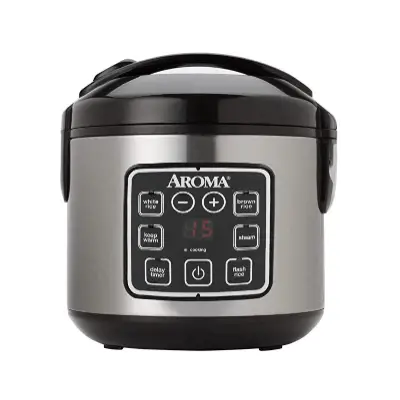 This is not your traditional vegetable steamer and really is a two-in-one machine. It is also a rice cooker and with its digital control panel, you have options at your disposal.
Read more
Design Features
Aroma Housewares definitely includes all the bells and whistles here. Their model sports digital controls with preprogrammed functions for keep warm, white rice, brown rice, delay timer, flash rice and steam.
Internal Capacity
Now, this is one large cooking pot and is not a multiple-tiered design. To give you an idea of its capacity, it will yield eight cups of cooked rice.
Materials
Admittedly, the build quality could be better for this model. Still, it combines a stainless steel exterior with a Teflon-coated aluminum interior to provide a stellar vegetable steamer.
Ease of Cleaning
The interior pot does sport a nonstick coating but cleaning it can still prove to be an annoying task (as a few reviewers have alluded to).
Accessories
Outside of the actual appliance itself, you also receive a steam tray, serving spatula, rice measuring cup, and exclusive coupons and recipes for specific types of rice.
Overall
If you are looking for a steamer and nothing else then you may feel this is a bit unnecessary. However, on the flipside, this versatile machine is perfect if you want a little rice with your steamed vegetables.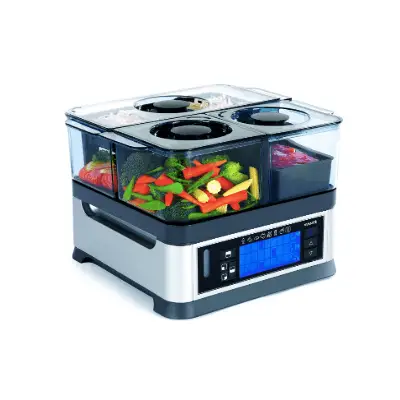 You want to talk about innovation and uniqueness? Well, look no further than to this model from Viante. It sports three individual compartments all with separate temperature and timer controls.
Read more
Design Features
Overall, the CUC-30ST does take some time to get used to. But, each individual food compartment can be programmed individually (both the time and temperature).
Internal Capacity
All in all, this sports an internal capacity of 10 liters and (as mentioned) has three individual compartments that can be used to steam foods.
Materials
What would have improved this design is a little more glass and metal. There is a lot of plastic and, in today's world, that may not cut it for some of you.
Ease of Cleaning
Although this can produce quite the mess, each of the accessories is dishwasher safe (making the overall process much easier if you have a dishwasher).
Accessories
In addition to the three separate food compartments that come with your purchase, a rice bowl is also included (which has a capacity of one-liter).
Overall
This is about as unique as it gets and the individuality of this model is a welcome sight. Still, the overall construction is on the cheaper side and hurts the overall value a bit.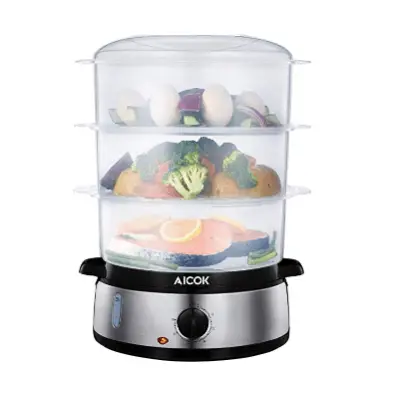 With three tiers in all, you can cook a plethora of food items with this appliance. While the baskets are made of plastic, it is BPA-free plastic to ensure no issues with chemical leaching.
Read more
Design Features
This is powered via an 800-watt motor and comes with an automatic shut off feature (up to 60 minutes).
Internal Capacity
With three tiers in all and a capacity of 9.5 quarts of food, this is one of the larger models on this list. If you are looking to feed larger crowds, this is more up your alley.
Materials
While the main base is comprised of stainless steel, the food containers themselves are made of plastic. But, do note that this plastic is BPA-free to prevent chemical leaching.
Ease of Cleaning
Each of the containers can be placed in the dishwasher. As for the main base, stick with a soft cloth and avoid submersion in water.
Accessories
The main base of this unit will only accept the first basket and this is a bit of a design flaw. If you wanted to use one of the larger baskets, you would have to do so with the first basket installed at the bottom.
Overall
As great as this design is, there is little to no versatility offered with it. For some of you, this will be a deal breaker. However, this is an excellent option for larger families.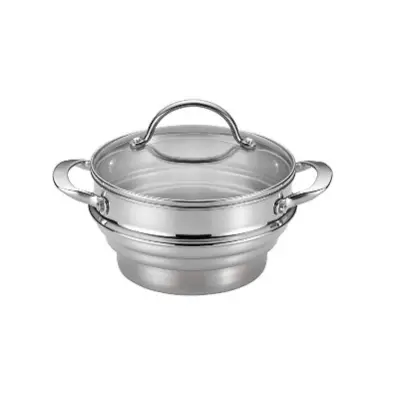 Now, this option is a little different. Instead of being an actual appliance, this is actually merely an insert that fits specific kinds of cookware. When used properly, though, it can be a highly sufficient steamer.
Read more
Design Features
The main features of this model are a shatter-resistant glass lid, which provides a nice snug fit, and also a handle that is dual-riveted to provide a more comfortable grip.
Internal Capacity
Here is the deal; this is going to fit straight-sided and tulip models of two-quart to four-quart cookware. With a four-quart piece of cookware, this can yield possibly over two servings.
Materials
Although this is made of durable stainless steel, some buyers have noted the construction is quite flimsy. Still, it is stainless steel and not plastic.
Ease of Cleaning
When the cooking has concluded and it is time to clean up the mess, you can stick this bad boy in the dishwasher if you have one installed in your home.
Accessories
This is really just an insert and you do not really receive any additional accessories with your purchase.
Overall
Due to the fact that this is not a stand-alone model, it may not be the answer for some of you. But, if you have the compatible cookware then this insert can yield some scrumptious steamed meals.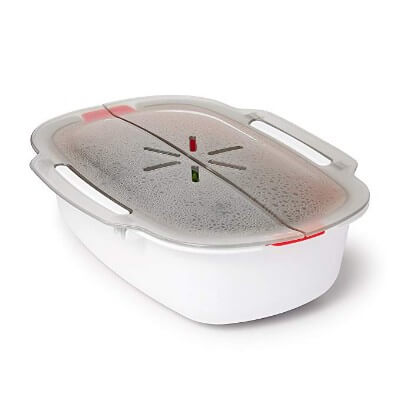 This steamer from Oxo comes in at an affordable price and with a user-friendly design. It is the only option on our list that is intended for microwave use. The only negative about this product is the fact that there is only one tray, but that might actually be what stand out to some.
Read more
Design Features
This is one of the more simple designs on our list. Unlike the others, this dish is specifically designed for the microwave. The handles of the dish don't get hot which makes it easy to take out of the microwave without worry. Also, the vent is adjustable so that you can be in control of how much steam escapes.
Internal Capacity
While the exact capacity isn't listed, the internal dimensions of the dish are 9-inches wide by 11-inches long and 3-inches high. However, reviewers have commented that it is a good size for 3-4 servings of vegetables.
Materials
This steamer is made from polypropylene, a strong heat-resistant plastic. With proper care, this product should last for a long time. Oxo also offers a great warranty and provide great customer service.
Ease of Cleaning
When you are finished prepping and eating your steamed meal, the plastic trays can be placed in your dishwasher.
Accessories
This simple steamer comes with the inside steaming tray and the dish itself. As simple as this sounds, it's really all you need.
Overall
This is a great steamer that works well, is durable, and doesn't take up too much space in your cabinet. If you're looking for something simple and can cope with the fact that it only has one tray, this is a great option.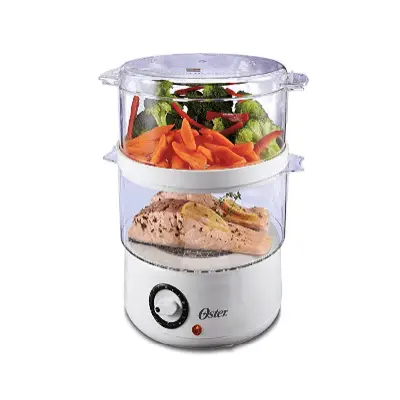 This is another option from Oster and this is one of the more affordable options on the market. It did not secure a spot on this list, however, for that reason alone.
Read more
Design Features
The integrated dial allows you to set the time from zero to 60 minutes. After the timer has reached its end, the system will shut off to prevent over-steaming.
Internal Capacity
Two, five-quart bowls come with this steamer. As you may have guessed, this means that it is a double-tiered design meaning you can cook your foods separately.
Materials
You really do get what you pay for here. For the price point, it should be no surprise to anyone that the plastic construction is a bit on the fragile side.
Ease of Cleaning
All the bowls are dishwasher safe and when you need to, merely place them on the top rack and allow all the work to be done for you.
Accessories
Outside of the two plastic baskets, there are not too many additional accessories to speak of.
Overall
If you are looking for an affordable option that is designed by a trusted manufacturer, then this is a solid option. It is not a top-end design but that was never the intent.

Subscribe to our Newsletter