Best Yogurt Makers
In a Hurry? Editors choice: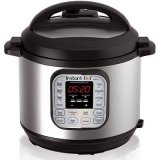 Test Winner: Instant Pot DUO60

Yogurt makers are an incredible product for many reasons. First, nothing beats homemade products with a reduction in preservatives and processed tastes. But most importantly, the health benefits. Yogurt makers create healthy yogurt that supports a person's
digestive system
and overall health. Studies have shown that yogurt can help prevent colon cancer, assist in alleviating constipation, and improve overall immune system functions. What that says is churning cultured milk is not only easy but incredibly beneficial to human health!
Standout Picks
Criteria Used for Evaluation
Effectiveness
Most of these models will be designed to create optimal results. But, with advanced technology and engineering, some will be better than others.
It should not be too much of a surprise to learn that a yogurt maker's effectiveness is so vital. Because, if the machine you invest in is not capable of producing good results, why waste your money on it, in the first place? But, to assess the performance of one specific model, you need to first understand how the entire process works. You see, making yogurt is a time-consuming process and all these devices will be doing is heating up the ingredients at an optimal temperature.
Most of the time, the unit you invest in will need to ferment at a stable temperature somewhere between 110 degrees and 115 degrees Fahrenheit. You will learn how to test this temperature in a little bit as this heat-up process is vital to ensuring optimal results. As for other elements that will affect the performance of a specific design, the motor should be heavy-duty, the bowls or jars should be insulated well to not let heat escape, and whatever components that are being used to mix should be high-quality. You can also look for other technologies, such as a built-in cooling system, as well.
Features
This type of kitchen applaince may not have as many features as others, but the features they possess are still very important.
Some kitchen appliances are overflowing with design features but, to be honest, yogurt makers are not that type of machine. Clearly, assessing the features is still important as this criterion makes an appearance in this guide. Yet, it may not be as important as it is for other machines such as slow cookers and food processors (as an example). Still, there is a couple of important design features that not all designs will have that you may want to be included in.
Firstly, how about an integrated timer? No, despite what you may initially think, not all models will have this implemented. With a digital timer at play, you can set the time you need your ingredients to ferment. Following up on this is an auto-shutoff feature, which is the second bigtime integration. Basically, what an auto-shutoff feature is going to do is prevent your yogurt from over-fermenting. Lastly, and this is a basic feature that some designs omit, look for an integrated on/off power switch. Without this, the unit will simply start when you plug it into an electrical outlet (and only stop when you unplug it).
Ease of Use
Typically, these devices are simple to use with basic interfaces. In this case, that is not such a bad thing.
Anyone who knows about kitchen appliances out there understands that this criterion and the last go hand-in-hand. If a system is loaded with a plethora of design features, it means that the interface will also be jam-packed with functions. However, without design features, there really is no reason for an interface to be implemented. It is then easy to draw the conclusion that for the units that lack features, they will also lack much of an interface. For some consumers, though, this can be positive. You see, some interfaces can be overly complicated and non-intuitive. Sometimes, to the point where operating the unit becomes more of a hassle than it is worth.
But, as mentioned above, design features exist with yogurt makers and when they are implemented, they will be accessed via the interface. In this case, look for simplicity and possibly a digital display for convenience. While some systems will implement one-touch controls, most basic units will simply sport buttons but keep an eye out for this, as well.
Use
While this is all about convenience, it really is all about how easy these are to clean and their noise produced.
We have reached the point in this guide where something critically important needs to be addressed. But first, let's ask a quick question. Who out there enjoys cleaning the kitchen? For the purposes of this guide, let's limit that question to just the dishes. Admittedly, some of you may actually enjoy doing so but only if it is made easier. Do you see where this is going? Yogurt makers can either be a pain to clean or very easy to. Do yourself a favor and shoot for the latter. So, look for containers, bins, and various other components to be dishwasher-safe (if you even have a dishwasher).
Of course, this is also where having a single container can be a detriment. If you are constantly returning the container to the refrigerator and do not clean it for around a week or so, it can be a chore. With individual jars, this is not so much of an issue. But, past the cleaning, you may also want to prioritize models that are quiet in operation. Given the fact they need to run for several hours, keeping the noise to a minimum is vital.
Capacity
This can go a long way to determining your model of choice. Size is everything and of course, here it is too.
The last major area of assessment for you is with the capacity. And, this is largely based on your needs and how many people you will be feeding. If this is me, myself, and I deal, you may only require a small amount to suffice. But, remember, you can always leave it in the refrigerator for later consumption. Yet, if you know you will be feeding your entire family when you make it, shoot for a larger capacity that is capable of doing so.
Most of the time, these units will be measured in quarts. But, even if they are not and measured in liters or ounces, for example, you can convert to whatever unit you feel comfortable with. For consistency purposes, to compare two capacities, you may want to do this to make it easier. As an example, let's look at one unit that can hold four quarts and another six jars of seven ounces each (42 ounces in total). There 32 ounces in a quart so the four-quart model would have 128 ounces.
Top 10 Yogurt Makers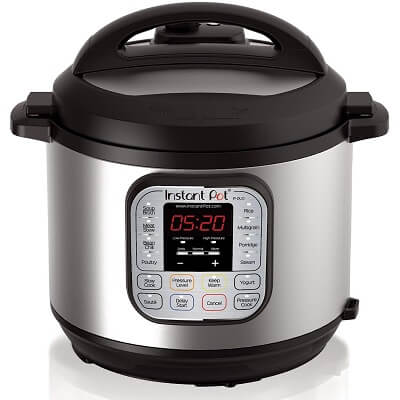 This right here is an example of a kitchen appliance that can do much more than simply make yogurt. In fact, it comes equipped with 14 built-in smart programs and can function as seven different appliances.
Read more
Effectiveness
This is an all-in-one system and it functions just like that. But, what makes the DUO60 effective is its 3rd generation technology and its microprocessor that monitors various cooking elements to ensure optimal results.
Design Features
As mentioned, this is equipped with 14 smart programs. Of them, some that are included are slow cook, steam, pressure cook, rice, porridge, soup, and yogurt.
Interface
The interface of this unit is going to take some time to get accustomed to, let's just say that. Yet, the control panel consists of simple one-touch controls that allow you to program the system.
Convenience
What is nice is there are 10 implemented safety mechanisms in this design and they will help eliminate common errors. But, Instant Pot could have made the silicone ring easier to remove for cleaning.
Capacity
There are multiple size options that are available for you to pick from. Instant Pot gives you the options of either a three-quart, six-quart or eight-quart unit.
Overall
If you simply want to just make yogurts, then this could be seen as an excessive appliance. Yet, if you know you will utilize some of the other functions, why not just go all out?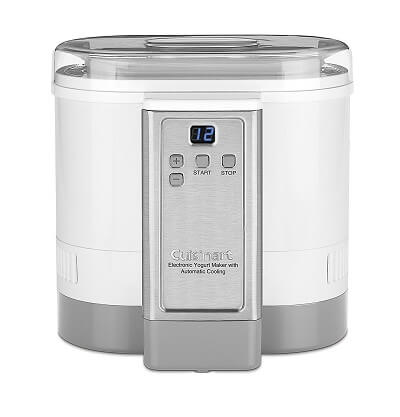 Whenever you are analyzing kitchen appliances of any kind, it is more than likely that Cuisinart will make an appearance. It just so happens that they do so immediately here and their CYM-100 is quite the unique machine.
Read more
Effectiveness
What sets this model apart from many of the others on this list is the built-in cooling system. After the system has completed the process, it will automatically shift to the perfect chilling temperature.
Design Features
Cuisinart designed its CYM-100 with a digital timer. With this integrated, you can set a fermenting time for your ingredients to ensure the end result is as optimal as possible.
Interface
Most models on this list are easy to operate and this is no exception. The digital time display and integrated buttons make it a breeze to set your desired time.
Convenience
Buyers are going to appreciate how quiet this machine is in operation. In addition to this, the tub and the lid are really the only two components that need to be cleaned afterward.
Capacity
Admittedly, this is not the largest unit in the world. But, it is capable of making 50 ounces of delectable treats but can only hold around four cups of milk at a time.
Overall
Although the CYM-100 is not the biggest appliance on this list, it just might be the most efficient and well-designed. And, the implemented cooling system is the icing on the cake.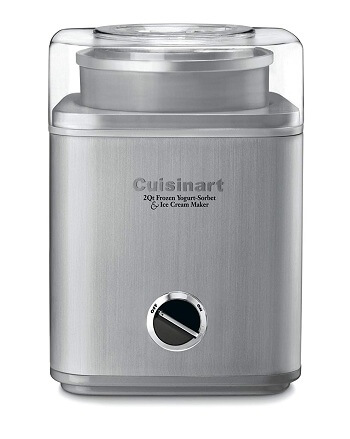 Even though there really is not much to this next Cuisinart model, it achieves such a high standard due to its smooth results. Of course, the noise factor does come into play here.
Read more
Effectiveness
If nothing else, you expect good quality from Cuisinart. Well, given the fact their ICE-30BC is equipped with an integrated heavy-duty motor, automatic mixing paddle, and double-insulated bowl, it is safe to say that is what you are getting.
Design Features
There really is not a whole lot to this design, to be honest. It features a simple on/off power switch (which some systems lack) but that is about it.
Interface
With a unit such as this, there is not much of an interface at all. You simply switch on the unit with the power knob and you are good to go.
Convenience
Okay, so one positive about this model is that the cleanup process is fairly simple. But, one of its issues is the noise. As one user pointed out, this thing is downright loud.
Capacity
In as little as 25 minutes, this sports the capacity to make two quarts of deliciousness. That is around the ballpark of other similar units.
Overall
Sometimes, simplicity is a good attribute to have and in this case, it more than certainly is. If Cuisinart could have made the internal components quieter, though, it would have been better.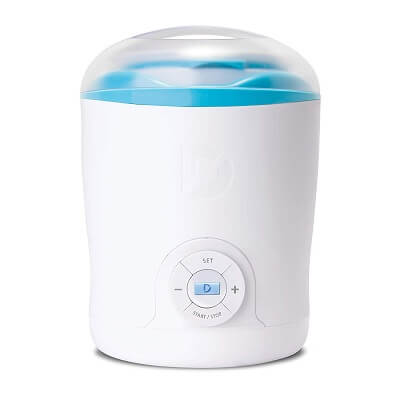 Some of you may not feel like tampering around with several different controls and if you do not, this next option is perfect for you. It is insanely easy to use and is designed to stay at a maintained temperature of 110 degrees.
Read more
Effectiveness
This system is able to stay at a maintained degree of 110 for eight to 12 hours and this ensures that your end result is nothing but goodness.
Design Features
What is nice about this model is it has a built-in timer that has 30-minute increments. In addition to this, when your concoction is finished, there is an auto-shutoff feature that will prevent overcooking.
Interface
The four-way button interface is actually cleverly designed as it manages to be fairly intuitive without being overly complex. You can then easily read how much time is left at any time.
Convenience
In case you have no idea what you are doing, the seller includes a step-by-step guide to assist you in the cooking process. Also, the internal container can easily be moved into your refrigerator.
Capacity
There are actually two containers that come with your purchase and combined, they measure 14.5 ounces (with a seven-ounce container and a 7.5-ounce one).
Overall
The fact that this option is quite inexpensive is merely the icing on the cake, as a whole. Because, as you can see, the design here speaks for itself.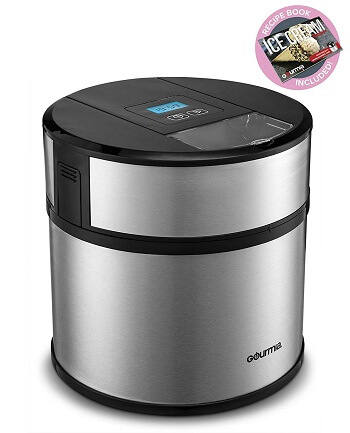 In comparison to some of the other units on this list, the GSI170 is pretty advanced. On top of being able to also whip out sorbets and ice creams, it also is designed with a sleek LCD display.
Read more
Effectiveness
While the churning paddle lasts, it is able to churn out some impressive ice creams, sorbets, and frozen yogurts. Yet, its plastic construction has been prone to breaking and cracking.
Design Features
Thanks to the digital timer that is equipped on the top of this unit, you can set and monitor how long your desserts need to churn.
Interface
The LCD display that is mounted on the top of this unit, yes, the top and not in the front, is very easy to operate and view when you need to see the remaining time.
Convenience
If there is one way to describe this unit, it would be convenient. Not only has it been designed to operate quietly, but it also comes with an easy pour spout to ensure you can easily add extra ingredients.
Capacity
It is claimed that this can make up to three liters of delectable desserts. For the record, this works out to 1.5 quarts.
Overall
Though this design is not flawless, calling out the plastic churn paddle, it suffices with a great combination of functionality and simplicity.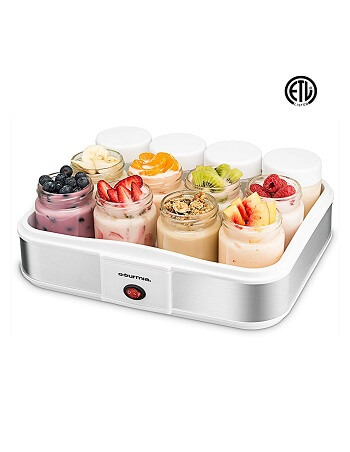 Much like a previous design on this list, the GYM 1710 from Gourmia comes with a plethora of jars that allow you to experiment with several different kinds of flavors.
Read more
Effectiveness
Even though the tops of the jars need to have a better seal, there have been several consumers who have raved about the end result even going as far as to say it is miles better than store brands.
Design Features
As you can see from the photos, there is an implemented flip switch that can be used to power on or power down this unit.
Interface
Does it get any easier than this? There are individual jars that you need to fill up but in regard to the interface, all there really is is the aforementioned on/off switch.
Convenience
As with similar models, the cleaning that will need to be done is with the jars themselves. When doing so, most reviewers concur that it is pretty painless.
Capacity
Each jar is six ounces and you actually get 12 jars with your purchase here. That means that all in all, you can make 72 ounces in one batch.
Overall
When you get this much bang for your buck, it is almost hard to resist. Sure, the lids could have been made with a better seal but hey, beggars can't be choosers.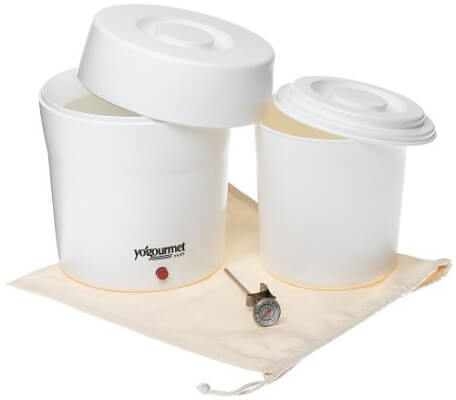 While technically this next design does not perform all the work for you, as some proper prepping will be necessary, it sports unique engineering that allows it to maintain a stable temperature.
Read more
Effectiveness
The unique engineering that was alluded to is a unique water-bath system that is able to maintain an optimal temperature all the way through the entire process.
Design Features
One design implementation that would have been nice, and this can be said for others, as well, is if you were able to monitor the temperature. Overall, there is a lack of features here.
Interface
One good aspect of the lack of features is that the interface is as simplistic as it gets. With just a simple indicator light for power, there is little to get confused about here.
Convenience
When the time comes for cleaning, you can take the inner container and place it in the dishwasher (if you have installed). Also, the seal-tight lid prevents leaking.
Capacity
With a capacity of two liters, you can produce quite a lot of yogurt. In fact, it should be enough to provide dessert for the entire family.
Overall
Although you will need to do a lot of prep work here, most specifically with the milk, it sports a fantastic temperature system and convenience at every turn.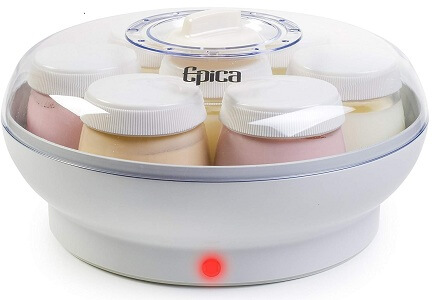 There are a few options on this list that resemble the design of this current entry. Instead of receiving a single interior container, you receive seven different jars that allow you to switch up the flavors.
Read more
Effectiveness
While most users concur that the end result provided here is pretty good, there have been a few reviews that have questioned the performance. Some even claim the system operates higher than it should.
Design Features
With the integrated timer mechanism on the top of this system, you can achieve desired results every single time. The timer can be set from six to 12 hours.
Interface
There really is not much of an interface to speak of. Outside of the timer, you merely place the jars inside of the base and then the rest is history.
Convenience
Given the fact you are using the glass jars for the actual yogurt, they are all you will need to clean (generally speaking). Also, they are dishwasher-safe which is another bonus.
Capacity
There are seven individual jars that come with your purchase and each of them holds six ounces. So, when you do the math, you can make 42 ounces of delectable results.
Overall
It is understandable if you know you will not want to expend the time to concoct seven individual yogurt creations. But, the beauty here is you can make as many as you prefer.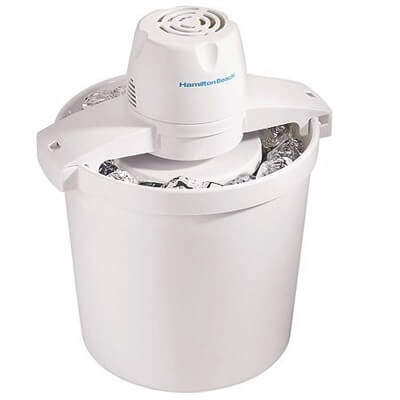 Yes, this is technically an ice cream maker and features fully automatic operation. However, it is also capable of creating other desserts such as gelato, custard and yes, frozen yogurt.
Read more
Effectiveness
It does not seem that too many users are questioning if this can make good results. But, getting there can be a pain as this does require a ton of ice and rock salt.
Design Features
All you really need to do with this model is to pour the proper ingredients inside. There are not too many design features to speak of, truth be told.
Interface
As there are no design features, you then probably assumed there was no interface. Well, if you came to that assumption, you are entirely correct.
Convenience
The good news is this sports an easy-lock lid and can also easily be hand washed. Yet, the bad news is that the included cord is laughably short.
Capacity
Though this does have its issues, it certainly is able to produce a very good amount of delectable desserts. In can produce up to four quarts of whatever you would like.
Overall
Hamilton Beach is a well-known manufacturer and they design very good appliances. But, this particular one is not incredibly flashy or marvelous but it can get the job done.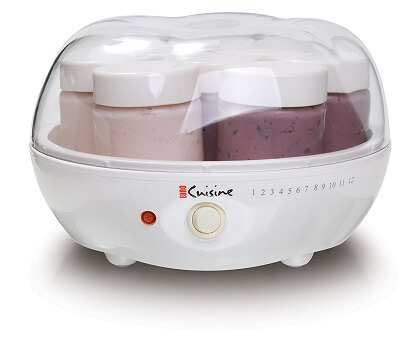 No, you are not seeing double as the YM80 is a very similar design to a few of the others on this list. This one is designed by Euro Cuisine and it works almost identically to similar models.
Read more
Effectiveness
Overall, it seems that the mass majority of reviews concur that the YM80 makes tasty and satisfying results. However, achieving those results can be a little tough to do consistently.
Design Features
First off, there is an integrated on/off switch for power. There are also side markings for the time but here is the thing, they are only markings and there is no alarm or switch.
Interface
Along the same line as most devices on this list, the YM80 is incredibly easy to operate and sports a simplistic interface with an indicator light and the aforementioned power switch.
Convenience
To ensure the cleanup process is kept as user-friendly as possible, Euro Cuisine designed their glass jars to be dishwasher-safe.
Capacity
Though some users have claimed the jars are small, they are six ounces that are normal for this type of design. All in all, you receive seven jars in total.
Overall
The YM80 certainly is not reinventing the wheel but there is nothing wrong with sticking to the basics. Of course, too bad it was not a tad easier to get consistent results.

Subscribe to our Newsletter