Best Vlogging Cameras
In a
Hurry? Editors choice: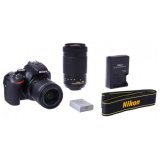 Test Winner: Nikon D5600

As social media becomes more and more prevalent in society, so does the need for some populations to share every aspect of their lives with their friends and family. This is why video blogging (or 'vlogging' for short) has become such a popular past time in recent years. Everyone wants to be able to produce high-quality videos of their lives to share with their loved ones but sometimes the prospect of purchasing yet another electronic can be overwhelming. That's why we've done the hard work of selecting the best quality vlogging cameras on the market today so that you are able to focus on creating the content you want to share. Take a look below at the best options we found and see which is best for you.
Standout Picks
Criteria Used for Evaluation
Ease of Use
The technical terminology associated with cameras can easily become overwhelming and exhausting, especially for new vloggers.
Unless you're a professional videographer or have some schooling under your belt, cameras in general can be a complicated device to get used to. There is so much technical terminology when it comes to photography and videography that it can easily become overwhelming and exhausting, especially when you are just starting out. While we were compiling our list of the best vlogging cameras currently on the market, we took ease of use into account when deciding which cameras we should include on our list. No one wants to be confused and overwhelmed the second they take their new vlogging camera out of the box and we definitely can understand and appreciate that. This is why the cameras on our list are great for both budding and intermediate vloggers. They aren't complicated to understand or operate.
Battery Life
Battery life is an important criterion to consider for nearly any electronic device you are going to be looking at investing in.
Nothing is worse than going to use one of your electronic devices only to find that the battery life has dwindled extensively since you used it last. The same goes for vlogging cameras. You don't want to have a strike of inspiration for your next viral hit only to be disheartened when you go to turn on your camera to record yourself to find that the battery is dead. Battery life is an important criterion to consider for nearly any electronic device you are going to be looking at investing in. We took this into account as we perused the internet for the best vlogging cameras to include on our list. In some cases we were unable to get the exact amount of battery life offered by the product as it depends entirely on how you're using it. As some of these cameras can double as a digital camera for still photography, it was hard to find the expected battery life as it'll last significantly longer if you're using the camera for photography than if you're using it to record videos.
Connectivity
Having the ability to connect instantly to Wi-Fi to share your photos and videos is a definite plus.
One of the great features that newer released cameras have that older styles do not is their compatibility with our other devices and equipment. Many of the options on our top ten list are Wi-Fi enabled which makes sending and sharing our photos and video creations an absolute breeze. No more do we need to pull out a USB cable and wait for what felt like forever for our videos to transfer onto our laptops or computers. Now we can simply send our creations straight to Facebook or to our smartphones with the click of a button.
Accessories
Being able to purchase all the equipment you need to get started in one bundle is time and money saving.
You may be saying to yourself, "I already have the video blogging camera I want in my sights, do I really need to search for one that comes with extra accessories?" The answer here is no, you don't need a camera with extra accessories but it is an absolute delight to receive extras with your camera package when you buy it. Not only does this save you time by not requiring you to do any further research, but it possibly can save you money in the long run as well. If your vlogging camera comes as a package with other accessories, you do not need to spend any extra time researching and most times when you are investing in a kit kind of deal, you are saving money versus purchasing everything separately. Some of the extra bonus accessories you should look out for while performing your research and reading our reviews are lenses, tripods, SD cards, filters, cleaning kits, remotes, camera cases, extra batteries, etc. While not every option on our top ten list arrives as a kit, it is definitely worth considering purchasing a bundle!
Advanced Features
Extra features aren't necessary to get you started with vlogging but they're definitely a bonus.
Cameras these days are advanced enough as it is and the technical jargon associated with some cameras is enough to make any newbie's head spin in circles a la Regan in The Exorcist (with or without green slime projectile vomit). Some of the options on our list have advanced features like external microphones, webcam functionality, video stabilization features, and live streaming, just to name a few. While these features aren't necessary when it comes to vlogging, they are nice to have.
Subscribe to our Newsletter