Best Fishing SUPs
In a Hurry? Editors choice: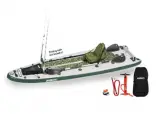 Test Winner: Sea Eagle SUP Board

Have you ever wanted to try fishing on your SUP board but were too intimidated by the entire idea? Well, if you have, then you are most certainly not alone. But, you may be sick and tired of
kayak fishing
and may be interested in giving it a shot.
But, you do not want to do yourself a disservice by settling with an average SUP board. Instead, why don't you buy a model that is specifically optimized for fishing? Well, as you probably can assume, that is why you are here today.
Now, most fishing SUPs will be similar to regular SUPs. However, the best models will also come equipped with specific features (such as
storage options
) that all fishermen will adore. So, without further ado, let's get this bad boy rolling with some of the best fishing SUPs available today.
Standout Picks
Criteria Used for Evaluation
Our Top Picks for the Best Fishing SUPs
1

. Aquaglide Blackfoot Paddleboard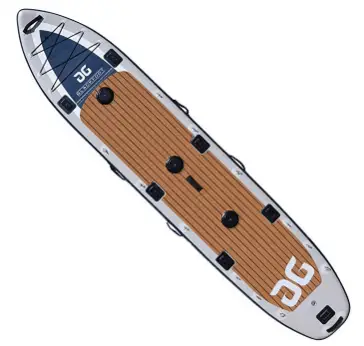 Alright, so the price tag is probably going to scare most of you off. Let's just cut right to the chase; if you are an avid fisherman and require nothing but the best, go with this SUP board.
Read more
Stability
Thanks to the US finbox system, you can actually change or replace the fin that is included. Additionally, the Blackfoot is designed with a teak-colored EVA deck pad.
Durability
The proprietary Powerstrip stiffening reinforcements and 15-centimeter drop-stitch material ensure that this bad boy is going to last for years to come.
Storage
In addition to the ruler that is on the bow (that can be used for measurements), this is also equipped with four D-ring attachment points and six Scotty mount pads.
Portability
First off, this is inflatable which makes transporting it much, much easier. Additionally, it is designed with bow, stern, and center carrying handles.
Accessories
What also comes with your purchase is a high-pressure manual pump, repair kit and Crossroad DLX backpack.
Overall
It just is not going to get much better than this. But, the price of this model is going to be too high if you only like to SUP fish maybe a few times a year.

2

. Bote SUP Rackham Board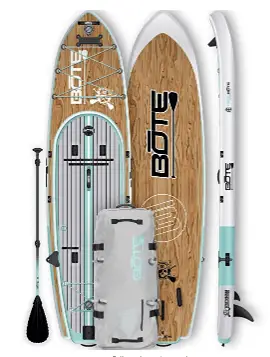 From one expensive SUP to the next, this is the Bote Rackham. This Bote paddleboard is quite frankly a luxury for any hunter or fisherman out there. But, it comes at a premium price.
Read more
Stability
The two-chamber design coupled with the flat bottom and thick rails ensure that the Rackham is going to remain incredibly stable on the water.
Durability
Let's just say that it is not going to be very likely for you to damage this board. In addition to the thousands of composite fibers in the inner core, it has also been designed of military-grade PVC skin (which is almost indestructible).
Storage
All sorts of features and accessories (such as D-rings and tackle rac receivers) are equipped here to make your fishing experience all the more better.
Portability
Past the fact that this can be deflated when you need to either travel with it or store it, it can also be rolled up. Oh yeah, and the Aero storage bag is also included with your purchase.
Accessories
It is quite incredible how many accessories are included with your purchase. This includes a repair kit, sandspear sheath, center fin and an adjustable three-piece paddle.
Overall
Yeah, this really is only going to be a good option for every day (or close to it) fishermen. Unless you have money to throw around, you will want to get your use out of this sucker.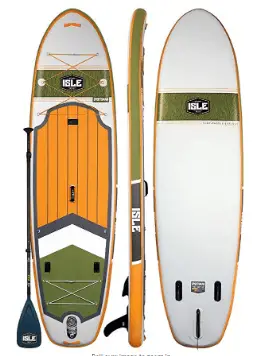 Much like the previous two fishing SUPs, the ISLE Sportsman is just a brilliant work of art. It is almost perfect in every single way possible, which is saying a lot.
Read more
Stability
Whether you are a beginner or an advanced paddler, it does not matter as that is how stable the Sportsman is. This fishing paddle board is one of the most elite of its kind.
Durability
Thanks to the fact that this was engineered with military-grade materials, it is going to withstand the test of time. Unless you literally try to, you will not damage this most likely.
Storage
Scotty mounts are pre-installed and that means you can add all sorts of fishing equipment to this rig. Additionally, this sports both front and rear bungee systems.
Portability
This is another inflatable model and, in total, it weighs 27 pounds. But, the fact that it is inflatable makes it much more feasible to transport.
Accessories
Not only does this come with an adjustable paddle but the paddle is made of carbon fiber. Though this is impressive enough, you also receive a repair kit, leash, pump, fins and a carrying backpack.
Overall
To be honest, this may be the most compelling option for most of you. It is much cheaper than the top two options and comes with several impressive accessories.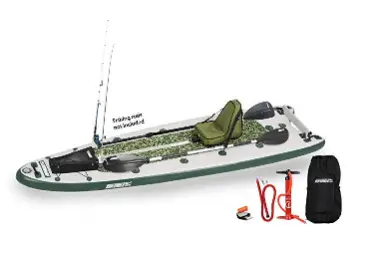 Unlike other models, what really makes this stand out is the fact that it comes with swivel seats. So, if you were sick and tired of standing up, you could pop a squat to keep on fishing.
Read more
Stability
As noted, this does come with 360-degree swivel seats. In addition, the non-slip EVA foam deck pads provide stability for your feet and the bow to stern tapered board itself provides excellent stability on the water.
Durability
There is no need to worry about the durability of this SUP board as it has been designed to the highest standards. It sports 1000-denier reinforced drop stitching, after all.
Storage
Not only are there multiple D-ring attachment points for you to attach various gear but this also comes equipped with built-in fish rulers to measure your catch.
Portability
As this is a portable fishing SUP board, it can easily be transported from location to location. You will just need to inflate and deflate it each time you want to use it.
Accessories
Though actual fishing rods are not included with your purchase, you do receive quite a few additional accessories. This includes a SUP pump, storage box, backpack and SUP paddle.
Overall
There is no denying the fact that this board is an absolute beast. Without question, it has been optimized for the most avid fishermen in the world.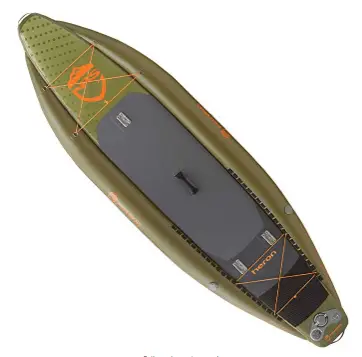 As great as this model is, and it is virtually perfect, you will have to account for the paddle yourself. Given the steep price of this board, as is, that may not be feasible for several of you.
Read more
Stability
To ensure that you will stay upright when you fish, the Heron has been designed with dual side channels. This also will ensure premium rigidity (which many of you will appreciate).
Durability
Everything about this board screams quality. Whether you want to point to the heavy-duty PVC drop-stitch construction, top-quality inflation and deflation valve, or even the double sidewalls, it does not matter.
Storage
The Heron will provide you with nearly all the space you need for your fishing gear. This includes six D-ring attachments, four daisy chains and bungee cord rigging.
Portability
This is yet another inflatable fishing SUP. When the day is over, it can be deflated and folded for easy transport and storage. Additionally, a few handles have been equipped.
Accessories
Two fins are included and they can be interchanged with one another. Also, you will receive a repair kit, pressure gauge, and carry bag. But, as mentioned, a paddle is not included with your purchase.
Overall
The NRS Heron is an absolutely stellar design and it deserves all the accreditation that it receives. Just know that you are going to have to pay a hefty price to get your hands on it.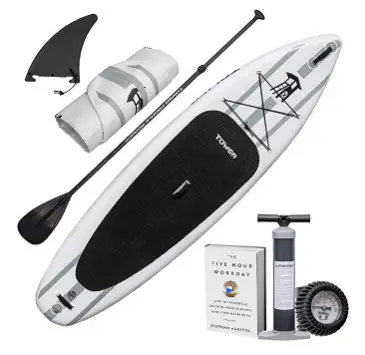 While this is certainly far from the fastest SUP board on the market, it works really well for fishing and other such activities. And, that is the whole point, right?
Read more
Stability
This is far from a quick SUP board but, overall, it handles and performs very well. The wider deck and large single bottom fin help to improve both stability and maneuverability.
Durability
As with so many of the best fishing SUPs, this is going to withstand the test of time. This is thanks to the military-grade PVC material and drop-stitch construction.
Storage
The bungee cords will allow you to secure some of the fishing accessories that you will require. But, overall, this is not the most comprehensive design when it comes to storage capabilities.
Portability
Taking this with you is a breeze thanks to the fact that it can quickly be inflated and deflated. When deflated, it can also be folded to make it even more compact.
Accessories
What a total package this is. In addition to the actual SUP board, you will also receive a carrying strap, removable center fin, high-pressure pump, handhold strap, and fiberglass paddle.
Overall
While some of you will not be a fan in the manner this moves on the water, it can't be denied how great it is going to be for fishing. It is also one of the more affordable options on this list, which is another bonus.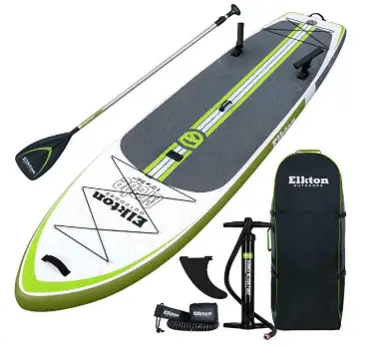 Those of you who are looking for more of an affordable option you may want to take a closer look at this one. At this price range, it is one of the best designs out there.
Read more
Stability
In addition to the fact that this floats extremely well, the non-slip deck pad will also prevent you from accidentally slipping and falling off.
Durability
Okay, so this is a bit thin. With that being said, it has been engineered with double-layer PVC and drop-stitch construction. Without question, it is built to last.
Storage
This is one of the better options out there when it comes to storage. It sports rod holders, pre-installed Scotty mounts, and front and rear bungee cords.
Portability
All you need to do is deflate and roll this up when you are done using it. It can then be loaded in your trunk and will be ready for your next adventure.
Accessories
Right out of the box, you will have everything you need to get started. Past the board, you get an adjustable paddle, high-pressure SUP pump, ankle leash, snap-in fin, and carry pack.
Overall
Sure, this is somewhat on the thin side. But, it is an unbelievable package deal and, the board itself, can account for tons of fishing gear and such.

8

. iRocker All-Around Board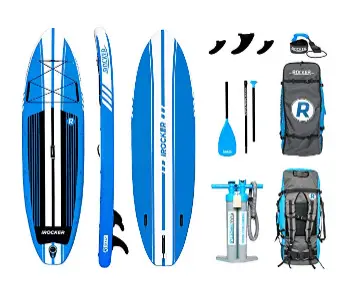 It is arguable but this model could offer the best value not only on this list but also on the entire market. To say that this is a complete set is the understatement of the millennium.
Read more
Stability
The 32-inch width and the included texturized deck pad ensure optimal stability in more ways than one. Then again, this board does not track extremely well and is pretty darn slow.
Durability
Unless you physically try to put a hole in this board, the concern should not be there. It is also rated to support up to 435 pounds at its peak.
Storage
Let's just say that this is ready for all your fishing gear. It comes with a front action mount, multiple rear D-rings and also front cargo storage.
Portability
Being inflatable, this is going to be rather easy to travel with. On another note, the included paddle that comes with your purchase can be broken down into three different pieces.
Accessories
In addition to the fiberglass paddle that was just mentioned, you are also provided with a triple action hand pump (which comes with an integrated pressure gauge) and a backpack to store it all in.
Overall
In terms of straight-up performance on the water, there are superior fishing SUPs out there. But, for premium value, durability, stability, and practicality, you can't go wrong here.

9

. California Board Company SUP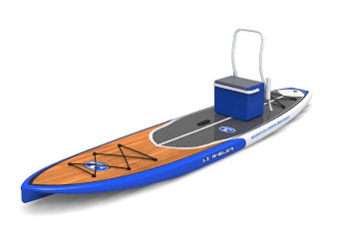 For being so large, this can feel a bit unstable at first. However, it is something that you will get accustomed to. And, unlike other models, this is actually not inflatable.
Read more
Stability
Indeed, this may take some time to get used to. It is surprisingly somewhat unstable at first. However, it tracks incredibly well and is also pretty fast.
Durability
Being made of blue and white epoxy fiberglass, this is both a lightweight and ultra-rugged design. All in all, it can support up to 250 pounds of weight.
Storage
In addition to the attached bungee cords, this is also equipped with a gear rack. This can be used to conveniently hold two of your fishing rods.
Portability
Alright, so this model is not inflatable and that means that transporting it will be a bit trickier. But, the process of actually carrying it is made easier with the center carrying handle.
Accessories
While not a ton of accessories are included for you, you do receive a few such as a fin and board leash.
Overall
If you do not have a manageable means of transporting an 11-foot SUP board from location to location then you may want to stay clear of this model. It is a brilliant design but just keep that in mind.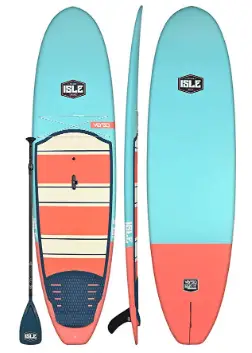 Look, it is something subtle but it is worth mentioning that some of you will not exactly be enthralled with the color choice of the Versa. It is well-designed, though, so do remember that.
Read more
Stability
Thanks to the traction pad and overall shape of the board, this will be stable for just about anyone. Now, one user did report, however, that this had an issue with tracking to the right instead of straight ahead.
Durability
Being made with thermal molded technology, this epoxy board is both lightweight and durable. It can support riders up to 245 pounds in weight, also.
Storage
The front bungee system is going to be your best source of storing some of your fishing gear. But, the base is so large that it could feasibly hold your fishing poles and such.
Portability
Even though this is not inflatable, it only weighs 27 pounds and comes equipped with a grooved carrying handle. It is over 10 feet long, though, so be aware of that.
Accessories
It is noted that a center fin, adjustable paddle with a carbon shaft and plastic blade and a leash are also included when you buy this SUP board.
Overall
If you simply do not want an inflatable model then this should be an excellent option for you. The visual design (though other colors are available) may take some time to get used to, however.