Best Hygrometers
last updated:
Oct 04, 2021
Is it that beneficial to know the humidity level of a certain indoor area? The importance of that question to you is going to influence whether or not you believe you need a hygrometer. For the record, this is just an instrument that is used to measure either the humidity level of gas or the air.
It is always ideal to be surrounded by air that does not have an insufficient level of humidity. And, while best hygrometers are certainly not going to fix this issue, if accurate enough, they can at least inform you that there is an issue with the current humidity.
As was just hinted at, however, not all of them will be as accurate as each other, and there are also various different styles too. In other words, there is a lot for you to learn.
In a Hurry? The test winner after 3.5 hrs of research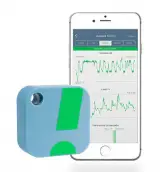 SensorPush
Why is it better?
Seems to be very accurate
The sensor is easy to place
Multiple sensors can be monitored by a single phone
In a Hurry? Editors choice: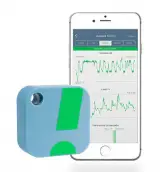 Test Winner: SensorPush

4
Researched Sources
93
Reviews Considered
3.5
Hours Researching
22
Products Evaluated
Accuracy
Features
Effectiveness
Ease of Use
Accessories
By Default
Our Top Picks for the Best Hygrometers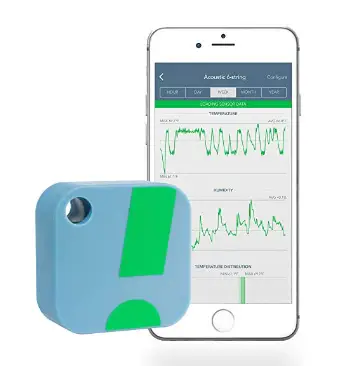 Seems to be very accurate
The sensor is easy to place
Multiple sensors can be monitored by a single phone
To get the most out of this, you need to buy the gateway
It is worth pointing out that this is not going to be the best option for all of you. The main reason this is the case is that you will need some type of smart device to access the data that is being read by the sensor.
Read more
Accuracy
The accuracy of the sensors, for both temperature and humidity, is really good here. For the humidity, in specific, it is capable of measuring plus or minus three percent of what the actual humidity is in the room.
Features
As this connects directly to your smartphone, it does require Bluetooth (at least 4.0) and either iOS 8 or higher or Android 5.0 or higher. Also, this can measure humidity percentages from 0 to 100, which is really lovely.
Interface
The interface is really the app as the primary sensor lacks any interface whatsoever. For the most part, the app is designed well but as with any other app, you will need to get accustomed to the layout.
Ease of Use
Sure, the app itself takes some time to get used to but they all do. As for placing the sensor, the process is painless which makes things even simpler for you.
Accessories
You can buy extra sensors if you wanted to monitor other portions of your home. Also, the battery that powers the included sensor can be replaced when it fully depletes.
Overall
What has not been mentioned yet is if you wanted to use it with your home Wi-Fi, you would need to buy the separate gateway. Doing so can make this even better but, as is, this best hygrometer is still terrific.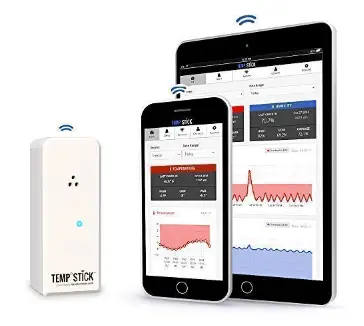 Can connect to your home Wi-Fi
Tracks both humidity and temperature
The battery is rated to last up to a year
The setup process can be finicky
As with the top model, this hygrometer is a sensor that requires the use of an external device. The benefit of this design, however, is that no gateway is needed to connect to your home's Wi-Fi. Basically, you can monitor the sensor from anywhere where you have a continuous internet connection.
Read more
Accuracy
This sensor is going to stay within plus or minus four percent of the actual humidity percentage that is in the air. It has also been calibrated at the factory so you will not need to worry about that.
Features
Again, no gateway is needed with this unit as it can connect straight to your home's Wi-Fi. The sensor can also track humidity percentages between 0 and 100.
Interface
According to various users, it seems that the app is a bit outdated when looking at its layout and interface. Also, the main unit does have a built-in LED light.
Ease of Use
Once you get accustomed to the app, it will become easier to navigate through it. Now, as for the actual setup process, that can be a little bit more finicky.
Accessories
Two AA batteries are included with your purchase and they are rated to last up to a year. No worries as you can always buy more when the time comes.
Overall
On this list, this is probably the most modernized design. Its functionality and accuracy are great but its Wi-Fi capabilities are what will sell quite a few of you (as you can see the readings from anywhere).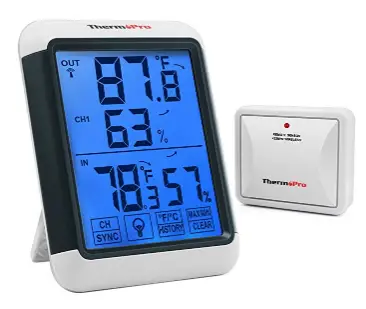 You can register for a three-year warranty
The sensor is weatherproof
The screen is backlit
It tends to eat through batteries quickly
For those of you who are looking to avoid needing a smartphone with your hygrometer device, there are plenty of great options for you. And, it all starts with the ThermoPro TP65A and its fancy backlit touchscreen interface.
Read more
Accuracy
Due to the fact that this system has been equipped with top-level sensors, you can bank on accurate humidity and temperature readings most of the time.
Features
In addition to the weatherproof design, you can also sync up to three sensors to the central unit. Also, you can access maximum and minimum values as well as the history of your data.
Interface
The four-inch, backlit LCD screen is adorable but it is made even better when you factor it the fact that it is a touchscreen.
Ease of Use
The aforementioned touchscreen interface makes things a bit more convenient when it comes to navigating the central unit. Of course, turning on the backlight at night can prove to be complicated.
Accessories
One sensor is included with your purchase but you can purchase a few more for more readings. And, though it is weatherproof, it does need to be placed upward (as there are ventilation holes on the bottom).
Overall
ThermoPro is a high-quality brand so you can always count on them to come through with a well-designed device. Their TP65A is proof of that as it is one of the better hygrometers out there.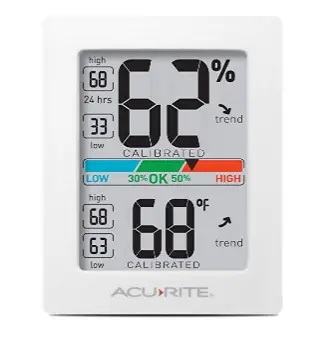 Can be mounted to your fridge
Measures both temperature and humidity
Updates every 10 seconds
The interface's layout is odd
This is yet another simple and clean hygrometer that does exactly what it needs to very well. The data it measures is updated once every 10 seconds to ensure you are always reading the current measurements.
Read more
Accuracy
Though this has been pre-calibrated, you can also calibrate it yourself if you notice the measurements becoming inaccurate. What is also lovely is the measurements on the central console are updated every 10 seconds.
Features
In addition to being able to measure both humidity and temperature, this can also do the former from 1 to 99 percent. The gauge in the middle also informs you if the humidity level is high, low or normal.
Interface
The gauge shows off a bit of color, which helps the interface stand out a little bit. The high and low values are a bit small when compared to the main measurements, however.
Ease of Use
In the included manual, step-by-step instructions have been provided to you when you want to calibrate the sensor. This makes the process even easier for you.
Accessories
Past the fact that this can stand upright, it has also been equipped with a magnetic back. This can be useful if you want to stick it to your refrigerator.
Overall
No, the layout is not perfect but this is one of the most popular hygrometers on this list for a reason. Its fast updating, simplicity and overall accuracy make it a strong option altogether.
5

. Ambient Weather WS-10-X4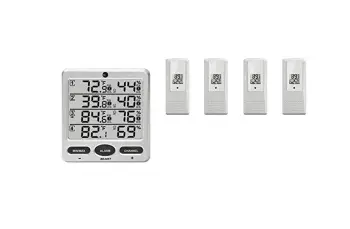 The console displays all sensor information
Four additional sensors can be used
Comes with four different sensors
Not the best battery life
The buttons are somewhat cheap
With four different hygrometer sensors coming with your purchase, you can measure the humidity levels of multiple different areas in your home. The main console also displays all the information without clutter.
Read more
Accuracy
It is recommended to calibrate each of the sensors before you place them as they will then yield the best results. They stay within five percent, which is pretty solid.
Features
All the sensor information is displayed at the same time for each of the sensors. Additionally, you can actually set minimum and maximum values, and the built-in visual and audible alarms will trigger when the values are outside the set parameters.
Interface
Though it would seem destined for clutter, the central unit cleanly displays all the sensor information in separate rows.
Ease of Use
Everything will function properly if you keep the sensors within a specific range of the central console. They need to be within 100 feet under most conditions, though, which is a bit limited.
Accessories
Again, four sensors are included with your purchase but you can also buy up to four more of them. The batteries for the central unit are not included, though, so you will need to get some AAA batteries.
Overall
Some will argue that this is limited in some respects but it is still a great system overall. The ability to set up to eight different sensors is quite appealing. Also you should check out best humidifiers for your home.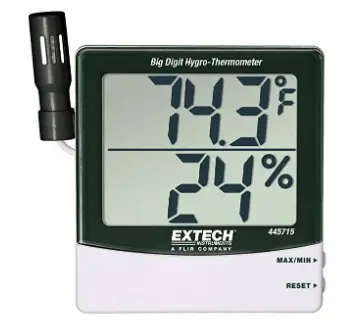 Comes with a battery and mounting bracket
Can store maximum and minimum values
It can be calibrated with salt bottles
Yes, this is a thermometer but it does also function as a hygrometer. It may not read humidity percentages down to the exact decimal but it does a great job and its functionality is fantastic.
Read more
Accuracy
Being accurate to plus or minus six percent, this is not the most precise hygrometer on the market. That said, it works very well most of the time. If you buy the salt bottles, also, it can be re-calibrated.
Features
Past the maximum and minimum measurements that you can access, this unit also measures humidity percentages from 10 to 99 and temperatures from 14 to 140 degrees.
Interface
Even though there is no backlight present on the central console, the display is still significant and clear enough to view (just not at night) easily.
Ease of Use
This is as easy as it gets as only two buttons are featured and the central unit pretty much does all the work itself.
Accessories
What is nice is you are provided with a few mounting options. With the included mounting bracket and the built-in stand, it can rest on a wall or on its own on a desk.
Overall
Simple and effective, this gets the job done very well. It may not be entirely spot on but it stays within the ballpark to give you a strong idea of the humidity level.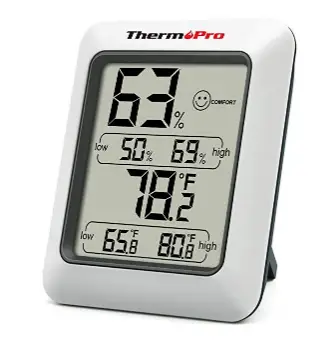 Quite versatile in its usefulness
Multiple mounting options are available
Pretty accurate overall
The layout is not well-executed
Outside of the layout of the interface, which could have been executed better, the TP50 is a simple and accurate hygrometer. It comes pre-calibrated and is ready to go as soon as you take it out of the box.
Read more
Accuracy
There is no way to calibrate this unit, so if it is way off for you, you will need to contact the seller. It should maintain a strong level of accuracy for you, though (claimed within two to three percent).
Features
There is not much to this design, to be honest. One neat feature is that the central unit will display if the current humidity level is "dry," "comfort," or "wet."
Interface
The layout is not hard to see, but it is somewhat random, to put it best. Nothing seems to be logically placed or sized. You will get used to it, though.
Ease of Use
For the record, there is a button on the back that allows you to both switches between Fahrenheit and Celsius and clear any readings. That is the extent of what you will need to do with this system.
Accessories
Outside of the AAA battery that is included in the package, this also comes with a built-in stand and even a magnetic back.
Overall
If you can look past the unpleasant layout of TP50's central unit, you can buy one of the best hygrometers for the price. It is as simple as it gets and entirely accurate.
8

. Cigar Oasis Caliber 4R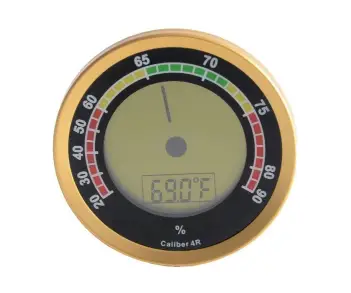 Mounts very easily
Once calibrated, it is very accurate
Measures temperature too
As opposed to the other options on this list, this sports a clock-type interface. It displays the temperature digitally but the humidity level reads like an analog watch face. It is quite accurate either way.
Read more
Accuracy
When you get this unit, it is advised to calibrate it right away. After doing so, this is rated to maintain accuracy between plus or minus one percent (which is fantastic).
Features
Worth noting is this system can only measure humidity percentages between 20 and 90. It can also measure temperature too, as with most hygrometers.
Interface
At an angle, this can become difficult to read (if not impossible). You really need to be looking directly at this sucker to read it accurately. As noted, it reads like an analog watch face.
Ease of Use
Honestly, the hardest part is re-calibrating this unit and even that is not too tricky. There really is not too much that is required of you here.
Accessories
For the most part, this lacks many accessories as this simply comes with a metal disk for mounting.
Overall
Yes, this has a limited humidity range but the fantastic accuracy is compelling. Unless you need wider humidity readings, this should be a top option for you.
9

. Cigar Oasis Caliber IV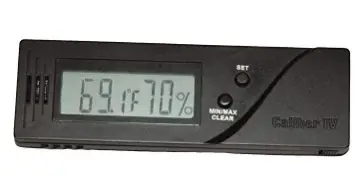 It can easily be re-calibrated
The battery is included
Also measures temperature
The interface is incredibly dated
While this device looks like something you may find at a vintage garage sale, it is actually a very functional piece of equipment. Yes, the interface is badly outdated but the point remains.
Read more
Accuracy
As the Caliber IV is a Cigar Oasis creation, you can rest easy knowing it will be accurate. That said, many have claimed that recalibration is necessary right out of the box.
Features
Being perfect for cigars, this can only measure humidity levels beyond 20 percent. For the temperature, you can also switch between Celsius and Fahrenheit.
Interface
Without question, the interface of this unit is dated. It is an all-digital display but is rectangular and is not very pretty to look at, to say the least.
Ease of Use
When you need to re-calibrate this meter, which is advised to do right away, you will find it to be a very easy task.
Accessories
For your convenience, the battery that is needed for operation is included. Furthermore, a secure magnetic mount comes with your purchase.
Overall
Hey, when all you want is a hygrometer that does what it is supposed to very well you go with the Caliber IV. But, the badly outdated nature of the interface could be a problem for some of you.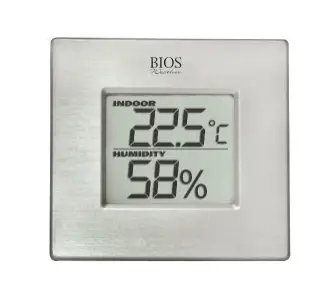 The sleek appeal is nice
The temperature sensor is very accurate
Has a positive display
Somewhat limited in its humidity levels
Hard to read at some angles
With its sleek aluminum face, this is both functional and aesthetically pleasing. Of course, it is incapable of measuring humidity levels less than 20 percent so keep that in mind.
Read more
Accuracy
Though this is an accurate unit overall, it does take a while to update. The processing speed is certainly not the greatest but once it updates, it tends to stay within a few percentages either way.
Features
This can measure both temperature and humidity levels but the former is somewhat limited. It can't measure lower than 20 percent, which may be an issue for some of you.
Interface
The "bezel" provides a beautiful metallic look and is made of aluminum. However, the screen itself is quite primary and could have been a little larger. It is simple and easy to read, for the most part.
Ease of Use
Installing this sucker is one of the simplest tasks you will ever perform in your life. You do not even need to worry about mounting it to a wall.
Accessories
No, as noted, there is no way to wall-mount this unit. It merely stands on its own, allowing you to place it anywhere that is appropriate.
Overall
Sometimes, it is the simple devices that get the job done the best. Sure, some further functionality may be desired and if it is, there are, admittedly, better options for you.
Criteria Used for Evaluation

Accuracy
While you do not need to buy a model that is accurate to the exact decimal, it should be accurate enough for your needs.
It all starts with accuracy when you begin your quest to find the best hygrometers on the market. As you probably knew before you even clicked on this buying guide, the sensors that are built into them will have differing levels of accuracy. And, as much as you may think it, you can't just assume that the more expensive models will yield more accurate results as that is not always the case.
Now, regarding how the devices are measured, manufacturers will typically provide a plus or minus percentage range that their units will fall into. To further explain this, if a specific hygrometer is accurate to plus or minus two percent, it means it will stay within two percent of the actual humidity percentage one way or the other (either over or below it).
For the most part, even units that are four or even five percent off can still be valid. However, if you want the closest results possible, then you better prioritize hygrometers that are plus or minus one or even two percent.

Features
There are actually quite a few features that you should keep your eyes out on.
Even this type of device is quite simple at is core, there are some different features that you can look for. One such example is if you are interested in smart hygrometers. Such devices will often be able to be connected to your home's Wi-Fi, and with that ability, you will be able to see the humidity readings from anywhere where you can access Wi-Fi.
This could be seen as a luxury as opposed to a necessity, though, so some of you may not be interested in such options. That is okay, as even some of the most basic models can have robust functionality. And, as all options will be able to measure relative humidity, pay attention to the levels that they can handle. Some will measure relative humidity from 0 to 100 percent, and others may be a bit more limited and unable to go below 20 percent.
Another common feature that most models will have is the ability to record maximum and minimum humidity and temperature levels (most will be able to measure temperature too). Furthermore, some systems will have built-in audible alarms that can alert you when the relative humidity passes your set percentage.

Effectiveness
This section is all about the interface and what you require from it, really.
When it comes to most technology devices, their interface is always going to be a significant point of emphasis. The same goes for hygrometers, but because you will not be spending too much time navigating through them, the interface does not need to be advanced.
Most of you will be just fine with a display that is easy to read and one that makes sense to read. Even still, as was seen on the above list, there are some perfect models out there that suffer in this area. But, even the worst ones tend to be tolerable.
Yet, if you do not want to mess around with this section, then you will want to buy the central console that sports a large and easy-to-read display. Perhaps you will also want one that is laid out nicely, but you can always get used to an interface that is not the most logical. What we are getting at is there is some room for error here.

Ease of Use
For the most part, these types of devices are not going to be too troublesome to use. But, some will be better than others here.
For the most part, this is not a device that you will struggle to use, no matter which hygrometer you end up going with. The most complicated units, in fact, are the ones that require the use of an external app for full functionality. Even these systems will not be too tricky to operate once you get accustomed to the layout of the app itself.
With most of them, there will only be a few buttons (such as the maximum and minimum) that you will even need to mess with. There are some touchscreen models available, as well, if you want to look for that sort of thing. Really, the task you may struggle with the most is recalibrating your hygrometer.
It is worth mentioning that some will come pre-calibrated and others will need to be calibrated right out of the box. Also, some models will not be able to be recalibrated (though most will be). For recalibration, you will need the proper equipment and this will sometimes only be offered optionally. As for the process, proper instructions will almost always be included for you (you can always access online videos otherwise).

Accessories
As with the features, it is important to keep an eye out for some different accessories that can come with your purchase.
Are you interested in buying a hygrometer that allows you to place multiple sensors throughout different parts of your home? If you are, then you are in luck as there are plenty of these options on the market. But, sometimes, you will need to purchase the extra sensors separately, and other times they will be included for you.
Either way, having the ability to monitor different parts of your home can be a nice bonus. Keep in mind that with units such as this, the sensors will need to communicate with the central unit and will, therefore, be limited in where they can be placed (they need to stay within a specific range). Additionally, some sellers will include the battery and batteries that are required to power their hygrometer.
And, what about how you want to mount the main console? Most will come with built-in stands, but certain options will come with mounting brackets. This can allow them to be wall-mounted, which can make them easier to read (among other things).
Expert Interviews & Opinions
Most Important Criteria
(According to our experts opinion)
Experts Opinion
Editors Opinion
Users Opinion
By Default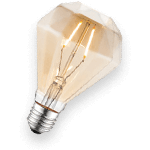 Accuracy
When you buy a device that is supposed to measure relative humidity, you want it to be somewhat accurate. Okay, so this is a rhetorical question, but it explains best why this opening section is so important. Of course, your strictness also comes into play as some of you will be okay with a device that is a few percentages off. None of the hygrometers will be 100 percent spot on, though, so remember that.
Features
Outside of humidity, many of these devices will also be able to measure the current temperature of any given area. Also, take note of the levels that can be measured as they will be different from model to model. And, if you would like to be able to use an app, look for options that incorporate Wi-Fi or Bluetooth technologies.
Effectiveness
Because you will need to look at the main display (which sometimes will be an app) to see all the information you need, it is not a bad idea to look for a hygrometer with a well-designed interface. Your standards will be a factor here, as some of you will not be able to tolerate some of the interfaces that can be found on hygrometers. It comes down to you here.
Frequently Asked Questions
q:

Where can you use them?

a:

There is pretty much no limit to where you can use these devices in the inside of your home. From your baby's room to the basement to the kitchen, they can be used virtually anywhere. Heck, they can even work great for greenhouses or even in your family tent while you are camping.

And, some will even be able to be used outdoors. The design needs to be weatherproof or at least protected from the elements if you plan on doing that, however.
q:

Can they actually save you money?

a:

Yes, you can save money, and the reason is due to what high levels of humidity can do to you. If you are continually breathing in too much humidity, it can have adverse effects on your health. So, in this sense, knowing the relative humidity and combating it can save you a couple of hospital bills.

Of course, mold and mildew tend to grow once a high level of moisture is brought into the fold (which is what humid environments produce). This type of damage can leave its mark on not only certain items in your home but also your home itself.
q:

When should you use hygrometers?

a:

Really, you should use or install a hygrometer in any location where you fear high levels of humidity. If you are trying to maintain a green thumb then it may be a good idea to keep one in your greenhouse or near the area where you keep your indoor plants.

Of course, as cheap as they are, you can use them year-round to always know where the humidity level is in certain areas of your home.
q:

What about barometers, won't they work?

a:

While best hygrometers often tend to also work as temperature meters, they are not barometers, and the two devices are not interchangeable. A barometer is going to measure atmospheric pressure, and while this device can be useful, it is not going to achieve what a hygrometer is going to.

Barometers are more useful when it comes to weather forecasting and are just entirely different devices altogether.
q:

What humidity level is safe inside homes?

a:

This is something you have probably been wondering since the moment you first clicked on this guide. As these measuring tools can be useful inside your home, it is worth talking about what relative humidity is considered ideal for your home.

If the relative humidity begins to creep past 65 percent, it is too high, and you need to rid the air of some of the moisture. Typically, you will want your home to be anywhere from 30 to 50 percent. You will end up being most comfortable when the humidity level is within these parameters.
q:

How do you calibrate them?

a:

If you buy a hygrometer that can be calibrated and want to ensure its accuracy is the best it can be at all times, you will want to learn how to do so. As was mentioned before, instructions will often be included for you to reference but the process is not going to be strenuous either way.

However, if you would learn better from a visual aid, you will surely be able to find online tutorial videos that explain how to calibrate the specific hygrometer that you own.
Subscribe to our Newsletter