Best Infrared Saunas
In a Hurry? Editors choice: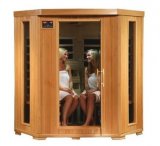 Test Winner: Heatwave Tuscon Monticello

If you are looking to spice up your home or feel as though you need a little luxury in your life, then you should take a look at an infrared sauna. Everyone remembers a sauna from your days at the public pool or after a workout at your
gym
, slipping into the sauna to get that last bit of
toxins
out of your system. But what if you could experience that relaxing heat from the comforts of your own home? Now you may be wondering what are the benefits of having a sauna in my home and the answer is they can provide pain relief,
weight loss
, improved circulation, and even skin purification. These are only a couple of the benefits that an infrared sauna can bring to your life.
Standout Picks
Criteria Used for Evaluation
Top 10 Picks
1

. Heatwave Tuscon Monticello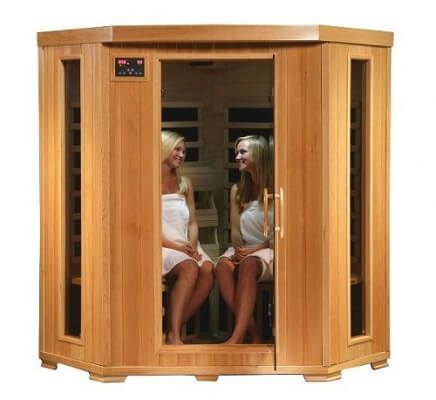 With 10 carbon heaters in all and a capacity that can seat four people, it is clear that the Tuscon Monticello is built for people who are not looking to mess around.
Read more
Effectiveness
All in all, there are 10 carbon heaters that are evenly dispersed inside this unit to provide an optimal amount of heat. At its maximum, this can achieve a temperature of 141 degrees.
Materials
In addition to the solid hemlock wood construction, this is also been assembled in a tongue and groove format. Oh yeah, the bronze tinted glass is also tempered and seven millimeters thick.
Features
To easily adjust the settings, there are control panels located on both the interior and exterior of this unit. Their easy-touch nature makes them very easy to control. Additionally, all sorts of bells and whistles are included here such as a full sound system, a color therapy bulb with rotating colors, an oxygen ionizer to help purify the air, and interior and exterior lighting.
Size and Capacity
This is suitable for four people, which is just about as much as you are going to see. In total, it measures 59 inches by 59 inches by 75 inches.
Overall
Not everyone is going to feel the need to invest in a unit that is as large and extensive as this one. Yet, that is why it lands on the top of this list as it packs everything you could want into one.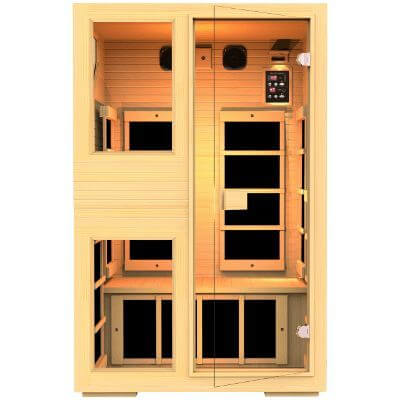 JNH Lifestyles has a habit of consistently designing top-of-the-line models that impress. Well, it just so happens that their two-person unit may just be the finest piece of art they have ever manifested.
Read more
Effectiveness
Situated at the calf, side, and back areas are seven carbon heaters that have been equipped with the latest technology from JNH Lifestyles. In addition, they are ETL approved.
Materials
To tolerate higher temperatures, the integrated glass is actually special safety glass. In addition to this, the hemlock wood and dual-wall construction method also boost the build quality.
Features
Equipped inside of this unit is a digital control panel that gives you all the power at your fingertips. From it, you can set the temperature and the duration. There is also a complete sound system, which includes two premium speakers and an amplifier, has been integrated. Also, there are long-lasting interior LED lights for proper illumination.
Size and Capacity
JNH Lifestyles rates this model as being suitable for up to two people. At 47.3 inches by 39.5 inches by 75 inches, you are probably not going to fit any more than that, honestly.
Overall
One trip to Amazon will prove to you how acclaimed this unit is. Consumers around the world have universally recognized its amazing appeal and functionality.

3

. JNH Lifestyles Joyous Single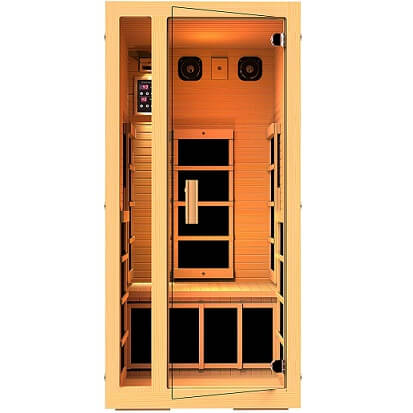 The Joyous One-Person model from JNH Lifestyles is probably the best solo infrared sauna on the market today. If you are only concerned about yours truly, then look no further.
Read more
Effectiveness
Much like with the previous JNH Lifestyles unit, the Joyous also situates its various carbon heaters (with there being six in total) at the calf, back, and side areas.
Materials
In addition to the Canadian hemlock wood, which has no added chemicals whatsoever, the construction has been double walled for enhanced insulation. Plus, the special safety glass will also tolerate higher temperatures.
Features
You can control both the temperature and the duration with the built-in digital control panel.
The premium sound system, which comes equipped with two speakers, includes a volume rocker and works with all portable audio devices. Furthermore, there are interior LED lights.
Size and Capacity
This is only rated for one person; so, please, keep that in mind. But, at 35.5 inches by 35.5 inches by 75 inches, two smaller people would probably be fine inside.
Overall
Outside of everything that was just documented, what is also astonishing about this model is it can easily be broken down and transported to other locations. Talk about the total package.

4

. JNH Lifestyles Freedom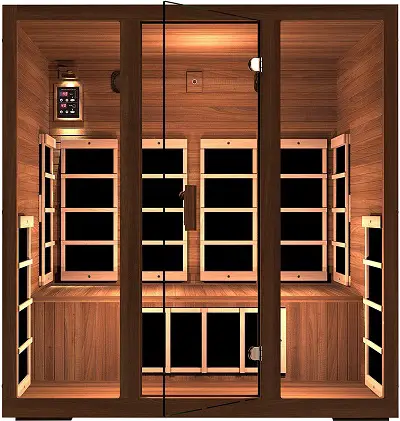 Thanks to the all-natural look of western red cedar, the Freedom is one of the most durable and stunning models on this entire list. But, it is also loaded with design features so you get your money's worth.
Read more
Effectiveness
This is the third JNH Lifestyles model in a row and much like the other models, the Freedom configures its carbon heaters in the back, on the side, and around the calf area of your feet.
Materials
The biggest distinction of this model is that it is made of western red cedar wood. Outside of its amazing appeal, it has also been assembled in a tongue and groove method and is also double walled.
Features
A staple of JNH Lifestyles infrared saunas is their integrated interior digital control panel. Well, the Freedom does not disappoint as you can control the temperature output and duration. The amazing combination of the built-in LED lighting and the integrated sound system deliver you an amazing atmosphere that can further relax your body.
Size and Capacity
All in all, this measures 59.1 inches by 39.4 inches by 75 inches. Thus, the dimensions make this model suitable for up to three people.
Overall
Out of all the models on this entire list, the Freedom may be the most visually striking. While that is certainly not the most important criterion, when combined with its quality, it makes it just about irresistible.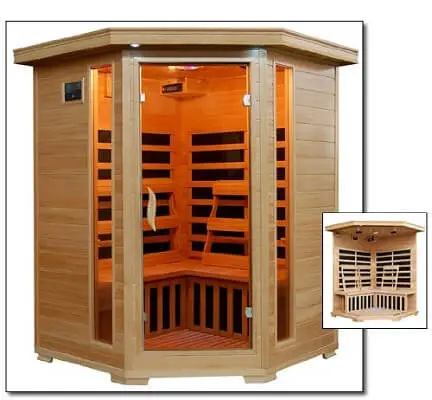 The Sante Fe is definitely one of the most extensive models on this list. After all, its seven carbon heaters, interior and exterior control panels, and a multitude of interior features prove that.
Read more
Effectiveness
There are carbon heaters engineered at the front of the bench, on the floor, on the left wall, and even the right wall. With its even dispersion, the unit is able to reach 141 degrees.
Materials
While the solid hemlock wood construction provides the structural stability of the Santa Fe, the seven-millimeter bronze tinted tempered glass door provides a durable opening.
Features
Whether you are inside the unit or outside of it, you can adjust the control panel accordingly. This is because there are actually two panels and both feature full LED functionality. In addition to the indoor and outdoor lighting and the built-in sound system, there is also a color therapy bulb and an integrated oxygen ionizer to purify the air.
Size and Capacity
Even though this beast is designed to hold three people, some consumers have alluded to the fact that if this is done, the fit may be a little too tight to bear.
Overall
The Santa Fe wraps up what has been an unbelievable top five. Perhaps one of its only drawbacks is its seating as, despite its integrated backrests, it can still provide discomfort.

6

. Radiant Saunas Hemlock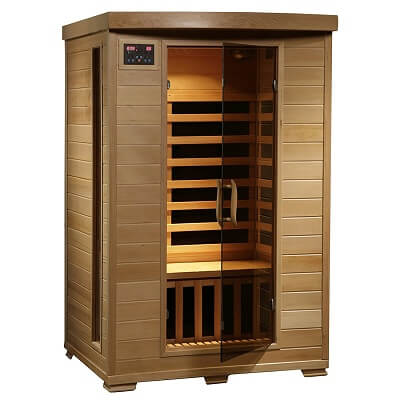 From top to bottom, this next infrared unit is as complete and consistent as a model can be. The fact that it is sixth on this list is more indicative of the quality of the other units, honestly.
Read more
Effectiveness
In total, there are six carbon heaters that are logically placed throughout the unit. At its peak, you can reach temperatures of up to 141 degrees.
Materials
With the combination of the eight-millimeter tempered glass door and the solid Canadian hemlock construction, safety, longevity, and reliability will not be concerns.
Features
Thanks to the use of the EZ-Touch LED control panel, adjusting the temperature of the unit has never, ever been easier. If you like the goods, this delivers it in spades. After all, it comes with soothing features such as a high-quality sound system, an oxygen ionizer, and also chromotherapy lighting.
Size and Capacity
This is one of the smaller units on this list at just 43 inches by 35 inches by 67 inches (the dimensions of the interior). But, it is rated to fit up to two people.
Overall
While this model may not necessarily stand out from the rest of the competition, it also sports several of the goods that consumers crave in an infrared sauna. It is just another solid choice in a long list of them.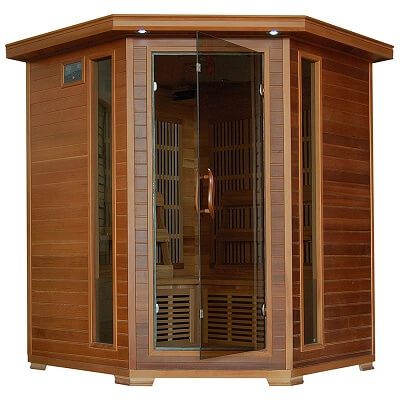 It did not take long for this manufacturer to rear its head again and this time, we are showing off their four-person cedar model. Again, as it is made of cedar wood, the appeal is simply stunning.
Read more
Effectiveness
As this is rated to fit four people, it is no surprise that the system incorporates 10 carbon heaters. All in all, the heat is evenly dispersed and can reach up to 141 degrees.
Materials
On top of being built with red cedar, it has implemented a tongue and groove joinery to improve the edge-to-edge strength. Indeed, this is built to last.
Features
Much like the other unit, which is designed by the same manufacturer this also integrates the EZ-Touch LED control panel. However, this sports dual control panels on the interior and exterior. In addition to the sound system, chromotherapy lighting, and oxygen ionizer, this also features built-in towel hooks and a magazine rack. To say it has basically everything is pretty evident.
Size and Capacity
As this is designed to seat four people, it is nearly five feet in every direction (also being over six feet tall). Indeed, you will need a little extra space for this one.
Overall
Even though it is not as popular as other models on this list, you can clearly see that this cedar sauna delivers the goods. If you are trying to account for three to four people, this could be the ticket.

8

. JNH Lifestyles Collection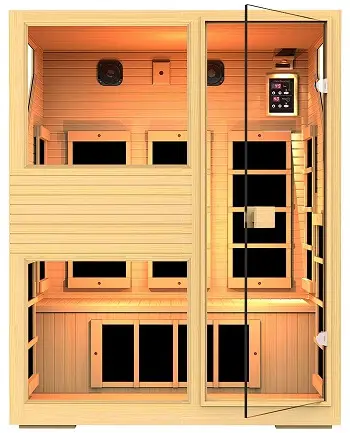 At the time of its release, JNH Lifestyles noted that this model was a technological breakthrough. That is because it is rated to emit zero levels of EMF. Well, that is a breakthrough, huh?
Read more
Effectiveness
In addition to the fact that this is rated to emit zero EMFs, it is also equipped with eight commercial-grade carbon heaters in all.
Materials
To ensure the best insulation possible, the Canadian hemlock construction has been double walled. Also, the special safety glass will tolerate higher temperatures.
Features
As with all other JNH Lifestyles models, this model includes a built-in LED digital control panel. With it, you can adjust both the temperature and the duration. Past the intense heat that this can generate, it is also built with a sound system (which includes two speakers and a volume rocker) and long-lasting LED lighting.
Size and Capacity
As you can garner from the photos, this model will be able to comfortably seat three people side-by-side. With its 59.1-inch width and 75-inch height, there is a suitable amount of room.
Overall
At this point, what else could you expect from JNH Lifestyles? When all is said and done, if they have designed the infrared sauna then it is probably worth your money, period.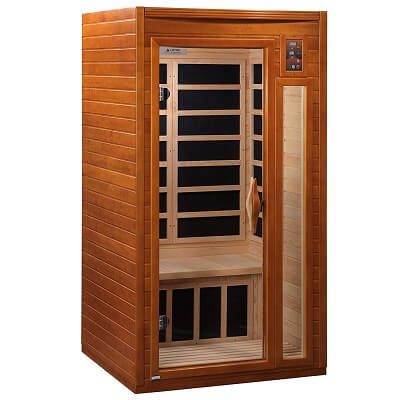 As compared to some other models in the world, the Barcelona uses the thickest interior and exterior wood planks in the world. In addition, it sports six low-EMF carbon heaters.
Read more
Effectiveness
As opposed to units that are heated by ceramic tubing, the carbon heater of this model is 30 percent larger. This increases the efficiency and as far as the maximum temperature goes, this can reach 130 degrees.
Materials
With the double walled Canadian hemlock construction and the clear tempered glass door, this can easily compete with any model in the world in terms of build quality.
Features
The LED control panel, or control panels as there is also one located on the outside), has dual functions for temperature and time. While the LED lighting allows you to kick back and relax, the integrated sound system (although lacking a radio) allows you to jam out to your favorite tunes.
Size and Capacity
It is claimed that this can hold one to two people. Given the relatively smaller size of this unit, it may be a little tight for two people, though.
Overall
To be honest, this is probably the first unit on this list that has legitimate issues that could come into play. Though with that said, it is not enough to constitute a pass.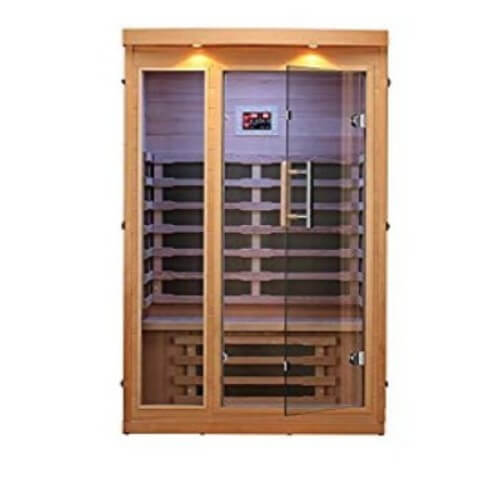 Though the availability of this next model may be scarce, it is still loaded with quality and provides all the benefits of this type of technology. Plus, it sports all the bells and whistles too.
Read more
Effectiveness
With five carbon heaters in total, this model can actually get up to 158 degrees in temperature. Plus, the heaters are logically engineered to deliver even heat.
Materials
Due to the Canadian hemlock wood construction, double wall insulation, and special safety glass, this will retain temperature and provide you with years of reliable use.
Features
The integrated control panel inside allows you to program pre-set preferences ahead of time.
Not only does this come equipped with chromotherapy lights but it also integrates LED lighting. Plus, it includes a built-in sound system with an auxiliary port.
Size and Capacity
Being suitable for two people, this could be an ideal model for a newlywed couple or even for people who do not mind taking turns.
Overall
If you can find this model, then it may just be a keeper. As you can see, the quality is there and very impressive. But, its lack of recognition hurts it a little bit.

Subscribe to our Newsletter