Best Joggers for Men
In a Hurry? Editors choice: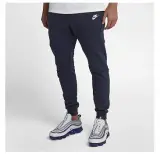 Test Winner: Nike Tech Jogger Sweatpants

Do not be afraid; joggers are not necessarily garments that need to be worn only for jogging. That is what their name implies, but that could not be farther from the truth. The true reality is joggers can make for fantastic casual and
athletic wear.
They have been linked closely to sweatpants, and they are more or less very similar.
Some of you may want them for their style, but they can also be incredibly practical, as well. And, today, we want to emphasize the best joggers for men. It is worth noting, though, that women can still shop for men's joggers (they will be sized for men, however).
In addition to the actual buying guide itself, do yourself a favor and also check out some of the best current joggers that you can get your hands on down below.
Standout Picks
Criteria Used for Evaluation
Size
With joggers, as with every other garment you ever buy, the size and fit will be key.
Alright, so how do you go about sizing yourself for the best joggers for men? It is not something that you need to overcomplicate, but there are some things to make a note of. For starters, understand that some joggers will be designed to fit a bit looser than others. While the pair you go with should not suffocate your legs, be aware that many on the market will offer a slimmer fit.
In specific, you will see several be designed with tapered legs. This is simply something that refers to the shape and fit of the pants. With tapered legs, it means the joggers will be wider at the waist and tighter around the ankle. This is the way many joggers will fit.
Additionally, several of them will be equipped with both an elastic waist and also elastic cuffs. Both of these features will help you achieve a better fit with them. Also, it is never a bad idea to breeze through user feedback. This should give you a decent idea of what you can expect the fit to be.
Breathability
Depending on how you want to use your joggers, this section could be critical.
Joggers resemble sweatpants quite a bit, so that means that they are going to be pants. But, contrary to what you may think, some of them can be quite nice for spring or even summertime use. It all comes down to how breathable they are. Not all of them will be designed in this fashion.
Another great product we reviewed is the Patagonia Terrebonne Joggers, so make sure to check it out as well.
Some will be better served when the weather gets a little colder. For example, even though cotton is naturally breathable, it is not going to wick sweat away from your body. As such, all-cotton joggers will not be the best for the summer. But, they will still breathe well when you are not sweating profusely if that makes sense.
On the contrary, confident engineers will implement specific sweat-wicking fabrics into their joggers. This adds a layer of breathability that so many of you will love. And, one of the most common materials for this is polyester.
Polyester itself is solid at wicking away moisture from your skin and also dries incredibly quickly. It is when it is coupled with additional technologies where it becomes good at this.
Comfort
Do you really want to wear a pair of joggers that are uncomfortable?
When it comes to assessing how comfortable a pair of joggers is, it can be tough to do without actually trying them on first. This is the issue with ordering clothing online. But, as you will see, there are ways around it. For joggers, one of the most important details is going to be the main fabrics in which they are made.
As you saw with the above list, probably the two most popular fabrics are going to be cotton and polyester. There is an extremely high likelihood that in your closet as we speak, you have several cotton and polyester garments. So, you should have a good idea of what you like, in other words. Some people prefer polyester over cotton and vice versa.
A lot of times, it comes down to your preferences. But, know this; cotton's fabrics are less abrasive than polyesters. This means that cotton is softer. However, polyester performs a little better than cotton. Also, without the addition of spandex (which you will see a lot), neither one of these fabrics are going to stretch a great deal.
Color
These pants are known for their style so why not buy a color you prefer?
There are several of you who will only be looking to wear your new joggers casually. Whether out on a walk or while merely lounging around in your home, they can be great for this kind of stuff. But, whenever you wear something casually, there is a good chance that you will want it to match your style. Check our guide on the best hoodies for men.
Everyone has a different standard for themselves regarding what they like to wear. What this means is nobody can just tell you the style (or color) of joggers that you will prefer. Some of you will be okay with a standard pair of brown or black joggers while others will want more dynamic color options to choose from.
And, this leads to the next point. Most sellers out there will provide a substantial selection of colors to choose from. This offers variety to you which is going to increase the likelihood of you finding an option that you like. It is a selling strategy that many manufacturers adopt, and it is not too difficult to understand why.
Features
This section all comes down to whether or not you want joggers with certain pockets.
For some of you, there is going to be nothing worse than owning a pair of pants or trousers that are not designed with pockets. Some of you will require more pockets than others, but it goes without saying that many of you will prefer to have them. Does the question then become why joggers for men should be any different? The answer; they shouldn't.
What you will find is the options on the market can vary regarding their pocket designs. If nothing else, though, most will at least be equipped with hand pockets. Depending on what you need them for, you can look for them to be spacious and possibly even enclosed with zippers.
You may also want back pockets. To keep in line with a traditional pair of jeans, this is something that you will see quite regularly. Back pockets can be great for your billfold and such. And, then some joggers will sport side bellow pockets.
These can be rarer, but these types of pockets can provide you with even more room for your essentials. Again, though, this section just comes down to your personal preferences. It all comes down to what you want and need.
Our Top Picks for the Best Joggers for Men
1

. Nike Tech Jogger Sweatpants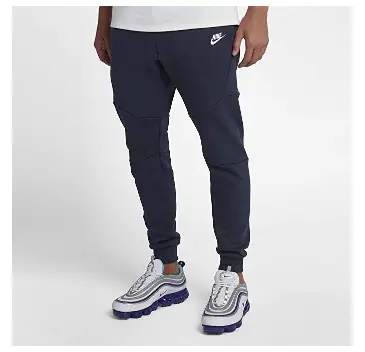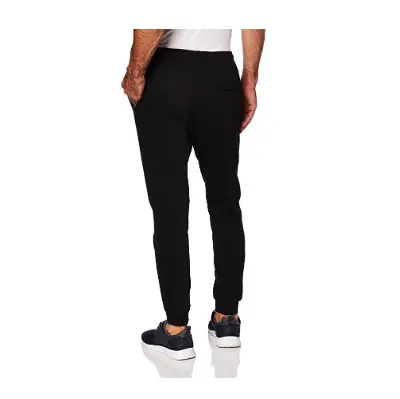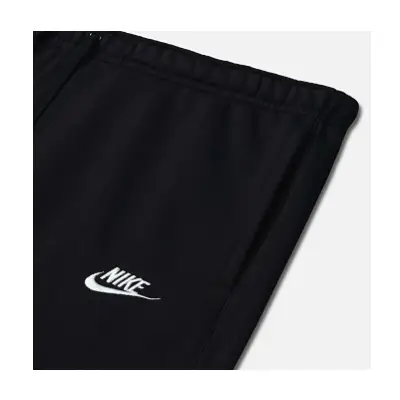 It should literally surprise no one that this list kicks off with Nike. While the Adidas Tiro Pants almost secured the top spot on this list, they could not quite top these incredible joggers from Nike. For great combinations check our guide on the Best Nike Tops.
Read more
Size and Fit
To streamline the fit, these joggers have been designed with tapered legs and articulated seams. What is also lovely is these are equipped with an anti-slip band.
Breathability
These can be used in all different types of weather. The engineered fleece adds a little bit of warmth. However, they are also lightweight enough to the point where they can still be used athletically.
Comfort
In addition to the lightweight nature of these joggers, their feel is also incredibly soft. This adds to the overall comfort.
Colors
While there is a good color selection overall, it is clear that Nike emphasized black, white, and red color options. Not that there is anything wrong with that.
Features
The mesh pockets that have been implemented (that are also zippered) are incredibly convenient. Their wide openings will hold just about anything you could want.
Overall
The quality is solely through the roof here, and anyone who is anyone will agree to that. Of course, these are also pretty darn stylish and comfortable too. The question is, how could you go wrong?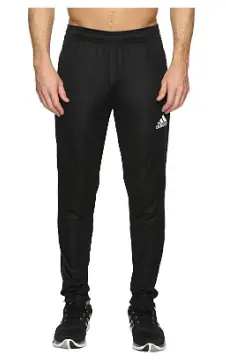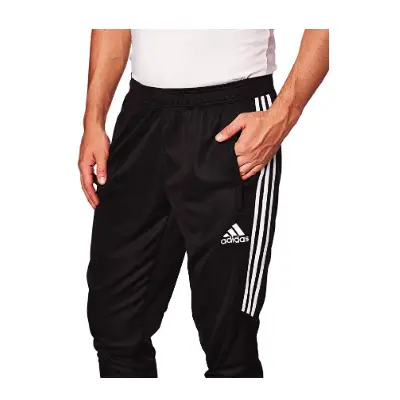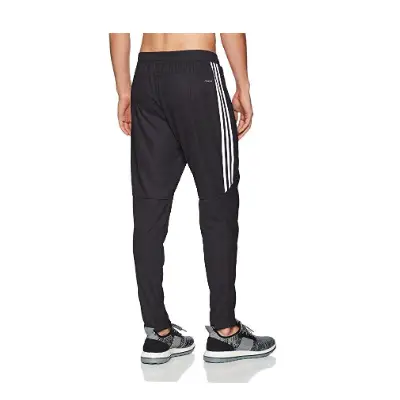 If this was a popularity contest, these joggers would have taken home the gold prize. That is not the way it rolls, though. However, 2nd place is certainly nothing to scoff about.
Read more
Size and Fit
As great as these are, they are slim pants and this is something you need to be aware of. If you are larger or have a muscular build then there is going to be little left to the imagination.
Breathability
On cold and windy days, the Tiro Pants are not going to do much for you. On the contrary, however, the Climacool technology is going to wick away sweat from your body and enhance the breathability.
Comfort
The 100 percent polyester construction makes for an incredibly comfortable pair of pants. In addition to feeling great against your skin, they also stretch quite a bit.
Colors
As with Nike, Adidas also placed an emphasis on black, white, and red colors. Black and white is Adidas's trademark so that is not too much of a surprise.
Features
The side pockets that have been integrated are designed with zippers. This is a nice addition as it allows you to better secure some of your items.
Overall
You can see why these are so popular, can you not? They are super breathable, lightweight, made of polyester, comfortable and also practical. Seriously, what more could you ask for in a great pair of joggers for men?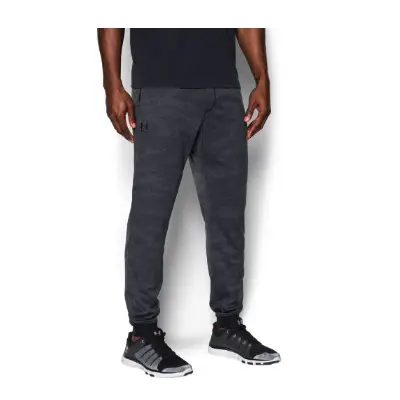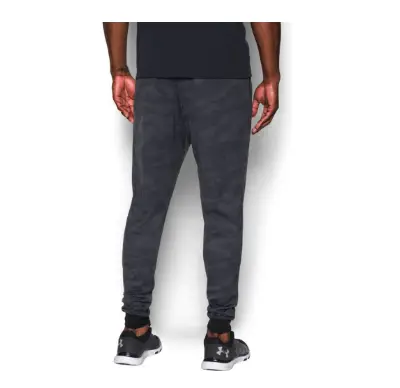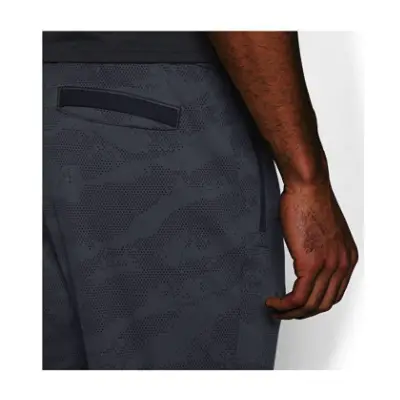 It says a lot that the top three choices on this list (including this one) are designed by three of the most recognizable brands in the world. Under Armour delivers about as well as Nike and Adidas did.
Read more
Size and Fit
Overall, these fit well. What helps with this is their ribbed waistband. Additionally, there is a drawcord closure, and the legs have also been tapered.
Breathability
Past the lightweight core of these joggers, they have also been designed with sweat-wicking material. This combination is about as ideal as it gets for breathability.
Comfort
For the most part, these are comfortable to wear, and this is thanks to the 100 percent polyester construction. At the same time, the crotch does sit rather low, and this may not be ideal for some of you.
Colors
Though the color selection is not vast or anything like that, all the options are vibrant in their design.
Features
All different types of pockets have been implemented here. This includes an internal phone pocket on the right side, back left pocket, and also two hand pockets.
Overall
As many of you know, you can rarely bet against Under Armour. Sure, the crotch sits somewhat low, but these pants are still very practical, comfortable, and breathable.

4

. Champion Powerblend Jogger Pants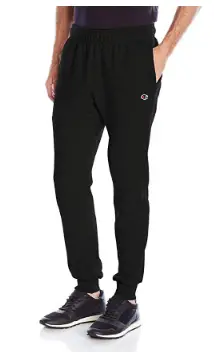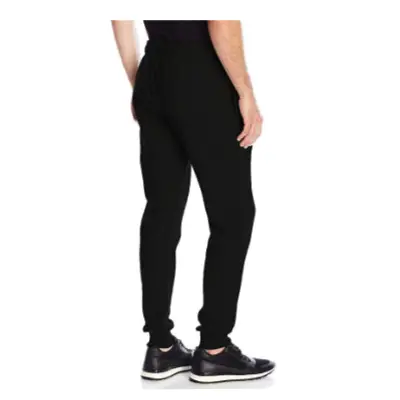 What several of you are going to adore about these jogger sweatpants is their polyester and cotton blend. Really, due to this, these will offer the best of both worlds for both materials.
Read more
Size and Fit
No, these are not tight enough to cut off your blood circulation. At the same time, they do fit quite tight as they are very slim near the ankles. In other words, they are not the best for larger men.
Breathability
All while providing some warmth, these are also not too heavy to be pathetically overheating. The weight is ideal for many of the different seasons.
Comfort
Even when you sit down with these joggers, they will remain comfortable thanks to their loose crotch. Of course, the 50/50 polyester and cotton blend is also really, really nice.
Colors
Some basic color options are available but, overall, there is nothing too special here. That is not necessarily an issue as the available colors still all look really good.
Features
The pockets are deep enough to hold an iPhone 7 Plus if you can believe that. This should give you an idea of just how practical these pockets really are.
Overall
Due to the slimmer fit, these are only going to be ideal for a select few of you. If you do not mind this tighter fit, though, you can buy some joggers that are truly fantastic.

5

. Match Men's Jogger Pants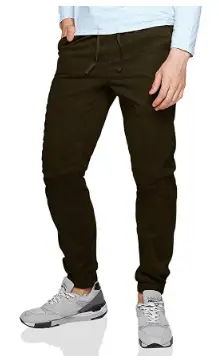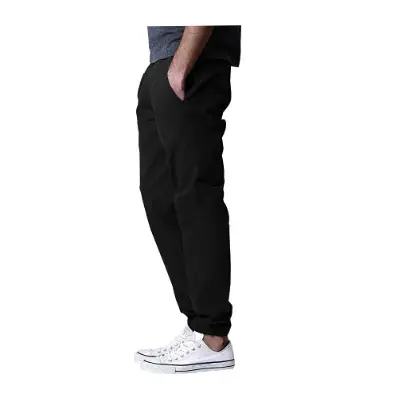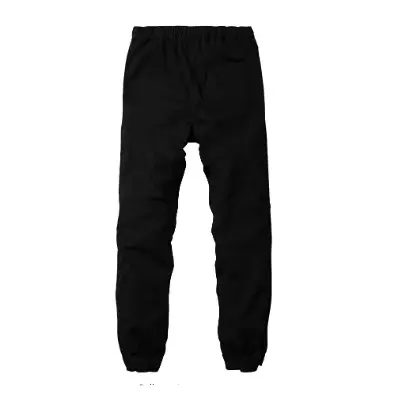 Many joggers for men will be crafted primarily out of cotton and that is one of those instances here. Cotton is naturally breathable and quite soft so not too many people are going to complain.
Read more
Size and Fit
With a regular fit and slightly tapered legs along with elasticized cuffs, you can expect a somewhat baggy fit with these pants. Some of you will not like this, though.
Breathability
Yes, cotton itself is breathable, so that is going to make these pants suitable for summer wear. However, cotton is also going to absorb your sweat. So, for intense activities, these will not be the best.
Comfort
Even though these are not going to stretch that much, the cotton itself makes them quite soft and comfortable. Granted, you do not mind the looser fit; you should find these convenient.
Colors
The color variety is quite admirable for sure. All of you are going to find a suitable color, and while that is audacious to say, it is the truth.
Features
With these joggers, you will be able to find a place for several of your essentials. This includes two front slant pockets and also a back patch pocket.
Overall
Sure, there are joggers for men that work better for athletic reasons, but these are good as casual wear. That is the beauty of the all-cotton construction, after all.

6

. Italy Morn Tapered Cargo Pants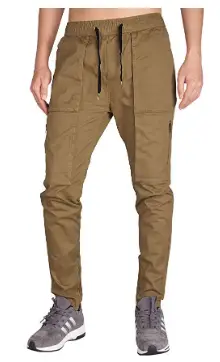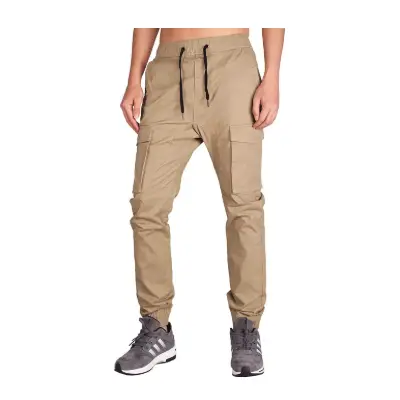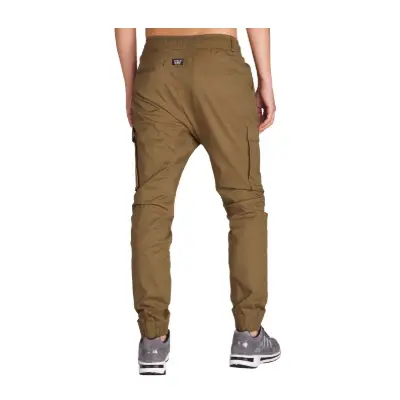 Many people will agree that joggers are fantastic to wear casually. With a nearly all-cotton makeup, you can say that these suckers fill that bill quite well.
Read more
Size and Fit
Compared to the rest of the joggers, the waist and thighs seem to be a bit larger. As for the lower legs and ankles, the fit starts to get a little tight (intentionally).
Breathability
These will retain too much heat for summertime use. But, they are made primarily of cotton, so they are not necessarily non-breathable, to put it that way.
Comfort
For the record, this has been preshrunk, so you do not need to worry about the cotton shrinking. This is 98 percent cotton, so you can get an idea of how comfortable it is.
Colors
Based on the color selection, you can tell that there is an emphasis on outdoor colors. Let's say that the choice is pretty darn good, especially if you are an outdoor enthusiast.
Features
In total, there are six pockets. Some of you may find this a bit excessive, but others will be quite fond of the two side slant pockets, two back pockets, and two side bellow zippered pockets.
Overall
For casual wear or even during the spring or fall, these are going to be terrific. The color selection is also excellent and that is always a bonus.

7

. Victorious DK Denim Joggers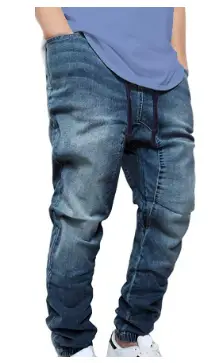 Now, you may be a bit confused by the photos as these look like jeans. Well, they are actually jogger jeans but many people would agree that they are much more comfortable than traditional jeans.
Read more
Size and Fit
The user feedback, regarding the sizing of this model, is kind of all over the place. However, for bigger guys, these are going to be great as there are several extra-large sizes available.
Breathability
These are primarily made up of cotton and cotton itself is naturally breathable. At the same time, these are jogger jeans, so these may not be the best choice for summer activities.
Comfort
For sure, these are much more comfortable than regulation jeans. The central cotton blend (with just a hint of spandex) and overall stretch denim makeup of them certainly helps.
Colors
Resembling a pair of blue jeans, a lot of you are going to find these joggers extremely appealing. There are not many color options available, however.
Features
As with a traditional pair of jeans, you can expect your classic pocket design from this pair of joggers.
Overall
These joggers resemble jeans more than they resemble sweatpants. Granted this is something that you will be interested in, you should find great comfort in owning these bad boys.

8

. Victorious Twill Jogger Pants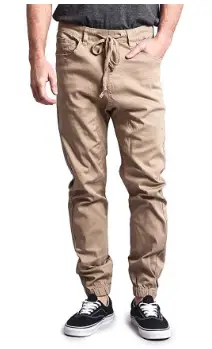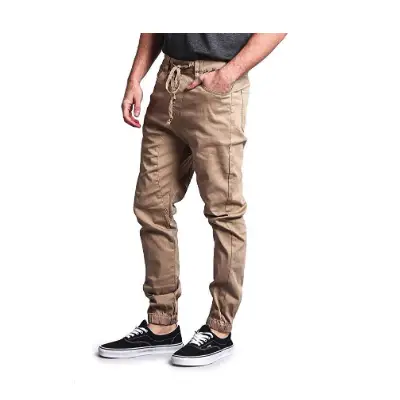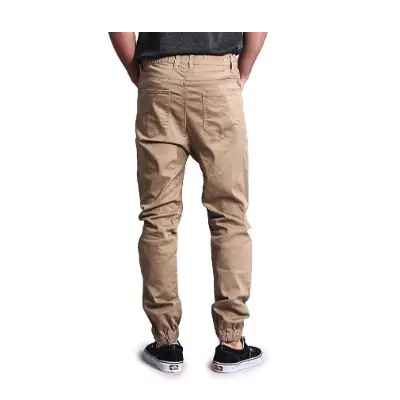 As you can see from the photos, these are looser than your average pair of joggers. They have been designed of both cotton and spandex, though, so that is quite familiar.
Read more
Size and Fit
The general consensus seems to be that these jogger pants run a little small. Just for the record, though, these are equipped with elastic cuffs, an elastic drawstring waist, and also tapered legs.
Breathability
The near all-cotton construction is a familiar one in the world of joggers. It makes these pants highly capable of absorbing your sweat (though they may not be the best for summertime use).
Comfort
When compared to other joggers, these are a bit rougher. They are by no means uncomfortable to wear, however, as they still sport a 97 percent fabric blend of soft cotton.
Colors
A strong selection of colors is available for you to choose from. What you will notice, though, is that there is a strong emphasis on different shades of both red and brown.
Features
This has the classic five-pocket styling that so many of you will love. There are two front pockets (with another one located inside of one of them) along with two in the back.
Overall
These joggers have received near critical acclaim and it is not too hard to see why. In addition to being incredibly stylish and comfortable, they are also just a joy to wear almost anywhere.

9

. Southpole Basic Fleece Pants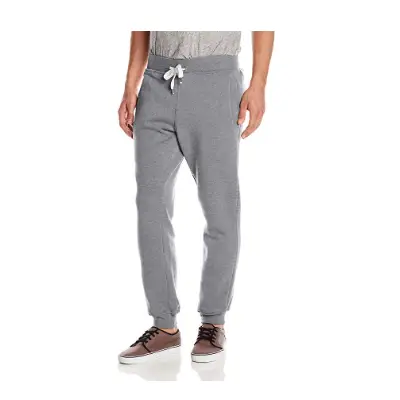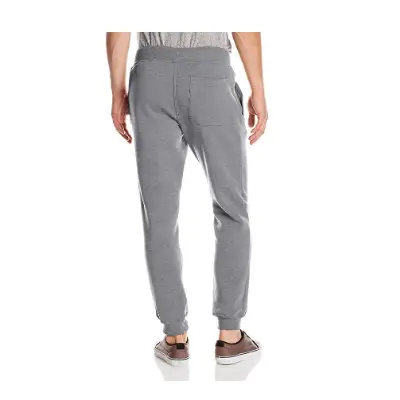 Alright, so some of you will not want joggers that are primarily made out of cotton. These suckers are made 100 percent of polyester and if you prefer this synthetic material over cotton, you should really like these.
Read more
Size and Fit
Near the calves, these are pretty tight but that is something that some of you will actually not mind. As with most models, they also are designed with an elastic waist.
Breathability
The main fabric blend is polyester (in fact it is the entire blend). Polyester has always been a great fabric for athletic wear and that is also the case here.
Comfort
The exterior texture of these pants is a bit different. However, the interior is extremely soft and feels great against your skin.
Colors
Most of the colors do resemble each other quite a bit. It is still nice to have a variety of colors that are presented to you, though.
Features
The slanted hand pockets are what you would expect from a pair of joggers like this. They provide a great place for your hands to rest and can also hold some of your essentials.
Overall
Arguably out of all of the options on this entire list, this most resembles a traditional pair of sweatpants. They are quite versatile in their usefulness too.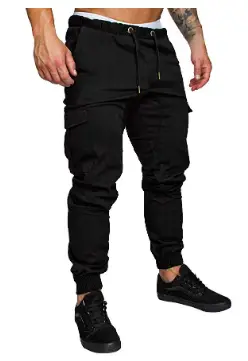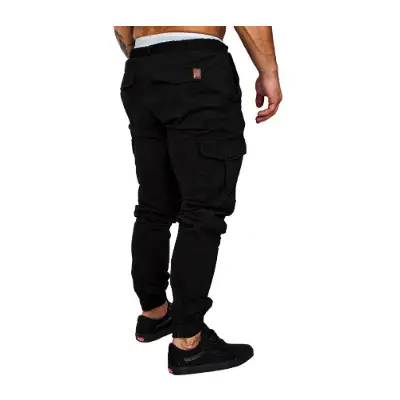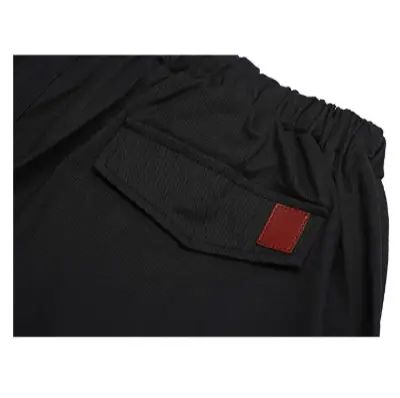 The thin material of these pants may seem problematic but it is actually a blessing if you want to use them in hotter weather. The material actually resembles a lightweight rain jacket, as a matter of fact.
Read more
Size and Fit
While being tighter in the butt and thigh areas, these are also quite baggy around your calves. Simply put, some of you will like this fit and others will not be too fond of it.
Breathability
As noted, these would actually not be too bad in the summer. The lightweight appeal of the material is thanks for that. But, you may find these more enjoyable in the spring or fall.
Comfort
Though the ankles can end up scrunching up your sucks a little bit, these cargo pants are still quite comfortable as a whole.
Colors
Each of the color options available is unique in its appearance. While there is not an overabundance of colors to choose from, the selection available is still excellent.
Features
Several buyers have complained about the back pockets. After all, they are only flaps and are not pockets. But, the bellow pockets on the front are quite nice.
Overall
The unique nature of these joggers landed them on this list. The lightweight material is a pleasure, and the style is through the roof. That will be a winning combination for most of you.

Subscribe to our Newsletter