Best Joggers for Men
In a
Hurry? Editors choice: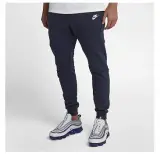 Test Winner: Nike Tech Jogger Sweatpants

Do not be afraid; joggers are not necessarily garments that need to be worn only for jogging. That is what their name implies, but that could not be farther from the truth. The true reality is joggers can make for fantastic casual and
athletic wear.
They have been linked closely to sweatpants, and they are more or less very similar.
Some of you may want them for their style, but they can also be incredibly practical, as well. And, today, we want to emphasize the best joggers for men. It is worth noting, though, that women can still shop for men's joggers (they will be sized for men, however).
In addition to the actual buying guide itself, do yourself a favor and also check out some of the best current joggers that you can get your hands on down below.
Standout Picks
Criteria Used for Evaluation
Size
With joggers, as with every other garment you ever buy, the size and fit will be key.
Alright, so how do you go about sizing yourself for the best joggers for men? It is not something that you need to overcomplicate, but there are some things to make a note of. For starters, understand that some joggers will be designed to fit a bit looser than others. While the pair you go with should not suffocate your legs, be aware that many on the market will offer a slimmer fit.
In specific, you will see several be designed with tapered legs. This is simply something that refers to the shape and fit of the pants. With tapered legs, it means the joggers will be wider at the waist and tighter around the ankle. This is the way many joggers will fit.
Additionally, several of them will be equipped with both an elastic waist and also elastic cuffs. Both of these features will help you achieve a better fit with them. Also, it is never a bad idea to breeze through user feedback. This should give you a decent idea of what you can expect the fit to be.
Breathability
Depending on how you want to use your joggers, this section could be critical.
Joggers resemble sweatpants quite a bit, so that means that they are going to be pants. But, contrary to what you may think, some of them can be quite nice for spring or even summertime use. It all comes down to how breathable they are. Not all of them will be designed in this fashion.
Some will be better served when the weather gets a little colder. For example, even though cotton is naturally breathable, it is not going to wick sweat away from your body. As such, all-cotton joggers will not be the best for the summer. But, they will still breathe well when you are not sweating profusely if that makes sense.
On the contrary, confident engineers will implement specific sweat-wicking fabrics into their joggers. This adds a layer of breathability that so many of you will love. And, one of the most common materials for this is polyester.
Polyester itself is solid at wicking away moisture from your skin and also dries incredibly quickly. It is when it is coupled with additional technologies where it becomes good at this.
Comfort
Do you really want to wear a pair of joggers that are uncomfortable?
When it comes to assessing how comfortable a pair of joggers is, it can be tough to do without actually trying them on first. This is the issue with ordering clothing online. But, as you will see, there are ways around it. For joggers, one of the most important details is going to be the main fabrics in which they are made.
As you saw with the above list, probably the two most popular fabrics are going to be cotton and polyester. There is an extremely high likelihood that in your closet as we speak, you have several cotton and polyester garments. So, you should have a good idea of what you like, in other words. Some people prefer polyester over cotton and vice versa.
A lot of times, it comes down to your preferences. But, know this; cotton's fabrics are less abrasive than polyesters. This means that cotton is softer. However, polyester performs a little better than cotton. Also, without the addition of spandex (which you will see a lot), neither one of these fabrics are going to stretch a great deal.
Color
These pants are known for their style so why not buy a color you prefer?
There are several of you who will only be looking to wear your new joggers casually. Whether out on a walk or while merely lounging around in your home, they can be great for this kind of stuff. But, whenever you wear something casually, there is a good chance that you will want it to match your style. Check our guide on the best hoodies for men.
Everyone has a different standard for themselves regarding what they like to wear. What this means is nobody can just tell you the style (or color) of joggers that you will prefer. Some of you will be okay with a standard pair of brown or black joggers while others will want more dynamic color options to choose from.
And, this leads to the next point. Most sellers out there will provide a substantial selection of colors to choose from. This offers variety to you which is going to increase the likelihood of you finding an option that you like. It is a selling strategy that many manufacturers adopt, and it is not too difficult to understand why.
Features
This section all comes down to whether or not you want joggers with certain pockets.
For some of you, there is going to be nothing worse than owning a pair of pants or trousers that are not designed with pockets. Some of you will require more pockets than others, but it goes without saying that many of you will prefer to have them. Does the question then become why joggers for men should be any different? The answer; they shouldn't.
What you will find is the options on the market can vary regarding their pocket designs. If nothing else, though, most will at least be equipped with hand pockets. Depending on what you need them for, you can look for them to be spacious and possibly even enclosed with zippers.
You may also want back pockets. To keep in line with a traditional pair of jeans, this is something that you will see quite regularly. Back pockets can be great for your billfold and such. And, then some joggers will sport side bellow pockets.
These can be rarer, but these types of pockets can provide you with even more room for your essentials. Again, though, this section just comes down to your personal preferences. It all comes down to what you want and need.
Our Top Picks for the Best Joggers for Men
Subscribe to our Newsletter