Best Wading Boots
In a Hurry? Editors choice: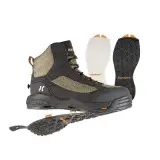 Test Winner: KORKERS GREENBACK

Is it safe to say that one of the catalysts for ruining a day of fishing is poor quality boots? Now, this does depend on the type of fishing you are partaking in because if you are on a boat in the middle of a lake, your footwear is not going to matter too much. However, if you enjoy fly
fishing
or getting really close to the action, then it may be in your best interest to invest in some high-quality wading boots. Now, as you will see, the best models provide you with superb traction, excellent comfort, and will drain efficiently. While there is more to it than just those few attributes, that gives you a nice little glimpse of what is in store for you today.
Standout Picks
Criteria Used for Evaluation
OUR TOP PICKS FOR THE BEST WADING BOOTS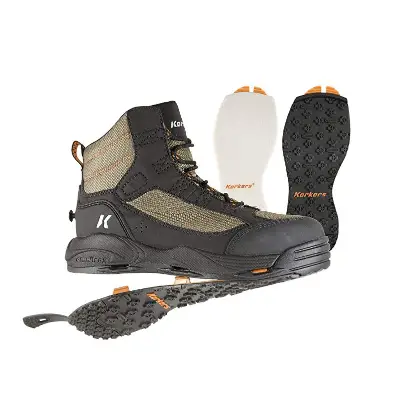 One of the reasons why Korkers remains ahead of the rest of the pack is due to their OmniTrax 3.0 interchangeable sole system. And, they actually include both felt and rubber soles with their Greenback Boots.
Read more
Comfort
A really nice feature here is the integration of the removable insoles. Of course, one buyer did note that these do not secure your heel very efficiently and heel lifting can result.
Traction
As mentioned, included with your purchase is both felt and rubber soles. Because of the interchangeable sole system, you can choose the style that you desire.
Longevity
To ensure their Greenback boots would last longer than the average design, Korkers integrated cemented parts and strategic seams.
Drying Efficiency
Two important design features enhance the draining efficiency here. Firstly, you have the internal channels that physically allow water to flow out and secondly, there are the hydrophobic materials that provide faster dry times.
Fitting
Korkers does specifically recommend that you order a size up from your normal shoe size. As for the fitting, these are outfitted with traditional laces that sport rugged web loops.
Overall
The pinnacle of this technology has been bestowed before your eyes. If you are not looking to mess around, then you need to seriously consider investing in these bad boys.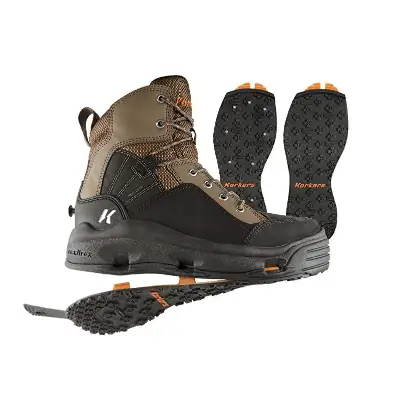 Hey, it is Korkers back-to-back. Their BuckSkin Boots implement the same interchangeable sole system documented above and that is just a hint of what they have to offer.
Read more
Comfort
Not only are these light in weight but they are also designed with enhanced midsoles which pay dividends in shock absorption and general support.
Traction
Again, these are designed with the OmniTrax 3.0 interchangeable sole system. Also, Korkers includes two of their soles (both plain and studded Kling-on rubber) with your purchase.
Longevity
There are a few specific features that enhance the longevity of each boot. You have the scratch rubber toe cap that extends to the side panels and the rubberized anti-abrasion synthetic material that is implemented.
Drying Efficiency
As with the previous Korkers model, hydrophobic uppers are featured here that will dry very quickly. Additionally, there are large drainage ports that are incorporated and midsole drainage channels.
Fitting
With traditional laces and durable metal hardware, achieving the right fit is easier. However, a few reviewers have documented issues with some of the shoelace eyes popping out of place.
Overall
Whether you want to go with these or the other Korkers model, you will get your money's worth. Again, they just seem to have a knack for designing amazing wading boots.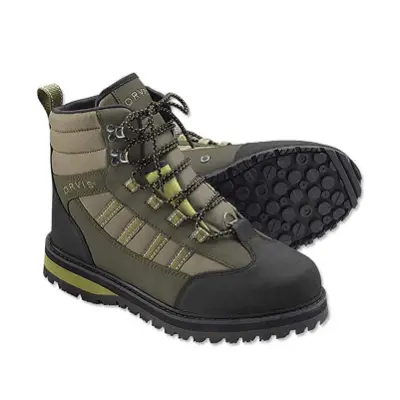 Orvis designed their Encounter footwear with rubber soles and also padded collars for enhanced ankle support. And, although these are a bit heavy, they are pretty much flawless otherwise.
Read more
Comfort
Indeed, the padded collar of each boot aids terrifically in ankle support. Some users have commented on the weight of these bad boys, though, in a negative light.
Traction
If you do need more traction, these will accept Posi-Grip screw-in studs. In addition to this, the Vibram rubber soles, even without the studs, provide great grip as is.
Longevity
Without question, these are designed to last. Not only is each boot made with a scratch rubber toe cap for protection at the toe box, but also the synthetic uppers hold up to daily wear.
Drying Efficiency
The same synthetic uppers that hold up to wear with great efficiency also aid in drainage. Because they dry so quickly, the risk of the spread of invasive species is limited.
Fitting
There is no shortage of room inside each one of these shoes. It is noted by the seller, though, that if you are a half-size, you should order one size up.
Overall
Outside of the heavier weight, you can see why so many users have raved about these. Yes, the extra weight can be a bit of a nuisance but the overall quality overshadows it.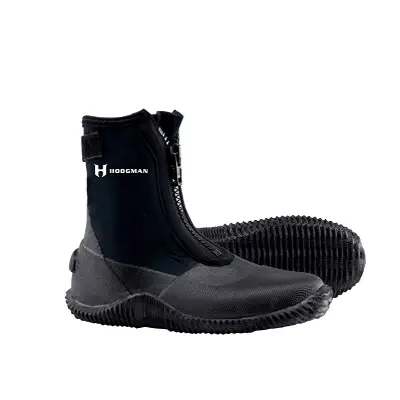 It is not surprising that the sizing of this next model can be tricky as it is a common issue with wading boots. But, if you can find the right fit, the rest will be history thanks to the quality.
Read more
Comfort
Sporting uppers that are constructed of 3.5-millimeter thick neoprene, these shoes are not only comfortable but they will also aid in shock absorption.
Traction
Overall, the traction provided by the non-marking rubber soles is admirable. Though they may struggle a bit on bigger rocks, they deliver great grip on most mud and gravel bottoms.
Longevity
It is common amongst reviewers that these are built extremely well. You will find very few people with negative remarks about the longevity and that is huge.
Drying Efficiency
Being primarily made out of mesh, at least the exterior, when you step out of the water, it is not going to take long for these to drain said water and to dry.
Fitting
It seems that getting the proper size and fit can be tricky. With the sizes, the length will increase but the width will not, so that is part of the issue. Yet, in spite of this, there are adjustable cuffs that will fit snugly around your ankles.
Overall
The addition of the neoprene uppers really puts these over the top. If you know anything at all about Muck Boots, then you know that neoprene is a premium material that can make all the difference in the world.

5

. REDINGTON SKAGIT RIVER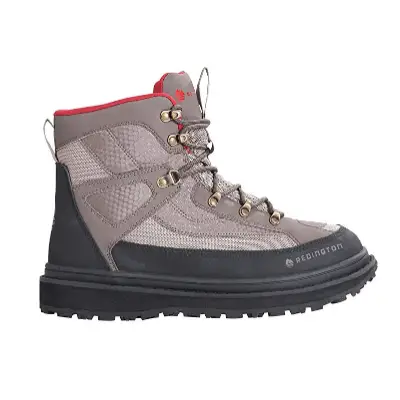 Yet another model appears on this list that sports rubber soles, in addition to being designed with rubber toe caps for enhanced abrasion resistance. But, these do not drain the best, admittedly.
Read more
Comfort
A very important feature to look out for is a padded collar. Indeed, that is what is built-in to each boot and it delivers much-needed ankle support.
Traction
As is, the rubber soles that are designed here are great. The better news is you can add metal screws if need be, to enhance the grip even more.
Longevity
For added abrasion resistance, Redington integrated rubber toe caps into their model.
Drying Efficiency
Though there have been buyers who have claimed these can take a while to dry, they are implemented with mesh panels on the body and this will aid in draining.
Fitting
It is not uncommon but be aware that previous buyers have had issues with the fitting. Some people claim these run too big and some claim the contrary.
Overall
If you are able to find the right size, which has been alluded to already, then you can enjoy one of the most complete models out there. Finding that right size, though, can be tough.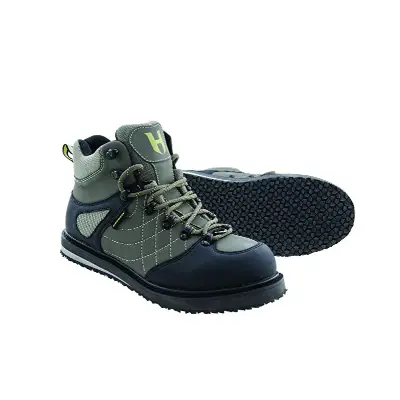 Now, the H3 Boots are actually designed with felt soles, which are also very popular outsoles. And while these are a somewhat affordable option, they are designed with quality in mind.
Read more
Comfort
In addition to the padded collars, these are also equipped with lightweight EVA midsoles that will help to absorb shock. To say these offer support and are comfortable are understatements.
Traction
Again, felt soles are utilized here and these are a bit different than rubber soles. Per user feedback, it seems that the traction that these produce is good to great.
Longevity
Though reinforced toes and abrasion-resistant uppers have been integrated here, it is noted by various buyers that these are somewhat cheaply constructed.
Drying Efficiency
There are two specific features that enhance the drying efficiency here. They are the hydrophobic uppers and the mesh drainage ports that have been built into the side panels.
Fitting
It is advised that you order a size down here as these boots tend to run one size larger than your normal street shoe.
Overall
If you are not a fan of felt soles, then you will probably be disappointed here. Everyone else will be thrilled due to the combination of the quality and the relatively affordable cost.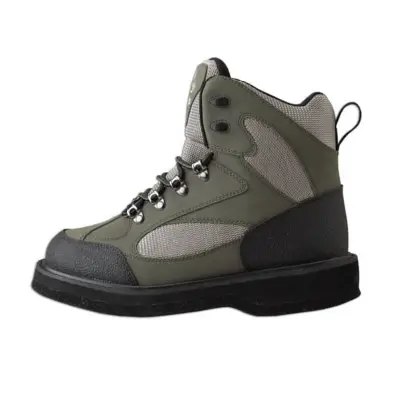 Admittedly, a hindrance of this next model is the provided sole. It is not terrible, by any stretch of the imagination, but it is not as good as the other features that stand out with this model.
Read more
Traction
It is advertised that the soles of these boots will provide traction in all wading conditions. Now, it is worth pointing out that a few consumers have had different experiences and have questioned the performance of the soles.
Longevity
Caddis specifically mentions that they only use the highest quality polyester to construct the outer sections of each boot. Plus, each model is also water tested beforehand.
Drying Efficiency
From the photos, you can clearly see that mesh material has been strategically placed in certain locations to obtain the most efficient draining process possible.
Fitting
To accommodate any other insulations, Caddis specially engineered their model to be oversized (by around half-a-size). So, take this into account when ordering your specific size.
Overall
These are great and few people will state otherwise. However, one of the most important features of a wading boot (the sole) has been questioned here. For some, that could be too big of a red flag.

8

. FROGG TOGGS HELLBENDER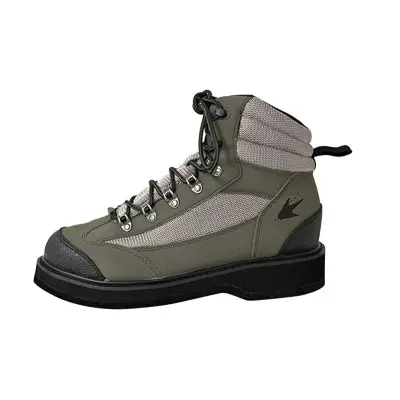 If nothing else, almost every single buyer who has commented on the comfort of the Hellbender boots has only had positive things to say about it. Everything else just falls into place after that.
Read more
Comfort
Yep, it all begins with the comfort in this case. Frogg Toggs designed their Hellbender Boots with polyurethane midsoles, lightweight mesh, padded ankle collars, and PVC uppers.
Traction
Now, the soles are not replaceable and that is a bit disappointing. With that said, the felt outsoles, while they last, do enable a much easier walk through lakes and streams.
Longevity
Admittedly, there is a reason to be concerned here. There have been a few buyers who have had longevity issues with the soles (claiming they separate from the boots).
Drying Efficiency
Both the lightweight mesh materials and the PVC uppers are going to help these drain and dry much, much quicker and easier.
Fitting
The fit seems to be true-to-size. In addition to this, the speed laces help with the fitting and so does the wide engineering.
Overall
Have there been durability issues with this model? Yes, they have been documented in the past. While these last, however, they are comfortable and supportive.

9

. DUCK AND FISH WADING SHOES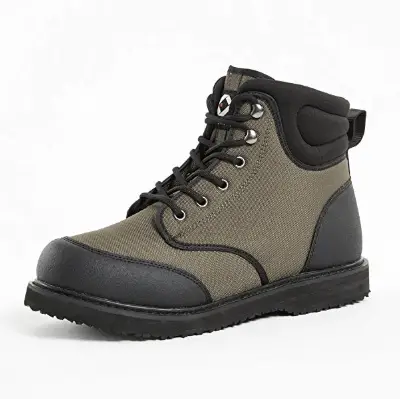 This is yet another highly affordable option and it is one of the best, quite frankly. It is not the best of the best, per se, but anyone would be remiss not to give this the credit it is due.
Read more
Comfort
For increased ankle support, neoprene triple padded collars are included with each boot. The EVA midsoles also assist with both the comfort and the support, as well.
Traction
Though rubber soles are generally very efficient at what they do, reviews are out there that criticize the slipperiness that these soles provide.
Longevity
The 1200-denier polyester uppers, reinforced PVC toe caps, and back counters do enhance the durability. That said, the hooks for the laces are kind of cheap and a few buyers have experienced issues with the soles separating.
Drying Efficiency
There are drainage holes implemented and they will assist with the overall drying process.
Fitting
It is actually recommended that you order your normal shoe size with this model. Part of the reason why is due to the extra-wide engineering.
Overall
Due to the price, it is understandable that there is going to be durability concerns. These can be overlooked a bit because of the overall quality that is present.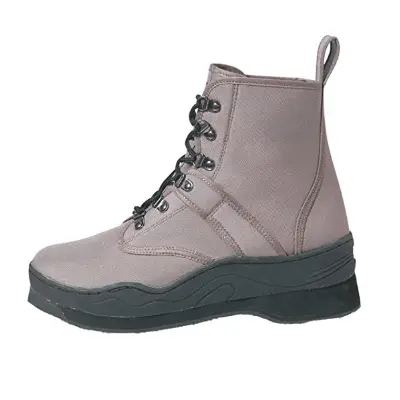 Caddis is a high-quality designer and it is always important to look for that when you are in the market for any type of product, quite frankly. They specifically made wading boots that would appeal to those of you looking for affordability.
Read more
Comfort
Though these may not be the most comfortable wading boots on this list, they certainly are far from painful as they sport cushioned insoles.
Traction
Overall, the felt bottoms of this footwear seem to offer great traction. They will grip well and prevent you from follow on your rear while in the water.
Longevity
As with the other Caddis model on this list, only the highest quality of polyester is utilized and each boot has been water tested beforehand. A few users have had longevity issues within several months.
Drying Efficiency
The soles are porous and what that means is water is going to be allowed to flow out of them when you step out of the water.
Fitting
As one reviewer reported, these run narrow and can be problematic for users with wider feet. That said, Caddis does intentionally engineer these to be oversized by around a half-size.
Overall
Look, this model did not secure a spot on this list merely because it is affordable. The quality is there and you can clearly see that. But, admittedly, there are superior options on the market.