La Sportiva Trango TRK GTX
La Sportiva Trango TRK GTX Review Facts
Best known for climbing shoes and gear, La Sportiva is a brand that really covers the bases when it comes to general mountain sports activities. We were sent a pair of their Trango TRK with Gore-Tex to try out. These kind of suit two categories, mountaineering, and hiking. Although they might be a little too heavy duty for a walk through a groomed path in a national park, they seem to have what they need to get over rugged ground. We put them through the works, so check out our review and see if these are what you're looking for or not.
Editor's Pros & Cons
Constructed with Gore-Tex lining, keeping feet dry in rough conditions
Climbing toe design in the outsole allows you to get over rocky terrain that might require you to climb a bit
Rugged toe cap for added protection
Full length attached tongue keeps debris out
Overall sturdy and durable construction
Outsole
One of the most important parts of an off-road shoe or boot, the outsole must be able to hold up and perform well under the conditions that the footwear is intended for. The tread on the Trango is fairly typical for most hikers, and they can wear it as
hiking boots
, but with a few cool differences.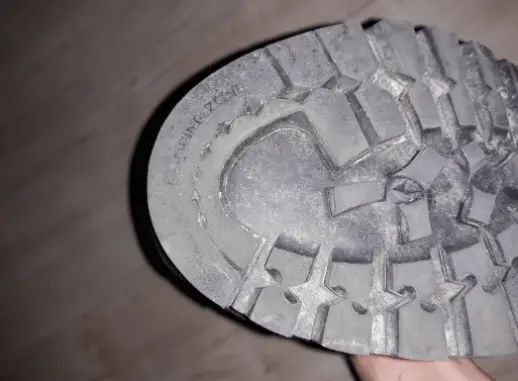 Under the toe, there is a "Climbing Zone", which is great when you actually have to do a little climbing to get over rocks or obstacles that are in your way. To be honest, I would really expect a feature like this from a brand like La Sportiva, who focuses on climbing. As far as the rest, the Vibram outsole is pretty sticky, so they really have solid grip over most surfaces. They do lack some of that traction in the snow though.
Comfort
I've read some customer reviews that the sizing runs big, Although I didn't find that the case with the pair I got. If sized right, these are quite comfortable. They come with their own insole, which might not work for everyone. If that's the case, simply replace with your own. After some distance and plenty of exploring in these, the comfort is still there.
These were even used in
wet and snowy winter conditions
, working out just fine with the addition of some thick wool socks.
The ankle does take some time to break in, although the boots, overall, are more flexible than they appear. Or at least as flexible as you would really want.
Water Resistance
This version of the Trango TRK is constructed with Gore-Tex, so that is a big plus. The great thing about using
Gore-Tex
in footwear like this is that there isn't a significant loss in breathability, nor an increase in weight. I think by now most of us are aware of the benefits of Gore-Tex.
If you go wading in these, your feet are going to get wet. But for regular intended use, these worked perfectly as expected without fault. The tongue is connected all the way to the top, which also offers added
protection from the elements
.
Upper
Underneath the overlay and abrasion resistant rubber, the upper is constructed from a nice woven material that seems pretty durable. Also, the build of the upper includes
Gore-Tex
to help keep your feet nice and dry. There are cushioned patches of Cordura-like material added to impact and abrasion zones around the top and middle of the ankle for added durability.
The overlay, mentioned above, covers a decent amount of the boot's upper. This does a nice job of resisting the elements and also keeping the boots intact through rough environments. The abrasion resistant rubber sections over the toe and heel are also a great touch.
The lacing system is pretty standard, and the quick lace pegs hold well. There weren't any issues with the laces coming off while on the go.
Grip
The ideal environment for these boots is rocky terrain, although they perform on hikes through the forest just as well. The boots didn't have too much trouble climbing soggy moss-covered hills, or even getting over concrete obstacles while exploring old war bunkers.
The issue experienced was walking through packed snow. The grip was noticeably less than it was in other circumstances. But, these are not
snow boots
, so I guess that's okay. From climbing shoes to trail/mountain running shoes to boots, grip and traction isn't something that we have really experienced issues with when it comes to La Sportiva.
Protection
In addition to Gore-tex, the boots have plenty of exterior protection as well. There are sections of abrasion resistant rubber, that doesn't wear down easily, covering the toe, along with the lower portion of the forefoot, and the wear zone on the heel.
There is an overlay covering a large portion of the boot, which helps maintain shape, resist water, and of course the elements. The overlay also makes it much easier to clean, by simply wiping with a damp cloth. One concern I had, was that this overlay would catch on something and tear off, or even wear away from being
wet and dry
repeatedly. So far none of those issues have happened to my pair.
I guess we can put the tongue in this section, as it does have protective properties. The tongue is fully attached, all the way to the top, for that "sock-like" fit many brands are going for these days. But, there is a purpose served by doing this. First, you don't have to worry about the tongue falling, then having to stop and adjust. Second, that is one less entry point for trail debris to get in.
Breathability
While these might be a little heavy for hot weather conditions, the breathability, overall, is decent. One of the nice benefits you get with Gore-Tex is not having to cover the boots in rubber in order to
stay dry
. This obviously allows more airflow, which can make the whole experience go in a much more positive direction.
They do have a film overlay that covers most of the upper, although there is a break from that right around the middle that also allows some airflow. These were put to the test in autumn and winter, without much issue regarding breathability. We'll be sure to update as to how they perform in a warmer climate once we get the opportunity.
Durability
Without exaggeration, it's safe to say that these will last a while. The pair I got was put to the test, going outside the intended uses, and they faired very well. In fact, it's hard to tell what they've been through by looking at them. Other then some wear on the outsole and the rubber over the toe, they clean up well.
We've run some
trail running shoes
from La Sportiva without durability issues, and these boots fall into the same quality of production. One worry was that the film overlay on the upper would rip or just peel off over time. That hasn't been the case so far. The unprotected portion of the upper also has taken a beating well, with no real wear and tear to worry about. So are they durable? We say yes!
Style
Well, if you're familiar with the brand you won't have to look for the logo to know who makes them. The pair I got came in that La Sportiva yellow that seems to be their theme color. Some like more muted or earth-toned styles, but I am a fan of the bright colors.

These are clearly not "walk through the park" boots, and are intended for some rugged use. But they're decent for off-trail hikes as well. If you know the brand, then you already know what to expect as far as style goes.
Value
When we look at value, what we are paying attention to is what you really get for what you spend. The Trango aren't super cheap, but we wouldn't call them super expensive either. It really comes down to what you're going to be doing in these boots. If you are looking for footwear that is built for fairly rugged use, holding up well for continuous use, these are a great option. They are made by a brand who produces some great climbing shoes and gear, so you can bet that these will serve you well with mountaineering as well.
The Bottom Line
These are great boots. The brand offers models for more heavy duty use, however, these are really good for exploring n the hills, a little bit of mountaineering, some rugged hiking, all in less than ideal weather conditions.

The price tag is a little high for some, but you're getting a quality pair of boots for the amount. You can enjoy the benefits of these without having to be a hardcore mountaineer.
Subscribe to our Newsletter