Best Reflective Running Gear
In a Hurry? Editors choice: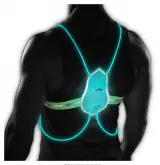 Test Winner: Tracer360 Reflective Vest

Are you someone who likes to start your morning off with a run? Are you also someone who enjoys the occasional run when the sun goes down? If you enjoy running at either one of these times, then you need to consider investing in some reflective running gear.
Now, you may be thinking that you do not need any as you can easily see during your runs. However, that is not the point. The point is in running in low-light conditions; you need to be seen. Wearing reflective gear can be the difference in life and death and while this sounds extreme, it can happen.
The good news is there is a ton of
running gear
on the market with reflective capabilities. In addition to teaching you how to buy such items, down below is a list of some of the best reflective running gear that money can buy.
Standout Picks
Criteria Used for Evaluation
Use
First things first, you need to establish the type of reflective gear that you need.
There are a few different layers to this section, so hold on tight. For starters, only you are going to know the running gear that you are going to wear. Even though it is important to wear reflective running gear, what is the purpose if it is going to have a negative impact on your running experience? This is important as there is a plethora of different equipment that you can go with.
From reflective jackets to vests to bands to clip-on lights, there are many ways you can go about this. And, it is not as if you need to have reflective detailing on every part of your body as that will be overkill. Put, decide upon the gear that you believe will be the most practical for your needs.
Also, keep in mind that some running gear is suited for winter runs and others for summer runs. Then, you will have options that can be suitable for layering or be utilized by themselves. It all depends on what season you need your gear for running, truthfully.
Along the same line, specific options will be able to handle inclement weather. Gear such as storm jackets and waterproof headlamps can be useful when you want to adventure on out in the rain.
Features
Outside of the actual reflective nature of the gear itself, there are some other features to look for.
First and foremost, all reflective running gear is going to possess the capabilities of reflecting light. This is something that they will all share in common so you can take comfort in that. However, how they go about it can be different. In specific, some clothing will just have reflective logos, while others will have a full 360-degree reflective thread.
Then, you will have wrist bands and tights, for example, which will be equipped with reflective lining. Either way, the point is to find the gear that is going to reflect light to its source. But, there are also some other features that you can keep an eye out for.
For clothing, you may want some practical features. This can include a pair of media pockets or even hand pockets. Provided you have some accessories that will need accounted for, keep your eye out on stuff like this.
Also, if you do go with battery-operated options, they may come equipped with different lighting modes and colors and such. This can be a nice touch if you want to run when it is nearly pitch black outdoors.
Comfort
The gear you buy needs to be comfortable, right? Pretty simple stuff here.
You need to realize that reflective running gear is not going to be all that different than traditional equipment regarding its comfort. It is not as if gear that can reflect light is going to be unbearable to wear, so you will not need to worry about that. Of course, that does not mean that this section is not essential, as it most certainly is.
Most of you will agree that finding the running gear that is comfortable to wear will be a top priority. Well, how exactly do you go about that? For starters, ensure you like the feel of the material. Yes, you can't physically try on the gear you find online, but you should be familiar with the fabrics that you like.
Additionally, looking for flexible gear is ideal. Your entire body will be moving while you run, so wearing clothing that restricts your movement is not going to be recommended. Instead, look for running tights that can freely move.
It is also advised to buy gear that fits. As obvious as this sounds, it is vitally important. The good news is some gear (such as bands and headlamps) will be adjustable to allow for a custom fit.
Breathability
Boy oh boy is this section ever vital? Do yourself a favor and buy breathable gear.
If there is one thing that everyone can agree on, it is that breathable reflective running gear is going to be preferred over the alternative. Because your body is going to generate heat during your runs, it is going to release sweat glands. Whatever gear you have on is going to be responsible for this sweat as if it can't wick it away; it is merely going to absorb it.
While this is fine for workout headbands and stuff like that, you would much rather find the gear that is going to wick away sweat from your skin. Thankfully, when engineers design their equipment to run, they are fully aware of this ideology. Most of them will either equip their gear with certain technologies for enhanced breathability or create them with materials that can naturally wick away sweat.
Past this, specific gear (such as caps, running socks, etc.) should be engineered with mesh ventilation zones. This will prevent them from trapping in heat as unless you are running in the winter; you will want the heat to escape. Ample ventilation is going to allow this to be possible.
Weight
Ideally, you will want to look for lightweight gear as it will make your experience better.
Most avid runners out there will agree that running with extra weight is typically not a good thing. The idea is to be as lightweight as possible with your gear and accessories you carry. Even if you could care less about shattering records or anything like that, bogging yourself down with unnecessary weight can have a negative impact on your runs.
The simple fact that more weight can increase your fatigue level and even cause you to sweat more should be proof enough that it is not ideal. So, in the simplest of terms, you need also to buy running reflective gear that is lightweight. Or, at least thin enough to the point where the weight will not be too much of a factor during your runs.
Our Top Picks for the Best Reflective Running Gear
1

. Tracer360 Reflective Vest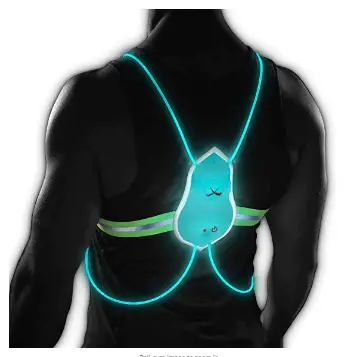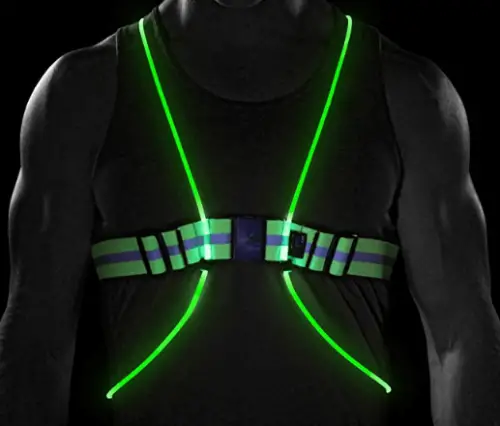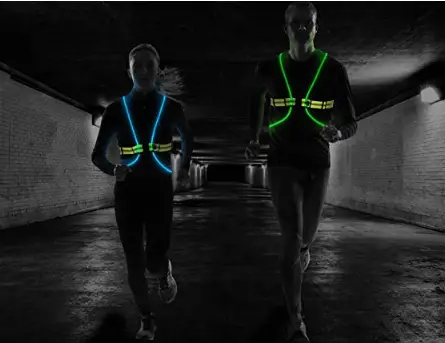 It only weighs 6.5 ounces
The modes can easily be selected via the press of a button
Designed with a unique X shape for enhanced visibility
It only seems fitting to kick off this list with a piece of gear that epitomizes what best reflective running gear is all about. This vest will illuminate your upper area to allow you to be seen easily in low-light conditions.
Read more
As you will see from the photos, this reflective vest is equipped with an X shape LED pattern. This is the portion of the garment that is going to illuminate. So, while your entire chest and upper area are not going to be shining bright, enough of it will for the job to be done.
What is unique about the LED lights, though, is that you can change them. With the simple press of a button, you can access different colors and also different illumination modes altogether. Some of the different colors include red, green, orange, and pink. And, all these modes and colors will be easy to switch between even in the middle of your runs.
Now, as for the actual vest itself, it is lightweight, breathable, and most comfortable. It will take some time to get accustomed to, however, as you may not be used to running with such a device on. At 6.5 ounces, though, you will not be feeling it too much. Also, it can be adjusted to your liking.
Heck, this is even a water-resistant vest too. The only gripe is the subpar battery life, but this is something that most of you will have no problems dealing with.

2

. U Hyoptik Compression Tights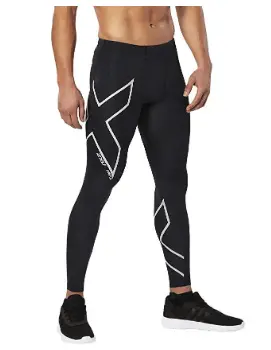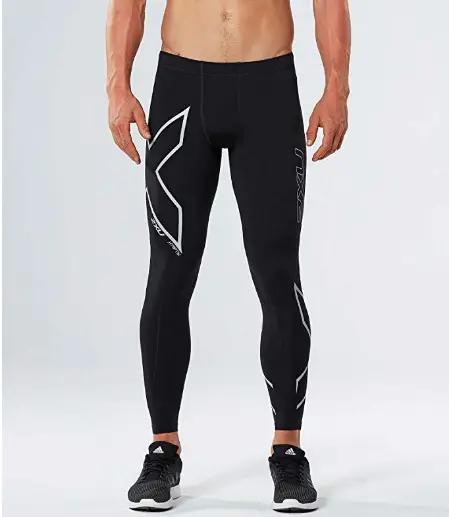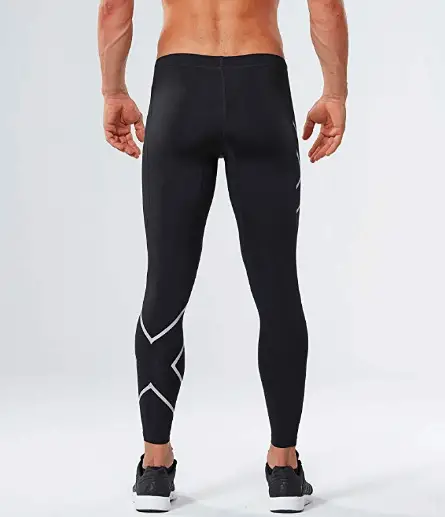 Designed with flatlock seams for better comfort
Built with high-quality elastane yarns
The front and back panels provide tremendous compression
Admittedly, some reflective gear can be a nuisance to wear but that is not an issue with these compression tights. Their reflective strips give them the ability to allow you to be seen while their performance speaks for itself.
Read more
Again, these tights have been designed with reflective strips and this is what allows them to be so effective at night. But, what allows them to be so well made is the fabric blend of nylon and elastane that was executed. 28 percent of this, for the record, is elastane and this makes sense as these are compression tights.
Speaking of compression, that is where these really thrive. The beauty of their design is the fact that they are equipped with 70-denier front panels and 105-denier back panels. These panels deliver the compression power that you will be looking for.
Now, as for their comfort, that is exceptional too. This is thanks to the flatlock seams and flat waistband. Both these features manage to eliminate the chance of chafing and general skin irritation. Oh and thanks to the sweat-wicking properties, these tights are also highly breathable, as well.
To top it all off, the elastane yarns also allow for excellent flexibility. About the only potential concern is that these run small but that is about it folks.

3

. ASICS Lite-Show Jacket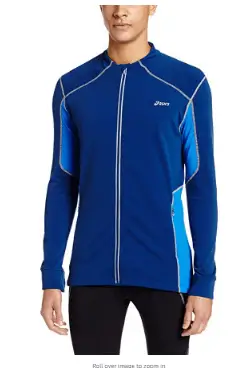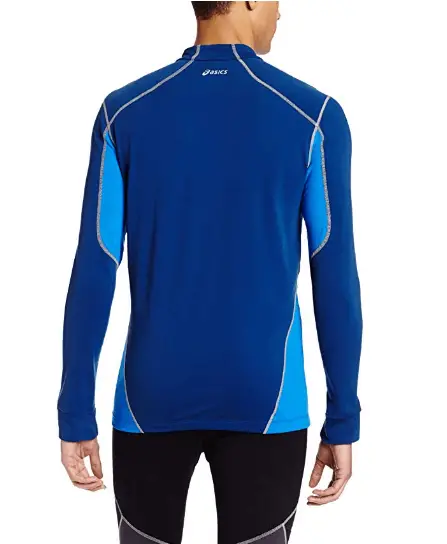 Features a 360-degree reflective flatlock makeup
Equipped with a media pocket
Has been finished with a DWR coating
Naturally, the weather will be colder when you run in low-light conditions (that is the power of the sun). So, a lightweight jacket such as this that can allow you to be seen is about as good a combination as you are going to find.
Read more
With the nylon and spandex fabric blend of this men's reflective jacket, it will feel and perform differently than most jackets you will ever wear, and you can count on that. The fabric has also been finished with a DWR (durable water repellent) coating, and this makes it suitable for runs in the rain.
As per the name, this is a lightweight garment. Without being too snug, it is form-fitting. Again, though, granted you get the correct size, you will never feel like you are suffocating in this bad boy. With this lightweight core, it is not quite suitable for freezing weather. At around 40 degrees, you may be okay, but anything colder than that would be pushing it without additional layers.
The 360-degree flatlock build also accomplishes two things. Firstly, it makes for superb comfort and flexibility. Secondly, as reflective detailing has been implemented, it allows you to be seen in low-light conditions easily. There is also a media pocket and cord loop if you want to utilize those features.
Overall, even if you wanted to wear this on your daytime runs, this is going to be an excellent addition to anyone's running closet.

4

. Buff DryFlx Neck Warmer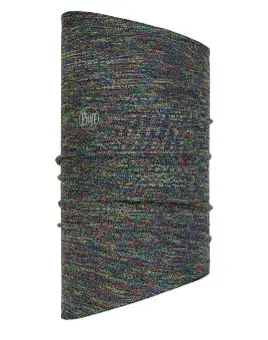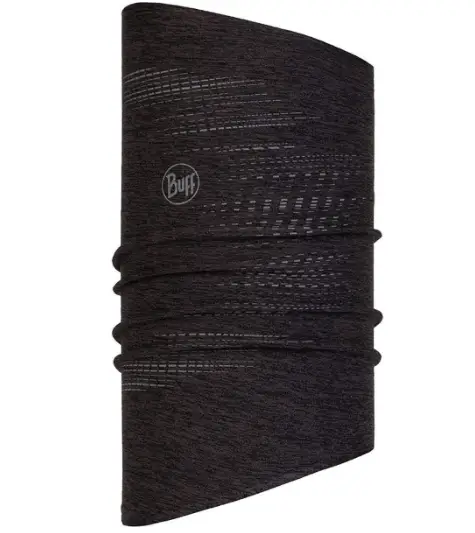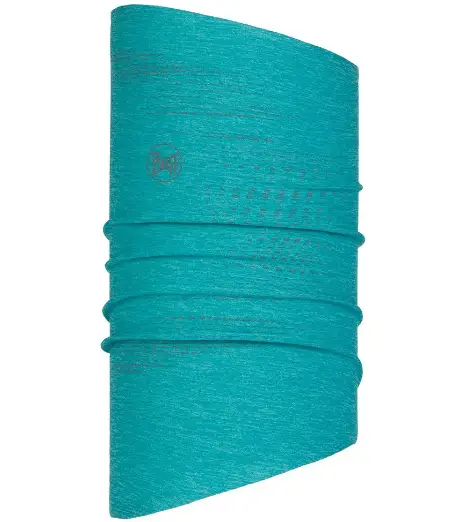 Features UPF 50+ protection from the sun
Designed with four-way stretch fabric
Weight and bulk have been reduced due to the articulated construction
Again, reflective running gear is often going to be needed when the weather is a little chilly outside. Consider adding this neck warmer to your collection as its 360-degree reflective design will satisfy your needs.
Read more
This is a neck warmer, so that means that it is not going to do you much good in the summer. When the weather gets a little chilly, though, it can work wonders. And, it's reflective detailing, as noted, will allow you to stick out when the conditions are not ideal. Due to its size, you can also use it to cover your nose and mouth if you need the extra warmth.
All at the same time, this is not a bulky or overweight warmer. Instead, it is quite lightweight in its design. It has also been articulated, and this further cuts down on the total weight. Adding to this reduction of weight is the fact that four-way stretch material was utilized. This allows the fabrics to stretch easily and will make them more comfortable around your neck.
And, even if the sun does come out to play, this has got your back with its UPF 50+ sun protection. As simple as it is, you can see just how good this design is. It is recommended to consider this one highly.

5

. Mr. Visibility Reflective Bands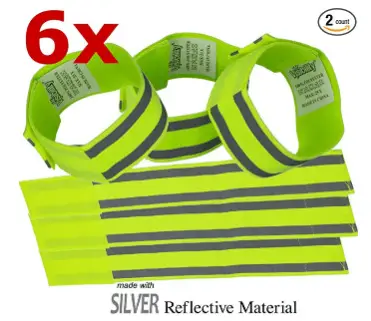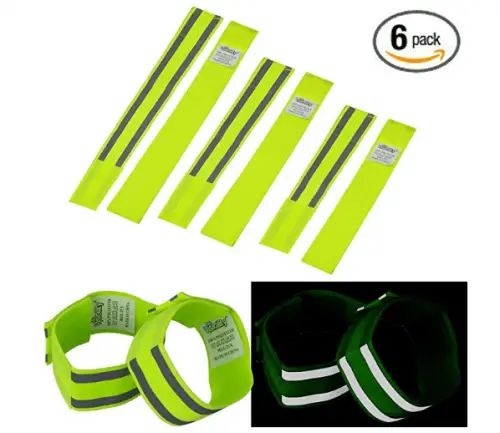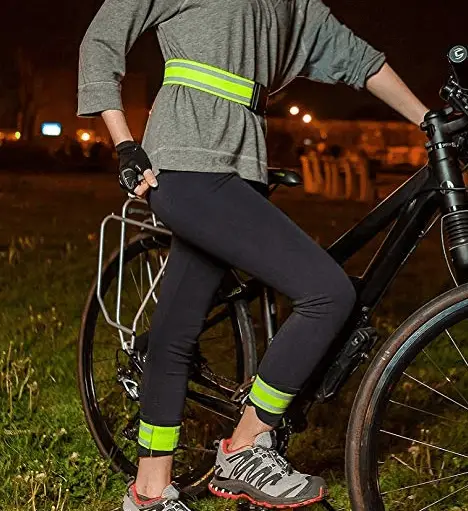 Will easily fasten with their hook and loop fasteners
They do not require batteries for illumination
Made of powerful elastic tape
While you can go the subtle route by buying gear that has reflective detailing on it, you can also simply be blunt about it with these running bands. You can strap these on your body and you will immediately be visible to everyone else around you.
Read more
As these bands have been designed with silver reflective tape, they excel when you need to be visible in low-light situations. Even when compared to similar bands that utilize standard reflective tape, you can tell that these are just in a different class. You will be visible to anyone and everyone around you.
All in all, you will receive six different bands with your purchase if you decide to go with this option. Each band can be used by men, women, or children, and this makes them incredibly versatile. Each one is also lightweight enough not to be a nuisance to wear. But, they are a little too small for use over the clothing.
As such, these bands will not work that well during bitter cold runs when you need to cover your body entirely with clothing. There durable hook and loop fasteners, however, do make them easy to adjust for just about anyone to wear. So, feel free to share them with your loved ones.

6

. ASICS Storm Shelter Jacket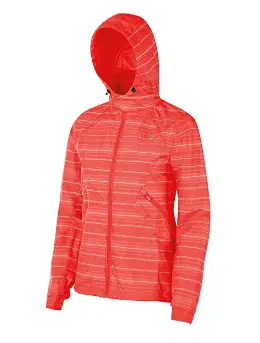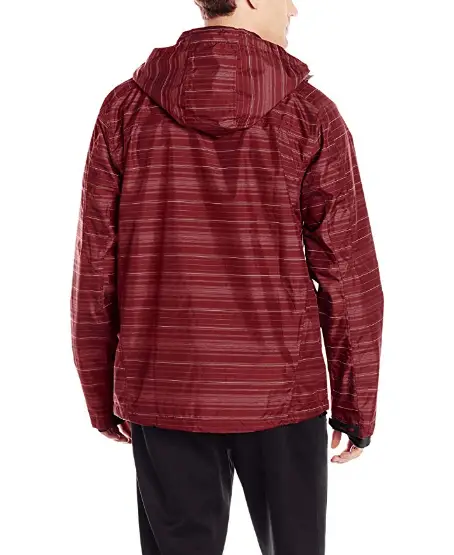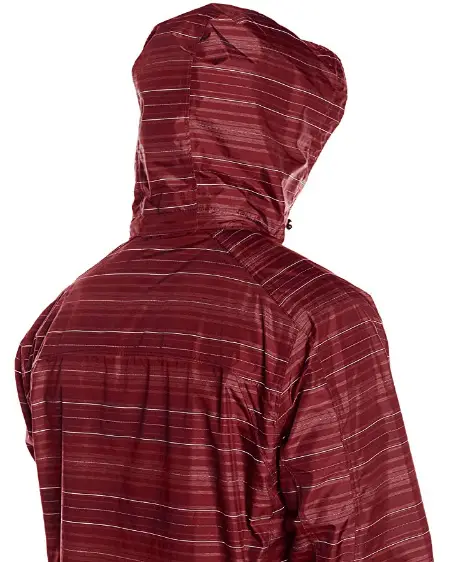 Equipped with zippered hand pockets
Finished with a DWR finish for weather protection
Features 360-degree reflective thread
Yes, there are some brave souls out there who will still run in raging downpours. With the proper gear, such as this storm shelter jacket from ASICS, it is not as bad as you may think, though.
Read more
Not only has the embedded logo been designed to be reflective, but this entire jacket sports 360-degree reflective thread that has been woven in. This combination is going to do wonders in making you visible at night. Of course, as noted, this will achieve much more than that for you.
Its 100 percent polyester shell has been finished to not only be water-resistant but fully waterproof. In addition to the durable water repellent coating that has been applied, the seams are fully sealed for ultimate weather protection. And, to top that all off, the center front zipper is also water-resistant. Let's say that this storm jacket is correctly advertised as such.
ASICS also added a polyester mesh lining into this jacket too. Past the natural comfort that this provides, it also makes the garment more breathable as a whole. Be aware, though, that this has been known to run small. As such, you may want to order a size larger than you usually would.
Oh, and for those curious, there are also zippered hand pockets and even an interior media pocket that you can utilize on your runs.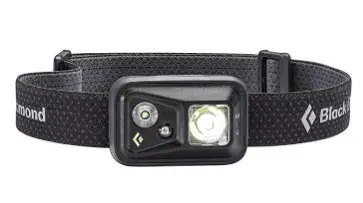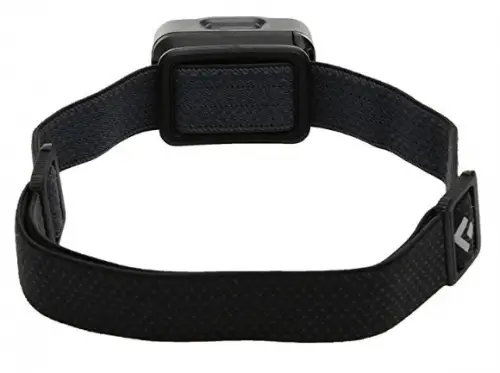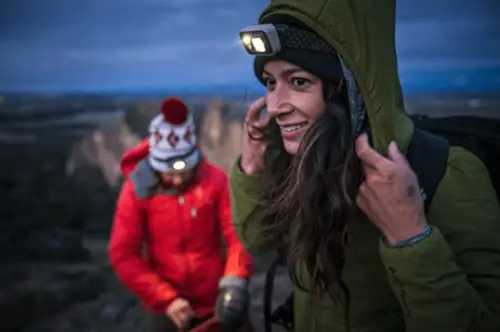 The straps do not come loose
It is protected against water
Has been designed with PowerTap technology
Yes, you can't go wrong with running reflective gear but there are also some other types of gear you can go with. While this is literally a flashlight on your head, the Black Diamond Spot can still be extremely useful during nighttime runs.
Read more
As this is a LED headlamp, it is going to require the use of batteries. Thankfully, the AAA batteries that are required come with your purchase so you do not need to account for them yourself. Moving on to the capabilities of this lamp, it is equipped with one quad power and one double power LED light to emit 300 lumens of light.
There are also multiple lighting modes that you can utilize, such as high and low, lock, dimming, strobe, and red night-vision. This is a pretty nice variety to have and it will allow you to account for several different situations that you run into. But, that is not where the functionality of the Black Diamond Spot ends.
It also features PowerTap technology. This technology allows you to instantly transition from full to dimmed power and vice versa. Additionally, the brightness memory feature will remember the last brightness setting that was programmed when the lamp was on.
As for its build, on top of being lightweight and compact, it is also waterproof. It sports an IPX8 waterproof rating so it can handle submersion down to one meter for around 30 minutes. The straps will also not come loose and while you may not want to wear this all day, it is not unbearably uncomfortable either.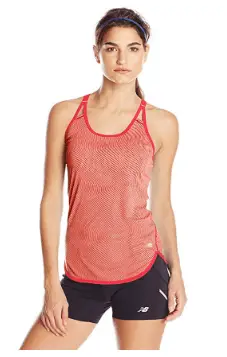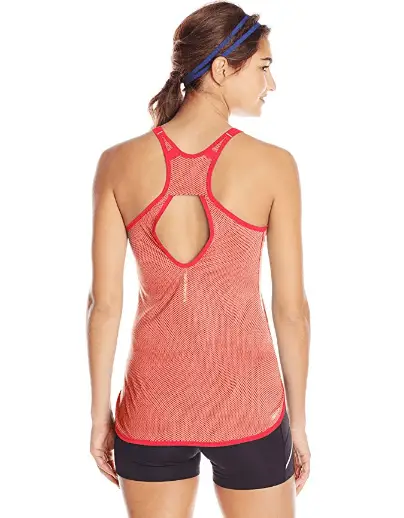 There is a hidden path for your headphones
Long in the back for better comfort
Designed with NB ICE technology
While this next option is not going to do much for all you men readers out there, it is going to work great for the ladies. The Tunic Top is really convenient when you want to be seen without adding any unnecessary clothing to your body.
Read more
As the name suggests, the Tunic Top is a tank top that is going to be ideal for warmer climates. In addition to being extremely lightweight, one of its main features is the fact that it has been engineered with NB ICE technology. This is a unique technology from New Balance and it drastically enhances the breathability of this top.
Plus, the back is vented, which increases the breathability and ventilation even more so. You will also be protected from the sun with this shirt as it is UV protected. At least, your torso will as this is not going to cover your arms in the slightest.
In regard to how the Tunic Top fits, it is actually a little lower in the back and not very tight. It is not the most flattering cut, but the comfort is undeniable. Just be cautious of the fabric as it does snag quite easily.
Conveniently, there is also a hidden path present that can be used to hide your headphone cords. And, yes, there are also reflective logos that are present.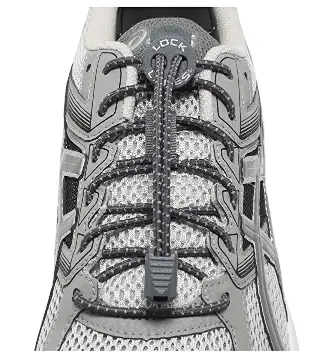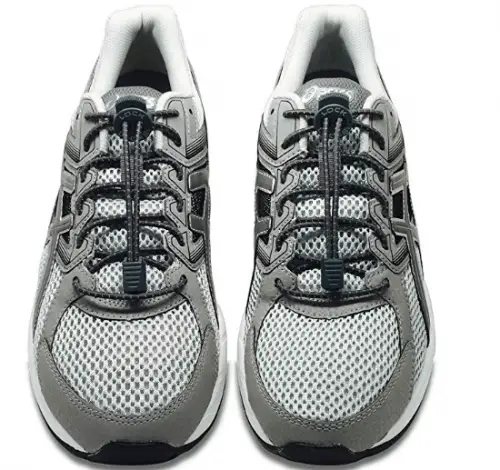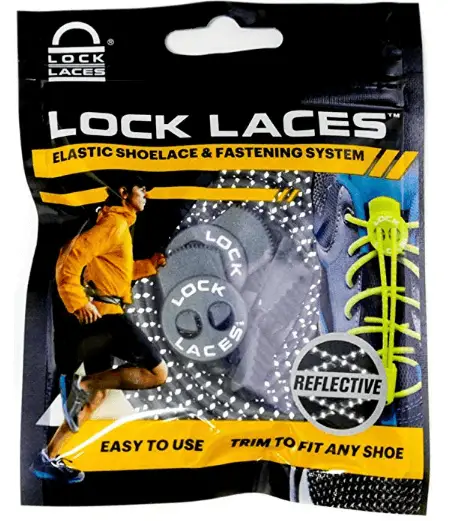 They are water-resistant
They will conform to your shoes
Different color options are available
Alright, so this is something that not everyone is going to like. These laces are actually going to replace your existing laces but they come with the benefit of not needing to be tied. And, yes, each of the color options does have reflective detailing.
Read more
The gimmick behind these laces is that they do not need to be tied. This is important as it is the basis behind this entire design. So, if you would rather run in ultra running shoes where you can tie the laces, you will not want to utilize these. However, to say that these are convenient is an understatement.
When you put your feet in your shoes, these laces are going to stretch due to their elasticity. Then, when you are ready to "lace" them up, the lock is going to keep them at the perfect tension for you. Of course, to get this process down, you may need to access online videos as the included instructions are relatively lackluster.
As for who can utilize these laces, one size is designed to fit most kids and adult shoes. There are also multiple colors available (all of which have reflective detailing to serve their purpose).
So, not only can you light your shoes up when the sun is down, but you can also eliminate the hassle of dealing with traditional shoelaces when you run — not a bad combination.

10

. Under Armour Shadow Cap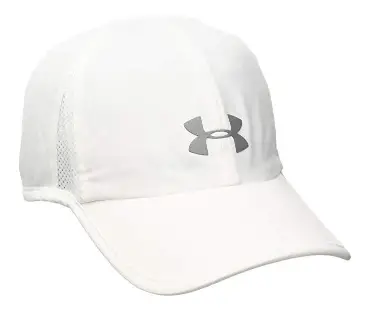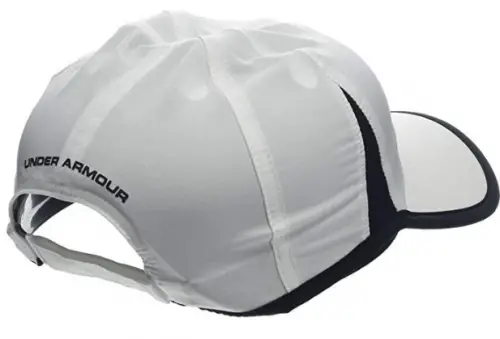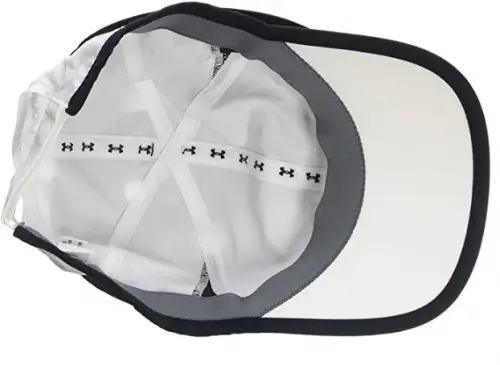 Sports a built-in HeatGear sweatband
Features four-way stretch construction
Has UPF 30+ protection benefits
Something as subtle as a baseball cap can enhance your visibility on your runs. The benefit of the Shadow 2.0 Cap, though, is that it has been engineered to wick away as much sweat on your head as possible.
Read more
With the reflective front Under Armour logo and rear woven label, this accomplishes its goal just as all the other reflective running gear does on this list. Now, the Shadow 2.0 Cap is not a fitted hat as it does come equipped with a hook and loop closure system. This offers a customized fit and is quite lovely.
The implemented mesh ventilation allows this cap to breathe with ease. Unless you are drenching in sweat, you will not often need to take this off your head during your runs. After all, the HeatGear sweatband and the fabric of the cap are designed to wick away moisture from your skin.
As for the fit, you can tell this is a runner's cap as it fits like one (that is not a bad thing). Also, this has been engineered with four-way stretch material and UPF 30+ protection. It is quite a fantastic design overall.

Subscribe to our Newsletter