Best Triathlon Gear
In a Hurry? Editors choice: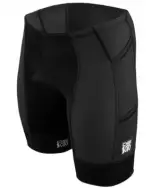 Test Winner: De Soto Forza Shorts

Let's be brutally honest here for a second; buying the gear you need to prepare for your upcoming triathlon is not going to be easy. Given the fact that this type of event is going to combine running, cycling, and swimming, there are many different activities that you will need to account for.

This then means that there will be loads and loads of gear and general equipment that can go a long way to helping you. While you can't expect to buy everything for your upcoming event, you may want to get your hands on a few goodies, and that is why you are here today.

In addition to providing you with some of the best triathlon gear on the market right now, this guide will also go in-depth to explain to you how you need to go about buying these types of items.
Standout Picks
Criteria Used for Evaluation
Our Top Picks for the Best Triathlon Gear
1

. Vigor Compression Socks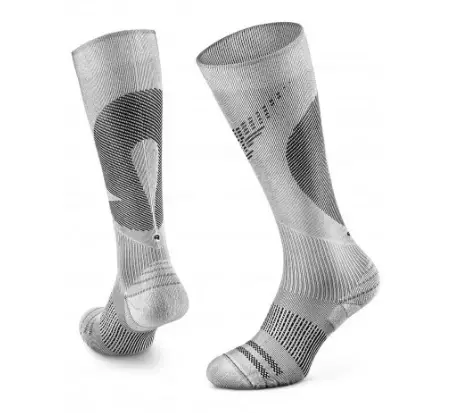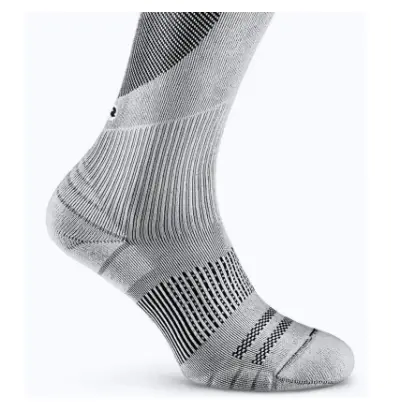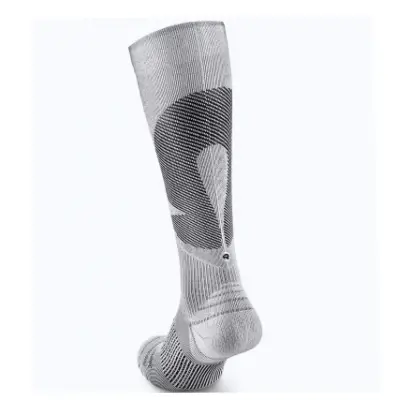 Features Polygiene's Stay Fresh Technology
Designed with graduated compression
They fit right over your calves
It is safe to say that a lot of you are going to be looking for performance-based clothing. For something that can be as grueling as a triathlon, you may want to take a close look at these compression running socks.
Read more
Being compressions socks, these fit right over your calf and offer a great deal of performance. As for the actual graduated level of compression, this is 16-23 mmHg. It is worth noting that this level of compression was not decided merely in one night. The engineers spent several hours researching and testing to find the best results possible.
As such, wearing these socks is going to increase your blood flow, improve your recovery time, and allow you to train longer without feeling gassed. All this will significantly benefit you when you partake in any triathlon event. Oh yeah, these have also been designed with Polygiene's Stay Fresh Technology.
This technology is going to prevent the growth of any odor-causing bacteria out there. And, to give you even better peace of mind, these socks are backed by Rockay's lifetime guarantee. Really, about the only negative you could say about them is they are a bit steep in price.

2

. Rockay Accelerate Running Socks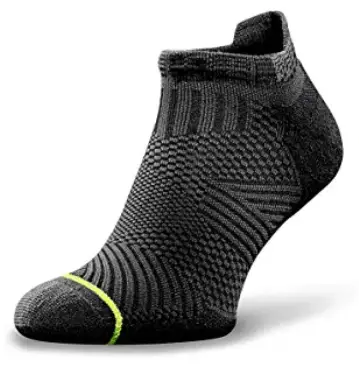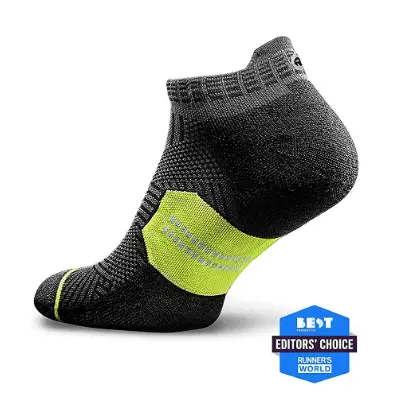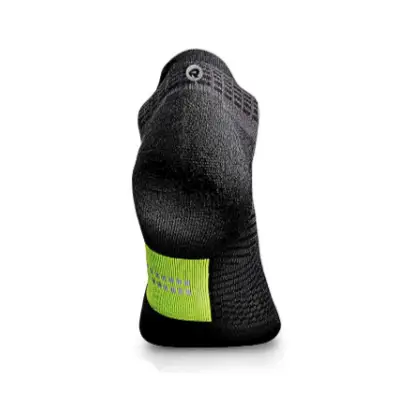 Designed with a merino wool core
The padded area on the forefoot adds protection
Features mesh for improved ventilation
Alright, so maybe calf socks are not your style and that is fair. If you would rather run and cycle with a pair of ankle socks instead, then you may be quite fond of these suckers.
Read more
The best aspect of these running socks is they work terrifically for all different types of activities. From hiking to sports to just general walking, the additional padding in the toe and heel areas makes them an absolute joy to wear everywhere. Oh, and there is even padding on top of the forefoot for even more protection.
Now, I also understand that these are going to fit a bit tight. However, there will never be a point where you feel that your feet are suffocating. Outside of the natural comfortability, this can also be attributed to the organic merino wool construction. Coupled with the integrated ventilation zones, this makes these running socks excel at breathability.
Due to the semi-tight fit, however, you will find that these can be a little difficult to get on your feet. While this does not hinder their performance or comfort in any way, it is something that you will need to be prepared for. Still, in spite of that, it is easy to call these socks superb. They are an excellent choice for your next triathlon event, bank on it.

3

. Rockay Blaze Compression Sleeves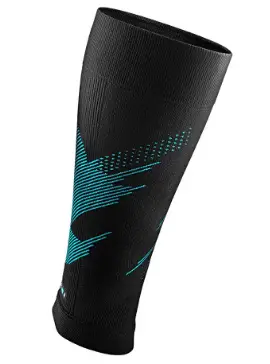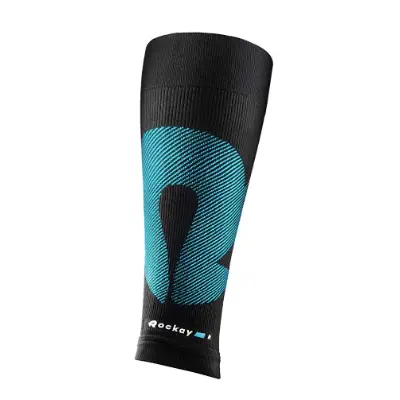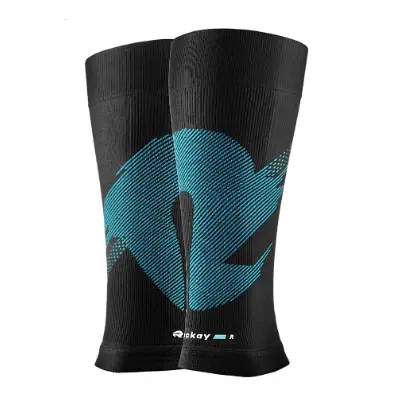 Designed with moisture-wicking fabric
They have been treated with Stay Fresh Technology
Sports documented graduated compression
If you have not noticed already, activities of this nature are when compression gear shines the brightest. For the record, do be aware that sleeves are not socks and that fit on your lower legs.
Read more
Sure, these may be a bit pricy, but there is a reason for that. These compression sleeves have been made with ultra-durable and high-quality materials. Let's say that you will not need to worry about the fibers breaking down very quickly. As for the compression, that is superb too.
Even if there are any doubters out there, included in the box you receive is the verified state-of-the-art compression test that was used for these sleeves. The proof is in the pudding, and you will see that when you buy these.
As with various other Rockay sleeves and socks, these have also been designed with Stay Fresh Technology. Noted before was that this technology helps to prevent bacteria growth, and that is the benefit here, as well. Additionally, the Blaze Sleeves will also wick moisture away from your skin for improved breathability. There are also ventilation zones, for the record, that help with breathability too.
What is also lovely is the lightweight material makes these almost go unnoticed. However, from time to time, they may roll down a bit. It is nothing too major, though, so do not worry about that too much.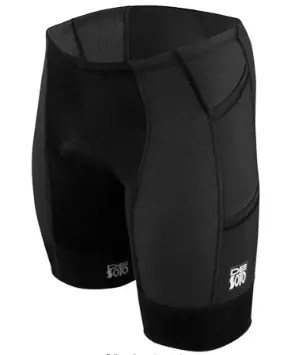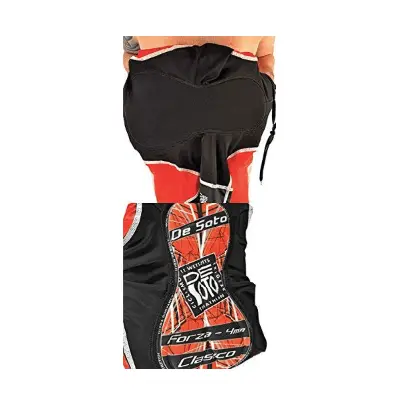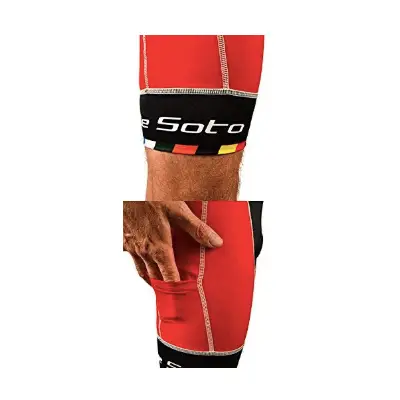 Designed with a fantastic pad
They sit below your hip bones
Offers the benefits of compression
These are not your average pair of shorts and this is putting it lightly. In addition to the integrated padding that is softer than ever, you will also not need to change out of these during the course of your event.
Read more
Arguably the best aspect of these triathlon shorts is the fact that they provide compression performance for you. This is thanks to the three-inch compression leg bands. Without being too tight to feel like they are restricting your legs, they keep the shorts in place and deliver the compression that so many of you will be looking for.
Past this, the implemented pad also adds cushioning, support, and comfort. It is also softer than ever, and this is something that you are going to notice right away. Instead of being inside, the pad has also been sewn into the surrounding panels. Speaking of these panels, they, too, offer improved comfort.
As for the practicality of these shorts, they have been equipped with four different pockets. It is worth pointing out, however, that if they are empty, you will experience no drag on your rides. Additionally, you can also wear these directly under your wetsuit to prevent the need to take them off.
Do be a bit cautious, lastly, as these do run a bit small. Given how they are designed, this does make sense, though.

5

. Profile Design Hydration System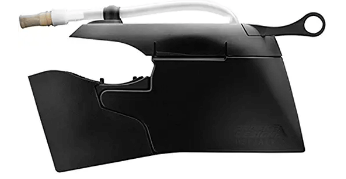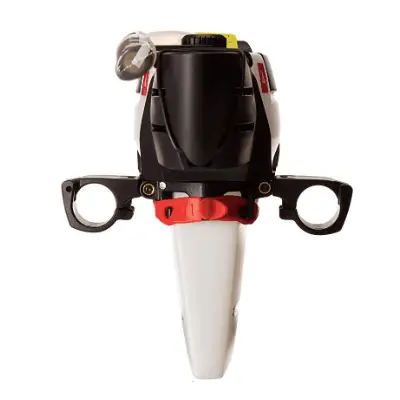 It has been designed to reduce drag
The reservoir almost fits a liter of liquid
It is very easy to refill
Keeping yourself properly hydrated is going to be one of your biggest priorities during triathlons. With a system that is as well-designed as this, that is going to be a lot easier.
Read more
Triathlon events can take a while, so, conveniently, this system sports a reservoir that can hold nearly a liter of water. In addition to this, it utilizes a bite valve, and this is something that you will see on much bulkier hydration packs (so that is neat).
And, that is something that this system is not: bulky. Being coupled with the Aeria Ultimate stem, you are not going to be slowed down by excess drag. The entire hydration pack system will also integrate seamlessly with your ride (adding to the convenience of it all).
It is also quite easy to use, which is always a good thing. Even when it comes to refilling the reservoir with more water, the task is not going to be too hard to accomplish. The sleek hose system also makes drinking from the reservoir incredibly practical and straightforward.
Perhaps you will prefer to go with a much cheaper solution for your hydration needs, and that is fair. For the cycling portion of the triathlon, however, this is as ideal as it is going to get.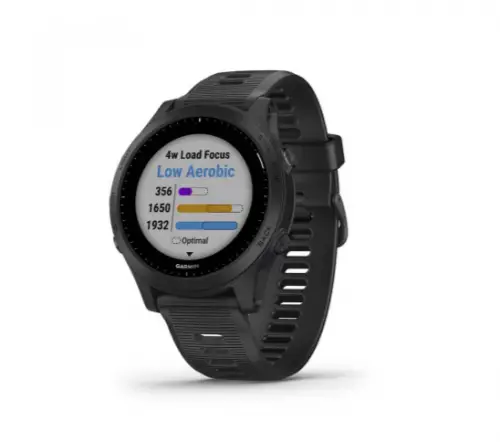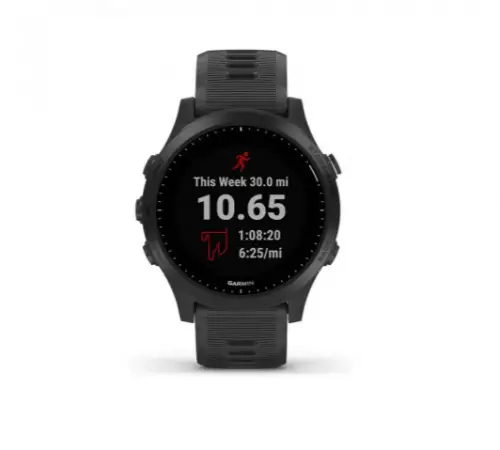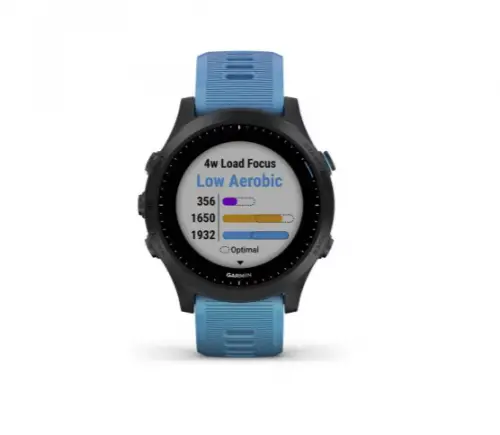 Equipped with GPS technology
Includes training statuses and performance monitoring
You can pair it with your smartphone
Alright, so while triathlon clothing is great, you may also want a few electronic devices, as well. Take the Garmin Forerunner 945 as a great example as it is a GPS smartwatch that will be perfect for your needs.
Read more
While this most certainly is a smartwatch and can utilize the power of your smartphone (more on that later), it is most noteworthy for its performance monitoring capabilities. In addition to VO2 max, you can also adjust your training for certain metrics such as recovery time, heat, training load focus, and much more.
As this is a Garmin watch, it can also serve as a GPS. It has been designed with onboard maps that deliver full-color displays. Rest assured you are not going to get lost even when you use this for outside events and activities. And, as for the battery life, this can go for 10 hours in GPS mode and two weeks in smartwatch mode.
Now, let's talk about some of those smart features. For starters, you can store up to 1000 music tracks on the Forerunner 945 and listen to them via your Bluetooth headphones. You can sync these tracks straight from your smartphone, as well. Oh yeah, this watch is also compatible with Garmin Pay.
Without question, the Forerunner 945 is a beast and is something you will never want to go without during your triathlon-based events.

7

. Louis Garneau Bike Helmet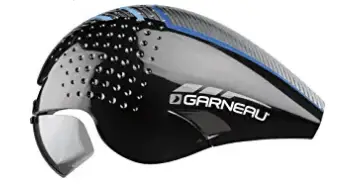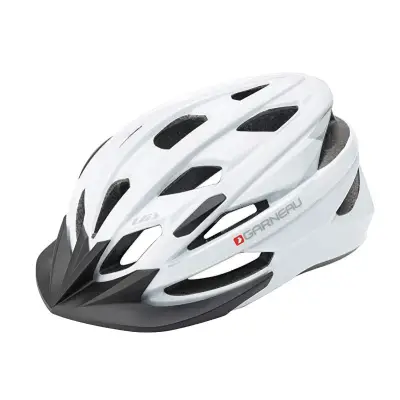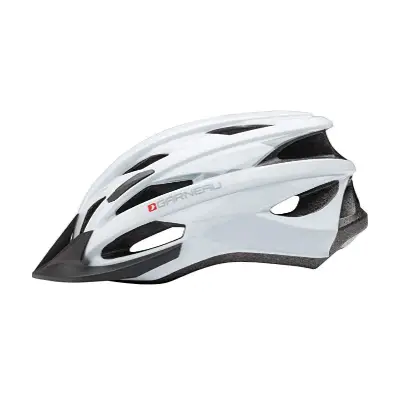 Meets different safety standards
Features Icefil padding to keep your head cooler
Built with a lens for enhanced eye protection
For the cycling portion of the triathlon that you are partaking in, it may be in your best interest to buy a dedicated bike helmet. And, while this model is a little pricy, it is hard to argue with the results.
Read more
Sure, you could slap any old ordinary helmet on your head for the cycling portion of your triathlon. But why would you want to do that? What makes this, in specific, such an excellent piece of triathlon gear, is the fact that it has been engineered with aerodynamics in mind. Basically, not only is it not going to slow you down, but it is going to enhance your speed.
Because this bike helmet has also been streamlined, you can expect it to fit you well. It is also equipped with four different vents and even inner evacuation channels. These features vastly improve the breathability of this helmet and will leave your head cooler on your rides.
However, though it does fit well, it does favor smaller heads. If you have a large cranium, you may find the fit a bit too tight. With that said, the Pro-lock adjustment straps do make for quick and easy adjustments when need be.
And, if all that was not enough, this also meets AS, CEN, CPSC, and ASTM standards for bike riding safety. What helps with this, additionally, is the P-09 lens, which adds much-needed eye protection. If you are not sold by now, then you are never going to be.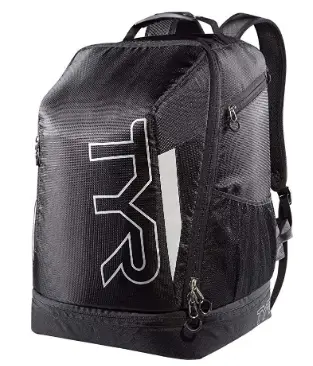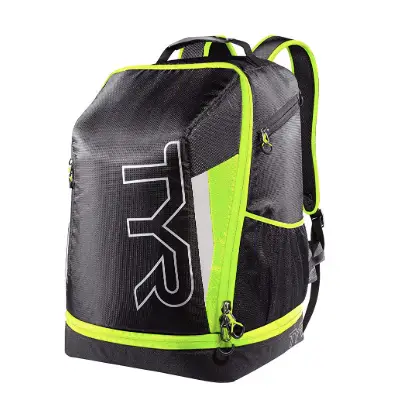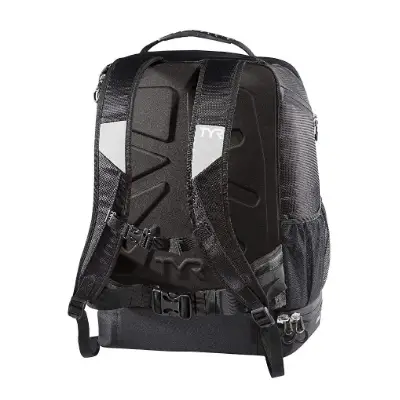 Designed with a dedicated wet suit compartment
The main compartment displays all your equipment
Several organizational compartments are integrated
Here is a question for you; how do you plan to actually transport all the gear you buy? This is a super important question to answer as you will clearly not want to carry it all by hand, right?
Read more
Make no mistake about it, the TYR Transition Bag is designed for your gear and that you can count on. It is going to keep all your essentials organized and will allow you to tag along whatever you need for your triathlon event.
As soon as you get your hands on this, you will notice all the different organizational compartments that you can utilize. And, there are some special ones in store for you. The most noteworthy include the bottom wetsuit compartment, 15-inch laptop sleeve, and exterior mesh pockets.
But, you can't forget about the main compartment either. It features a drawbridge-style, and it is going to open quickly and efficiently to reveal all your goodies. This is a pretty large bag, too, so you really should not be worried about space.
With the implemented padding and also the waist belt, you will also find this comfortable to carry around. Oh yeah, with its 45 percent polyurethane construction, this is also going to handle light to mild rains. During downpours, however, your interior contents will get wet.

9

. Pearl iZumi Cycling Shoes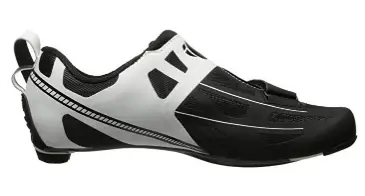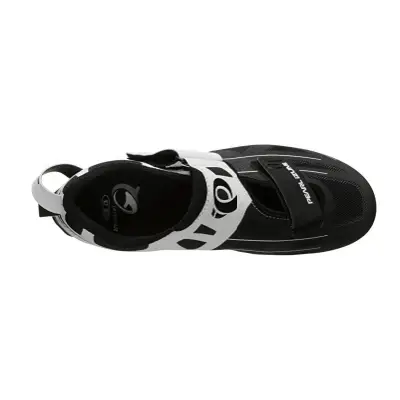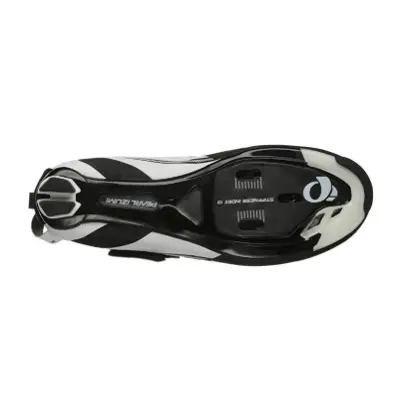 The EVA insoles provide arch support
Features a unibody construction
The Tri Closure system eliminates hot spots
Something else you may be starting to realize is that you can spend quite a lot of money on triathlon gear. While the Elite V6 Cycling Shoes are certainly not cheap, their performance makes them worth every penny.
Read more
With its unibody construction, you are going to find that the performance these cycling shoes provide will be second to none. This produces a super low stack height, and it is going to allow for improved pedaling efficiency as a whole. In other words, your cycling experience is going to be turned upside down with these on your feet.
All while delivering top-notch performance, the Elite V6 Shoes will also allow your feet to breathe. They accomplish this with their three-layer seamless composite upper as this is going to eliminate any potential hot spots. The upper also feels nice against your feet, making for a more comfortable experience overall.
In spite of the transverse arch support that can be attributed to the dual-density EVA insole, these are quite stiff overall. They feature a carbon power plate for additional power, so this does make sense. But, this stiffness will take its toll on your feet before too long. At the end of your cycling session, you will be ready to take them off (which is not exactly a bad thing).

10

. Speedo Classic Swim Goggles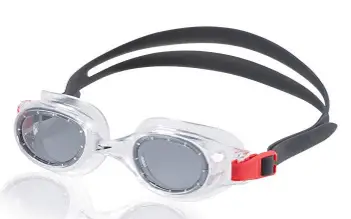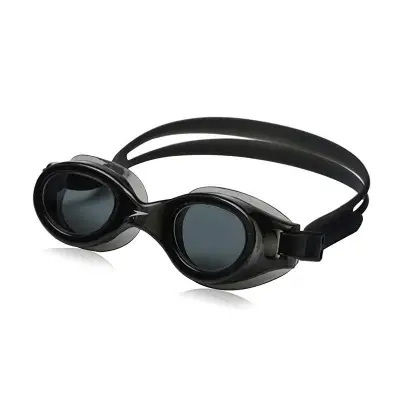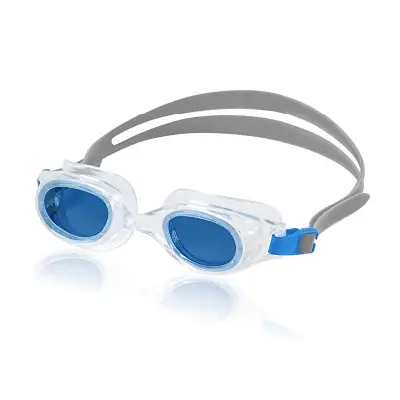 Designed with a PVC frame and silicone strap
Both ends can be adjusted
They will protect you from UV rays
Yep, you can't forget about some of the gear you will want for swimming, either. How about a nice pair of swim goggles? This model from Speedo is also highly affordable too, which is always a plus.
Read more
Some swim goggles can feel quite uncomfortable against your face, but that is not the case here. The soft one-piece frame is coupled with the silicone split head strap for your convenience. Of course, what also helps these fit better is the gasket shape.
As these goggles are not offered in different sizes, this gasket shape is going to provide a near-universal fit (as it can never be promised that these will fit every single one of you). The straps, as noted, can also be adjusted. Overall, it is noted by Speedo that these goggles are suitable for ages 14 and up.
Alright, so what about the actual lenses? There is excellent news here too because, in addition to providing optimum underwater safety, they will also block UV rays from the sun. Though they are anti-fog lenses, some users have complained that they can fog up from time to time.
At the same time, they are also not going to leak granted you have them on your head securely enough. All this comes at an affordable price that all of you are going to love.

Subscribe to our Newsletter