How to Easily Find Dog Friendly Hiking Trails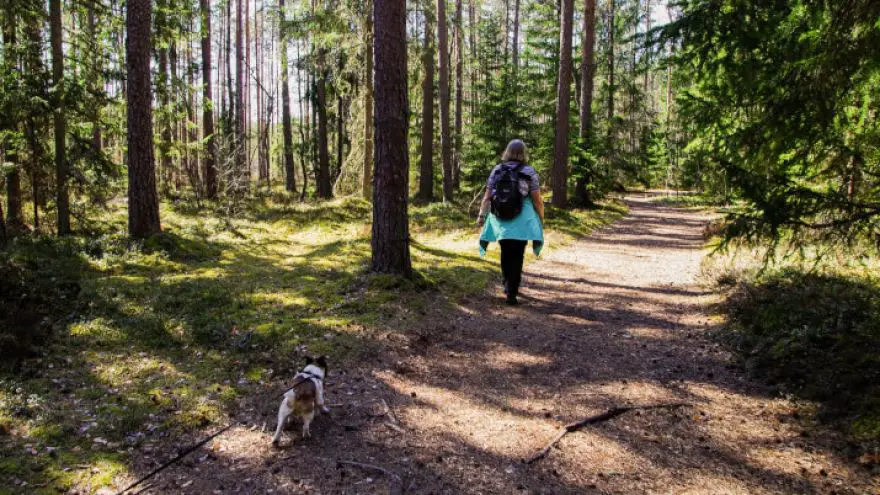 How to Easily Find Dog Friendly Hiking Trails
gearweare.net
People that have pets and live in the city like to take their dogs to a park so they can run.  If you decide to go hiking and take your dog, read the rules of the park first because some city, state, and federal parks don't allow dogs or have dog friendly hiking trails. This is because many people don't clean up after their dogs, or they are worried about the liability of the dog biting another person. People think that their dog doesn't bite, but if your dog senses an unknown smell that makes them protective of you, the dog will bite or nip at someone. 
It's easy to look online and read the rules of the parks before you take off hiking or backpacking. If you plan on bringing Rover along, then do some online research before you leave for your hike. There are many areas and places that don't have rules for hikers but be careful before you set out to hike if you plan on bringing your dog.
Do you ever find yourself thinking that your dog would love it in the spot you are hiking in?  You aren't the only one out there thinking about your dog because many people do, and many areas don't allow dogs when hiking.  So what does a hiker do?
City Government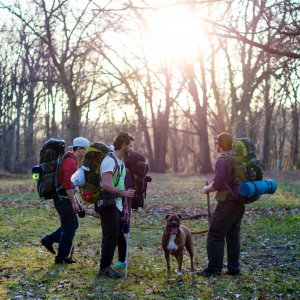 A good idea for hikers with dogs is to start checking out your community first.  Trails that are considered local are maintained by town, city, or county government.
Local government is more likely to let dogs on their trails than state or federal maintained parks, that have less dog friendly hiking trails. 
Look at the websites in your area for the parks and rec department to check out what trails are dog friendly for hikers. 
Almost all local park areas have maps of the trails locally and include a decent amount of information about the area.
1. Ask for Hiking Trails for Dogs Before you Leave 
If you can't find the right information, then the next thing to do is give the department your looking at a call and talk to someone who knows the answer.  All of you should call ahead before you plan to leave. You wouldn't want your plans spoiled when you arrive with a big "No Dogs Allowed" sign at the entrance to the hikes and trails.
2. Look for Dog-Friendly Local Stores 
There are also many websites in your area that will tell you what are the best hiking trails for dogs.  It's good for local businesses to get people out of the house with their dogs — this way the businesses like gas stations and drive-thru restaurants make money off the hikers. 
There also might be some dog-friendly stores out there when you are hiking. Also, you can join a group for trail hikers in your area because these people are die-hard hikers and know where dogs are allowed to walk.  Check out the American Hiking Society to start looking for a hiking partner.
State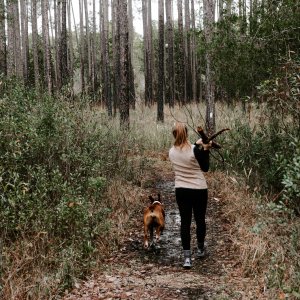 The United States has more than 10,000 parks, and the state will protect the land.  Also, state trails are usually the best for hiking.
Most of the state parks let dogs in, but the leash laws are harsh.  Dogs have to be kept on a retractable leash, and the leash has to be between six to ten feet long.
Also, some state parks will not allow any dogs on trails or in their parks.  This is usually the parks with a beach or wildlife area. You can also check a list of urban parks.  
Also, the dog friendly hiking trails are included and link to various websites.  This is where you will find the policy on dogs under the heading policies or "rules and regs."
Federal
If you are in a National forest, rec area, monument or park area, federal dog-friendly hiking trails are a bit more strict.  Federal rules are unusually strict about dogs, and unfortunately, many federal parks will not allow dogs on their land. 
This is because federal parks are protecting more of our resources and of course, other travelers and hikers on the trails.  The laws do vary, though, depending on the level of federal protection in each area.
If you are going to see the Badlands or the presidential Monuments, there are loads of people walking! So chances are dogs are not allowed on this federally protected land. 
1. Check Out the Leash Rules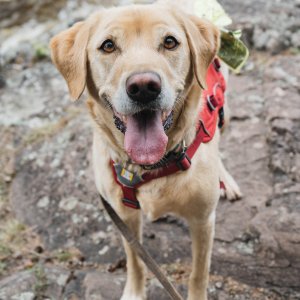 If you are going to a national forest, then dogs are allowed in most of them. Just make sure you check out the leash rules.
Also, make sure you check the areas in the national forests; the ones that allow dogs because not all the areas of a national forest do that.
If interested, you can read our guide on the best dog GPS trackers, so you will be sure that you have your dog on your sight all the time. 
2. Check Websites for Dog-Friendly Hiking Trails 
Check the same website called Hikewithyourdog.com to find out different areas your dog can go to.  If you plan on hiking, maybe there is another trail your dog is allowed on near the forests.
Each forest has different rules, so this is a good thing to remember.  Many beautiful areas around the country don't have to necessarily a federal park for your dog to hike with you.
Proper Hiking Dog Manners
Before you bring your dog, you might want to check out the trail manners of your dog.  Is your dog good when they hike with you? Does your dog have a good temperament when they are with you and others? What about other dogs?  Don't take an aggressive or protective dog on trails with you hiking. This is not a good hiking temperament for a dog. Also, make sure your dog is used to hiking and is healthy before they go along with you (check our guide on the best dog shoes and best dog boots). 
Make sure your dog can keep up with you as well. If it's too hot out, your dog is going to need water! So make sure the temperature is right for your dog to hike. When you are hot, they are hot, and when you are thirsty, they are thirsty for water too.  If your dog passes all these tests, then your dog is ready to hike with you.
Most Read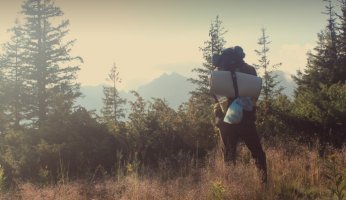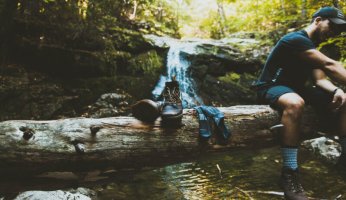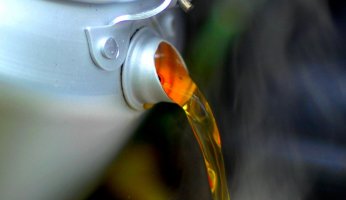 Subscribe to our Newsletter