Best 360-Degree Cameras
In a Hurry? Editors choice: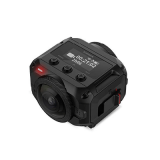 Test Winner: Garmin VIRB 360

Let's just say that technology has brought with it some
crazy creations
and this so happens to be one of them. The idea of shooting 360-degree videos may be hard for you to fathom but there are devices on the market that can pull it off. These are known as omnidirectional cameras (or 360-degree cameras) and there are plenty of them to choose from. However, this is where things can get complicated because how do you (the consumer) narrow down the selection? Well, you need to know your stuff and that is where this guide comes into play. In addition to running through some of the best models currently available on the market, this guide has been created to walk you through the overall process to
enhance your education
about the subject at hand.
Standout Picks
Criteria Used for Evaluation
OUR TOP PICKS FOR THE BEST 360-DEGREE CAMERAS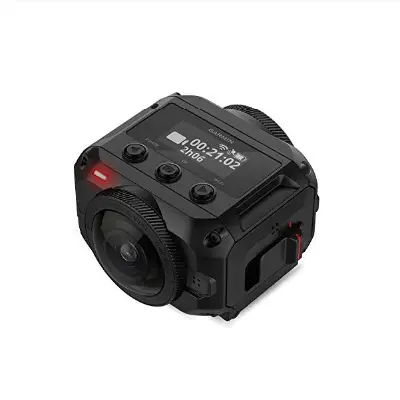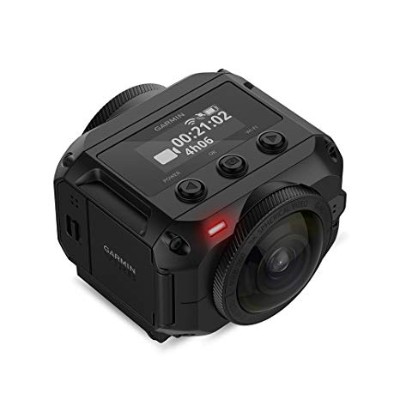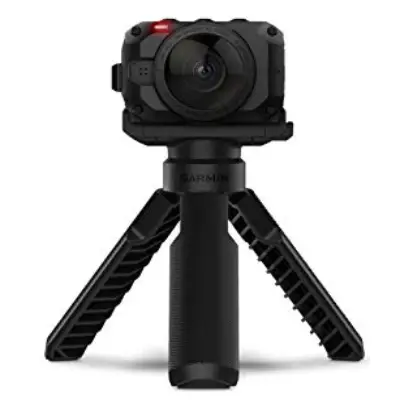 Even though a few flaws still hamper the best of them, the VIRB 360 from Garmin is one of the best consumer brands on the market. It helps that it delivers on its 4K quality.
Read more
Effectiveness
What this advertises is 5.7K resolution with 4K stitched in the camera itself. And, for the most part, it delivers on the 4K quality quite well.
Features
In addition to the fact that this is built with spherical stabilization for smoother video, it is also equipped with several different recording modes that you can select from, and you can even control this with voice commands.
Compatibility
You can either use your Apple or Android device with this product but when you do so, you need to understand that the accompanying app can have performance issues.
Battery Life
Okay, so the battery life is not that impressive here. Then again, plenty of other models are also only rated to last up to an hour on a full charge, so it is not that shocking.
Durability
Even though overheating has been reported as an issue (when using 5.7K), this is built with ruggedness in mind, and can is waterproof to 10 meters.
Overall
Garmin VIRB 360 is probably the best consumer model on the market. It is also one of the most expensive, though, so do keep that in mind.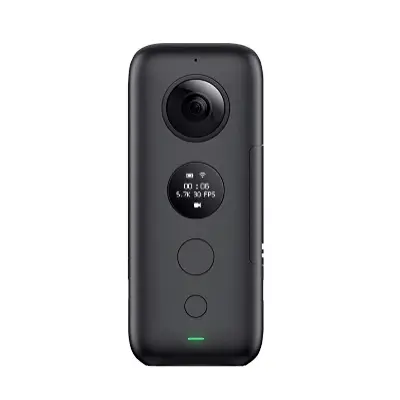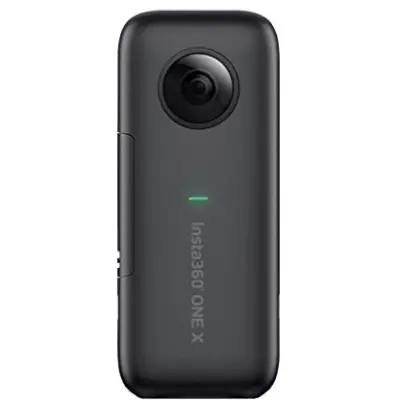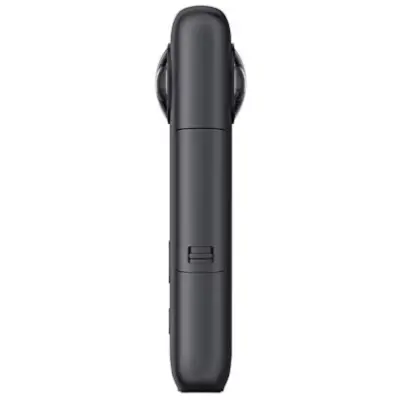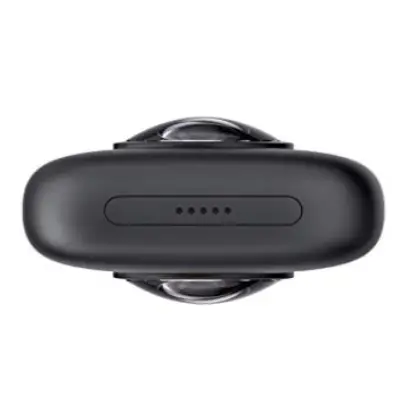 The Insta360 One X may be the most well-received model on this entire list. It is no surprise to see why when you factor in the device's Wi-Fi transfer, excellent image quality, and sleek profile.
Read more
Effectiveness
The combination of the 5.7K resolution and the 18-megapixel photos make for rather impressive quality overall. Sure, it could be better, but it is still impressive.
Features
Looking past the fact that the app is clunky in its design, there are several essential features integrated here such as the flow state stabilization, drift shots, airborne slow-mo, and also time shift.
Compatibility
This is compatible with both iOS and Android devices (there is a full list of them in the product description). Also, this supports five gigahertz Wi-Fi transfer speeds.
Battery Life
No, you will not be blown away by the battery life (it allows for around an hour of continuous shooting). You can purchase the dual-battery dock to be able to swap out batteries on the fly.
Durability
The ultra-thin body is excellent for compactness, but you may want to purchase the venture case alongside this for enhanced protection and water resistance.
Overall
Even though it seems ridiculous to pay this much money for such a small device, the implemented features and technologies do warrant your purchase.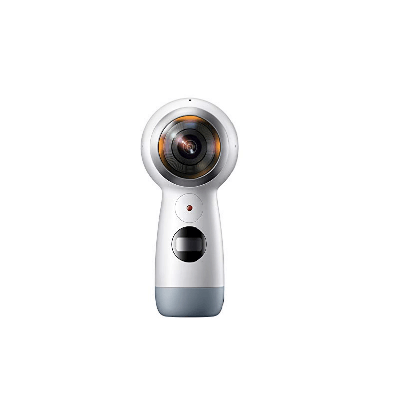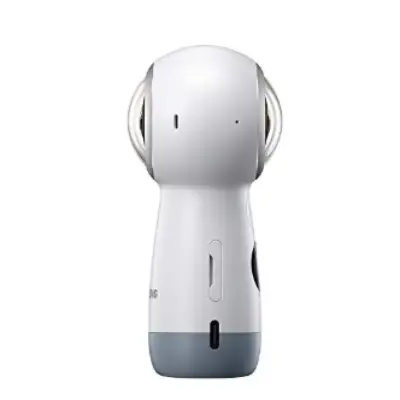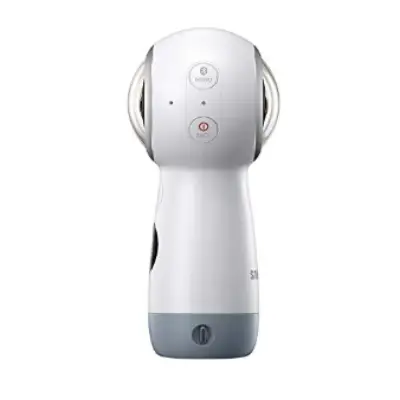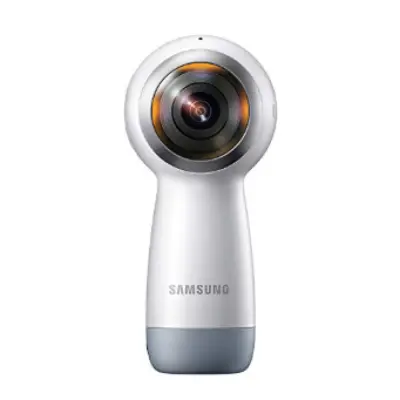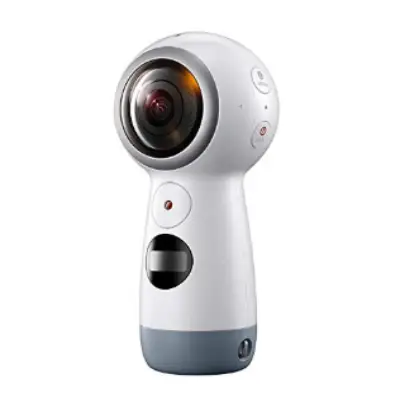 It is not necessarily the image quality of the Samsung Gear 360 that sells users here (though it is above-average) as much as it is good battery life and IP53-rated protection.
Read more
Effectiveness
Okay, as mentioned, this is not going to blow you away regarding the image quality. With that in mind, the specifications are still good with 4K video and 15-megapixel photos resulting.
Features
In addition to the fact that you can preview and edit your content with the accompanying app, you can also upload them to Samsung VR for an even more enthralling experience.
Compatibility
Despite the fact that this is a Samsung device, it can be used with iOS smartphones. But, it is optimized for Android operating systems and also both Windows and Mac computers.
Battery Life
When shooting continuous video, the battery is going to be drained rather quickly. However, with photos, it will last much longer.
Durability
Though this can't be submerged in water, it is rated to be water-resistant per IP53 standards. This also means it is protected against harmful deposits of dust.
Overall
If you are utterly anal about video quality then perhaps you will not enjoy this omnidirectional camera. But, you know what, the quality is still good so do not let that stop you from giving this a shot.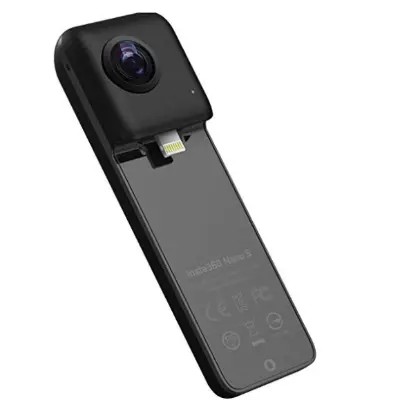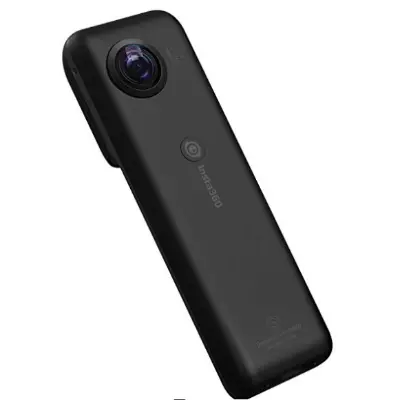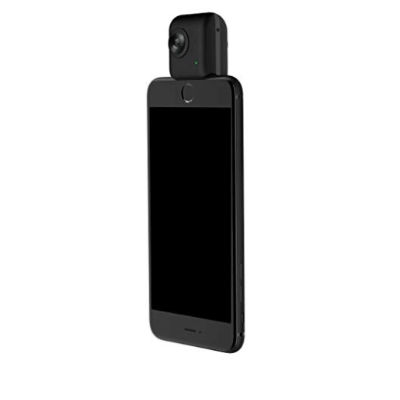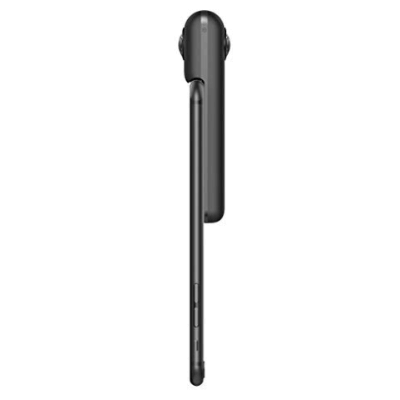 The Insta360 is a great option to capture, record, and share moments in real-time. With this device, you can 360 video chat and live stream. The biggest hindrance that may turn away potential buyers is the fact that it is only compatible with iPhones 6 and up.
Read more
Effectiveness
Most reviewers are very impressed by the quality of video and photos that this small device creates. In video mode, it can capture 360 videos in 4k. 360 photos are captured in 20MP. Stitching the photos together is simple and flawless.
Features
We all know how impressive iPhones are, and this camera uses some of the iPhone features to enhance the photo/video quality and features. The Insta360 uses the multi-axis stabilizer in your phone to create crisp and smooth videos. This camera easily connects to your favorite apps and can also be used for video chatting and live streaming.
Compatibility
Now, this could be an issue for some. This device is only compatible with an iPhone 6 and up. The camera can be used without being connected to your iPhone, but uploading the materials without and iPhone is not possible. It should also be noted that the device will not attach to an iPhone with a case, you will need to remove the case.
Battery Life
The battery life of this device is about sixty minutes. It is easily charged by a USB cord.
Durability
When attached to your phone, the fit is very tight. Some reviewers say that they were scared that they were going to break something when attaching it, but the end result was fine and the camera was secured properly. The device weighs only one pound and has proven to be quite durable. Just as you wouldn't want to drop your iPhone, use caution when the camera is attached as well.
Overall
The Insta360 is a great option for iPhone users who are just looking to record their memories in a more realistic and fun manner. The camera doesn't provide perfect shots, but for an amateur photographer, this is a great product.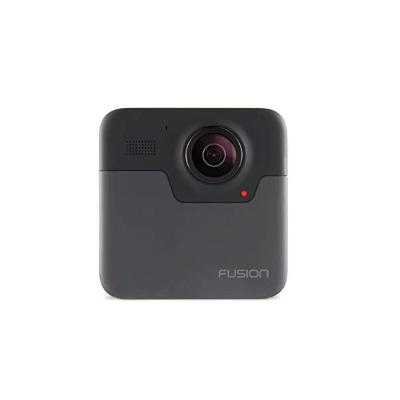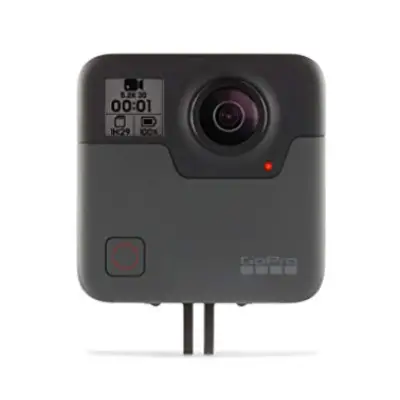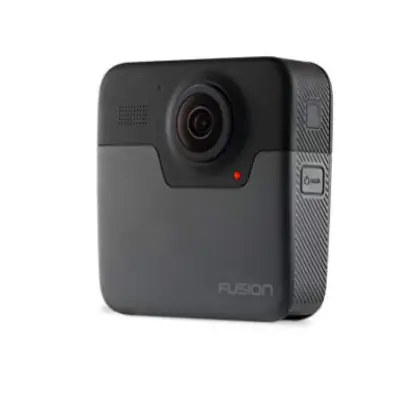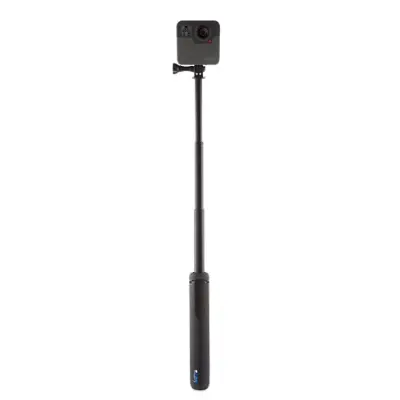 GoPro has earned a cult following for its amazing and long list of action cameras. However, their Fusion is an omnidirectional device that is impressive (past some basic features that are missing).
Read more
Effectiveness
After editing your videos, you will notice that they will not be perfect with the Fusion. The 5.2K video capturing may not merely be high enough for some of you.
Features
For whatever reason, several essential functions are missing from this model. Looking past this, you can use the GoPro app to edit your photos which is a plus.
Compatibility
If you want to look at the full compatibility list, you can do so on the product page of this model. For the record, various iOS and Android devices will be able to be used in conjunction with it.
Battery Life
The reason the battery life is so high here is due to the larger battery capacity (2620mAh). When you need longer sessions, you will be enjoying this battery over others.
Durability
If you know anything about GoPro cameras then you know they are built with ruggedness in mind. The Fusion is no different and is waterproof down to five meters.
Overall
Yes, you can point to the limited functionality as a significant issue with this model, but it may not bother all of you. The truth is; otherwise, the Fusion is really good.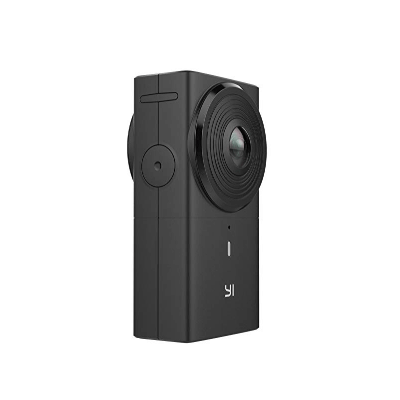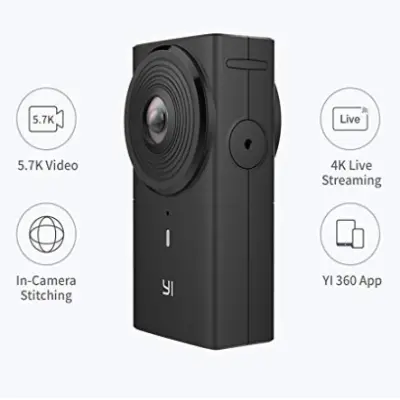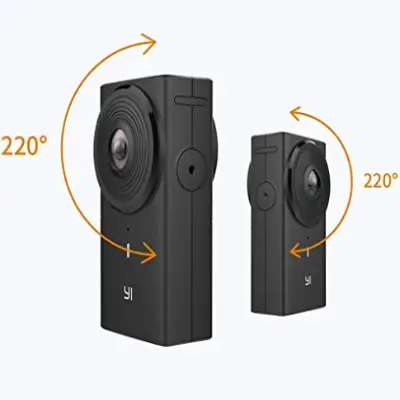 There are many reasons to fall in love with this model. For starters, it supports both 2.4 and five gigahertz networks and also has one of the more powerful batteries on the market.
Read more
Effectiveness
Yes, there have been a few reviewers who have felt that the YI 360 produced lousy video quality. It still shoots 5.7K resolution videos at 30 frames per second, though.
Features
YI 360 offers in-camera stitching at up to 4K and is also built with electronic image stabilization which keeps the footage much more stable.
Compatibility
The app is available for both Android and iOS users, for the record. Also, this supports both 2.4 and five gigahertz Wi-Fi networks.
Battery Life
For those users who have left their comments on the battery life, most have praised it. On this list, quite frankly, this could be the most powerful battery that is implemented.
Durability
One of the downsides of this model is it is not waterproof. The housing is not precisely cheaply built, though, so that is a plus.
Overall
The YI 360 is notable for its impressive battery life and Wi-Fi support. At the same time, it will also not produce professional-quality imagery, either.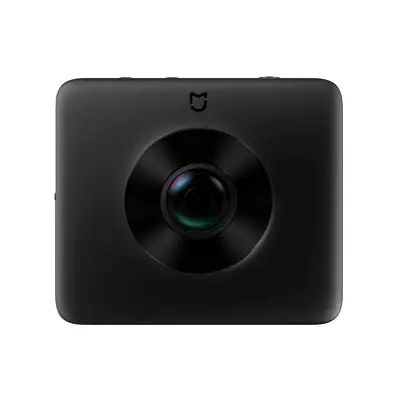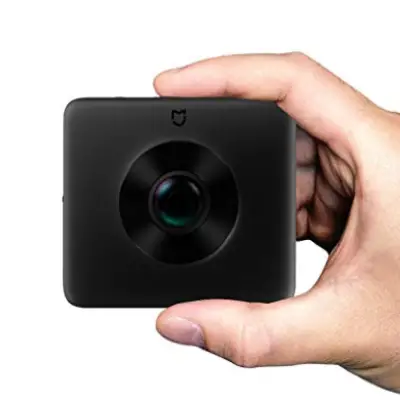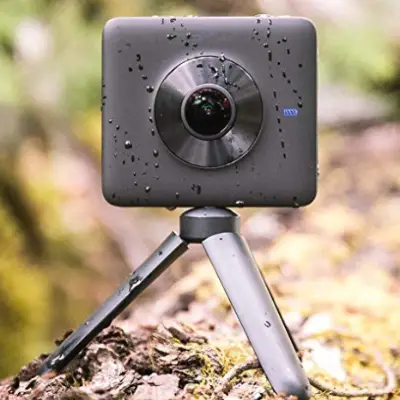 When you compare this to some of the other options on the list, you may not be that enthralled by it. But, it is equipped with 6-axis electronic image stabilization is also fully waterproof.
Read more
Effectiveness
Xiaomi Action Cam is capable of recording 3.5K video, and while this is certainly far from bad, it is not nearly as high of a resolution as others are capable of.
Features
Even though the software needs some work (for example, the ability to remember your settings from previous sessions), this is built with 6-axis electronic image stabilization.
Compatibility
The Mi app is compatible with both iOS and Android smartphones and, for the record, this also supports 2.4 gigahertz Wi-Fi networks.
Battery Life
The integrated battery can deliver up to 75 minutes of recording on one charge which is not too shabby for this type of technology.
Durability
Since Xiaomi Action Cam is rated per IP67 standard of waterproofness, it means that it can be submerged in water (of depths down to a meter) for several minutes with no risk of damage.
Overall
If you are someone who prefers to stick with the crowd, then you may not be willing to take a chance on this model. Keep in mind, however, that this will produce stellar, 360-degree results.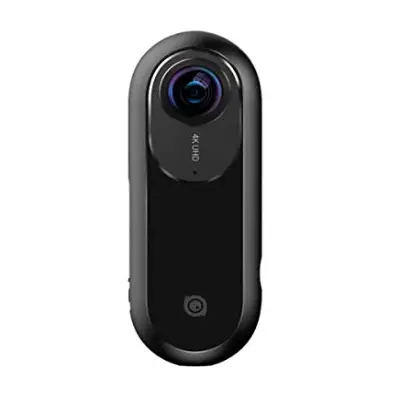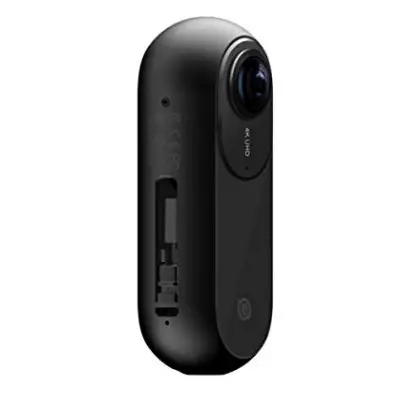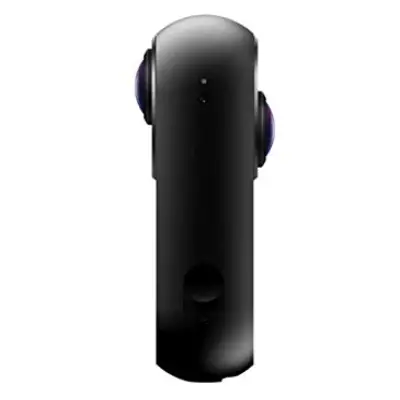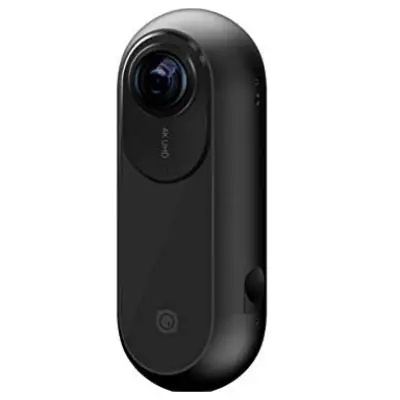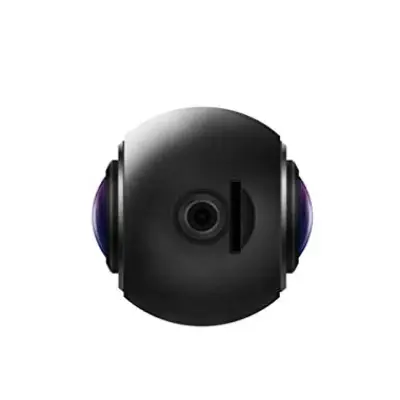 Described as "a camera crew in your hand," this small device is incredibly versatile. Besides all of the different angles, features, and editing platforms, you can also 360 live-stream. It is compatible with Apple and Android products but seems to function infinitely better with Apple.
Read more
Effectiveness
Time and time again, reviewers are impressed by the photo and video quality that this little device captures. You can count on 24MP photos, and depending on the video settings, you'll be pleased with 30, 60, or 120 frames per second. The built-in six-axis gyroscopic stabilization creates impressive and easy to watch videos, even if your dog is the videographer.
Features
There are many features to enjoy in this small camera. There is one called SmartTrack, which allows you to choose a subject and make sure they are continuously in the center frame of the video. Another great feature is the Invisible Selfie Stick. When attached to a selfie stick, the camera blurs out the stick without interrupting your video or picture. There is an easy to use downloadable app for both iPhone and Android that allows you to edit and share your creations. Additionally, you can live stream in 360 with this device.
Compatibility
It has been mentioned by many that this device is much more compatible with Apple products, but still compatible with Androids, however, the compatibility could be improved. It is equipped with Bluetooth, which is great so that you don't always have to depend on WiFi.
Battery Life
Once fully charged, you can use this device continually for seventy minutes. It is charged using a micro USB. A good fact to know is that it can not be used while it is being charged.
Durability
The lenses of the camera stick out a bit and can be easily scratched. You should always transport this device with caution. You can order a waterproof housing from Insta360 separately.
Overall
Similar to the Insta360 Nano on our list, this is a great option for an amateur photographer. It produces impressive quality photos and videos and has the feature of live-streaming. As of now, it is best used with Apple products, but we are hoping to see more Android updates in the near future.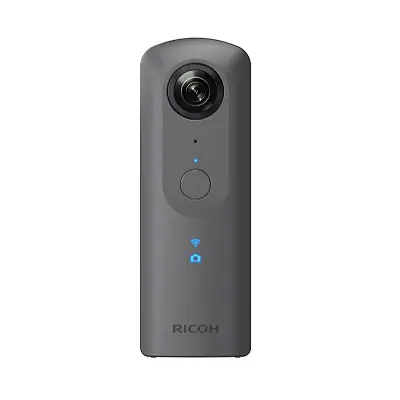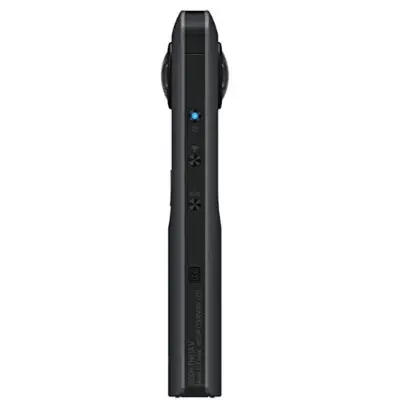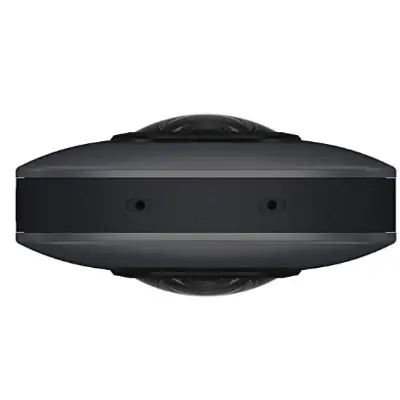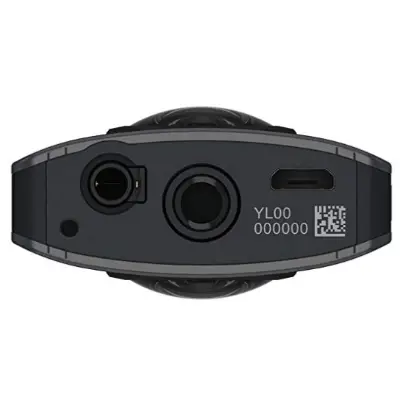 In spite of some performance issues with the accompanying app, the Theta V is another highly popular omnidirectional camera that does manage to deliver the goods.
Read more
Effectiveness
Now, the Theta V is equipped with a new Qualcomm Snapdragon processor and also a 4K video that runs at 30 frames per second. The images are not amazingly sharp, however.
Features
Both three-axis acceleration and three gyro sensors are built into the Theta V. Additionally, and it sports a four-channel microphone for enhanced audio. Of course, the app has been known to have performance issues.
Compatibility
Yep, this supports wireless transfer speeds of both 2.4 and five gigahertz. By utilizing Bluetooth technology, as well, you can connect this to your compatible smartphone.
Battery Life
The battery life sort of falls in the middle of the pack when comparing the Theta V to other models. It is not dreadful, but it is also not astounding.
Durability
It is going to be in your best interest to purchase the TW-1 underwater housing as it adds much-needed protection for this device.
Overall
As with other models, the Theta V is not flawless, and it does not pretend to be, either. What it is, however, is a well-designed device equipped with Wi-Fi and an improved processor.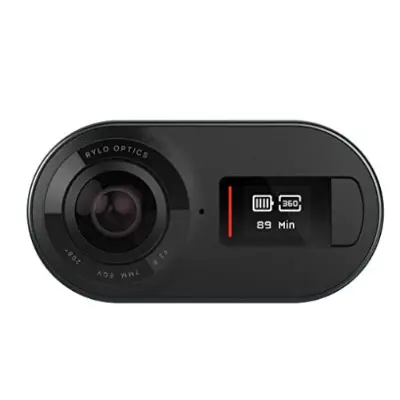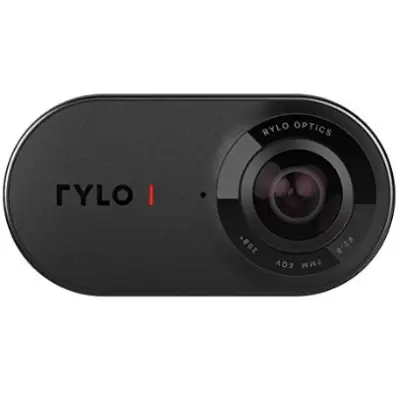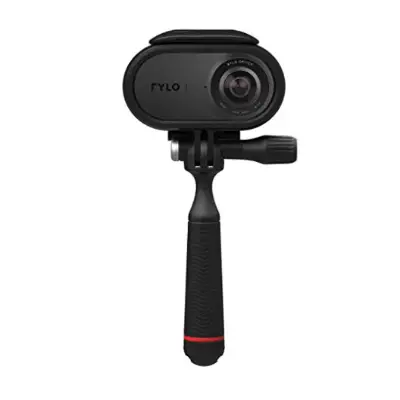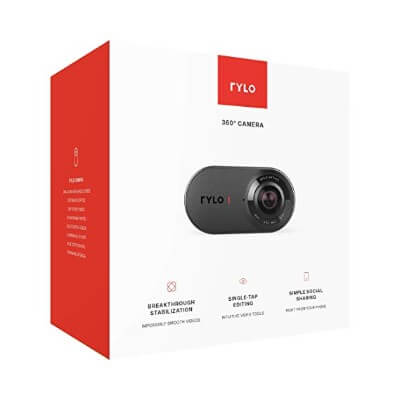 If you are looking for a device strictly for video capturing, this is it. Each lens captures up to 208-degrees and the device boasts 5.8k resolution. The Rylo is best used in bright, natural light and provides great image stabilization, no matter how many bumps and rocks you encounter.
Read more
Effectiveness
This device is best used for video recording, not photos. For videos, it boasts 5.8k resolution, with each lens capturing 208 degrees of vision. It performs best in bright or natural outdoor lighting and has been known to film less than ideally in low-light conditions. It does, however, create beautiful panoramic photos in 6k resolution.
Features
No matter how shaky your cameraman is, the stabilization will provide a steady shot. You can even set the camera to focus and follow on a certain object throughout the filming, keeping this object in the center of the frame. There are many editing tools available in the App of the Rylo. One of our favorites is the FrontBack tool. This allows you to give two views- one of what is happening and the other of your face and reactions. To quickly view your recently recorded footage, you can use the included sync cable and view it all on your smartphone.
Compatibility
Many readers will be pleased to know that the Rylo functions seamlessly with the iPhone, Andriod, and MacOS. With your purchase, you'll receive syncing cables for both devices. Another giant plus is that this device is compatible with GoPro mounts.
Battery Life
About average with most of these devices, the Rylo can run continuously for sixty minutes. However, as always, this time varies depending on the settings. To charge the device, use the included micro USB cord.
Durability
Many reviewers have been impressed with the overall durability. While you do need to invest separately in a waterproof case, there is an everyday case included. The exterior of the device is finished with aluminum and it comes with a one year warranty.
Overall
The Rylo has great potential. We hope to see more attention to the photo capabilities without sacrificing the impressive video capturing capabilities. The editing app is easy to use and full of great features.

Subscribe to our Newsletter