Tactical Pens
In a
Hurry? Editors choice: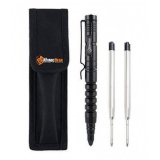 Test Winner: Atomic Bear

If you live in an area that is known to be dangerous, you need to take precautions to protect yourself. While we don't all live in an area of the world that allows you to carry weapons freely, the next best thing you can do is to equip yourself with something that's small, not obviously a weapon but is still able to provide you with an adequate amount of protection. Today we're going to be talking about tactical pens. These handy little guys are small self-defense weapons disguised as a pen. These can be taken with you nearly everywhere, hidden in plain sight in your purse or shirt pocket just in case a situation was to arise where you felt you needed to protect yourself. We have compiled a list of the ten best options on the market today so let's take a look.
Standout Picks
Criteria Used for Evaluation
Versatility
Pen, self-defense tool, flashlights, whistles – a tactical pen serves so much more than just one function.
You would think that doubling as a pen and a self-defense weapon would be enough for one tiny little tool, but you might be surprised to learn that a number of these tactical pens are able to perform more than just those two functions. Some are also usable as window and glass breakers, LED flashlights, and whistles. These extra features transform your tactical pen into a well-rounded survival tool. While there are already a number of different types of survival tools on the market, having something so small and functional as these tactical pens are incredibly beneficial. If you just want a standard option without any extra bells and whistles, we have options for you in our buying guide as well.
Materials
You don't want to end up in a situation where you only have a weapon the strength of a Bic pen to protect you.
The materials that tactical pens are made of are of utmost importance. You don't want to take a tactical pen with you in a dangerous neighborhood if it's built the same as your standard Bic pen. These products need to be comprised of heavy-duty materials in order to provide the durability and protection you expect from an item that is labeled as a self-defence tool. The good news is that we took this into consideration as we made our list and the products that you will find in this buying guide are all made from high-quality materials that will stand up in the event of a mugging or attack.
Value
You can't put a price on the feeling of safety and protection.
You can't put a price on the feeling of safety and protection. But, well, such is the way of living in the world as we know it and all of these tactical pens are, obviously, going to cost you a little bit. The great news is, however, the investment required for these is actually surprisingly small for many of them. For the versatility of the product you will be receiving, we expected the pens to cost two or three times as much as they actually do. While we have some options on our list that will run you just over $50, most of the products are under $30, with many of them being under $20. This is a small price to pay for having a sense of protection and knowing you have a high-quality self-defence tool in your arsenal. Plus, when you consider how much other tools of this nature can cost you, these tactical pens provide a great amount of value for the small investment.
Size
Size does matter – at least for tactical pens.
While most pens designed for use as a writing utensil come in a fairly standard size, this doesn't seem to be the case when it comes to tactical pens. They come in slightly differing lengths and while the difference between these sizes may seem miniscule, it can mean the difference between having the ability to store your tool comfortably or not. If your pockets aren't deep enough to house the 6.1" option from AZYC without feeling it poking into your leg or chest, then maybe the 5.8" option from Smith & Wesson will be better suited for you. Size is an important feature to consider. If you accidentally purchase a tactical pen that isn't going to comfortably fit into your pocket, you might wind up choosing comfort over protection and forgo bringing your pen with you at all. No one wants to be poked and prodded all day by a tool in their pocket. But if you take the proper measurements required to ensure the pen you choose will fit where you want to house it, you will be able to bring it along with you all day without any issues.
Features
Gift boxes, extra batteries, DNA collectors, oh my.
There are many special features that the tactical pens on our list can offer users aside from the aforementioned uses. Some come in gift boxes, making them the perfect gift for your family and friends who need a little extra protection in their neighborhood. Some options come in kits with extra batteries and ink cartridges so as to extend the lifespan of your new tactical pen as long as possible. There are pens on our list that feature DNA collectors so if the situation were to ever arise where you used your pen as a self-defence tool and drew blood from your assailant, you would then be able to take your tool to the local police department and have them do a test on the attacker's DNA.
Subscribe to our Newsletter