Tactical Pens
In a
Hurry? Editors choice: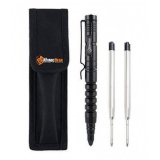 Test Winner: Atomic Bear

If you live in an area that is known to be dangerous, you need to take precautions to protect yourself. While we don't all live in an area of the world that allows you to carry weapons freely, the next best thing you can do is to equip yourself with something that's small, not obviously a weapon but is still able to provide you with an adequate amount of protection. Today we're going to be talking about tactical pens. These handy little guys are small self-defense weapons disguised as a pen. These can be taken with you nearly everywhere, hidden in plain sight in your purse or shirt pocket just in case a situation was to arise where you felt you needed to protect yourself. We have compiled a list of the ten best options on the market today so let's take a look.
Standout Picks
Criteria Used for Evaluation
Versatility
Pen, self-defense tool, flashlights, whistles – a tactical pen serves so much more than just one function.
You would think that doubling as a pen and a self-defense weapon would be enough for one tiny little tool, but you might be surprised to learn that a number of these tactical pens are able to perform more than just those two functions. Some are also usable as window and glass breakers, LED flashlights, and whistles. These extra features transform your tactical pen into a well-rounded survival tool. While there are already a number of different types of survival tools on the market, having something so small and functional as these tactical pens are incredibly beneficial. If you just want a standard option without any extra bells and whistles, we have options for you in our buying guide as well.
Materials
You don't want to end up in a situation where you only have a weapon the strength of a Bic pen to protect you.
The materials that tactical pens are made of are of utmost importance. You don't want to take a tactical pen with you in a dangerous neighborhood if it's built the same as your standard Bic pen. These products need to be comprised of heavy-duty materials in order to provide the durability and protection you expect from an item that is labeled as a self-defence tool. The good news is that we took this into consideration as we made our list and the products that you will find in this buying guide are all made from high-quality materials that will stand up in the event of a mugging or attack.
Value
You can't put a price on the feeling of safety and protection.
You can't put a price on the feeling of safety and protection. But, well, such is the way of living in the world as we know it and all of these tactical pens are, obviously, going to cost you a little bit. The great news is, however, the investment required for these is actually surprisingly small for many of them. For the versatility of the product you will be receiving, we expected the pens to cost two or three times as much as they actually do. While we have some options on our list that will run you just over $50, most of the products are under $30, with many of them being under $20. This is a small price to pay for having a sense of protection and knowing you have a high-quality self-defence tool in your arsenal. Plus, when you consider how much other tools of this nature can cost you, these tactical pens provide a great amount of value for the small investment.
Size
Size does matter – at least for tactical pens.
While most pens designed for use as a writing utensil come in a fairly standard size, this doesn't seem to be the case when it comes to tactical pens. They come in slightly differing lengths and while the difference between these sizes may seem miniscule, it can mean the difference between having the ability to store your tool comfortably or not. If your pockets aren't deep enough to house the 6.1" option from AZYC without feeling it poking into your leg or chest, then maybe the 5.8" option from Smith & Wesson will be better suited for you. Size is an important feature to consider. If you accidentally purchase a tactical pen that isn't going to comfortably fit into your pocket, you might wind up choosing comfort over protection and forgo bringing your pen with you at all. No one wants to be poked and prodded all day by a tool in their pocket. But if you take the proper measurements required to ensure the pen you choose will fit where you want to house it, you will be able to bring it along with you all day without any issues.
Features
Gift boxes, extra batteries, DNA collectors, oh my.
There are many special features that the tactical pens on our list can offer users aside from the aforementioned uses. Some come in gift boxes, making them the perfect gift for your family and friends who need a little extra protection in their neighborhood. Some options come in kits with extra batteries and ink cartridges so as to extend the lifespan of your new tactical pen as long as possible. There are pens on our list that feature DNA collectors so if the situation were to ever arise where you used your pen as a self-defence tool and drew blood from your assailant, you would then be able to take your tool to the local police department and have them do a test on the attacker's DNA.
Top 10 Picks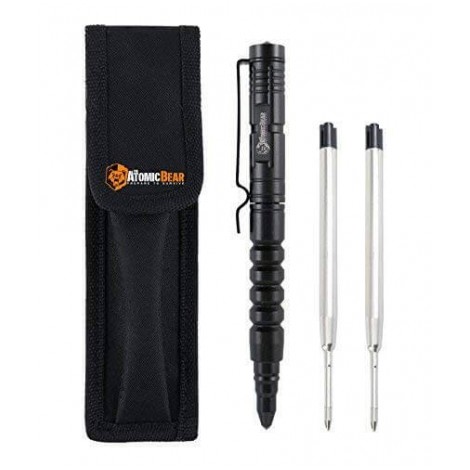 Atomic Bear is a company well-known for their survival products. This tactical pen that they have brought us is no different. This product is made to last and its functionality as a writing utensil is fantastic as well.
Read more
Versatility
Though this tactical pen is actually incredibly pleasing to write with, that's obviously not its only function. But we will take a moment to appreciate just how great this tool works as a pen as well. It uses a black ink that won't bleed or smear on your pages. The ink cartridges are replaceable which means that this pen can last you a lifetime. The tip is a glass breaker that is designed to be able to shatter your car window in case of emergency. The end can also destroy ceramic in metal.
Materials
This pen is crafted out of 2.11 mm thick military grade aluminum that is designed to provide users with a durable product that will not rust. The company claims it can even stand up to being mistaken for a chew toy by your pitbull. The smashing end of this tactical pen is made from tungsten carbide for extra durability and strength.
Value
This pen provides a lot of value with a very affordable price tag. Seeing as how you're getting a lifetime warranty, a window breaking tool, and a handy carrying sheath, this tactical pen is more than worth its cost.
Size
Though we were unable to find an exact length for this pen from Atomic Bear, our research indicates that it isn't incredibly oversized. Current users, both men, and women report that the size is perfect.
Features
Atomic Bear wanted to make sure that their customers received a complete package with this product. This pen arrives with a belt/pocket clip so that you don't need to worry about which pocket you're going to store it in. It also features a thumb grip which will allow for maximum power transference if it ever comes time to use this pen as a self-defense tool.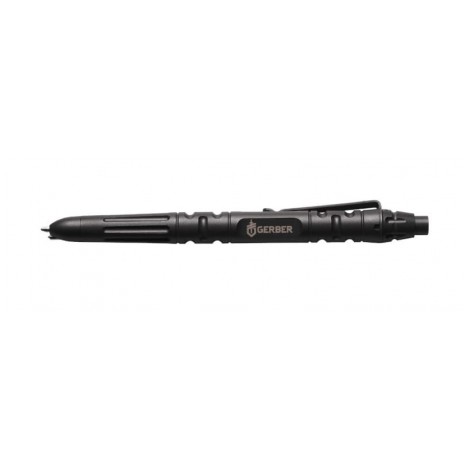 Don't get the Gerber Impromptu mixed with the baby-centric company of the same name, this Gerber manufactures products for the outdoorsmen in all of us – knives, multitools, axes, you name it. This tactical pen from them lives up to the high standards that they have come to be known for.
Read more
Versatility
This product is a push-button pen that arrives at your door installed with a ballpoint cartridge. This high-quality ink works in both wet and dry conditions, making it a perfect companion for the outdoorsmen who sometimes finds himself in inclement weather. The tip of this pen can be used in emergency situations where one might find themselves needing to break a window or protect themselves.
Materials
This pen is made from steel and Cerakote materials that help to ensure the longevity of the pen. Cerakote is a ceramic-based finish that can be used on a number of different metals, plastics, etc. It helps to provide abrasion-resistance. These materials also provide users with a grip that will serve them in any situation they may find themselves in. The glass breaking tip of this pen is made from tempered steel and will provide the durability necessary to get you out of a bind.
Value
This Gerber product is by far the most expensive option on our list but we believe it is still valued well below what people might consider outrageous to spend on a self-defence tool. When you consider how well-constructed this pen is, you can see where the high price tag comes from.
Size
The length of this pen is 5.6," and it weighs just 68 grams. These measurements make this pen a little longer than an average pen but it is still within an acceptable length. Current user reviews suggest it is light enough to store in a shirt pocket without weighing the shirt down.
Features
Gerber stands by their product so much that they offer a limited lifetime warranty for users of their products. The catch? The warranty is only available for North Americans.

3

. Smith and Wesson SWPENMP2BK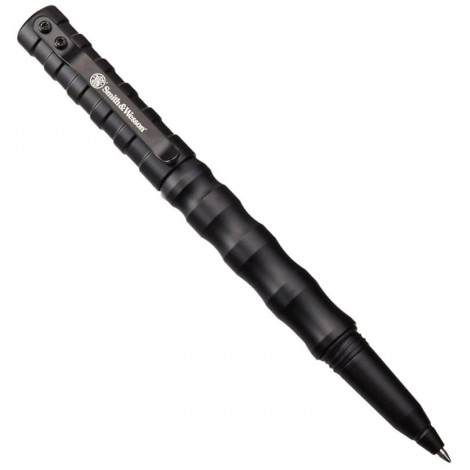 You might know Smith and Wesson for their firearms, knives or ammunitions, but why wouldn't a company that specializes in weapons also not offer tactical pens? The SWPENMP2BK is a great dependable option that can last you forever (as long as you don't lose it)!
Read more
Versatility
When we compare this Smith and Wesson product to the others on our top ten list, there isn't much versatility offered. It performs well as a self-defence weapon and a pen but doesn't have many other functions.
Materials
This tactical pen is crafted from T6061 aircraft aluminum. This material makes it incredibly strong and durable.
Value
While this isn't the cheapest option on our list, it's still affordably priced. Because the ink cartridges can be refilled, you can rest assured that this pen will last you forever, as long as you don't misplace it.
Size
This pen is 5.8" in length and weighs just about 40 grams, making it an incredibly lightweight option.
Features
Despite not offering much in terms of versatility, this Smith and Wesson tactical pen still does have some features that are worth mentioning. There is a pocket clip on it so you are able to easily clip it to your shirt pocket or to your pants. The pen has a screw-off cap which will ensure that the lid doesn't accidentally pop off and disappear, taking that aforementioned pocket clip with it.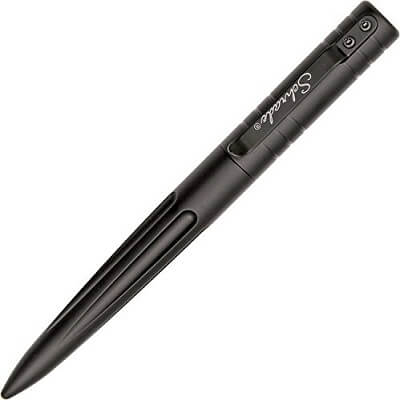 This pen is very similar to our previous option but distinguishes itself in a number of ways. It has a screw-off top design and can be refilled easily, making it a great option for someone looking for a tactical pen that will last them a long time.
Read more
Versatility
This tactical pen doubles as both a solid writing utensil and a very efficient self-defence tool.
Materials
This pen is constructed from CNC Machined 6061 T6 Aluminum which not only makes it incredibly durable and corrosion resistant but it also provides a nice finish for a sleek look.
Value
Priced similarly to the previous few options on our list, this tactical pen from Schrade provides an adequate amount of value in an affordable price range.
Size
This pen is just 5.7" in length and 39.5 grams in weight. This makes this product the smallest and lightest on our top ten list so far.
Features
The flat top of this pen will give you a spot to place your thumb for leverage if it ever comes time to use this tool for self-defence. It has a pocket clip so that you are able to easily store your pen anywhere on your person for quick and easy access.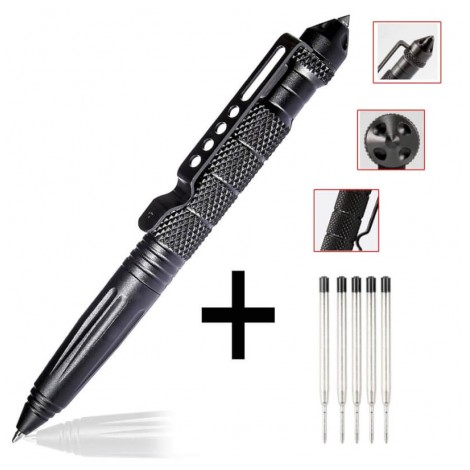 This tool from AZYC is a great investment. It is affordably priced and provides users with a number of different functions. It even arrives at your door with four additional ink cartridges so you will be able to get a lot of use out of this tool as a pen.
Read more
Versatility
This tactical pen has a hidden attack head that can be used for self-defense when necessary. This tool can be used to break windows in emergency situations and, as an added bonus, it works very well as a writing utensil as well.
Materials
The AZYC pen is made from aircraft grade aluminum materials and is designed to provide users with the durability that one would expect from such a product. The self-defence head of this tool is made from tungsten steel and is designed to do some damage.
Value
For less than what you will pay to eat out at a fast food restaurant, you can buy yourself a handy tactical pen that will serve you well beyond what that Big Mac can offer. This is the cheapest product on our top ten list but don't be put off by the word 'cheap.' It is still very well made and offers a lot of value despite that budget-friendly price tag.
Size
This pen is 6.1 inches in length. We were not able to find the exact weight of the product, though our research indicates this pen is a bit heavier than other options on our list. Even looking at it, you can see that it has more a rugged appearance, likely due to the materials used to construct it.
Features
One of the most unique and understated features of this pen is that it has a DNA collector on the self-defence side. This is incredibly useful in situations where you have fended off an attacker with your tool and now have traces of their blood on your pen to take with you to the authorities.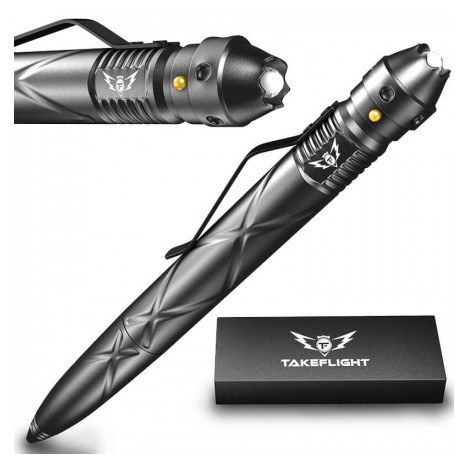 TK TakeFlight has a number of different tactical pens in their Amazon arsenal. We chose this one for our buying guide because we loved the features that it has, namely the bright LED flashlight and the fact that it comes with extra accessories to help ensure longevity.
Read more
Versatility
This pen has it all. It not only functions well as a writing utensil, but it also has a tiny LED flashlight on the tip so you can use it in dark light situations. It also functions as a window breaker.
Materials
Here we have another tactical pen that is crafted from aircraft grade aluminum. This is such a popular material type as it is incredibly strong and durable. It can withstand the rigors of daily use without any questions.
Value
This product is priced similarly to many of the other products on our list. We think that the added bonus of having a penlight makes it even more valuable.
Size
This pen is 6" in length and looks just like any other pen you might have in your desk pen holder. This size, though longer than other options on our list, still makes it usable as an everyday pen and survival tool without being too restrictive.
Features
This product ships to your door with not only extra batteries, but extra ink as well. This is great because it takes the guesswork out of figuring out what kind of batteries you'll need to keep the LED flashlight glowing.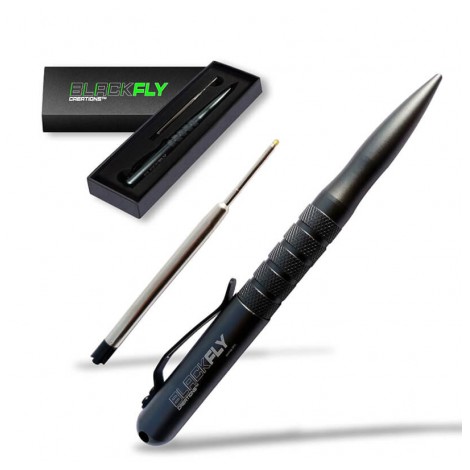 Black Fly Creations constructed a durable and effective tactical pen with this product. You will be hard pressed to lose the lid thanks to the threaded construction of the cap and with its sleek design, it looks like you're carrying a regular pen and not something that can double as a self-defense tool.
Read more
Versatility
This pen works well as a writing utensil but performs its duties as a self-defense tool well. Users will be pleased to know that this pen also functions as a window breaker during emergency situations as well.
Materials
Made from high-quality aircraft grade materials, Black Fly Creations has made this tactical pen with durability in mind. The alloy material provides the right amount of strength to make this tool effective at both breaking glass and at self-defence.
Value
The Black Fly Creation tactical pen is one of the most affordable options you will find in our buying guide. We love that this pen comes in two different colors, something none of the others do, and that it arrives packaged in a gift box with spare ink.
Size
This pen is 5.75" in length, making it around the average size of tactical pens we are reviewing here on our buying guide. This length makes it easy to carry discretely.
Features
You will have a hard time losing this pen lid thanks to the drilled and threaded style of the cap. The company claims that this product will not leak thanks to the fact that they use o-rings in its construction. It comes in two colors of your choosing – gray or black.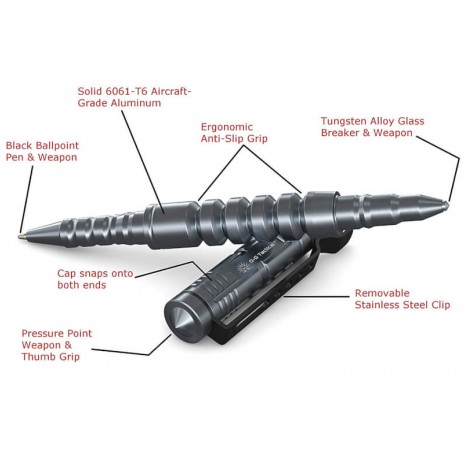 With the word 'tactical' right in the brand name of the company manufacturing this product, you can rest assured they know exactly what they are doing. This pen has many features that make it incredibly useful in day to day life as well as in emergency situations.
Read more
Versatility
This pen is similar in function to many of the other options you have already read about in our buying guide. It can be used as a writing utensil, a self-defense tool or in an emergency as a glass breaker.
Materials
The pen itself is made from aircraft-grade aluminum while the glass breaking portion of this tool is made of tungsten alloy. These two materials together make this a very effective and durable self-defense and survival tool.
Value
This is one of the most affordable tactical pens on our list. What provides extra value to this product is that they claim to have a 97% success rate with taking this pen through security in the airport. If you happen to have your pen taken away from a TSA agent, however, Off-Grid Tactical will replace your tactical pen. You have to have respect for a company with that kind of customer service.
Size
Though we were unable to find an exact size and weight of this tactical pen, our research indicates it is sized similarly to other products on our list. It's is substantial enough in size to be effective as a self-defense tool, but it isn't too bulky that you can't carry it with you every day.
Features
We love that this pen comes in three different color options – gunmetal, hot pink or jet black. The hot pink is quite a beautiful color that a lot of ladies will be able to appreciate, we think. This pen also features a removable stainless steel clip for easy access and adjustments on the go.

9

. Under Control Tactical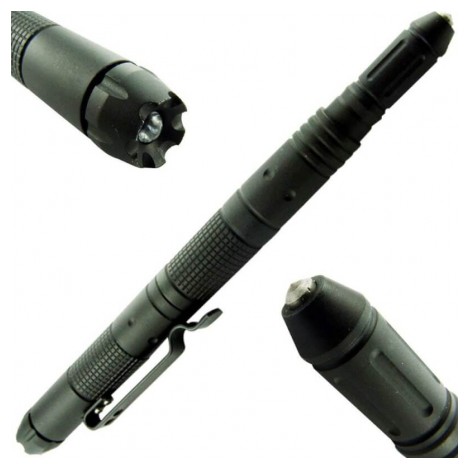 Here we are bringing you another product from a company with 'tactical' right in their name. This pen from Under Control Tactical has many functions that we believe nearly everyone can benefit from. It is great for those folks who are in the military or police force as well.
Read more
Versatility
This is another one of the most functional options on our list. This pen has a number of uses including a writing utensil, a tactical flashlight, and as a window breaker.
Materials
Because Under Control Tactical created this product with military, police and SWAT team use in mind, they've used high-quality durable materials in its construction.
Value
This tactical pen is priced in the same price range as most of the options on our list, most of which don't offer the same amount of features as this product.
Size
This is one of the largest pens you will find in our buying guide. At 6.5" in length, it isn't necessarily the most convenient to carry with you in some situations, but we believe the benefits that this tool provide will make it more than worth any minor inconvenience you may have by carrying this on your person. Some reviewers suggest that the size of this tactical pen is perfect for their man-sized hands but might be awkward to wield as a woman.
Features
Similar to the AZYC product we reviewed above, this tactical pen features a DNA defender. This is handy if a situation were to ever arise where you needed to use this pen as a self-defense tool. When you strike your assailant, the DNA catcher will collect their blood. You can then take your tool to the local police station to have them extract the blood and try to nail your attacker. We loved that the company included a lifetime warranty with this pen and that you can access how-to videos once you've purchased their product.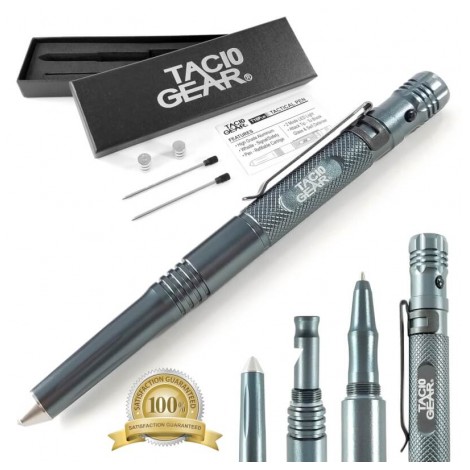 Finally, we have reached the last product on our buying guide – the Tac10 Gear tactical pen. This beauty comes nicely packaged in a gift box but it's such a great, affordable tool you're probably going to want to buy one for yourself too.
Read more
Versatility
This tactical pen might be equipped with the best flashlight of all the products on our list. The LED light included in this model has two different modes – a strobe light or a beam that can shoot 25 feet. It also has a whistle feature that you can use in emergencies to signal that you need assistance. This is all without even mentioning the tungsten tip that is going to serve its purpose in breaking windows.
Materials
The pen is made of high-grade aluminum that provides shock-resistance and durability. The tip of the pen used for self-defense and window breaking is made from tungsten for extra strength.
Value
This is another affordable price tactical pen. We love that this product has so many special features and think it might be the most versatile option on our list, especially if you are looking for an option that can double as a survival tool if you were to ever find yourself stranded in the woods.
Size
This pen is 6.35 inches in length. While this is longer than some of the other options on our list, we still think it is able to function well and remain discreet.
Features
This tactical pen arrives at your door in a unique gift box, ready to be wrapped for your loved ones that enjoy camping, hunting or for those who need a little extra protection in their rough neighborhood. It also comes with extra batteries and ink cartridges to ensure that the user is able to extend the life of this product for as long as possible.

Subscribe to our Newsletter